Once you buy a new computer system or simply reinstall it, you are in search of some of the best Windows PC software. Though we agree that mobile has taken a lot of your attention, yet these productivity apps for PC will make your work easier & efficient along with quick outputs.
If you have already been told about various Best PC software for your Windows computer by so many friends and the decision is still pending, we believe we can help with it. Undeniably, choosing the perfect match might not be as easy, hence we will give you the best options to pick.
What Are The Qualities Of Best Windows Software?
It must be compatible with your Windows computer system.
It should not slow down your system or be buggy.
Windows software shall be either free of cost or affordable to the normal user.
Best Windows product should not display too many advertisements.
Let's explore the best Windows productivity apps or tools for Windows 10, 8 and 7 now.
List of Must-have apps for Windows 10
PC Maintenance: Advanced System Optimizer & Speccy
Anti-virus: Avast & BitDefender
PC cleaners: CCleaner & Bleachbit
Security Software: TweakPass & Boxcryptor
Audio Tools: Audacity & Media Monkey
Backup Tools: EaseUS & Dropbox
Browsers: Mozilla Firefox & Google Chrome
Communication Tools: Skype & Discord
Defragging Tools: Defraggler & IObit
Download Tools: qBittorrent & Deluge
Email Clients: eM Client & Thunderbird
File Managers: FileZilla & 7-Zip
File Recovery Tools: Recuva & TestDisk
File Storage And Sharing Tools: Dropbox & OneDrive
Image Editors: Paint.NET & Blender
Media Players: VLC Media Player & Spotify
Note Taking Apps: Evernote & Microsoft OneNote
PDF: NitroPro
Ebook Readers: Kindle & Calibre
Remote Access & Screen Sharing Tools: Teamviewer & Chrome Remote Desktop
Text Editors: Notepad++ & Sublime Text
Screen Capture Tools: TweakShot & ShareX
Uninstallers: IObit & Ninite
Video Tools: Handbrake & MakeMKV
Must Have Windows 10 Apps & Software to use in 2023
1. PC Maintenance Software
So many applications in the PC are good for you but isn't it cool if you maintain the system side by side? This is in fact needed to remove unwanted files, caches, temporary files, etc. which does nothing but eat the space and consume the required resources of the system. Hence, efficient PC maintenance software balances everything by removing unwanted files and helping in the smooth & fast running of PC.
a. Advanced System Optimizer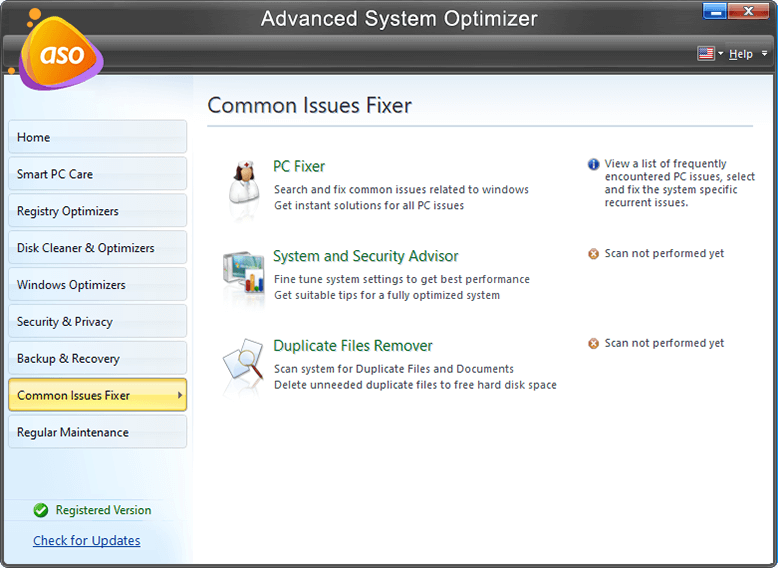 A powerful tool to clean junk files and maintain computer performance. Advanced System Optimizer, is quite easy to use and has a very interactive interface. It not only cleans the system in and out but also acts as a strong game booster, memory optimizer, file protector, invalid registry cleaner, and disk optimizer. In short, you have an all-in-one solution for the Windows management tool.
b. Speccy
From the house of CCleaner again, Speccy is proactive and must have app for Windows 10. It helps fix problems in your PC, even before they occur. It also forms detailed reports of every hardware of the computer like CPU, motherboard, etc. to determine the health status. See what your PC has been doing with Speccy's free or professional version.
Quick Check: How To Increase Internet Speed In Windows 10?
2. Best Antivirus For Windows PC
Any computer system with Windows 10, 8 and 7 needs to be loaded up with the best antivirus software for protection from malware, external viruses, and ransomware. These software scans the PC in-depth and removes everything that is malicious in nature while posing a threat to the working system of the whole PC.
a. Avast
Avast could be your solution to best and free virus protection for your PC. It provides real-time protection from spyware, ransomware, and malicious content. It can add security to your network, passwords, router, and browser which is also easy to install and make your digital life easier.
b. Bitdefender Total Plus
Keeping your PC safe from all new or existing threats, Bitdefender provides multi-layer protection from malware and ransomware very effectively. This must have software for Windows 10 allows you to have safe banking experience, secure surfing and in fact helps in optimizing system performance without any threat worry.
3. Best PC Cleaner
While you download various software and keep working on the computer system, it tends to get filled with junk, cache, and even unwanted apps. Getting rid of them allows PC to work smooth and classy which is only possible using the best PC cleaner.
a. CCleaner
From easy cleaning to customizing the cleanup attributes, CCleaner does it simply and is an essential app for Windows 7, 8 or 10. In some cases, you do not even realize some buggy files taking space in PC or even registry annoying it all, this tool can take away all those saving your precious time and other resources.
In fact, CCleaner Professional may ask for a few dollars but gives you private browsing, removes internet trackers, and helps in product updates as well.
b. Bleachbit
Another efficient PC cleaner and must have software for windows 10 , Bleachbit, can free up the disk space while guarding the privacy. Yes, it can also clear caches, delete cookies, clear history, shred temporary files, and finally discard junk away. Bleach bit is most importantly an open-source free Windows software to boost PC performance.
Quick Check:  CCleaner vs Bleachbit: What to choose?
4. Best Security Software For Windows
Noone wishes a data leakage from their PC and get entrapped by the problem of identity theft, right? So, one must have PC windows software that keeps the personal information intact and doesn't let anyone take monetary or other benefits away from you.
a. TweakPass
Pretty interesting tool by Systweak, TweakPass is a smart password manager which saves all the accounts' password into one vault by locking above with a master password at the top. Security level itself gets enhanced using this Windows productivity tool where user-friendly interface welcomes you for further explanation. Highly recommended must have software for Windows 10
Quick Check: Is TweakPass the best password manager?
b. Boxcryptor
After saving all the essential data in the cloud services, don't you think it should be well encrypted? So, Boxcryptor can simply handle the security using end-to-end encryption and collaboration of files, whether you are saving it in Dropbox, OneDrive or Google Drive.
5. Best Audio Tools For Windows Computer
Now we agree that Windows Media Player and VLC Media players are smart and simple to use but we are all moving towards developed audio tools that understand our various other requirements as well.
a. Audacity
This free open-source, cross-platform audio software is an easy and multi-track editor at the same time. It can record any live audio through a microphone, keeps sound quality up to the mark, adds effects to the sound and finally allows exporting it in various formats. Cool, right? So many features make it one of the best editor for PC.
b. MediaMonkey
A smart digital media player that can organize and play audios is Mediamonkey, the best audio tool for Windows computers. It can also categorize and organize your whole music collection and even lets the missing information get tracked automatically.
Its Gold version supports various other features like audio/video conversions, MP3 encoding, sleep timer, and customized collections under Jazz, Classical, etc. Consider it as a must have windows 10 apps in your PC.
Quick Check: Best Free Audio Editing Software To Make You A Pro!
6. Best Backup Tools For Windows Computer
Though you may pass the idea of having a backup or disk recovery for PC due to Time Machine backup or File History of Windows itself, alternatives are quite assuring at another side.
 a. EaseUS ToDo Backup
Let's say you can take the backup of files, disks and the entire system to keep the system ultra-safe. Moreover, this backup tool also helps in recovering the lost or deleted files that might have gone due to any accident or computer crash.
b. Dropbox
Dropbox can be considered as the best place where your content can be stored and is one of the best disk recovery tools for PC as well. It can centralize all the items in one place, transform & organize the folders, and keeps it safe in the cloud so that you can bring anything back on the table.
Quick Check: How To Backup Drivers In Windows 10 & Restore Them?
7. Best Browsers For PC
From downloading anything in PC to browsing your social media accounts, browsers are probably the first thing you need after installing the computer system. So which is the best browser for your Windows?
a. Mozilla Firefox
Highly customizable features, security, and privacy are some of the things you do not want to miss while browsing on Mozilla Firefox. Firefox Lockwise saves your passwords in all the devices; Private Browsing doesn't keep the history intact and supports additional plug-ins for extended support. This must have software for new PC is super nice, after all.
b. Google Chrome
Google's smart built-in comes with Google Chrome which is a simple, secure and fastest known browser today. It's simplicity and bare minimum design are most catchy whereas saving passwords and right guesswork makes it productive and quick at the same time.
Quick Check:  Top 6 Web Browsers For Windows
8. Best Communication Tools For Windows
Not that your mobile phone is alone smart enough, we have some tools that contribute to communicating from one place to another.
a. Skype
A strong veteran in its field and must have software for Windows 10 , we can never imagine our computer system without Skype even now. To connect any video conference or arranging an instant meeting, Skype stays together through any device. It also supports group video chats and charges a small amount for landlines and mobiles.
Quick Check: How to use Skype like a Pro?
b. Discord
Either as your essential free productivity app or even in the browser, Discord can simplify your life while connecting gamers out there.
9. Best Defragging Tools For Windows PC
Fragmented or data divided into bits and pieces in your computer ultimately slows down the overall performance of PC. And this is where you need a good Windows defragging software so as to rearrange the whole layout once again.
a. Defraggler
Piriform Defraggler makes your PC faster by assembling the files in the computer machine and is absolutely safe & secure. Ultimately, you can save a good chunk of space for better saving tomorrow. In fact, you can also customize the default settings over the files and folders you are planning to defrag. Download Defraggler because it is absolutely a must have software for windows 10
Quick Check: Defraggler- A Robust Disk Defragmentation Tool
b. Iobit Smart Defrag
Capable of optimizing boot time for fast system startup, Iobit is one of the best defragging software for Windows. It also ensures the privacy and security of the PC with extensive disk cleanup database and SSD trimming. Enjoy improved Windows algorithm with Iobit!
Quick Check: iObit Smart Defrag- Review
10. Best Download Tools For PC
When you want to download any heavy file like games, movies, etc. a supportive download tool other than the browser is best to be kept in the computer system.
a. qBittorrent
A cross-platform free and open-source application has a super-easy interface, provides category wise research options, supports extended magnet links and downloads everything in order of sequence. Plus point is qBittorrent is free of advertisements, unlike various others and is a must have software for new PC.
b. Deluge
Once you look for where to download tools for Windows, Deluge is a full-featured BitTorrent with an advanced interface and has rich plug-ins collection. Yes, it is also very light-weight on the system and simply helps to download everything on the PC.
11. Best Desktop Email Clients
The world of email is not limited to sending and receiving messages but also its organization. Nowadays these clients are used for snoozing the mails, scheduling them and offering various templates.
a. eM Client
This fully-featured and best desktop email client has a very much modern and easy interface, to begin with. It provides quick access to linked accounts, folders, calendars, contacts, and various tasks. What brings it here on the list is the translation of emails into 39 other languages within the application itself.
b. Thunderbird
To make your email experience simpler, Thunderbird is a free email client to set up easily, provides a reminder of attachments, has a multiple chat channel, and even keeps messages in the archive. In fact, the in-built Activity Manager records all the conversation between the email provider and you in one place.
12. File Management For Windows PC
Keeping so many files scattered all over the PC is not a great idea. Your data may easily get away and of course, unorganized files are not good for your mental health. 🙂 and this why we are bringing you top file management tools.
a. FileZilla
An essential file manager for Windows, Filezilla, is a free solution to keep your files managed and has an intuitive graphical interface. Easy to use with support to FTP and SSH file transfer, already has a file name filter and allowing remote file editing makes FileZilla best of all.
b. 7-Zip
Another free software and must have Windows program with an open-source platform, 7-Zip provides strong encryption to the zip files format. It can integrate with Windows shell, has a powerful command-line version and even localized with 87 languages. Now simply extract or compress ZIP, RAR, and other archives files!
13. Top File Recovery Software For PC
Have you lost your important file by accident? Don't worry, here you are going to find an efficient recovery software to get all the important data back, be it in hard disk or any external drive.
a. Recuva
Another major shot by CCleaner is here! Recuva can recover all your files from damaged to newly formatted drives. Yes, data from memory cards, USB sticks, etc. could also be gained back after the deep scanning. In case, if you want any file to remain deleted, no worries, Recuva will take care of it. Download this must have software for Windows 10 to save your files.
b. TestDisk
TestDisk is open-source software, specially designed to recover lost partitions and making non-booting disks bootable once again. It can fix the partition table, rebuild the boot sector and recover it with a strong backup. Whether you are a novice or an expert, TestDisk is perfect free file recovery software for Windows.
Quick Check: How To Recover Deleted Files In Windows 10?
14. Best File Storage And Sharing Software For Windows 10
If you keep your files in PC without keeping a backup, there are a lot of chances of them being lost without letting you know. Do you want to regret or take such a chance? We believe not! So load up with file storage software or cloud-based solution for the same.
a. Dropbox
Centralizing all your content at the same place on the cloud, you can even store and share Google Docs, Sheets, or Slides using Dropbox. Moreover, it solves your cross-platform issues through the web-based solution and you can access it anytime, anywhere. In fact, the auto uploading feature doesn't let files get lost anywhere.
b. OneDrive
Another way you can find the best cloud backup is in the form of OneDrive. You can store all your documents, images, and other files in here. You can easily find files through managed grouping and share them with others whenever required.
15. Essential Image Editors For Windows PC
After clicking an image, you certainly wish to edit it your way, either by removing shadows, repainting it or adding various elements according to your wish. And best image editors support the cause. You must already have heard about Photoshop but let's talk about those which are pretty easy for beginners. Here they are!
a. Paint.NET
This is an amazing image editor for Windows and suits various actions of the user like layering the image, adding special effects to it and adding plugins to the tool. If short and crisp picture editing is what you are looking for, believe us, there is no replacement to Paint.
b. Blender
Let's go through another free image editing app called Blender which suits the users who want advancements like VFX, modeling, sculpting, 3D painting, or some VR rendering. In fact, you can animate videos while also adding music to its backdrop. Overall, a perfect tool for professional editors.
16. Essential Media Players For Windows PC
You can't say NO to some good music while working on various other software, right? Of course, good music is going to calm your mind when you are in work stress and also gives you some happy vibes anytime you wish. So, let's jump to the best media players.
a. VLC Media Player
Watching a movie, listening to great songs or play a comedy show while having dinner, VLC never disappoints. It is marked with video resuming, Google Chromecast streaming, and supports cross-platform framework. Best part, it is free of ads and runs most of the codecs without a glitch. Totally recommended by us as well as unmissable must have windows software
b. Spotify
When you are looking for constant music around you with millions of songs and customized playlists, there is no option to look anything else Spotify. This media player has both the versions; free and Premium (non-ads). In fact, one can sort the list based on artists, songs and find out their favorites quickly. Plus, you can download these songs for offline use as well.
17. Best Note Taking App For Windows
If you are a writer, blogger or someone who wants to keep your notes organized effortlessly, we have got you covered with some of the best note-taking apps.
a. Evernote
Why go anywhere else when you can capture your idea, images, videos, and notes in one place, be at home or work? And Evernote is such a simple and amazing note-taking app for Windows that lets you manage your project deadlines, clients and meetings in its online repository.
b. Microsoft OneNote
This could be an essential app for Windows 10  when you want to create a to-do list, organize projects, your thoughts and anything relevant in mind. It is capable of sync your notes across PC, password protect the files, save content from Outlook and in fact, keeps audio notes too.
18. Windows PDF Tools
From PDFreaders to editing these files, some PDF tools for PC sorts many of the issues. Those who meet PDF documents every day for some of the other purposes understand its value already.
a. Best PDF Readers For Windows:
Learn about Adobe reader, SumatraPDF, to Foxit Reader here!
b. Nitro Pro
Very easy to use and includes OCR technology for editing, makes Nitro Pro one of the best PDF editing tools. Moreover, it allows splitting, merging, reviewing and signing the documents along with advanced tools that back up the whole process.
Quick Check: PDF Bible
19. Ebook Reader For Windows
For all the book readers out there, now you can enjoy the digitized version of your beautiful books on your Windows PC using Ebook reader software. Let's explore these different tools.
a. Kindle
Read some sample books at Kindle and you would finally be ready to buy them because of personalization that it offers. You can manage the book collection smartly and enjoy reading them while changing reading categories, background colors, etc.
b. Calibre
This top Windows Ebook reader is free and open-source manager. Here, you can not only manage books but also convert them from one to another and in fact, edit them easily. Download it and enjoy reading!
20. Windows Software For Remote Access & Screen Sharing
If you want to discuss something with your colleagues even when you are not present in the office or a client has been looking for some solutions, some of these remote accessing software can connect you instantly while solving all your problems.
a. TeamViewer
Nothing can beat this smart tool which is capable of connecting you securely your desktop to another desktop. You can transfer files, chat with the person on the other side and talk remotely.  Now make that connection through the web, app or an extension.
b. Chrome Remote Desktop
Once again, another place that connects you with another desktop instantly, even if you are miles away, is Chrome Remote Desktop. In fact, this web-based connection allows remote sharing through phone, tablet or other devices. All you need is to download an extension on Google Chrome, rest is simple!
21. Text Editing Software For Windows
Usually, PC text editing tools are imbibed into the Windows computer for technical editing and publishing of posts. These software are essential in providing a well-organized format to the written content.
a. Notepad++
After working on Notepad for a few years, you tend to seek some advancements in it. And this is where Notepad++ emerges as a hero, especially for those who are involved in writing codes with higher execution speed. Use-friendliness, features of various tabs, macro support and WYSIWYG printing makes the tool unique in nature.
b. Sublime Text
Very lightweight and absolutely workable text editor, Sublime Text comes loaded with editing tools that make things easy and fun-loving at the same time. It comes with various visual themes, screen modes as well as has compatibility with a number of plugins that make editing most exciting.
22. Best Free Screen Capture Software For Windows
Whether you are writing a blog or preparing a PowerPoint presentation for school, screenshots become necessary, of course with authentic credits. So we will list you some screen capture software that can solve in fact other requirements too.
a. TweakShot Screen Capture
A must have software for Windows and very popular within Windows users to capture screen, TweakShot not only captures limited or full screen but also allows editing the images, capture full video, scrolling screenshot and even acts as a smart color picker. Perfect for business, learning as well as studying, download this essential Windows software for ease.
Quick Check: 5 methods to take screenshot on Windows 10 PC
b. ShareX
Not just an efficient screenshot tool for Windows, ShareX also allows sharing of same files from here only. It is absolutely lightweight for space while taking scrolling capture, text capture, screen recording, making GIFs and much more to satiate all the related cravings.
23. Windows Uninstaller Software
Deleting one or two applications manually could be done easily through an in-built method but how about an Uninstaller that finds out even unnecessary apps lying idle and helps in deleting them. This even saves your time and system space in a better mode.
a. IObit Uninstaller
Absolutely clean and light for your PC settings, IObit can remove unwanted software in one click. Plus, it is efficient in removing malicious plug-ins and toolbars without privacy leakage. Once done, enjoy a smooth and healthy system where IObit becomes a must have Windows software for you.
b. Ninite     
Ninite starts working in a full swing as soon as you download it and you can then easily say No to the toolbars that are not worth it. Even if you are running it, it doesn't bother your regular job and keeps working on the background while uninstalling apps from Windows computers.
24. Top Video Tools For Windows PC
Of course, having a nice windows PC and not running video on it doesn't even sync. And this is why you require some awesome video tools for PC.
a. Handbrake
Handbrake is an open-source video transcoder which is capable of converting the video files into any required format. While editing, you can batch scan the encodes, add video filters and even then maintain the overall quality. It is indeed a must have software for Windows.
b. MakeMKV
You are one click away from the solution of converting videos into any format. In fact, you can burn the video to a disk or DVD. Indeed, one of the best Windows PC software.
Conclusion
What is the use of a Windows PC if you haven't downloaded these essential PC software for Windows? We believe it would be more of an empty pot making some noise. And hence we have suggested you best of these must0have Windows software, get them and enjoy their presence around you easily and smartly.
 Frequently Asked Questions
Q1. Can I Download Windows PC Software For Free?
Yes, some Windows software are free to download whereas some offers a free trial before the final purchase. 
Q2. How To Uninstall Software From Windows PC?
Go to Start > Control Panel > Programs > Uninstall a Program > select the one to be removed > Uninstall.
You can also keep an uninstaller in your PC for quick removal of tools.