No matter how careful you are, with time and usage of your computer, a lot of caches and temporary files are accumulated. Along with it, a lot of unnecessary files and background processes add it to the mess. Even if you are a pro, deleting these manually can take a lot of time and resources.
Well, they are a lot of applications which can come to rescue in managing and optimizing your PC. Two of the best cleaner apps are CCleaner and BleachBit. They both come with a lot of features to help you tackle these old and unwanted files. But if you are confused which one to use, we are here to help!
Here, we will discuss all related to BleachBit and CCleaner, how they work, highlighted features, pricing and compatibility. Read on to decide which one is best for you!
Before going further, let's take a quick look at both the tools:
| | | |
| --- | --- | --- |
| Categories | Bleachbit | CCleaner |
| Open Source | Yes | No |
| Pricing | Free | Free and Professional ($24.99 ) and Professional Plus ($39.35) |
| Ratings | 4.0 | 4.8 |
| Highlighted Features | Removes all the unwanted files, private files, secure delete, unused Windows registry keys and data. Also, deletes cookies, clears Internet history, shreds temporary files, and delete logs. | Deletes unused files from your system, cleans traces of your online activities such as your browsing history, cleans and optimizes registry as well. |
| Compatibility |            Windows and Linux | Windows, Mac & Android |
| Portable App Available | Yes | No |
| Interface | Easy to use | Simple and intuitive |
| Download Link | Download | Download |
Pricing & Open Source: Bleachbit Vs CCleaner
CCleaner or Crap Cleaner has been around for quite some time and is quite used by a lot of people in their computer using years. Therefore CCleaner gets points before knowing other product. Well, let's not get biased and clearly when it comes to pricing BleachBit is a clear winner.
BleachBit comes for free and is an open-source tool wherein CCleaner is available as both as freemium as well as premium. CCleaner comes in three versions, one is free and other two, professional and professional plus version are available at $24.99 and $39.35 respectively.
Being open-source has its perks, one being free and another one is that the source can be audited for security purposes. BleachBit is available on Windows and Linux wherein CCleaner is available on Windows, Android and Mac.
Well, as there can be no real comparison between the paid version for business and open-source tool. We can judge both of their freemium versions to know which app has to offer more.
Let's know more about the features of both apps.
Introduction To BleachBit
BleachBit is a freemium product but has a lot of features available. BleachBit cleans your computer and most of the files deleted during cleaning cannot be recovered. It has a simple interface and is very easy to use.
The best thing about the app is that upon installation, you won't be stuck with a bundle of apps or extensions on your search bar. The tool comes in 64 different languages.
One of the important features of BleachBit is file shredding, which helps you to delete files securely. It can shred any files securely and safely. In other words, files deleted can never be recovered. You must think how is this possible? Well, the tool overwrites the free space on your hard drive so that it is impossible to determine that the files were deleted from that portion.
When it comes to cleaning, the tool can easily delete caches, cookies, browsing history, temp files and logs to safeguard your privacy.
The tool is efficient enough to clean apps such as Adobe Flash, Internet Explorer, Chrome, Firefox, Safari, Opera and more. The app is portable, so it can clean your Windows without getting installed on it, isn't it great!
It is safe to say that the product is worth to be compared against premium product.
Features That Make BleachBit Stand Out:
BleachBit can be used for various purposes such as:
Freeing Disk Space
Reducing the backup size along with the time to create them by deleting unwanted files.
Boosting system preferences.
Preparing complete disk images for compression by clearing free disk space.
Maintaining privacy
The tool comes with a lot of Advanced Cleaners to clear memory and swap on Linux, remove broken shortcuts on Linux, delete Firefox URL history without removing the complete file, Deletes unused Windows registry keys & data, to remove  OpenOffice.org recent documents list without deleting entire .xcu file, delete Firefox URL history and other junk files etc.
Introduction To CCleaner
CCleaner is what comes to your mind when we talk about maintenance tools. The tool can not only clean and optimize your computer but can also protect your privacy, making your computer run smoother and faster.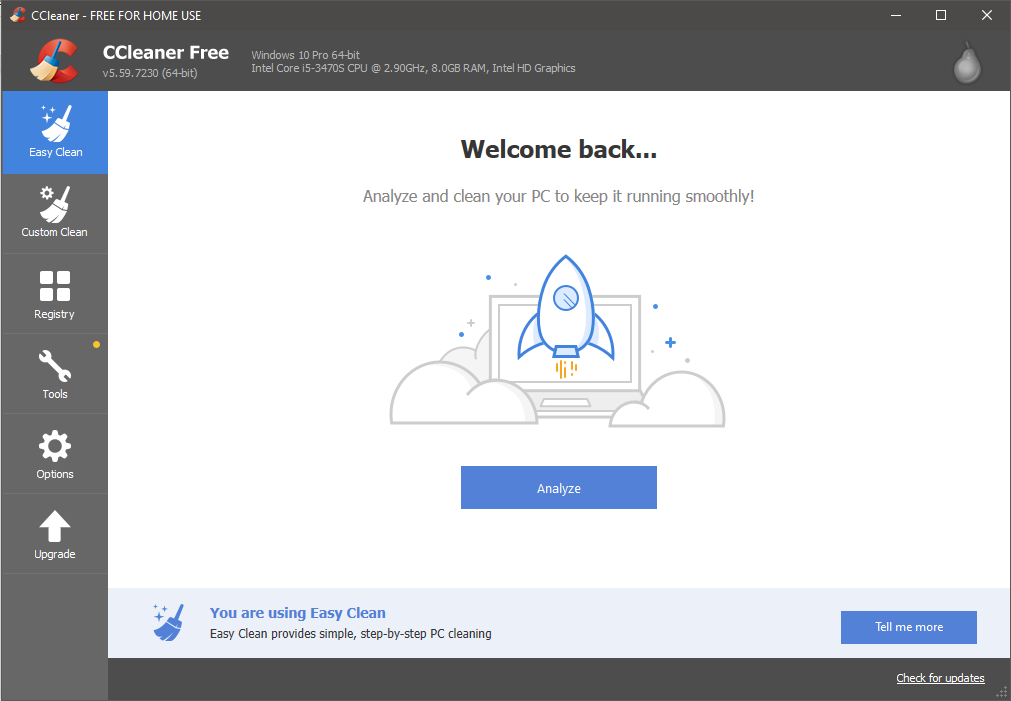 With CCleaner,all apps installed on your computer will always be updated, eliminating loopholes and  saving you from the trouble of being a victim of cybercrimes.
The tool is easy to use and has one click cleaning, which helps novice users to optimize their computer in no time. Well, this is not it!  The tool comes with advanced features which works for professional users.
This cleaner app can delete all the accumulated unwanted files and settings to retrieve disk space on your computer. It cleans your browsing history and cookies to remove all the traces of your online activities, keeping your session anonymous.
It also removes errors and broken settings on your Registry Editor to eliminate the chances of crash and declutter your system in true sense. This memory cleaner app also manages Start-up items to make your Windows boot up faster.
The tool comes in three versions:
Free Version:
CCleaner Professional – $24.99
CCleaner Professional Plus – $39.35
If you want to decide whether to take CCleaner freeware or a paid one, then read below:
With CCleaner freeware, you get:
Basic optimization and removal of unwanted files.
Privacy protection as it deletes history data and cookies.
Startup Manager: Manage startup items to reduce boot time.
With Professional version of CCleaner app, you get:
Automatic Cleaning: Cleans junk and unwanted files regularly to boost your computer's performance.
Automatic Privacy Protection: Removes cookies and deletes browsing history automatically when you are not using the browser.
Automatic Updates: Gets updated once a month.
Real-time threat monitoring
It also
Updates apps to minimum security risks
Detects and removes internet trackers
Manages disk space so that you never run out of space on your computer.
However, to unlock more advanced features of CCleaner, you need to get Professional Plus:
With this version, you get:
File recovery
Disk defragmenter
Hardware inventory features
You can get a free trial of the Professional version without filling up your credit card information before you sign up.
Now you know what BleachBit has to offer and what CCleaner is capable of. BleachBit clearly has more to offer in comparison to CCleaner freemium. However, if you are willing to pay to get CCleaner Professional versions, then you get in-depth cleaning, automatic privacy protection along with real-time protection.
BleachBit comes with one great feature Shred Files and Shred Folders to securely delete data to make it impossible to recover. On the other hand, CCleaner can't do it. However, when to go to CCleaner Professional version, you get a complete maintenance tool including automatic updates, and cleaning, real-time threat monitoring along with premium customer support.
With Professional Plus, BleachBit doesn't stand a chance. As it combines, disk defragmentation, file recovery, cleaning and optimization in one tool. How can BleachBit compete with it?
Our Take:  BleachBit Vs CCleaner
We have discussed all the features that BleachBit brings as a free software and what gets added to CCleaner when you get the paid version.
Both of the tools are great and comes with a lot of features but if you are looking for freemium product and just want optimization tool, then BleachBit will work for you. Also, it comes with file shredding option. However, you want automatic cleaning and privacy protection, then you must get the paid version of CCleaner. Also, it comes with customer support.
And if you want to get recovery file and disk defragmentation feature, then you must get Professional Plus for $39.35 and trust us it is worth it!
If you just want to try out a cleaner app, then you must choose BleachBit. Irrespective of great features included in BleachBit, CCleaner is a winner as it comes with various other features, which make it a one-stop solution to optimize, clean, defragment and recover!
How Did You Find This Article? Please share your thoughts in the comments section below.
Follow us on Facebook and Twitter to get more tech updates. And for troubleshooting videos and tutorials subscribe to our YouTube channel.