Table of Contents
You may have seen distorted Disk defragmentation screens however this is the first disk defragment console with a smart sleek and simple user interface. One up for looks! iObit Smart Defrag is designed by iObit technologies. The company is devoted to designing security and system utility software since 2004 and has scored more than 100 Awards with over 250 Million product downloads.
iObit products are translated into over 40 different languages and launched worldwide for home and business users. 'Advanced SystemCare' is their best selling product which is trusted by over 250 Million customers in over 220 countries worldwide.
iObit – Smart Defrag
iOBit's Smart Defrag version 6.2.5 is the latest designed product to optimize file placement for a quick startup. iObit's disk defragmenter software has intuitive three-button interface with smart looks which allows you to choose specifically what & how you want to defrag on your computer.
Buttons on the main console display your primary hard drive, Windows Apps and an option to select specific files and folders. Unlike other outdated disk defragmenters which only defrags the drive, Smart Defrag 6 as the name suggests, smartly streamlines all the files on the basis of usage frequency to accelerate easy data access. This disk defragment software is reliable, stable, and user-friendly to optimize the Hard Drive for the best performance.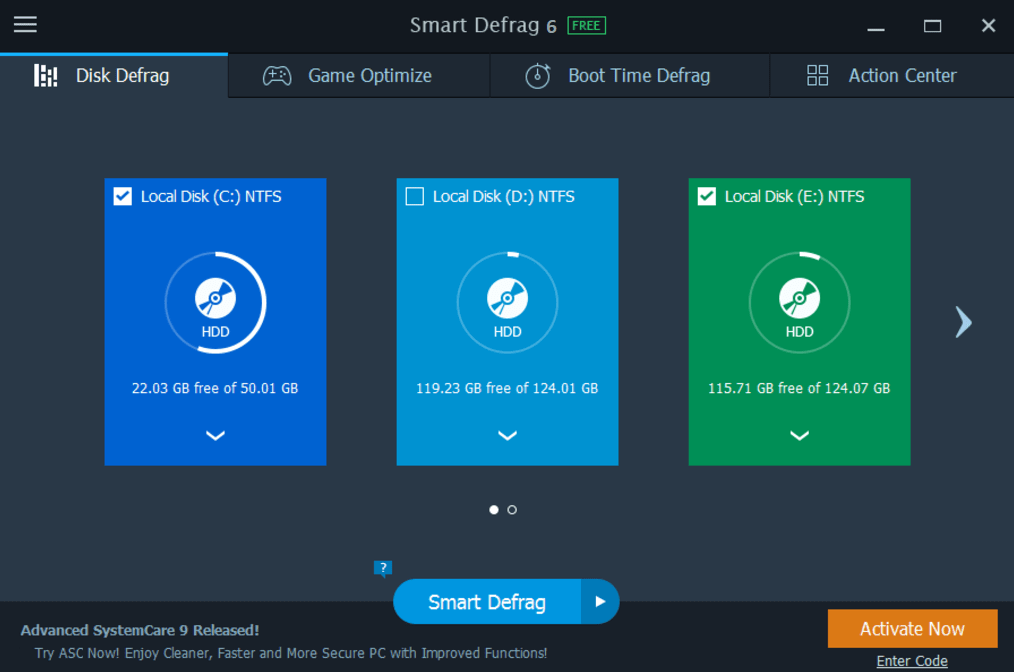 Its improved disk defrag engine not only defrags the HDD but also trims SSD to accelerate the access speed of the disk and increase disk durability. Smart Defrag 6 is specially designed to optimize the file organization algorithm of Windows 10. Its 'Boot Time Defrag' feature can also defrag Windows registry to release occupied RAM for enhanced performance. 'Auto Defrag' and 'Defrag Scheduler' option ensures that the disk is always optimized to give its best performance. To add to its features, 'Game Optimizer' offers a swift gaming experience to all the next generation gamers. 'Disk Health' option allows you to monitor the real-time status of your Hard Drive like Temperature, Usage, Self-monitoring analyze report, etc. Smart Defrag 6 delivers several other useful features to make your PC more powerful.
Product Features
Optimized Boot Time Defrag for a faster system startup.
Extensive disk cleanup database to free up huge disk space.
Improved Defrag Engine for ultra-fast disk defragmentation.
Exceptionally efficient disk defragmentation & SSD trimming.
Best suit for the latest Windows 10 and earlier versions of Windows.
Improved Windows algorithm to organize files & folders for quick access.
Defrags large files to accelerate disk read/write speed and enhance disk durability.
Disk Health monitors the real-time status of the disk, like temperature, usage, etc.
User-friendly installation process and disk defragmentation console.
Optimized operational process for improved user experience.
Trendy readable skin and more instinctive graphic interface.
Available in more than 40 languages to serve global users.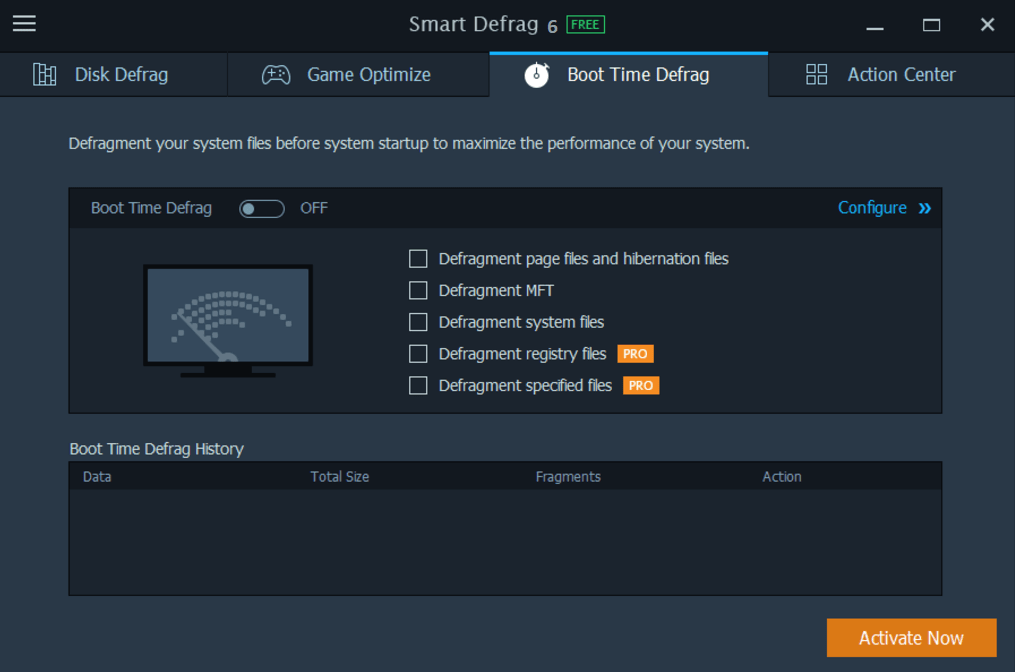 The application is divided into four main sections. 1. State, 2. Automatic Defrag, 3. Boot Time Defrag, and 4. Report. State shows whatever scan is currently going on and details about the Defrag. You can also choose the type of defrag you want to initiate between Defrag Only, Defrag and Fast Optimize, or Defrag and Fully Optimize. It gives you options to pause the scan or setup Smart Defrag to automatically shut down the system when the defrag process is finished.
Automatic Defrag allows you to schedule the disk defragment process on a daily, weekly or monthly basis. It can also be set up to initiate the defrag when the system is in idle mode. The disk defragment process can also be initiated when the screensaver gets active.
Boot Time Defrag feature defrags Windows registry to release occupied RAM for enhanced performance and faster boot time.
Product Specifications
Full Specifications
GENERAL
Publisher
IObit
Publisher Website
http://www.iobit.com
Release Date
7/13/2018
Date Added
4/29/2019
Version
6.2.5.128
CATEGORY
Category
Utilities & Operating Systems
Subcategory
System Utilities
OPERATING SYSTEMS
Operating Systems
Windows 10/8.1/8/7/Vista/XP
Additional Requirements
None
DOWNLOAD INFORMATION
File Size
15.11MB
File Name
External File
PRICING
License Model
Free
Limitations
Not available
Price
$19.99
Free vs Pro Version
Category
Features
Smart Defrag Free
Smart Defrag Pro ($19.99)
Better PC Performance
Premium PC cleaning and optimization
Yes
Deep clean registry to prevent system crash
Yes
Defrag hard drive data to optimize PC performance
Yes
Yes
Auto RAM clean to stop unused programs and processes
Yes
Auto care for PC as scheduled
Yes
Monitor system condition in real-time
Yes
Boost PC Speed
Up to 200% quicker PC startup
Yes
Up to 300% Internet speedup with Internet Booster
Yes
Ensure PC & Privacy Security
Basic PC protection with spyware removal
Yes
Full PC protection for detecting and removing deepest infections
Yes
Capture intruders automatically with FaceID
Yes
Premium surfing protection with automatically clear tracking data
Yes
Disguise digital fingerprint to keep online behavior private
Yes
Keep your personal data away from untrusted programs
Yes
Proactively detect and block security holes in real-time
Yes
Optimum IObit Service
Auto update to the latest version
Yes
Free 24/7 technical support on demand
Yes
Summing Up
'iOBit's Smart Defrag' is upgraded with plentiful new features and intuitive design to enhance the experience of disk defragmentation. Smart Defrag's Auto Defrag, Boot Time Defrag, 'Disk Health' and 'Game Optimizer' features are unique and quite impressive in terms of performance and automation. This multi-featured Disk Defragment software is worth a shot.
For more such tips, tricks and tech related updates subscribe to Tweak Library and if you are more into tech-related videos do watch and subscribe to our YouTube channel. You could also reach us on Facebook and Pinterest.