Best Disk Defragmenter Software for Windows 10/8/7 in 2019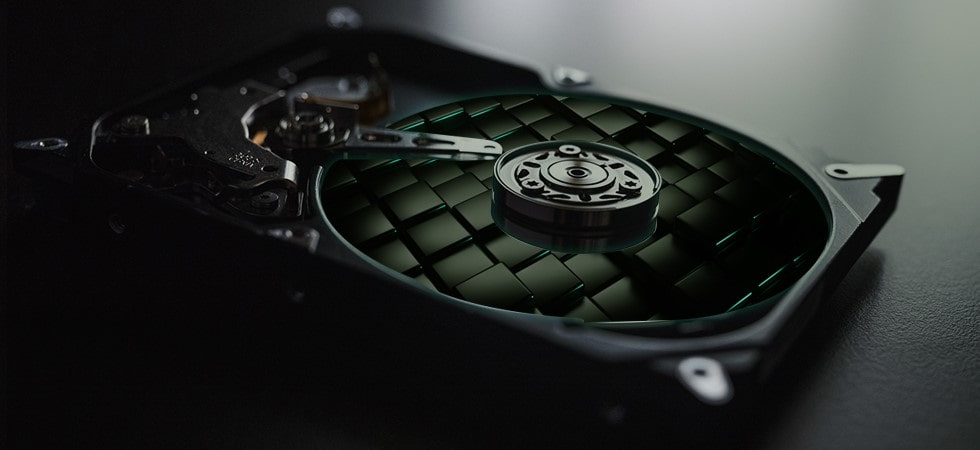 What is Disk Defragmentation?
Often when a Windows system is used for a lot of data creation, editing or shuffling, it starts giving you sluggish performance and you witness lag in system functionality. To maintain a file system on a Windows PC, we perform Disk Defragmentation. Disk Defragmentation is a process to reduce the degree of fragmentation in the file system. This process physically organizes the content of the mass storage device to store files into the smallest fragments. It optimizes files in the most efficient manner and frees up a lot of disk space. A successful Disk Defrag can possibly improve the overall performance and speed up your computer to boost system performance. If you don't know how to defrag Windows 10 / 8 / 7, this article is for you.
Why Defrag your Hard Drive?
A fragmented Hard Drive affects system performance and slows down the PC which can be improved by Disk Defragmentation. By performing a successful Disk Defrag, one could potentially optimize Hard Drive, RAM and speed up Windows 10 / 8 / 7 for best Operating System performance.
Once a Hard Drive is defragmented, the performance of the system drastically improves as it affects the speed in which tasks are carried out. Basic functionalities of any program like opening, closing, modifying, installing and uninstalling also gets faster after you Defrag and optimize your PC.
Also Read: Best PC Optimization Software to Speed up your Computer's Performance
How does it work?
The purpose of the Disk Defragmentation process is to streamline the fragmentation of your Hard Drive's data. Whenever you save a file, it stores in a free location on your Hard Drive. Whenever you edit or make changes to the file, those changes may restrict the file from fitting back on the same physical location. This results in fragmenting the file and save it in several bits and pieces on different sectors of the Hard Drive. Disk Defragmentation restructures the file back and organizes it on the Hard Drive and gains free disk space.
When to Defrag?
One should always perform a Disk Defragmentation process once the system is in an idle state. The defragmentation process may consume a lot of time depending on several factors such as the size of the Hard Drive, amount of data, system resources (RAM + Processor), and count of fragmented files on the Hard Drive. The best time to perform a disk defrag is when you're not using your PC. You can initiate the process at night or early in the morning when all the applications are closed.
Needed for SSD?
If you are using an SSD (Solid State Drive) on your computer, you should NOT defrag your Hard Drive. Luckily Windows 7, 8 and 10 are already loaded with this function to automatically disable disk defrag on such drives however for Windows Vista or older operating systems, one will need to disable scheduled disk defrags. Those who are using Windows XP with an SSD are recommended to upgrade to at least Windows 7 for swift performance.
How to Defrag Your Hard Drive?

Microsoft Windows operating system comes with a preloaded utility to defrag the Hard Drive. All you need to do is follow simple steps to initiate disk defragmentation process.
For Windows 7/8/10
Press Windows key + R to open Run box.
Type in dfrgui (Windows XP: dfrg.msc) and click on 'OK'.
This command will load up Disk Defragmenter, from here click on one of your Drives to defrag and then click on 'Defragment Disk' / 'Optimize' / (Windows XP: 'Defragment').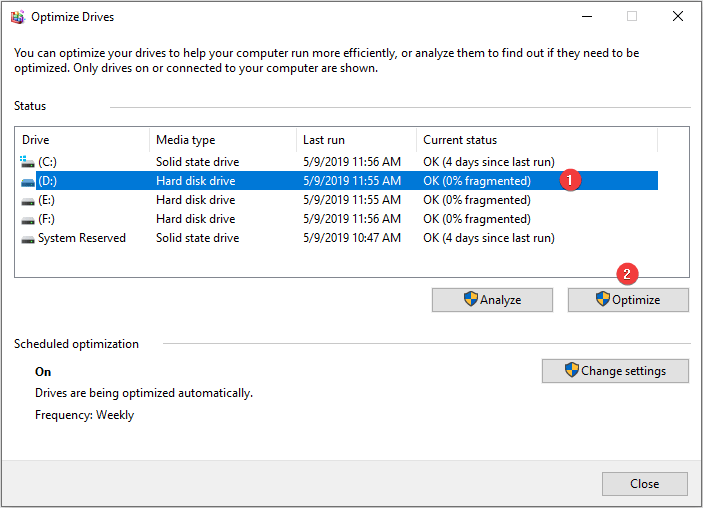 You may also see the 'Scheduled Optimization' option and customize it as per your preferred time slot by clicking on the 'Change Settings' button.
This manual defragmentation process or auto-scheduled defragmentation process may prompt you with bunch of options and needs your presence for hours to complete. Windows process is not so robust and user-friendly hence we may require a third-party tool to defrag the Hard Drive. These third-party disk defragmenter tools tend to work a little better and faster, comes with additional features like SMART Defrag, Registry Defrag, Boot-time Defrag, and Boot Speed Optimization.
Best Disk Defragmentation Software
Here are our best picks of Disk Defragmentation software for Windows 10, 8, 7 and other versions to optimize and boost up your computer for as good as new feel!
1. O&O Defrag Disk Defragment windows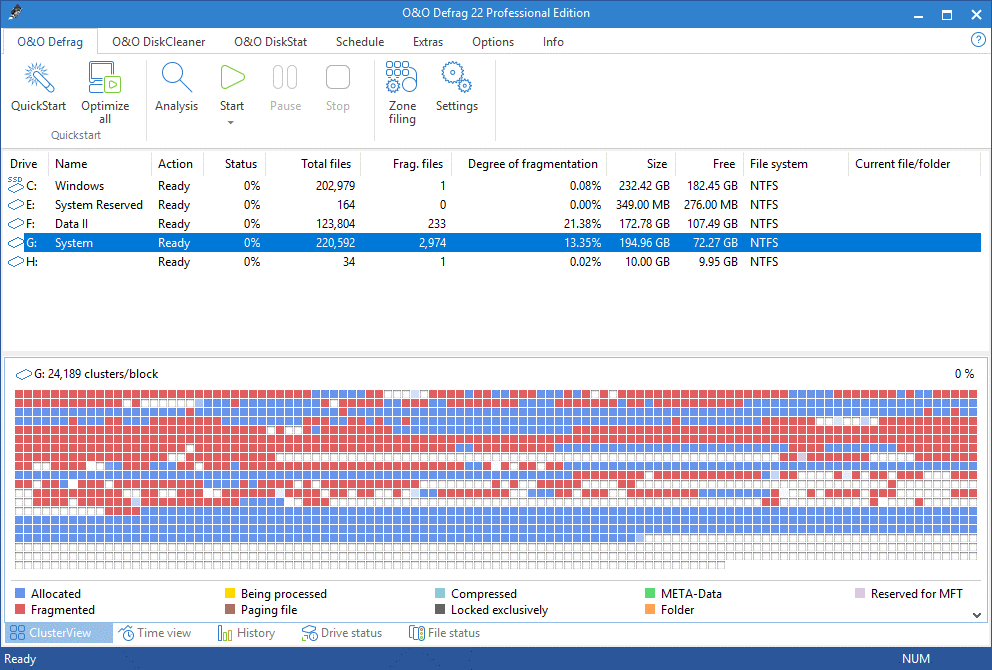 Product Features
Defragmentation Time Reduced by Up To 40%
Runs on New Defragmentation Method (SOLID)
Hardware-Friendly Optimization on Your Hard Disk And SSD
O&O Diskstat – Shows Graphical Representation of Hard Drive
Server Edition Requires Windows Server 2016, 2012 R2, 2012, 2008 R2, 2008
O&O Diskcleaner – Removes Temporary and Unnecessary Files
Identify the Most Fragmented Files Using Fragment Filter
Supports Windows 10, Windows 8.1 And Windows 7
User-Friendly – Ideal for Beginners and Professionals
Time View to See Defragmentation Activity Results
Even Faster System and Program Response Rate
O&O Defrag is organized and easy to use disk defragmentation software. With its user-friendly interface, it supports great features like optimizing a Hard Drive, checking a drive for errors and viewing a list of all the fragmented files, etc. It supports scheduled defragging which can be customized to not run if fragmentation is not really needed. Defragmentation can be set to run each time the screensaver gets active. It produces extremely detailed Hard Drive reports for a proper insight of your Hard Drive and suggests necessary actions. You can select from Quick Configuration Wizard to set up scheduling or immediately optimize a Hard Drive.
2. iObit Smart Defrag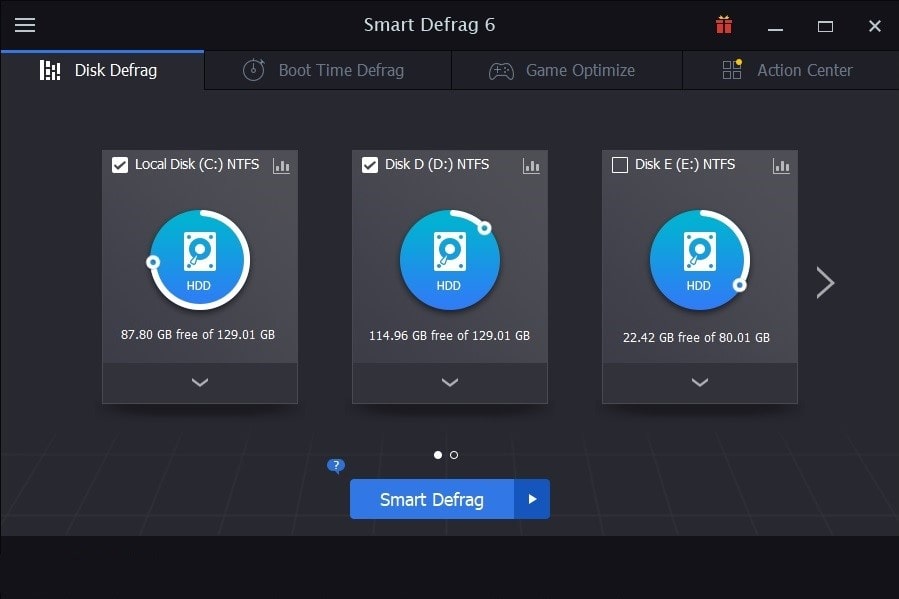 Product Features
Stylish User Interface
Excellent Support for SSD Drives
Boot and Gaming Optimization Options
Automatically Defrags on A Schedule Time Frame
A Defrag Can Initiate While the Computer Is Booting Up
Frequently Accessible Files Can Be Moved to Faster Location of The Drive
Can Clean Up the Drive Before Initiating Defrag to Speed Up Process
Lots of Options Available Post-Defrag, Like Shutdown, Reboot
Exclusion of Drives Can Be Applied to The Defrag Process
A Portable Version Is Also Available to Defrag
If you are looking for a stylish application to manage Disk Defragmentation on your hard disk, this one is again one of the best Disk Defragmenter you can opt for. iObit Smart Defrag is one of the finest disk defragmentation tools available for Windows OS as it has few new tricks to boost the process.
Smart Defrag is capable of excluding files and folders from a defrag / analysis, defrag just Windows Metro Apps, replace Windows Disk Defragmenter, and skip the defragging process for files that are over certain file size. iObit Smart Defrag also includes features to removes junk files from Windows and Internet Explorer. It also clears cache files from other parts of Windows which results speeding up a defrag process.
3. Amigabit Disk Defrag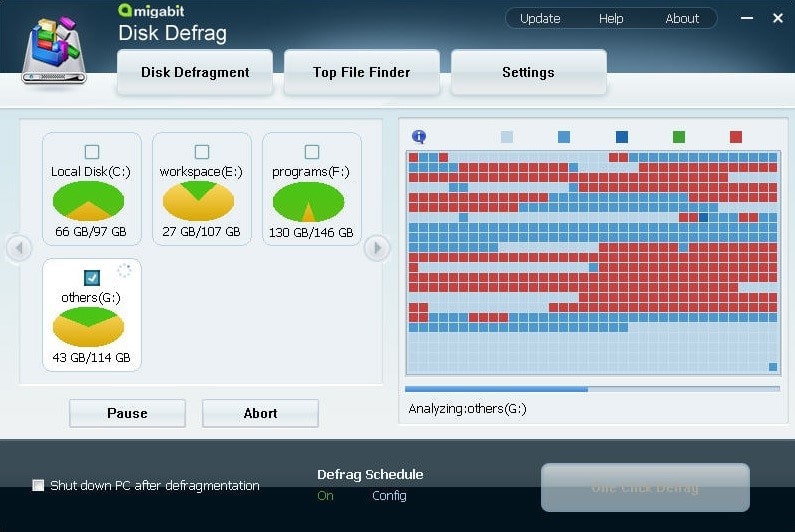 Product Features
Find Out Large Files on Hard Drive
Specific Folder or File Exclusion Available
Supports Boot-Time and Standard Defragmenting
Can Automatically Turn Your Computer Off After Completion
Single or Multiple Disk Defragmentation at A Time
Reports Are Extensive and Easy to Understand
Extremely Effective at Scanning HDDs
Clean, Intuitive, Easy-To-Use Interface
Amigabit Disk Defrag is on 4th rank in our top 5 disk defragmenters. Every time you use your computer, junk files, and other temporary unnecessary files get stored on your Hard Drive. This accumulated data can slow down your computer. Amigabit Disk Defrag tool allows you to automatically analyze, defrag computer and optimize disks for best performance. It is easy to use with its intuitive interface to identify and remove large files to free up valuable disk space on your system.
4.  Auslogics – Disk Defrag Pro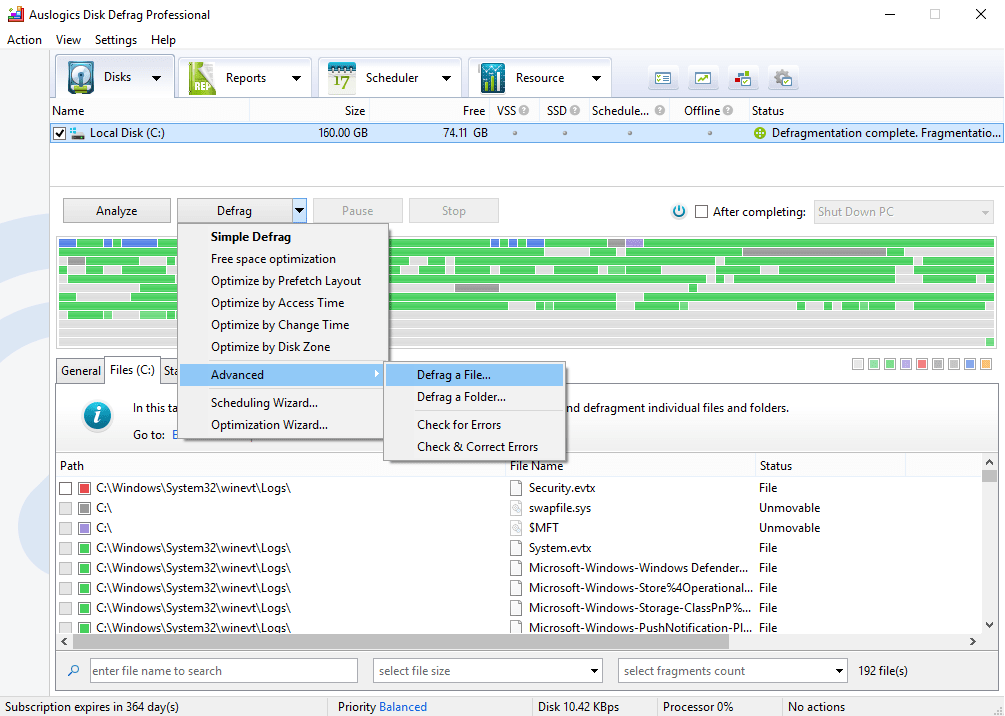 Product Features
3-PC License – 1 License Works For 3 Pcs
Capable of Boot-Time or Offline Defragmentation
Disk Cleanup & Checkup Options Before Defragging
Adapts to Your Needs – Smart Defrag Algorithms and Multi-Scheduling Options
Industry-Acknowledged Quality – Proven Safe and Effective in Multiple Tests
Advanced Scheduling Options or Auto Defragmentation Mode
Capable of Single File or Folder Defragmentation
Resource Management and Performance Charts
FREE Trial Available For 30 Days
Auslogics Disk Defrag Pro is a very old and effective defragmentation software trusted by Microsoft and over 4 million users. It defrags the computer while the computer is in idle state. It is capable of excluding files and folders from a defragmentation process. It also comes with an option to erase junk files before initiating the defragmentation process. Auslogics Disk Defrag Pro can be downloaded as a portable program. The most effective function of Auslogics Disk Defrag Pro is that it can move important system files to a faster part of the Hard Drive to improve launch times and general system performance. Like other Disk Defrag programs, Auslogics Disk Defrag is also able to run boot-time defrags. You also get an option to check a Hard Drive for errors with chkdsk, optimize a Hard Drive and delete temporary system files before defragmenting.
5. Disk SpeedUp – Glarysoft Utilities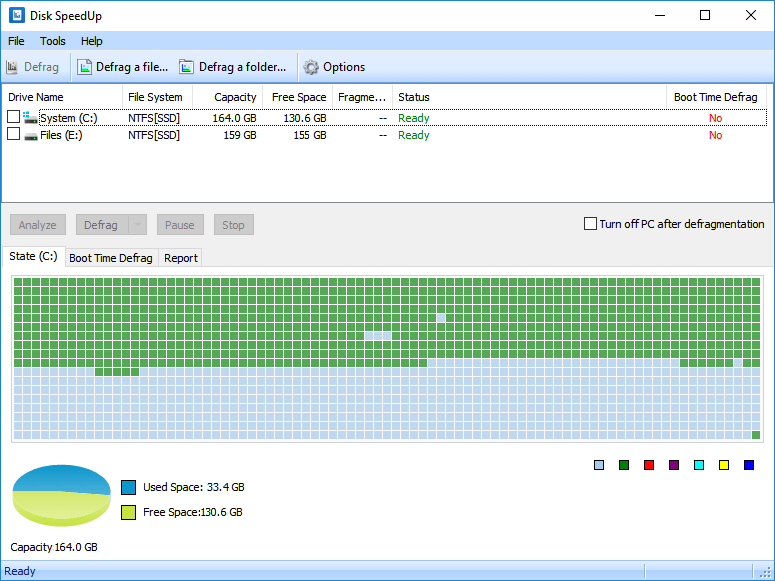 Product Features
Can Defrag When the Computer Is in Idle State
Easy to Use and User-Friendly Disk Defragmentation
Moves Infrequent Files to A Slower Part of The Drive
Automatically Defrags on A Schedule Time Frame
Use it Free of Cost without Pro Version
Disk SpeedUp is one of the free Disk Defragmentation programs that can be used to defrag not only entire Hard Drives but also individual files and folders. This product has old school looks however is effective to defrag the Hard Drive. It may not have all those advanced features however is effective for basic defragmentation. You can also set it up to run automatic defragmentation when the system is in an idle state for a particular time frame. Disk SpeedUp has specific settings like disabling defrags if files have less than 10 MB fragments, have more than five fragments, and are larger than 100 MB. All these values can be customized as per your needs. Disk SpeedUp is compatible with Windows 10, 8, 7, Vista, XP and Windows Server 2003.
 Must Read: How to Optimize Windows 10 PC for Best Performance
Conclusion
As we have reviewed one of the best disk defragmenter software, we have options to choose the best disk defragmenter software for windows 10. If you are a professional and can initiate the process with Windows utilities and follow the instructions, you may skip purchasing a third-party utility. However, for hassle-free process with extensive additional options, it is recommended to have any of the above-listed software on the system. We are sure you would be able to boost up system performance and enhance the efficiency of the system.