Table of Contents
Often when a Windows system is used for a lot of data creation, editing, or shuffling, it starts giving you sluggish performance and you witness lag in system functionality. To maintain a file system on a Windows PC, we defrag Windows 10 or earlier versions. Best Defragment software reduces the degree of fragmentation in the file system. This process physically organizes the content of the mass storage device to store files into the smallest fragments.
Disk Defragmentation optimizes files in the most efficient manner and frees up a lot of disk space. A successful Disk Defrag can possibly improve the overall performance and speed up your computer to boost system performance. If you don't know how to defrag Windows 10 / 8 / 7, this article is for you. Here in this article, we are going to round up the best disk Defragmentation software for Windows.
Here Are Top 3 Recommended Disk Defragmentation Software 2021
Disk Speed Up By Systweak

Fix Hard Disk Health
Easy to Use Interface
Minimal Disk Space Required to Defrag

O&O Defrag

Runs on New Method
Hardware-Friendly Optimization
User-Friendly

iObit Smart Defrag

Stylish User Interface
Support for SSD Drives
Boot and Gaming Optimization
List Of 

The Best Disk Defragmentation Software for Windows 10, 8, 7 in 2020

Here are our picks of Best Disk Defragmentation Software for Windows 10, 8, 7, and other versions to optimize and boost up your computer for as good as new feel!
1. Disk Speedup – By Systweak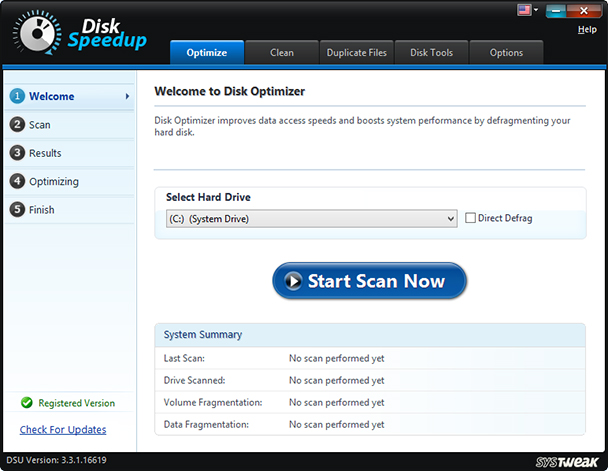 Click Here to Download Best Driver Updater – Disk Speedup 
Read Full Review of Disk SpeedUp by Systweak
Disk Speedup for Windows is a multi-utility software to defragment hard drives, wipe out junk, repair file system issues, and make your hard disk last longer. Its intuitive features made it rank as the best defrag software in our roundup. This software is compatible with Windows 10/8.1/8/7/Vista and XP operating systems in both 32-bit and 64-bit versions.
Disk Speedup is an innovative tool to evaluate your disk performance, clean up junk files, and defragment the fragmented disk space. It defrags your hard drive efficiently and smartly arranges small/ large and most frequently used files to speed up access times and enhance overall PC performance.
Product Features
Diagnose And Fix Hard Disk Health
Most Simple and Easy to Use Interface
Safe and Secure Defragmentation Process
Built-in Disk Doctor To Fix Hard Disk File Issues
Scheduler Defrags Individual Directories And Files Automatically
Better Disk Performance Using Everyday Optimization
Moves Directories At The Beginning Of The Disk
Defragment full Hard Disk drives with large files
Minimal Disk Space Required To Defrag
Pros
Significantly improves drive performance.
Powerful cleanup & defrag program.
Allows you to update necessary drivers.
Cons
Lacks customization.
2. O&O Defrag Disk Defragment Windows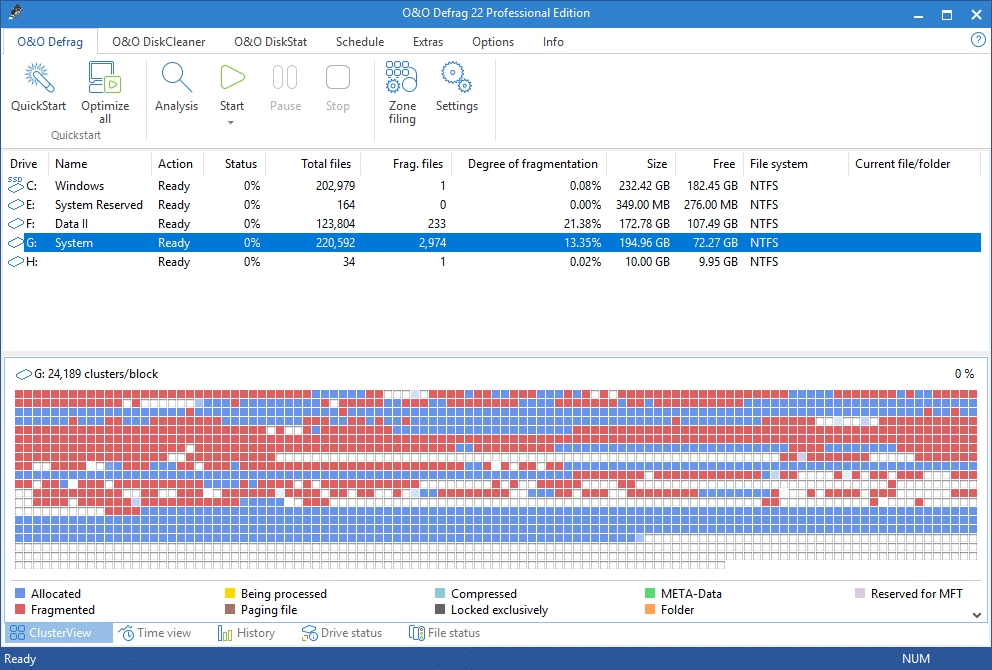 Read Full Review on O&O Defrag 
O&O Defrag is organized and easy to use top disk defrag software. With its user-friendly interface, it supports great features like optimizing a Hard Drive, checking a drive for errors, and viewing a list of all the fragmented files, etc. It supports scheduled defragging which can be customized to not run if fragmentation is not really needed.
Defragmentation can be set to run each time the screensaver gets active. It produces extremely detailed Hard Drive reports for a proper insight of your Hard Drive and suggests necessary actions. You can select from Quick Configuration Wizard to set up scheduling or immediately optimize a Hard Drive. Its intuitive features made it rank as one of the best disk defrag software in our roundup.
Product Features
Defragmentation Time Reduced by Up To 40%
Runs on New Defragmentation Method (SOLID)
Hardware-Friendly Optimization on Your Hard Disk And SSD
O&O Diskstat – Shows Graphical Representation of Hard Drive
Server Edition Requires Windows Server 2016, 2012 R2, 2012, 2008 R2, 2008
O&O Diskcleaner – Removes Temporary and Unnecessary Files
Identify the Most Fragmented Files Using Fragment Filter
Supports Windows 10, Windows 8.1 And Windows 7
User-Friendly – Ideal for Beginners and Professionals
Time View to See Defragmentation Activity Results
Even Faster System and Program Response Rate
Pros
Helps you identify most fragmented files.
Easy to use disk defragmenter tool.
Helps you find & remove unwanted files.
Cons
Doesn't let you exclude files from defragmentation.
3. iObit Smart Defrag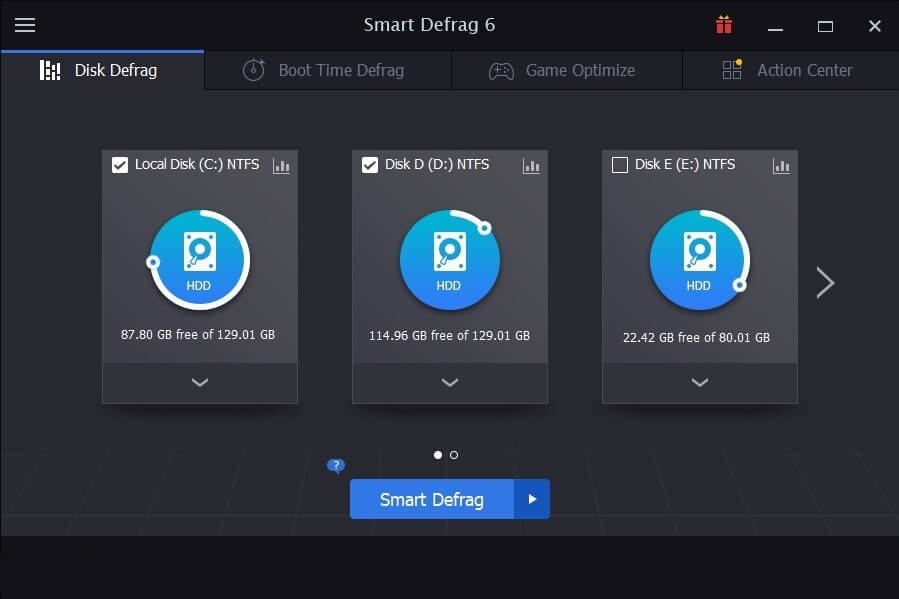 Read Full Review on iObit Smart Defrag 
If you are looking for a stylish application to manage Disk Defragmenter on your hard disk, this one is again one of the Best Defragment software you can opt for. iObit Smart Defrag is one of the best defrag tools available for Windows OS as it has few new tricks to boost the process.
Smart Defrag is capable of excluding files and folders from a defrag / analysis, defrag just Windows Metro Apps, replace Windows Disk Defragmenter, and skip the defragging process for files that are over certain file sizes. iObit Smart Defrag also includes features to removes junk files from Windows and Internet Explorer. It also clears cache files from other parts of Windows which result in speeding up a defrag process.
Product Features
Stylish User Interface
Excellent Support for SSD Drives
Boot and Gaming Optimization Options
Automatically Defrags on A Schedule Time Frame
A Defrag Can Initiate While the Computer Is Booting Up
Frequently Accessible Files Can Be Moved to Faster Location of The Drive
Can Clean Up the Drive Before Initiating Defrag to Speed Up Process
Lots of Options Available Post-Defrag, Like Shutdown, Reboot
Exclusion of Drives Can Be Applied to The Defrag Process
A Portable Version Is Also Available to Defrag
Pros
Supports boot-time & standard defragmentation
Portable version of defrag tool available.
Can clean up the drive before defragging.
Cons
Doesn't support idle defrags.
Setup might attempt to install extra programs.
4. Amigabit Disk Defrag
Read Full Review Amigabit Disk Defrag
Amigabit Disk Defrag is on 4th rank in our top 5 disk defragmenters. Every time you use your computer, junk files, and other temporary unnecessary files get stored on your Hard Drive. This accumulated data can slow down your computer.
Amigabit Disk Defrag tool allows you to automatically analyze, defrag computer and optimize disks for best performance. It is easy to use with its intuitive interface to identify and remove large files to free up valuable disk space on your system.
Product Features
Find Out Large Files on Hard Drive
Specific Folder or File Exclusion Available
Supports Boot-Time and Standard Defragmenting
Can Automatically Turn Your Computer Off After Completion
Single or Multiple Disk Defragmentation at A Time
Reports Are Extensive and Easy to Understand
Extremely Effective at Scanning HDDs
Clean, Intuitive, Easy-To-Use Interface
Pros
Quick & optimized disk defragmentation.
Shut down PC after disk defragmentation.
Offers 15 days free trial.
Cons
Limited features available with the free version.
5. Auslogics – Disk Defrag Pro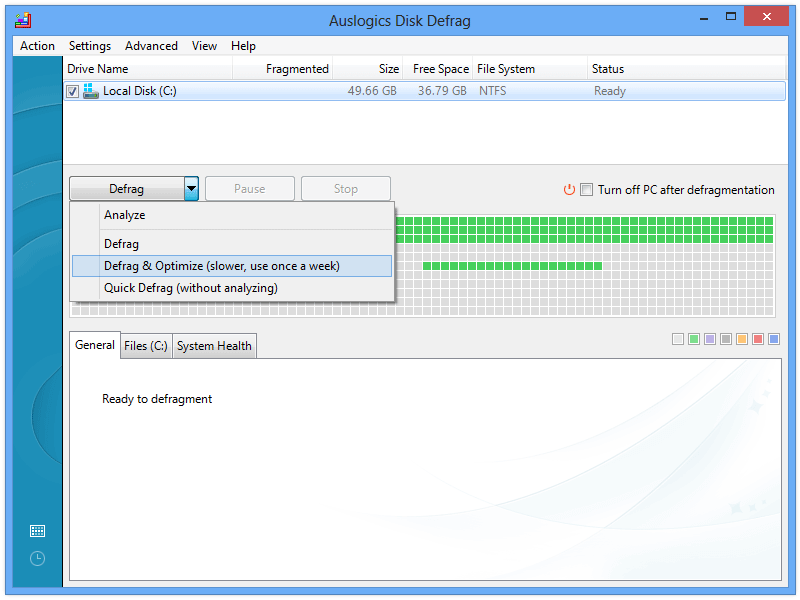 Auslogics Disk Defrag Pro is a very old and effective defragmentation software trusted by Microsoft and over 4 million users. It also comes with an option to erase junk files before initiating the defragmentation process. Auslogics Disk Defrag Pro can be downloaded as a portable program. The most effective function of Auslogics Disk Defrag Pro is that it can move important system files to a faster part of the Hard Drive to improve launch times and general system performance.
Like other Disk Defrag programs, Auslogics Disk Defrag is also able to run boot-time defrags. You also get an option to check a Hard Drive for errors with chkdsk, optimize a Hard Drive, and delete temporary system files before defragmenting. Its intuitive features made it rank as one of the best defrag software in our roundup.
Product Features
3-PC License – 1 License Works For 3 Pcs
Capable of Boot-Time or Offline Defragmentation
Disk Cleanup & Checkup Options Before Defragging
Adapts to Your Needs – Smart Defrag Algorithms and Multi-Scheduling Options
Industry-Acknowledged Quality – Proven Safe and Effective in Multiple Tests
Advanced Scheduling Options or Auto Defragmentation Mode
Capable of Single File or Folder Defragmentation
Resource Management and Performance Charts
FREE Trial Available For 30 Days
Pros
Enjoy regular updates with this disk defragmenter tool for Windows 10.
Allows you exclude files from defrag.
Free disk defragmenter for personal use.
Cons
Setup might attempt to install extra programs.
6. Disk SpeedUp – Glarysoft Utilities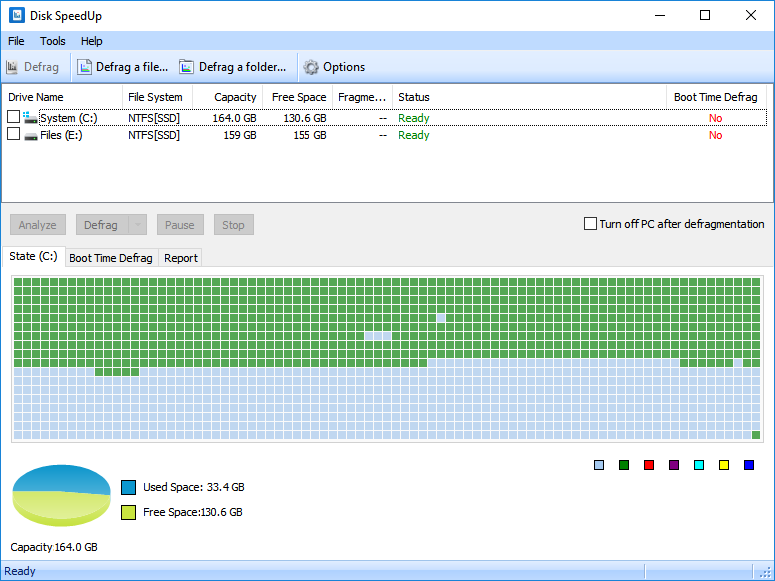 Read Full Review on Disk Speedup by Glarysoft Utilities
Disk SpeedUp is one of the free and best defrag programs that can be used to defrag not only entire Hard Drives but also individual files and folders. This product has old school looks however is effective to defrag the Hard Drive. It may not have all those advanced features however is effective for basic defragmentation.
You can also set it up to run automatic defragmentation when the system is in an idle state for a particular time frame. Disk SpeedUp has specific settings like disabling defrags if files have less than 10 MB fragments, have more than five fragments, and are larger than 100 MB. All these values can be customized as per your needs. Disk SpeedUp is compatible with Windows 10, 8, 7, Vista, XP, and Windows Server 2003.
Product Features
Can Defrag When the Computer Is in Idle State
Easy to Use and User-Friendly Disk Defragmentation
Moves Infrequent Files to A Slower Part of The Drive
Automatically Defrags on A Schedule Time Frame
Use it Free of Cost without Pro Version
Pros
Best free disk defragmenter software.
Supports boot-time defragmentation.
Easy to use defragmentation program.
Cons
Doesn't work with removable drives.
7. Defraggler – CCleaner
CCleaner Defraggler is one of the best defrag software from Piriform who created the world's most used optimization software 'CCleaner'. Defraggler allows you to perform disk defragmentation of files on your computer Hard Drive. It significantly improves the performance of your system.
This tool can defrag exactly what you want, and highlights empty blocks, unfragmented blocks, organizes empty disk space to further prevent fragmentation. You can also schedule to defrag Windows 10 or earlier versions for daily, weekly, or monthly intervals.
Product Features
Faster Computing – Experience a faster computer with a quick touch-up using Quick Defrag.
Safe & Secure – Defraggler follows the same techniques as Windows to defrag the Hard Drive.
Defrag Free Space – Defraggler organizes disk space to prevent further fragmentation.
Full Customization – Schedule Defraggler to defrag your Hard Drive while you sleep.
Set Defraggler to run defragmentation on a daily, weekly or monthly basis.
Supports 37 major languages to cater worldwide.
Pros
Scheduler to run defragmentation automatically.
Exclude files/folders from the defrag process.
A portable disk defragmenter tool available.
Cons
No update received since 2018.
Doesn't support idle defragmentation.
8. Puran Defrag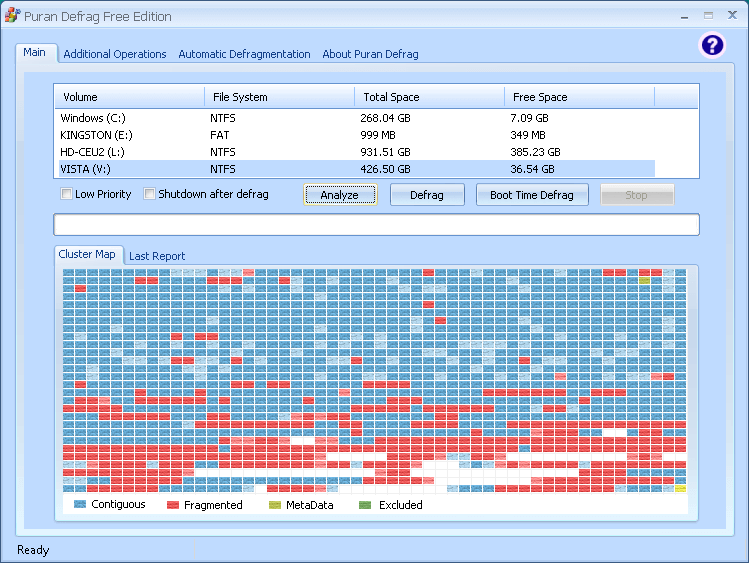 PIOZR Also known as Puran Defrag is an innovative technology to make your computer operate faster than ever before. It is designed on a simple principle that Files most needed should be placed at the most accessible places. PIOZR places frequently used files on the outer edge at faster disk areas, which results in boosting the overall system speed.
Product Features:
Free license for home users, Lifetime commercial standard license for $39.95, and complete site license for $149.95.
Puran Utility is compatible with Windows XP/2003/Vista/2008/7/8/8.1/10 including 32/64-Bit versions.
Low Priority Defrag – Enables you to use your computer without a lag as it uses limited resources.
Defrags files like MFT, Registry, Pagefile, etc. as they can't be defragged when Windows is running.
Boot Time Defrag – Puran Defrag runs a very powerful Defrag that not only defrags the system files but also defrags the entire drive for maximum benefits.
Offers Simple Automatic Defragmentation and Automatic Boot Time Defragmentation with the scheduler.
Also Know: 10 Best Antivirus for Windows
Pros
Lightweight disk defragmenter software.
Exclude files/folders from the defrag process.
Clean & straightforward interface.
Cons
Results can be difficult to read.
No dedicated optimization feature available.
9. Toolwiz Smart Defrag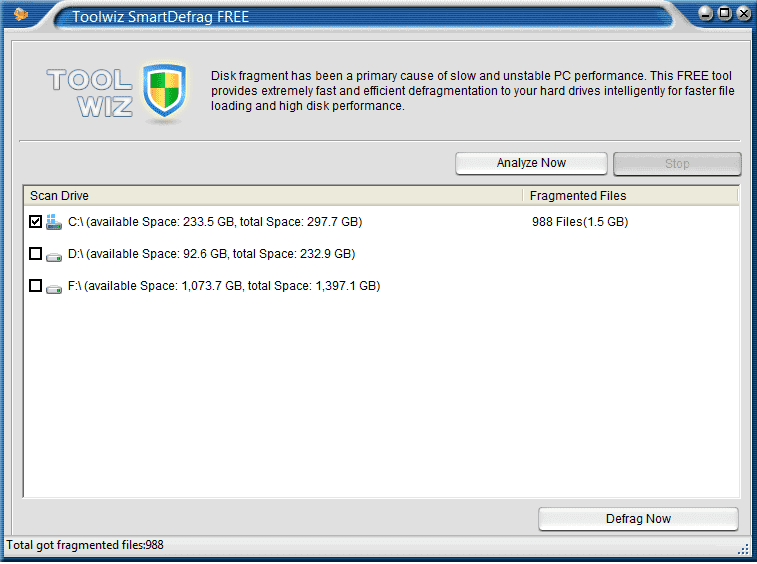 Toolwiz Smart Defrag is a very lightweight software and an easy-to-use application to scan the disk, remove fragments, and to improve the speed of file access. This tool can analyze all the drives connected to your system, be it internal or external Hard Drive or other storage drives.
It also displays a detailed analysis of the drive for clarity on disk usage. Using this application on a regular basis will surely improve the performance and speed of the PC, which is unavoidably affected by time.
Product Features:
Hassle-free setup and user-friendly interface.
Quick scan and defrag disk drives
Compatible with 32-Bit and 64-Bit versions of Windows 8 and earlier versions.
Archive files like ZIP and RAR files and automatically moves them to slower portions of the Hard Drive.
Pros
Clean & straightforward interface.
Displays how many files are fragmented.
10 times faster than the default windows defrag tool.
Cons
Doesn't allow scheduling defragmentation.
10. MyDefrag v4.3.1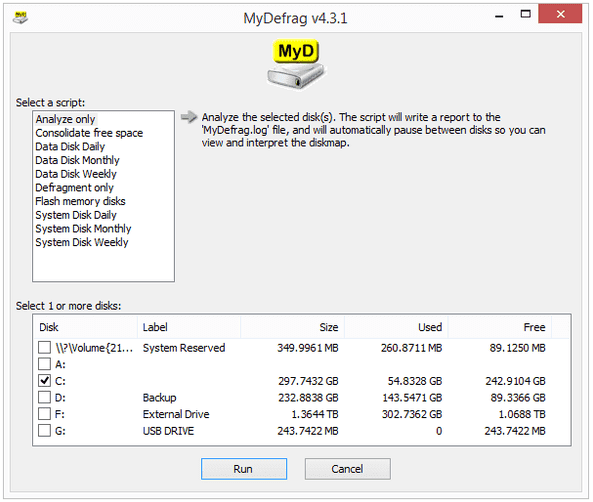 MyDefrag is one of the oldest, trusted and the best disk defragmenter software which is compatible with Windows 7 and earlier versions. It also works with Windows 10 and Windows 8 however few features are not OS compatible. It is a good and lightweight software for Windows Server 2008 and 2003. One can run this disk defragmenter on more than one Hard Drives. You can schedule optimization during setup or at a later stage through Task Scheduler.
Program Features:
Much faster, fully automatic, Free of cost, and easy to use the software.
Better disk performance using everyday optimization.
Reclaim MFT reserved space once the disk is full.
Moves Directories at the beginning of the disk.
Maintains free space for temporary files.
Defragment full Hard Disk drives with large files.
It can be used as a screen saver for disk defragmentation.
Defrag individual directories and files automatically with Scheduler.
Pros
Features advanced tools.
Easy to use disk defragmenter tool for Windows 10 & other versions.
Allows defragging removable & internal drives.
Cons
No latest updates received.
11. Wise Care 365
Another addition to our list of Best Disk Defragmenter Tools for Windows 10 & other versions is Wise Care 365. The tool is an excellent choice for novice users and has plenty of features that makes the system optimization process hassle-free.
Apart from disk defragmentation, it includes tools for auto-cleaning (log files, temp files, junk, browsing history & other residuals), repairing invalid registry files, memory optimizer, file shredder and many more. Some of the tools proffered by Wise Care 365 can also be utilized through right-click context menu.
Product Features:
Best PC Cleaning & speed up tool for Windows 10 & other versions.
Stop background processes that try to secretly make changes in Windows registry.
Lots of tools for complete PC optimization.
Powerful system & hardware monitoring utility.
Useful tools like File Shredder, Software Uninstaller, and Registry Cleaner.
Add tools to the right-click context menu for easy utilization.
Has One-click PC Cleanup feature to have full control over the system.
Pros
Features lots of free & useful functions.
Get full control over system cleaning & optimization.
Portable version of disk defrag tool available.
Cons
Most of the tools are labelled as Pro & available after upgrade.
12. UltraDefrag
UltraDefrag is the best defragmenter software for both beginners and advanced PC users, equipped with lots of tools for repairing, defragging and optimizing drives. It even offers a dedicated module to check a hard drive for common errors and fix them instantly.
Similar to most of the Disk Defragmenter Software for Windows, UltraDefrag supports defragging for both internal and external hard drives. In fact, it lets you defragment individual files and folders too, apart from the entire HDD. No matter if you are operating on Windows XP or Vista, UltraDefrag supports all Windows versions and works smoothly.
Product features
Common set of features for speeding up Windows systems.
Has advanced options to make necessary program changes.
Feature for fixing invalid Windows registry entries.
Significantly improves overall system performance.
Schedule automatic Windows optimization and defragmentation.
Feature for defragging individual files and folders.
Dedicated module to check for potential errors in hard drive.
Pros
Plenty of hidden features.
Supports both internal & external defragging.
Complete PC cleanup & optimization utility.
Cons
To unlock more features, you need to make changes in configuration files.
13. Condusiv Diskeeper
Diskeeper by Condusiv is another best disk defragmenter tool out there that keeps your hard drive defragmented in real-time. The software works in the background, features a straightforward interface with easy-to-use navigation tools.
Diskeeper is known for significantly improving system performance through the defragmentation process. It even helps users identify & eliminate resource-hogging file fragmentation securely. The software is capable of defragging almost all types of drives and even supports defragging during boot time. You can enjoy all the advanced features in a single package available at just $49.95 per year.
Product features
Features tool for fixing different kinds of PC errors & troubles.
Provides large & clean writes to avoid any type of fragmentation issues.
Runs fast & ensures accelerated I/O performance.
Tools that make PCs and physical servers
Allows you perform real-time defragmentation on SSDs & HDDs.
Can extend the hardware lifecycle significantly.
Potentially reduces software crashes.
Pros
Eliminate SAN storage performance degradation.
Capable of defragging multiple drives in one-go.
Enjoy enhanced disk performance.
Cons
Poor tech support.
Doesn't support defragmenting flash drives.
Frequently Asked Questions:
Here you can know more about Disk Defragmentation:
Q1. Why Defrag your Hard Drive?
A fragmented Hard Drive affects system performance and slows down the PC which can certainly be improved by using a dedicated defragmentation software. You can optimize the Hard Drive, RAM, and speed up Windows 10 / 8 / 7 for best Operating System performance using the tool.
As soon as the Hard Drive is defragmented, you can see the accelerated performance & the overall speed of operations. It includes opening, closing, modifying, installing, and uninstalling processes that get faster after you Defrag and optimize your PC.
Q2. How Does it Work?
The purpose of the Disk Defragmentation process is to streamline the fragmentation of your Hard Drive's data. Whenever you save a file, it gets stored in a free location on your Hard Drive. Whenever you edit or make changes to the file, those changes may restrict the file from staying in the same allocated space. This results in fragmentation of the file and saves itself in several bits and pieces on different sectors of the Hard Drive. Using the Best defrag software, you can restructure the file again and organize it on the Hard Drive to gain free disk space.
Q3. When to Defrag?
One should always perform a Disk Defragmentation process once the system is in an idle state. The defragmentation process may consume a lot of time depending on several factors such as the size of the Hard Drive, amount of data stored, system resources (RAM + Processor), and count of fragmented files on the Hard Drive.
Therefore, you can initiate the process at night or early morning when all the applications are closed.
Q4. Why You Shouldn't Defragment A Solid-State Hard Drive?
If you are using an SSD (Solid State Drive) on your computer, you should NOT defrag your Hard Drive. Luckily Windows 7, 8, and 10 are already loaded with this function to automatically disable disk defrag on such drives. However, for Windows Vista or older operating systems, one will need to disable scheduled disk defrags. Therefore, those who are using Windows XP with an SSD are recommended to upgrade to at least Windows 7 for swift performance.
Q5. How To Defrag Your Hard Drive?
Microsoft Windows operating system comes with a preloaded utility to defrag the Hard Drive. All you need to do is to follow the simple steps to initiate the disk defragmentation process, manually.
For Windows 7/8/10
1. Press Windows key + R to open the Run box.
2. Type in dfrgui (For Windows XP: dfrg.msc) and click on the 'OK' button.
3. This command will load up Disk Defragmenter. From here, you need to click on one of your Drives to start the defragging process and then click on 'Defragment Disk' / 'Optimize' / (Windows XP: 'Defragment') to start the process.
You may also see the 'Scheduled Optimization' option. Hence, you can customize it as per your preferred time slot by clicking on the 'Change Settings' button.
This manual defragmentation process or auto-scheduled defragmentation process may prompt you with a bunch of options and needs your presence for hours to complete. Since, Windows process is not so robust and user-friendly, you may require a third-party disk defragmenter tool to defrag the Hard Drive. These defragmentation software works faster and comes equipped with lots of tools like Registry Defrag, Boot-time Defrag, and Boot Speed Optimization.
Conclusion
As we have reviewed a few of the best disk defragmentation software, now you have the option to choose the best defrag software for windows 10 from the list above. If you are a professional and can initiate the process with Windows utilities and follow the instructions, you may skip purchasing a third-party utility. For a hassle-free process with extensive additional options, it is recommended to have any of the above-listed software on the system.
We are sure you would be able to boost up system performance and enhance the efficiency of the system. Do let us know which one is your best pick and how was your experience with the same. If you consider any other product to be added to this roundup, Do let us know and we'll review the same. If you have any inputs, please value add with your suggestions in the comments section below.
For more such tips, tricks, and tech-related updates subscribe to Tweak Library and if you are more into tech-related videos do watch and subscribe to our YouTube channel.