When you use PC for a longer run, the data on your PC becomes fragmented and results in slow computing. Disk Defragmentation software helps to defrag the fragmented portion of your HDD and boost systems performance to perform as good as new. O&O Defrag is compatible with Windows 10, 8.1, 8, 7, Windows Vista for both 32-bit  and 64-bit versions. Its tenure and consistency with upgraded versions made it the best Disk Defragmenter software for Windows 10.
What is O&O Defrag?
O&O Defrag is one of the best disk defrag software for Windows 10. This software works best for performance and stability problems of Windows 10 and earlier version. It is also compatible with server editions to work on fragmented hard drives and defrag them for best performance. Fragmentation can be considered as the main cause of performance related issues in Windows systems.
By using O&O Defrag, files can be reorganized in a much systematic and simplified manner so that they can be easily made available for reading and writing. The lag in executing the files and other performance related issues can be easily resolved and you may rediscover the same performance of your system.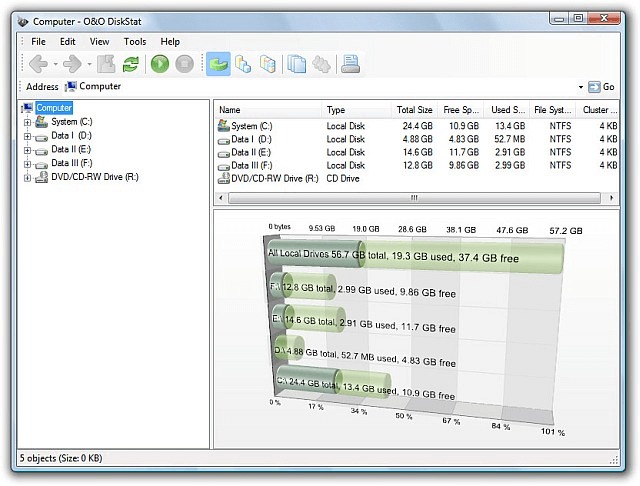 O&O Disk Defrag Product Features
Optimum support on Windows 32-bit & 64-bit versions.
Supports Windows 10, Windows 8.1, 8, 7 and Windows Vista.
User-Friendly – Ideal interface for Beginners and Professionals users.
Defragments locked files and displays lifetime performance statistics.
Inbuilt 'Fragment Filter' identifies the most fragmented files on Hard Drive.
The defragmentation process time is reduced by up to 40% in newer versions.
O&O Defrag offers a new defragmentation method (SOLID) for HDD and SDDs.
Best Performance – Get even faster system performance and program start time.
'Time View' to identify defragmentation activity results of successful optimization.
Server Edition is compatible with Windows Server 2016, 2012 R2, 2012, 2008 R2, 2008
Offers Network Management for cohesive software distribution on network Server Edition.
Offers effortless remote supervision using O&O 'TrueRemoteControl' on Server Editions.
Screen Saver Mode enables convenient and efficient optimization at system idle time.
The defragmentation process can be initiated with only 5% of free disk space.
Optimal defragmentation of all sized Hard Disks using STEALTH Technology.
Utmost functionality with all size of partitions and Hard Disk Drives.
O&O's Microsoft Windows API offers 100% file and data security.
Provides special support for Windows-based Notebooks.
Automated defragmentation with O&O OneClickDefrag.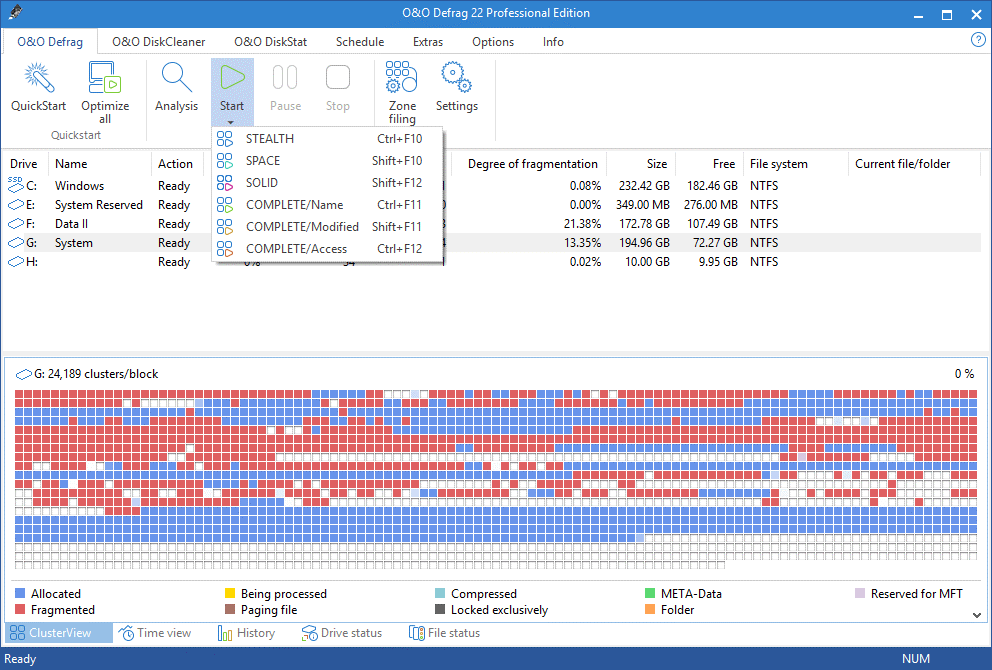 1 PC – USD $29.95, 3 PCs – USD $49.95, 1 Server – USD $199
How does O&O Defrag detect new fragmentation?
O&O Defrag can be scheduled to scan the system for fragmentation on a daily, weekly, monthly basis.  You can also define a threshold value to initiate defragmentation. Defragmentation process will only take place when a specified degree of fragmentation is hit. This ensures you that your device is in optimal shape and avoids unnecessary defragmentation process.
O&O Defrag is Best For?
O&O Defrag Professional Edition is best for Home and SMB users. Many corporate users are also availing the service of O&O defrag for optimization of corporate workstations.
Is O&O Defrag safe to use?
O&O Disk defrag is 100% based on Microsoft Windows API to defrag Windows 10 fragmented portion of the hard drive. This makes is quite safer to perform defragmentation processes using O&O Defrag software.
Supported Devices by O&O Defrag
O&O Defrag can support all hardware storage devices that are supported by Windows.
Supported OS Versions
O&O Defrag Professional is compatible with all version of Windows including Windows 10, 8.1, 8, 7 and Windows Vista. O&O Defrag Server Edition is compatible with Windows 10, 8.1, 8, 7, Server 2008 R2, Server 2008, Vista, Server 2003, Server 2012 and Server 2012 R2.
Languages Offered
O&O Defrag is currently offered in English and German languages.
Also Read: Best Disk Defragmenter Software for Windows 
Technical Support
You may contact technical support using following e-mail support@oo-software.com or fill out the support form at https://www.oo-software.com/en/support/csupport and the support representative shall get back to you via Email or Call as per severity.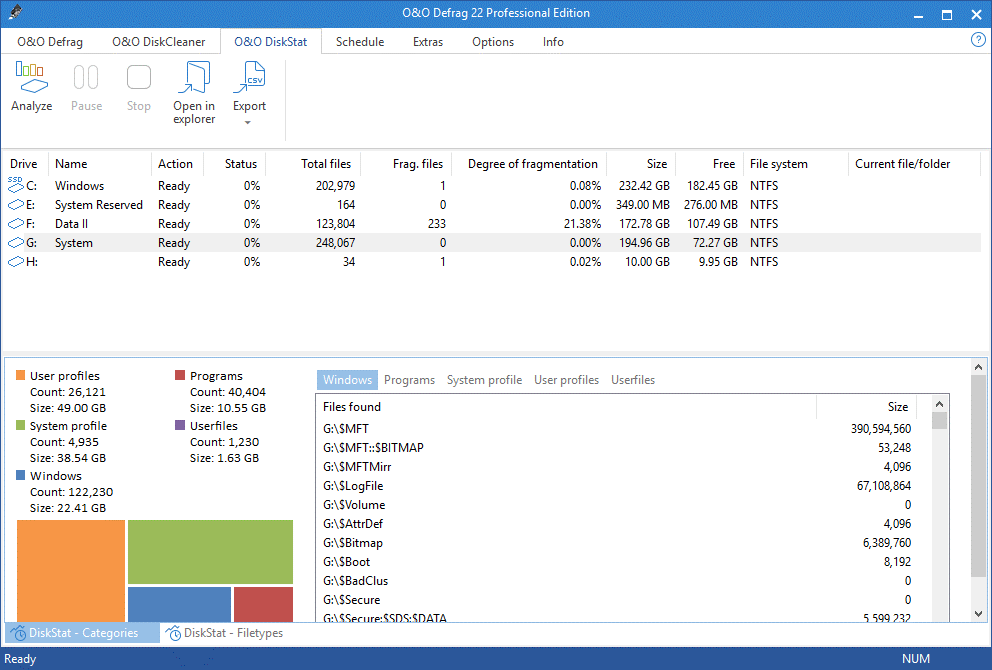 Pros
Scheduled defragging can be set up as per system idle time.
Defrags can be initiated each time the screensaver gets active.
Scheduled defrags can be skipped if the fragmentation is too low.
Moves large system files and restore points to slower parts of the disk.
Increases the performance of files and overall system response time.
Shows extensively detailed hard drive reports of the system.
Cons
All features are not free to use but available in the Professional version.
Unable to perform defrag during system boot up.
Final Verdict
O&O Defrag 22 has pushed the bar to the next level in terms of disk-defragmentation utilities. O&O Defrag 22 has turned out to be the best disk defragmenter for Windows 10. Its user-friendly interface and effectiveness made it ideal for beginners. Experienced PC users may find few shortfalls in Free Trial versions however it covers them up in its Professional version. O&O Defrag 22 is one of the easiest utilities to use as a disk defragmentation software.
Its simplicity, quick performance and simple solution to fragmented data made it best disk defrag software for Windows 10 and earlier versions. Its server edition also made a huge improvement to be categorized in best defragmenter list and can defrag Windows 10 and earlier version including all server editions. Its existence in the industry and consistency in developing the best versions made it the best Disk Defragmenter software for Windows 10.
For more such tips, tricks and tech related updates subscribe to Tweak Library and if you are more into tech-related videos do watch and subscribe to our YouTube channel. You could also reach us on Facebook and Pinterest.