Table of Contents
Disk SpeedUp is one of the lightest and best disk defragmenter software for Windows 10 and earlier versions. Unlike other defragmenters, this disk defrag software can be used to defrag not only entire Hard Drives but it can also defrag individual files and folders. When it comes to looks, Disk SpeedUp has old school looks however in terms of effectiveness, it is one of the best disk defrag software. It may not have all those advanced features which come with Pro versions and make deep holes in your pocket however it just ensures that the job is right done in terms of basic disk defragmentation.
Disk SpeedUp can also be set up to run automatic defragmentation as and when the system is in an idle state for a certain amount of time. Disk SpeedUp also comes with precise settings like disabling disk defrag if the files have less than 10 MB of fragments, the disk has more than five fragments, or fragments are larger than 100 MB. These values are customizable as per your needs. Disk SpeedUp is Free utility is compatible with Windows 10, 8.1, 8, 7, Windows Vista, XP, and Windows Server 2003 edition.
Technical Specifications
GENERAL
Publisher
Glarysoft
Publisher Website
http://www.glarysoft.com
Release Date
4/22/2019
Date Added
4/23/2019
Version
5.0.1.63
CATEGORY
Category
Utilities & Operating Systems
Subcategory
Maintenance & Optimization
OPERATING SYSTEMS
Operating Systems
Windows 10/8.1/8/7/Vista/XP,NT/2000/2003/Server 2008
Additional Requirements
None
DOWNLOAD INFORMATION
File Size
6.1MB
File Name
dssetup.exe
PRICING
License Model
Free
Limitations
Not available
Price
Free
Product Features
Can Defrag When the Computer Is in Idle State
Easy to Use and User-Friendly Disk Defragmentation software
Moves Infrequent Files to A Slower Part of The Drive
Automatically Defrags on A Schedule Time Frame
Customizable presets as per your needs
Use it Free of Cost without Pro Version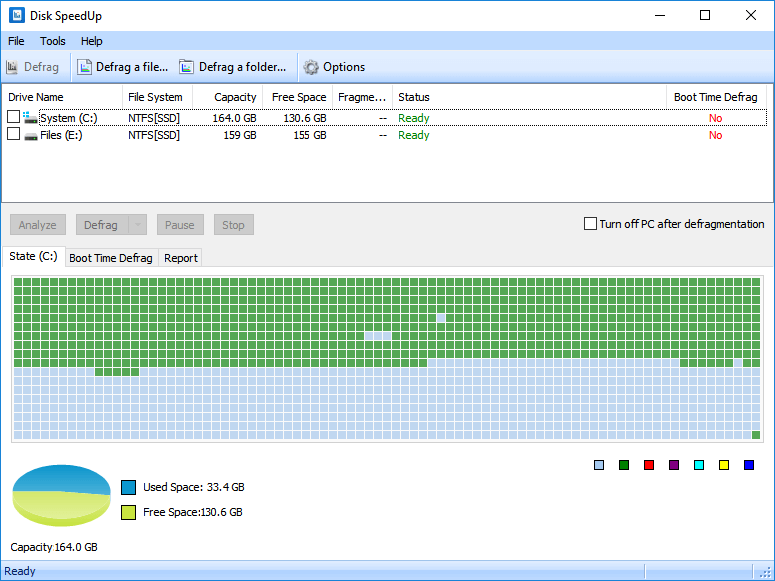 Disk SpeedUp utility shows Capacity, Free Space, Fragmented Space and status of all the drives in a list view. One or more disks can be selected to perform an analysis to evaluate if the disk defragmentation is necessary for selected drives or can be avoided. Disk Defragmentation process or Optimization can be initiated on selected volumes with just one click. We can also schedule the PC to automatically shut down after the disk defragmentation process is complete.
Glarysoft Disk SpeedUp also covers intuitive settings to perform disk defrag on small or large files with fragments depending on specified preferences. Disk optimization can be initiated for user-defined small, large archives, backups, video files, and disk images. Before initiating disk defrag, we do get options to exclude specified files from defragging, change the UI language, set the software to autorun during system startup, and many more.
Disk SpeedUp is a light software as it doesn't put any strain on computer performance. It utilizes minimum system resources like normal CPU and RAM parameters. Due to low consumption, it may take a while to perform the disk defragmentation process, As it totally depends on the size of the selected drive. We have not encountered any issues throughout the evaluation process. It neither freeze or hang during the scans or defragmentation process nor crash or pop up any error messages.

Pros
Quick and easy process to download and install
Lightweight software for minimum system resources
Free-of-cost utility with advanced features
Option to optimize the drive along with the defragmentation

Cons
The free version doesn't have additional add-on tools
A bit slow during the scan and defragment process
Final Verdict
Glarysoft Disk SpeedUp is a solid disk defragmenter packed with advanced functionality and an easy-to-use interface. Its user-friendly interface and effectiveness is ideal for beginners. Computer professionals may find it less useful however it competes with many best disk defragmenter software and perform tasks which are not even available in professional paid versions. Try out Disk SpeedUp Utility and share your experience with us in comments. If you encounter any other Free Disk Defrag utility which should be reviewed, please share that in the comment section.
For more such tips, tricks and tech related updates subscribe to Tweak Library and if you are more into tech-related videos do watch and subscribe to our YouTube channel. You could also reach us on Facebook and Pinterest.