Table of Contents
Are you looking for different ways to speed up your slow Windows 10 computer? Well, If the answer is Yes, you have come to the right place. Here, we have listed  The Best PC Cleaner Software that will help optimize your Windows 10 and older versions. Using these system cleaning tools you can boost speed & enhance performance to make it work like a new one.
Undoubtedly, over time not only Windows but other operating systems also display low disk space error messages. Therefore, it is essential to regularly optimize the system, clean its caches, junk, obsolete files, duplicates and more.
Here we have rounded up both the Paid & Free PC Cleaner Software that is absolutely worth trying. However, if you are a Mac user read our article on the Best Mac Cleaners 2022.
Top 3 Recommended PC Cleaner Software
Advanced System Optimizer

Clean invalid registry entries and boost system performance
Quickly free up space by cleaning duplicate files
Defrag disk, check disk for errors and remove junk files

Piriform CCleaner

Identifies and removed invalid registry entries
Boost Startup time
Efficiently cleanup Windows PC

CleanMyPC

Protect Privacy
Scan and Update outdated drivers
Manage Browser Extension
List Of

The Best Free PC Cleaner & optimizer for Windows 10, 8, 7 in 2022

Here is the list of the Best PC cleaning software for your Windows 10,8,7, Vista that will help boost system speed and improve performance.
1. Advanced System Optimizer – Best and Easy to Use PC Cleaner
Compatibility: Windows 10, 8, 7, Vista, XP
Price: $49.95
Latest Version: 3.9.3645.18056
Our Rating: 10/10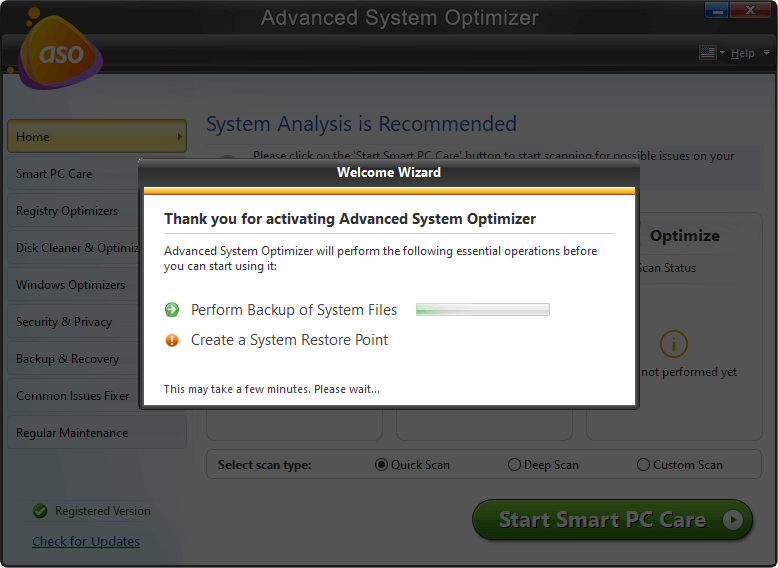 Whether you are looking for a free or paid PC cleaner tool this system optimization features both the versions. Using it you can clean junk files, browser cache, cookies, duplicates, invalid registry entries, and more.
Advanced System Optimizer is a complete system optimization suite with multiple modules. Effective at dealing with storage space issues, system slow performance, this tool covers everything. Further, you can use the Game Optimizer module to play uninterrupted games & use Windows Optimizer, Disk Cleaner, Disk Optimizer to enjoy lag-free performance.
Benefits: Advanced System Optimizer
Cleans and optimizes storage by removing junk files, invalid registry errors, duplicates, disk fragmentation, etc.
Cache Cleaner, PC speed booster, RAM cleaner.
Helps encrypt data, clean privacy exposing traces and more.
Offers real-time memory optimization, game optimization for better performance.
Pros
Flawless navigation to have better control over UI.
Robust scanning engine to find & repair potential flaws.
One-click cleaning & optimization.
Tools to repair registry & other potential computer issues.
Cons
No option to check disk health
Reasons To Buy Advanced System Optimizer
Looking for the best PC Cleaning and Optimization software? Your search ends right here! Advanced System Optimizer as the name entails, is equipped with tons of advanced modules ranging from one-click cleaning, deep cleaning, managing startup items, disk optimizer, shredder, backup/recovery, and many more. ASO is a suitable choice for both beginners and advanced users to tune up their system without putting in much effort.
2. CCleaner – Best Cleaner App
Compatibility: Windows 10, 8, 7, XP, Vista
Price: Free/$24.95 Per Year For 1 PC
Latest Version: 5.78
Our Rating: 9.5/10
Supported Operating System: Windows, macOS, Android
Another powerful PC cleaning software that helps boost PC speed is CCleaner. It did go through a rough patch but now everything is fine, it's safe to use. CCleaner's powerful scan engine scans at every nook and cranny of the system to optimize performance and clear files that take up unnecessary space. This is one of the easiest to use best PC cleaning utility, which shows a noticeable performance boost. It comes both as a paid and free PC Cleaner.
The paid version of this system optimizer for Windows 10 offers real-time protection and scheduler however the free version of CCleaner covers basic operations like removing cache, cookies, temporary files, and more.
Benefits: CCleaner
Powerful PC cleaning utility with simple modules.
Offers scheduler for automatic cleaning.
Automatic updates.
Cleans invalid registry errors.
Fewer system crash and real-time monitoring.
Pros
User-friendly interface.
Receives regular updates.
All-in-one cleaning, optimization & protection suite.
Fixes invalid registry entries to speed up overall performance.
Cons
There is bundled software during the installation.
Reasons To Buy CCleaner
CCleaner is a reputed PC Cleaning Software in the market, best-known for its ease of use. Unlike other optimization and speed-boosting packages, CCleaner ensures noticeable performance after each scan. If you are looking for an affordable cleaning utility with all the essential features to smoothen daily operations, choose CCleaner!
3.  CleanMyPC – Essential PC cleaning and optimization software
Compatibility: Windows 10, 8, 7, Vista, XP
Price: Trial Version/For 1 PC – $39.95, For 2 PCs – $59.95, For 5 PCs – $89.95
Latest Version: 1.10.8.2063
Our Rating: 9.5/10
An advanced Windows PC cleaning tool that scans your complete system for junk files, obsolete files, etc. Best-known for boosting PC performance and make it run like the new one. Using this Windows 10 system optimizer, in just a few clicks you may know where junk files are stored and if they are safe to remove or not. CleanMyPC keeps the registry clean and optimized on your PC. Further, you can uninstall the program successfully without leaving any traces or invalid residues and can disable autorun items to boost startup.
Benefits: CleanMyPC
Protects online privacy by clearing cache and other privacy exposing traces.
Shreds deleted files making recovering impossible.
Scans and updates outdated system drivers that may lead to BSOD and other system errors.
Helps manage browser extensions, plugins that slow down the browser.
Pros
Highly customizable.
Supports fast & quickest cleaning.
Provides perfect status readings.
Allows you to clean selected places also.
Cons
Some data in language files that you will probably need later can be removed.
Reasons To Buy CleanMyPC:
A good PC cleanup program shows the noticeable difference and CleanMyPC is one such tool available today. You can rely on this speed-boosting too to clean megatons of junk files in one go and enjoy optimum performance on your Windows. Additionally, its Registry Maintenance tool ensures to declutter the outdated entries without any hassles.
4. IObit Advanced SystemCare
Compatibility: Windows 10, 8, 7, Vista, XP
Price: Free/For 1 PC – $16.77, For 3 PCs – $19.99
Latest Version: 14.3.0
Our Rating: 9.5/10
A PC cleaning tool ideal for both novice and expert users. Using this feature-packed system optimizer, you can keep your PC in tip-top shape – update drivers, uninstall unwanted applications, clean junk files and so on. Since Junk files are one of the most common reasons for slowing down PC, you can rely on this tool to perform the automatic cleanup. Unlike other free PC cleaner tools, IObit Advanced SystemCare clearly specifies options available for free and paid users.
With a relatively small interface, IObit Advanced SystemCare can check for unnecessary startup processes, temporary files, broken shortcuts and more. This tool is an impressive free PC optimization utility that cleans and speeds up PC in no time.
Benefits: IObit Advanced SystemCare
Customizable scanning types, real-time system monitoring.
Spyware removal tool.
Easy to use interface, faster PC response time.
Pro version offers RAM cleaner.
Pros
Effective deep one-click scanning.
All-in-one cleaning & optimization suite.
One-click fix to fix all the potential troubles in one go.
Health Monitor provides at-a-glance system information.
Cons
Shows ads for other products.
Reasons To Buy iObit's PC Cleaner
It comprises a set of beneficial utilities, all designed to speed up your PC, clear unnecessary piled-up junk files, remove spyware, and fix a variety of security vulnerabilities.  Unlike other PC tune-up utilities, Advanced SystemCare is comparatively lightweight, so it's a great choice for old PC users.
5. Advanced PC Cleanup – Affordable Package With Premium Features To Clean & Optimize
Compatibility: Windows 10, 8, 7, Vista, XP
Price: $39.95
Latest Version: 1.5.0.29104
Our Rating: 8/10 
Download Advanced PC Cleanup
Advanced PC Cleanup is a comprehensive optimization and security suite that cleans junk files, boosts startup time, uninstalls programs and associated leftovers that may occupy tons of storage space. Additionally, it comes with a Registry Scanner that helps users to delete invalid entries.
Talking about the security functions, Advanced PC Cleanup comes with an Identity protector that locates all the potential privacy-exposing traces and eliminates the vulnerability of losing your data. It also helps in removing malicious software, malware, adware, spyware & other common online threats in no time.
Benefits: Advanced PC Cleanup
Get complete information related to your PC.
One-Click Care to give your system a noticeable performance boost in one go.
A thorough junk cleaner to remove obsolete items.
Deletes temp files, logs, and another residue that impact your performance.
Helps in fixing invalid registry entries.
Pros
Quick installation & easy setup process.
Clean megatons of junk, temp files, logs, and other obsolete hidden files.
Automatic scanning scheduler to boost speed regularly.
Effective malware scanner to detect newest & existing threats.
Cons
Trial version doesn't offer security functionalities.
Reasons To Buy Advanced PC Cleanup
If you are searching for an affordable computer cleaning & optimization suite, then you can try using Advanced PC Cleanup right away. Using the system maintenance tool, you can enjoy a multitude of features to delete junk files, temp files, privacy exposing threats, old downloads, manage startup items,  and much more. At such a minimal cost, you're surely getting the perfect package to clean, optimize and protect your Windows PC.
6. Iolo System Mechanic – PC speed booster and performance enhancer
Compatibility: Windows 10, 8, 7, Vista, XP
Price: $14.98
Latest Version: 21
Our Rating: 8.5/10
Iolo System Mechanic is an excellent tune-up utility that helps speed up computers by removing junk files, defragging the hard drives, cleaning RAM, blocking bloatware, etc. The yearly license of Iolo System Mechanic costs $ 49.95 annually.
Not only this, but the PC speed booster also helps free up system resources. After installing this PC cleaner and optimizer you'll be prompted to perform an initial system scan and analyze the system for potential issues like broken registry entries,  junk files. You can either use a Quick or Deep scan. The latter scan version takes a bit longer to scan the system, but it detects more problems.
Benefits: Iolo System Mechanic
Each option is well explained this makes using this junk cleaner for PC easy.
Optimizes system performance and boosts PC speed/
Different scan types for quick and thorough cleaning.
Faster downloads improve CPU usage.
Pros
Speeds up & declutters your system effectively.
Safely recycles your old PC with military-grade drive wiping technology.
Helps in eliminating system-hogging bloatware.
Fixes frustrating errors, crashes & random freezes.
Reasons To Buy Iolo's PC Cleaning Utility
If you are looking for an advanced PC maintenance package for your Windows, choose none other than Iolo System Mechanic. It boasts excellent modules needed for diagnosing, tuning, fixing, cleaning, optimizing, and repairing common computer issues. Its interface might feel overwhelming for novice users, but overall, it's a great utility to attain maximum speed and performance.
7. Auslogics BoostSpeed 11 – Comprehensive PC cleaner and optimizer for Windows 10
Compatibility: Windows 10, 8, 7, Vista, XP
Price: Free/ For 3 PCs – $50.96
Latest Version: 12.0.0.4
Our Rating: 8/10
One of the oldest cleaning utility in this category, Auslogics PC Booster is a 10-year-old software, that you can use to optimize and free up space on Windows 10 in a few clicks. Auslogics BoostSpeed 11 disables automated processes that slow down system speed.
Another important thing about this best PC Cleaner software is the new Cat Mode that detects crawling of cat or dog on the keyboard and prevents them from doing it.
Benefits: Auslogics BoostSpeed 11
Eliminates digital footprints and offers ideal privacy protection options.
Basic registry cleaning, memory management, disk defragmentation tools are available.
Manual Internet optimization, junk cleaner, web browser caches remover, are offered with this Windows PC Cleaner.
Scans and fix problem in real-time.
Pros
Has all the essential & advanced PC Cleanup & Optimization tools.
Browser anti-tracker to protect your digital privacy.
Context menu manager to tackle your right-click menus.
Full registry cleanup.
Cons
The free version lacks several advanced features.
Reasons To Buy Auslogics BoostSpeed 12
If you are ready to spend a few bucks on maintaining stability on your computer, then go for Auslogics BoostSpeed 12. It is easy to install and use and has numerous features to perform thorough disk cleanup and retrieve maximum storage space. It intelligently defrags your system to yield top-notch performance and speed on Windows.
8.  Ashampoo WinOptimizer Free
Compatibility: Windows 10, 8, 7, Vista, XP
Price: Free/ Pro version – $14.99
Latest Version: 17.00.32
Our Rating: 8.5/10
A great addition to any PC for freeing up unnecessary occupied disk space is Ashampoo WinOptimizer. It is a well-designed free PC cleaner and optimizer that offers extensive web browser cleaning and privacy features. Using various models, you can analyze, tweak and customize Windows optimization.
This powerful PC cleaner app for Windows helps improve startup time, gives detailed information about installed software and hardware. Further, it lets you free up disk space, fix invalid registry entries, clear junk files, cache, cookies, etc.
Benefits: Ashampoo WinOptimizer Free
It helps remove internet traces, cleans hard disk.
One-click optimizer that fixes invalid registry entries and optimizes registry.
Delete files permanently from the recycle bin.
Securely wipe and overwrite files to free up disk space.
A complete cleaner app that works as RAM cleaner, cache cleaner, etc.
Pros
Ingenious navigation bar with access to all features.
Manage system policies easily with User Rights Manager.
Remove internet traces with Internet Cleaner.
Speed up Windows startup items with Startup Tuner.
Cons
Sluggish user interface.
Reasons To Buy Ashampoo's Cleaner
If you want to accelerate speed, clean and fix your Windows system from all kinds of security vulnerabilities, choose Ashampoo WinOptimizer for your Windows. Claims to be a 'Swizz Army Jack-knife for Computers' and we agree with them. The program offers over 38 powerful modules to make your daily operation easy while improving your security and privacy by analyzing the system in depth.
9. Norton Utilities Premium
Compatibility: Windows 10, 8, 7, Vista, XP
Price: Free Trial/$39.99
Latest Version: 22.20.5.39
Our Rating: 8/10
With age, things slow down and the same applies to our system. On average the lifespan of a PC is between three to five years. But its performance can slow down anytime and can cause problems. Therefore, we need an automated cleaning and repair tool.
Norton Utilities Premium is one such cleaning & optimization tool that will help fix common issues and bring back the system to a good shape. In simple words, it will make your system healthier.  The more organized your hard drive is, the better is the system performance. This one is one of the best PC cleaner software that understands the concept of ideal cleaning and works towards providing smoother performance.
Norton Utilities Premium cleans up hard disk, remove unused applications resulting in freeing up space and boosting system speed.
Benefits: Norton Utilities Premium
Automatically optimizes system, processing power.
Fixes common issues instantly and speed up PC performance.
Free up space and allows faster access to programs.
It helps maintain digital privacy.
One-click PC optimizer.
Pros
Automatically optimizes your PC's processing power.
Removes unwanted startup items.
Free up space on your hard drive.
Automated PC care works when your PC is idle.
Cons
Haven't received any significant upgrade for a long time.
Reasons To Buy Norton's Cleaner
Designed and developed from a renowned brand in the category of best computer security solutions provider, you can undoubtedly expect the best from Norton Utilities Premium. Using the top-notch tune-up software, you can significantly remove performance drains and adapt settings to boost PC and web speed.
10. Razer Cortex – Great Game Booster Utility
Compatibility: Windows 10, 8, 7, Vista, XP
Price: Freeware
Latest Version: 9.14.15.1361
Our Rating: 8/10
This Windows cleaner app for PC focuses on boosting game performance.  Using this game booster, you can unlock your system's full potential and enhance performance. If you are a gamer and you are facing problems while playing on your PC this game optimizer is the answer to all your common problems.
Using Razer Cortex system optimizer for Windows 10 and older versions you can free up memory taken up by unnecessary system processes, defrag system and get the best gaming performance possible.
Benefits: Razer Cortex
Automatic optimization.
Schedule cleaning and scans.
Easy to use game optimization utility.
Junk file cleaner, and a great platform that delivers game deals.
Pros
Frees up invaluable memory & RAM.
Enjoy Quicker load time than ever.
Provide access to special game deals, other rewards, FPS monitor graphs & more.
Gamecaster feature that lets you live to stream your games.
Cons
Specific focus on gaming rigs.
Reasons To Buy Razer Cortex 
If you are a true PC gamer, then you should install the Razer Cortex game optimization program on your system. It gives you access to an arsenal of tools to enhance your PC performance and gaming experience. Additionally, its single scan maximizes speed by providing higher frames per second, while shutting off unnecessary processes & apps running in the background.
What to look for in the Best Cleaner App for PC?
Discussed are some of the ideal qualities that a dedicated PC Cleaner and Optimizer should have for Windows 10: 
Performance – The most essential benefit that cannot be ignored, is the enhanced performance. A good PC Cleaner app should do what it claims. If it can't boost system speed, free up space on your Windows, clean junk files, it's not worth trying. It's more like a scam.  Every PC cleaning utility & optimizer works differently therefore, it is important to check its features, functionalities and observe a noticeable change in system performance after running the PC cleaning tools.
Ease of Use – An excellent PC speed booster is the one that is versatile and user-friendly. This means both beginners and Pro users can use it. However, there are no universal standards that an application needs to pass. So, pay attention to the user interface and its ease of use.
Security – All apps should be infection-free & offer optimum protection. So, while looking for the Best PC cleaner app we kept this point in mind and used Advanced System Protector to scan each app installed on the system & then decided for which one to go
Download Advanced System Protector
Platforms – If the PC cleaning utility is not compatible with the latest operating system like Windows 10 it is of no use. Moreover, it is a clear indication that the software is outdated and lacks updates. There might be security risks too.
Customer support – A PC cleaning tool designed by a trusted company always have customer support. If you cannot find one, avoid trusting that particular PC cleaner & optimizer for your Windows 10.
FAQ's: Best PC Cleaning & Optimization Utilities For Windows
FAQ 1
How to free up space on Windows 10?
FAQ 2
Why do you need a PC cleaner software?
FAQ 3
Qualities Of An Ideal PC Cleaner Software?
FAQ 4
What is the best cleaner for Windows 10?
You can find a number of PC cleaning tools in the market. But picking the best PC cleaner & optimizer is not easy. Therefore, while looking for a dedicated cleaner app for PC make sure it includes junk file cleaner, driver updater, registry cleaner, and optimizer. Additionally, it should offer a malware scanner, disk optimizer, duplicate file cleaner, cache cleaner, and more tools that will help optimize system performance.
Conclusion:
Picking up the best PC tune-up software that helps boost system speed and fixes computer issues is not easy, Therefore, for your convenience we have listed the best PC cleaner tools that will help optimize game performance, clean junk files, free up space and do a lot more. You can use any of the tools mentioned above to boost speed on your Windows machine.
If you are looking for our recommendation, our pick is Advanced System Optimizer as it offers various tools & options for complete system optimization. Try these tools and let us know which one you picked and why in the comments section.
Editor's Recommendations:
How To Stop Windows PC from Freezing