Problem of frozen Windows PC arises due to various reasons. To stop freezing of computer we should keep our system in good health. When our Windows 10 computer freezes in the middle we lose all unsaved work. Besides this if we are in middle of a game we lose it all.
To keep your computer from freezing you can use Advanced System Optimizer 3, which is all in one optimization software. This nifty piece of software will keep your computer in good health. This software is for those who do not want to do the tedious task of manual cleaning of their computer.
However, if you are among those who wants to resolve freezing of the computer manually, here are the manual steps for you.
Reason for freezing of Windows PC:
There are many reasons due to which a Computer freezes, and they are mentioned below:
1. Not enough space on the hard drive.
2. Multiple applications running on the system.
3. Virus or malware.
4. Not enough RAM installed.
5. Game or application that is not responding making the impression of freezing the system.
What to do if your computer freezes?
There are different steps that you can take to unfreeze your Computer. The tips below are easy to follow and will unfreeze your Computer in no time.
1. Clear some space on your hard drive:
To make essential space on your hard drive you should remove all the unwanted applications from your Windows PC. To do so Go to Control Panel > Uninstall a program, you will see the list of installed application which then you can remove easily.
2. Close all the unnecessary application running on the system. Applications that are running on your system will take resources and with multiple applications running simultaneously will freezes the computer. When the applications are closed they will unfreeze computer.
3. Remove infections from your system:
Viruses and malwares acquire resources necessary for functioning of the system. If your Windows PC is constantly freezing, then you should check your Windows PC for viruses and malwares using a good security software.
4. Install more RAM:
Insufficient RAM is also one of the main reasons of freezing of the Windows PC. In this care just buy the extra RAM and install it.
5. Game of application not responding:
Many time it happens that the application of game that is running in the full screen does not respond and it looks like that our PC is frozen. To deal with this situation press Ctrl+Alt+Delete on your keyboard and click on task manager. Task manager will show you running applications and their status, you can then kill the application which is not responding thus recovering your Windows PC from a frozen state.
How to Avoid freezing of Windows 10 PC in future:
We have listed the reasons for frozen Windows PC above, however, necessary steps should be taken so that we do not face the same problem again and again.
Tips mentioned below are very easy and will help you to keep your PC in the good health.
1. Always make sure that enough free space is available on your hard drive. You can directly monitor hard drive space from My Computer (This PC).


2. Keep monitoring application running on the system for the resources they acquire. Open Task Manager by Right clicking on the task bar and select Task Bar. Task Manager will show all the running processes and you can kill the application which is taking more resources and is unnecessary.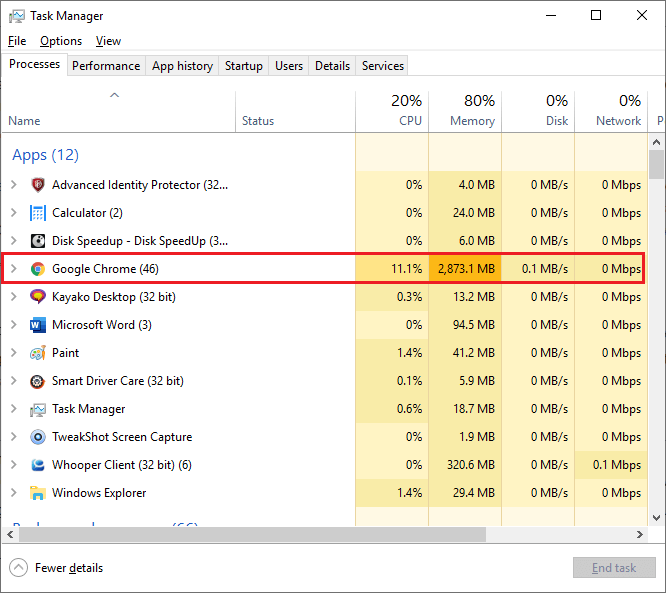 3. Remove application from startup. Application when runs on startup slows down the system. We suggest you disable application running on startup, which will help you to increase the boot time of your system and will also stop freezing the system.
4. Take regular Windows Update and update outdated drivers. Make sure that Windows Update is always on, Windows update will install all the necessary patches to keep your Windows PC up to date and will also update your device drivers.
5. Remove all the junk from the system. Junk files takes lots of space on the system drive, removing all the junk will create space on the system drive and will help you to run the system smoothly.
6. Keep your system secure from infections. You can use Windows Security to keep your system safe from infection.
Generally freezing of the Windows system leads to BSOD also known as Blue Screen Of Death. BSOD is caused due to software or hardware failure. To cope with Software failure, you can revert back the system to the previous stare using system restore. However, in case of hardware failure you have change that particular piece of hardware.
Freezing of computer is very annoying, however, we can follow these steps and keep our system in good health. There can be many reasons due to which computer freezes randomly.
 If your computer freezes randomly then you must read this blog and unfreeze the computer.
Follow us :