Your PC, which was once a swift performer, now crawls like a snail. It takes forever to respond, and open files slowly and as for its storage, your disk space clogs up just like that. You just can't seem to figure out what's wrong. Well! A PC optimization software is something that can.
What Is A PC Optimizer Software and Why Do You Need One?
A PC optimizer software that also doubles up as PC cleaner software helps optimize your PC for the best performance. It helps tweak settings in a way that your computer can reach its best performance. The best PC optimizer tools also let you get rid of unwanted junk files and applications that are just taking up space. And, to top it all, every task that the PC optimization tool performs is done keeping in mind a lot of safety.
Factors To Consider While Choosing A PC Optimization Software
There are several PC optimization software out there. How do you select a genuine and effective PC tuneup tool? Here are certain factors you can consider –
– Ability To List Out and Fix Common Issues:
If you are a casual user, you may choose a program that automatically scans your PC for issues and suggests the necessary steps. Or, better, it should be able to fix common issues.
– More Control On System Optimization Tasks:
Advanced users may want to choose a PC optimizer software that can let them perform custom scans, choose from a variety of optimization tasks and get more granular control on features optimizing PC's health.
– Functionality To Backup System Settings and Data:
Regardless of whether you are a beginner or an expert, you may want to select a tool that can help you take a backup of system settings before you perform any actions.
– Feature Richness:
When choosing a PC optimization software, it is important that it has features to optimize your PC for supreme performance. Here are the kind of features you can expect –
Remove junk files.
Repair corrupt system files.
Fix registry errors.
Ability to show you what's taking up disk space.
Improve internet speed.
Sleep mode in order to optimize idle PCs.
Game optimization features.
Disk optimization.
Manage startup items
Extra features such as file shredder, file encryption, ability to update drivers, privacy and security check, etc.
– Budget:
When selecting a tool, it is important to consider the pricing. You should consider factors such as –
Does the tool offer free scanning?
Does the tool let you perform a certain amount of cleaning and optimization?
What kind of subscription is offered? Is it a one-time subscription or a monthly subscription?
How does the price fair up in comparison to the other tools in the market?
Top 3 Recommendations For The Best PC optimizer
Advanced System Optimizer

One Click Cleaner to boost performance.
Clean Junk, cache and redundant data.
Offers duplicate cleaner, Driver updater & more.

Piriform CCleaner

Freezes unnecessary background activity.
Cut power consumption with every program.
Identifies and removes invalid Registry entries.

Advanced PC Cleanup

One-click solution to boost speed.
Remove unnecessary startup items.
How to Review System Performance in Real-Time?
Using the Windows in-built diagnostics tool called Performance Monitor you can review your system's activity in real-time. To use it follow the steps below:
Press Windows + R keys
Here type PERFMON

This will open Performance Monitor
Click the Performance Monitor option present in the left pane.
Afterward, click Data Collector Sets expand and double click System
Right-click System Performance in the right pane and select Start from context menu
This will start a 60-second test.
Once done click Report > System > System Performance.

You'll now be able to identify the culprit responsible for stressing out your system.
Tip: While choosing a PC Optimizer check it thoroughly. Make sure there are no hidden costs. And technical support should be available. Tools with customer support are the most reliable ones.
So, here we will enlist the best PC speedup software that helps optimize your PC. All these software offers a wide variety of system maintenance tools & PC cleaning options.
List of Best PC Optimizer Tools:
Below are some of the Best PC Cleaning and optimization solutions you can use in 2023 to get an instant performance boost. All the software are compatible for Windows 11/10/8.1/8/ 7.
Pro Tip:

Alongside using the best PC tune-up software try not to run multiple programs like more than one antivirus etc this slows down the system speed and declines the system's performance.
Best PC Optimizer Software For Windows 11, 10, 8, 7 in 2023
Before we begin with the list, an important note. The tools mentioned below will only help boost PC speed if the problem is software related. However, if there's any hardware issue or your PC fails to match system requirements due to which you are facing problems these Windows boosters won't help much.
1. Advanced System Optimizer
Clean Your PC, Boost Windows Performance & Secure Your System For Ultimate Protection!
(All-Round Faster & Cleaner PC Optimizer Tool To Clean, Protect & Optimize In Few Clicks)
Download Advanced System Optimizer that comes packed with 30+ features to help you optimize your PC for best performance.
Read our Full Review On Advanced System Optimizer
A powerful performance booster tool for Windows PC packed with many performance-tweaking features. This optimizer for PC offers different scan types and various modules to tune up your Windows. Advanced System Optimizer can also be used on Windows XP, as it has multiple cleaning and security modules. It also offers a memory optimizer, game booster, secure delete, backup manager, and more. All this makes it one of the Best PC Optimizers For Windows. Striking features of this Windows booster are below:
Features:
One-Click cleaning and PC maintenance.
Repair & Optimize Windows Registry to prevent unwanted crashes.
Manage Disk Space and reclaim valuable storage space.
Defrag the hard disk and delete useless duplicate files.
Game Booster to enjoy lag-freegaming performance.
Easily backup important system files & restore the previous backups if needed.
Pros
All in one PC optimizer for Windows
Feature-rich offers 20+ system optimization tools
Different scan types
Intuitive interface and easy to use
Enhance gaming performance significantly.
Cons
Software is not updated frequently
PC Advisor does not include tips for Windows 11, 10
Reason To Buy –
One-click scanning to identify possible issues.
Variety of optimizers to optimize PC for gaming, better disk performance, and storage.
Advanced features like driver updater, startup manager, and uninstall manager.
2. Piriform CCleaner
A Dedicated System Optimization Tool To Free Up Valuable Hard Disk Space & Make PC Run Faster!
(Best Free PC Optimizer Software For Comprehensive Cleaning & Fixing Windows Errors)
Unlike other best PC Optimization tools, CCleaner is frequently updated with the latest cleaning and optimization definitions.
Owned by Piriform, CCleaner is one of the most popular & best tuneup utilities for Windows 11,10,8,7. This best Windows optimizer helps remove junk files and keep the PC clean. Lately, the developers have added a Performance Optimizer module that identifies useless startup items and background activities into Sleep mode to free up space & enhance overall speed & performance.
CCleaner offers both Free & Paid versions. Below are notable features of this PC booster software
Features:
Scrapes Junk Files, Temp Files, DNS Caches & more.
Fixes Common Registry Errors, Invalid Shortcuts & more.
Scheduled automatic scanning for independent scanning.
A Performance Optimizer that dedicatedly worksto boost PC's speed up to 34%.
Health Check Cookie Scanner that preserves cookies for your favorite websites.
A new"My Account" area that offers quick access to the scheduler, subscription settings, recommended products & support.
Pros
Quick installation
Creates backup file before making changes to the registry
Optimizes an unlimited number of PCs
Best PC cleaning and maintenance software
Receives constant updates to enhance user experience.
Cons
Attacked by hackers hence users are scared
A few configurations settings
Aggressive registry cleaner
Reason To Buy
Facility to check PC health.
Comprehensive cleaning.
Automatically updates software that are vulnerable to bugs and attacks.
Also Read: Best CCleaner Alternative
3. Advanced PC Cleanup
Multipurpose PC Optimizer & Cleaner to Secure Windows & Boost System Speed
Download Advanced PC Cleanup
Complete Review on Advanced PC Cleanup
Say goodbye to tedious and manual PC optimization. Advanced PC Cleanup scans your Windows PC to remove junk files, malware, spyware, temporary files, cache cookies, thereby helping to speed up performance and speed up PC.
It is more than a PC Cleaner – it is the essential PC cleaning tool to bring a great difference to your system's performance.
Features
One-Click Care to perform multiple tasks in a single click
Junk Cleaner to remove cache files, system cache to recover disk storage
Recycle Bin helps get rid of files in Recycle bin that take unnecessary space
Startup Manager to disable unwanted application running at boot time
Malware Protection to clean spyware, malware, virus, and hidden infections
Identity Protector to keep personal information safe and helps locate saved passwords
Pros
Lightens system load to speed up PC startup
Locates old redundant files with this cleaner and optimizer
Uninstall unwanted programs the right way
Cleans up invalid registry entries and makes sure PC speeds up
Safeguards from malware, spyware, viruses, PUP
Junk that gobbles up your disk space is cleared by efficiently
Cons
No tool to update drivers
Reason To Buy
Removes junk and obsolete files.
Easily manage old downloads.
Malware protection.
4. Defencebyte Computer Optimizer
A Dedicated Optimization Program That Can Help You Optimize Your PC So That It Can Reach Its Full Potential!
Download defencebyte Computer Optimizer, a comprehensive optimization tool that can improve your PC's performance and free up disk space.
Defencebyte Computer is a PC optimization tool with features that can help you perform various optimization tasks on your PC to reach its full potential. With the help of this tool, you can delete unwanted software and other files, clean browser cache and cookies, safely clean your registry and improve resource management. It also helps free up disk space so that you can save precious disk space and, at the same time, prevent the computer from getting slow.
Features:
Remove unnecessary programs, paths and extensions.
Track CPU usage of all programs on your PC and close heavy resource consumers.
Safely clean PC's registry.
Get rid of uninstalled entries.
Clean browser cache and cookies across a variety of browsers on your computer.
Pros
Compatible with almost all Windows OS versions.
Test trial available before purchase
Schedule scans and regular cleaning.
Safely clean registry.
Can help block unwanted URLs
Cons
The speed could have been better.
A little higher hardware requirements than some counterparts, i.e., it requires 500 MB disk space for installation.
Reason To Buy
One click optimizer
Block unwanted websites
Effective registry cleaning 
Improves your resource management on the whole.
5. CleanMyPC
Essential PC cleaning software to keep your PC Fast and Tidy
CleanMyPC is another very popular PC Optimization utility. CleanMyPc comes loaded with features that you would expect from a PC Optimizer. It removes Junk Files, Outdated Registry, Uninstall programs the right way, speed up Windows Startup Speed, Erase files securely, and whatnot.
CleanMyPC is extremely user-friendly with its intuitive interface. The pricing of CleanMyPc is at par with most other options mentioned on the list. However, on the downside, it doesn't offer any malware or online protection as some of the other PC cleaners do on the list.
Features:
Program Uninstaller
Registry Cleaner
Junk Files Remover
Helps Remove Files securely
Windows Startup Manager
Pros
Lightweight utility.
Quick install and easy-to-use PC optimization tool.
Permanently delete sensitive information & files.
Optimize PC performance by getting rid of Registry clutter.
Cons
Doesn't contain a Malware protection feature
Destructive Push Notifications
Free Trial only lets you clean 500MB of Junk
Reason To Buy
Multi uninstaller
Protect online privacy
Erase files securely
Important Note: CleanMyPC will no longer receive new features or regular updates. Read what it means here!
6. IObit Advanced SystemCare 16
A One-Click Optimization Tool for Windows 11,10 To Clean & Speed Your PC For Enhanced Performance!
IObit Advanced SystemCare comes in a free edition and a Pro version. You perform basic PC cleaning using the free version of this tuneup utility, while the Pro version offers real-time optimization, registry cleaning, internet speed-boosting, and 24/7 support.
Alongside, it helps manage startup items thereby boosting boot time, & protecting personal data from prying eyes. Some of its notable features are listed below:
Features:
Perform comprehensive Junk File cleaning.
Real-time monitoring, including RAM & CPU Usage.
Smarter AI mode to experience premium PC cleaning and optimization.
Improved Deep Registry Cleaner that prevents system crashes.
Automatically clear tracking data for premium surfing protection.
New digital fingerprint defender for stronger online privacy protection.
Pros
Removed unnecessary files quickly
Speed up PC performance by using Turbo Boost, Deep Optimization, etc
Protect your privacy & security with this PC optimization tool.
Disk defragger to increase performance
Cons
Need to download another tool to use some features
Shows ads to sell products
Limitation on installation
Reason To Buy
AI-based PC cleaning.
Clear privacy traces.
Boost internet speed.
7. Iolo System Mechanic
Top PC Optimizer To Speed Up Windows & Fix Common System Errors!
(Best System Optimizer Tool To Fix Frustrating Bugs, Crashes & Random Freezes)
Iolo System Mechanic is the ultimate problem solver for all PC problems. Using this best PC repair software you can boost system speed, fix system crashes, boost game speed, improve Windows performance, and more.
This PC Optimizer program helps identify the reason for a slow system thereby speeding up Windows 11,10. Using its dedicated optimization modules you can achieve maximum PC performance. Furthermore, you can repair registry issues and use this PC booster to optimize system speed and performance. Some of its amazing features are below:
Features:
Junk File Cleaner to help recover valuable space
Restore System Stability with this best PC Cleaner and Optimizer.
NetBooster Enhancement feature that reclaims network bandwidth reserved by OS.
Maximize clock speed with PowerSense Enhancement for high-demand apps.
Boost performance in real-time for gaming & streaming
Bloatware Remover to uninstall pre-installed apps.
Pros
Unlimited product licenses
Privacy tool to protect data
Explains detected issues accurately
Backs up Windows registry before fixing issues
Streamlined new dashboard design.
Get personalized performance reports.
Cons
Net booster is not very efficient
Too many features complicate things
No firewall included
Reason To Buy
Real-time system monitoring and cleanup.
Comes with a password manager.
Antivirus and online privacy management.
8. Ashampoo WinOptimizer 25
The Best PC Optimizer Software With Powerful System Cleaning, Optimization & Security Capabilities!
(Top-Rated Free PC Optimizer Software To Stay Protected From Threats)
Another best PC repair software that comes with more than 30 modules is Ashampoo WinOptimizer. Using this tune-up utility you can make your Windows 11,10,8,7 perform better.
Packed with intuitive UI design, this system cleaner helps speeding up Windows PC, clean registry errors, uninstall unwanted software, boost boot time, etc. Some of its key features are listed below:
Features:
Thoroughly clean critical areas of your system with a One-click cleaner.
Find and delete old versions of Windows, system caches, and updates.
Monitor your CPU speed and access up-to-date hardware details.
Manage your installed programs and processes.
Clean your system more efficiently with massively accelerated cleaners.
Manage cookies safely and conveniently with the built-in cookie manager.
Enjoy auto-cleaning, Live-Tuneup, and Game Booster capabilities.
Pros
Scheduled scan & registry backup
Powerful scan engine
Automatically repairs invalid Windows startup entries
Boot sector optimization
Cons
Wipe internet traces feature is not user friendly
No health widget
Custom installation is missing
Reason To Buy
Disable unnecessary services and preserve system resources.
Gives a clear picture of your OS and hardware.
Delete, encrypt and recover files.
9. AVG TuneUp
Restore Your PC To Peak Performance With AVG TuneUp Utility For Windows XP & Above!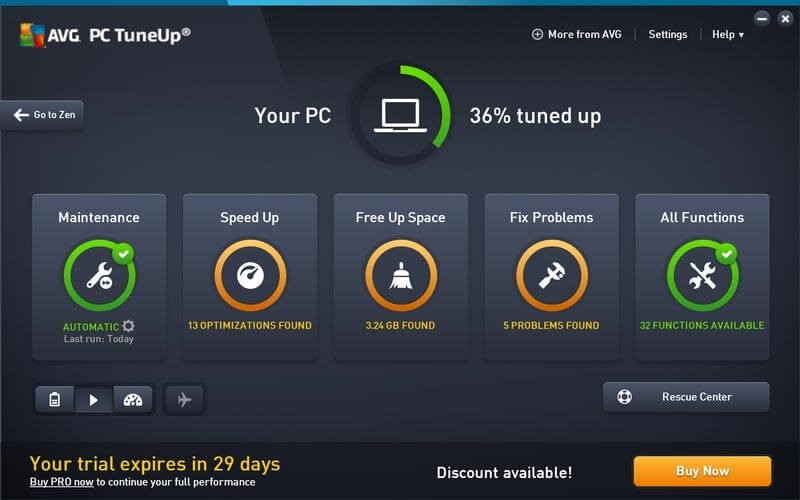 (Robust Windows PC Cleaner To Speed Up, Clean Up & Fix Your PC In A Click)
Offered by the most popular tech domain, AVG TuneUp features powerful  PC performance tools. Using this best Windows booster and PC tune-up utility, you can give extra life to your dying Windows 11,10,8,7 machine.
This free up disk space utility for its features is considered as the best TuneUp Utilities for Windows 11,10. After using it you see a significant boost in the speed & performance of your PC. It elevates system performance by 77%, increases battery life by 117%, and more. Below are some of its extra-ordinary features. Below are some of its extraordinary features. Below are some of its extraordinary features.
Features:
Free up storage space by removing junk files.
Uninstall unnecessary software easily.
Keep your programs updated automatically.
Regularly scan and fix registry errors.
Clear browser traces, tracking cookies, cache files, and program leftovers.
Optimize your PC with Sleep Mode to save power.
Remove unnecessary programs, toolbars, and other remnants.
Pros
Easy to use tool to optimize PC performance.
Automates basic maintenance task
Unlimited installs
Supports Mac and Android too
Live system optimization
Cons
Unwanted apps are installs
Sometimes show false alarm
Slows down during a certain scan
Reason To Buy
24/7 automatic maintenance.
Sleep mode puts programs to sleep and wakes them up when needed.
Uninstall software and update programs.
10. Comodo PC Tuneup
The Best Free PC  Tuneup Utility Dedicated To Speed Up Startup Process & Fix Common PC Issues.
(Best PC Optimization & Cleaner Solution For Novices)
Another user-friendly and best PC optimization software 2023 that helps tweak Windows performance and fix issues is Comodo PC Tuneup. It offers a one-click cleanup service that brings back the Windows PC powerpack performance.
Using this best free PC repair software you can easily fix system issues, clean duplicate files, protect Windows registry, and SafeDelete files. Below are some of the striking features of this TuneUP software.
Features:
One-click cleaner.
Identifies and repairsRegistry issues to improve the speed of the
Clean log, temporary, and error reporting files.
Repair problems related to shared DLLs, folders, and startup locations.
Optimize startup programs for better performance.
Analyze and restore default Windows settings.
Resolve Windows event errors during startup, shutdown, and running applications.
Pros
Solid Windows booster
Easy cleanup
Scan results are nicely explained
Enhanced system performance
Cons
No real-time monitoring
Does not offer unlimited PC cleaning
Shortage of advanced features
Reason To Buy
Resolve Windows event occurs.
Easily get rid of disk junk.
Disable unnecessary startup programs.
11. Glary Utilities
The Best Software To Optimize PC, It Cleans & Fixes The Registry Errors As Well For Lag-Free Performance.
(One-Stop Solution For PC Cleaner and Performance Optimization)
Bundled with Registry Cleaner, Disk Cleaner, Startup Manager, Track Eraser, Safeguard Confidential Files, Recover Deleted Files, and much more. Glary Utilities is truly a reliable PC booster solution you can rely on!
Developed by Glarysoft, Glary Utilities is not just a Windows optimization software. Bundled with a plethora of effective tools this optimization software for Windows offers 1-Click Maintenance, Privacy & Security, System Tools, and more.
Features:
One-Click Maintenance
Fix Broken Shortcuts
Clear Temporary Files, Junk & Other Residues
Clean & Fix Registry Issues Without Hassles
Spyware Remover
Automatic PC Maintenance.
Intuitive user interface
Pros
An effective PC optimization tool
Intuitive user interface
Easy to use PC optimization tool
Complete windows speed booster tool
Cons
Some modules work slow
Compared to other tools, it frees up less disk space
Reason To Buy
20+ tools to maximize PC performance.
Recover lost and deleted data.
Malware removal  
12. Wise Care 365
An Effective Tune-Up Utility That Proffers All-Around System Boost With Additional Privacy Protecting Features!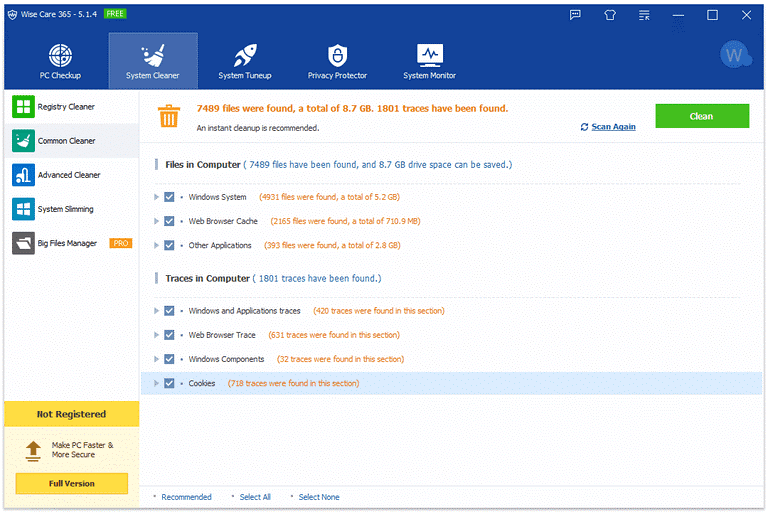 (One-Click Tune-Up Solution To Keep Your PC In Tip-Top Shape & At Peak Performance)
An effective RAM booster and optimizer that helps speed up the PC and prevents it from frequent slowdown. Compatible with Windows 11,10, 8, 7, Vista, and even old XP, this tuneup utility refreshes the system with every scan.
Wise Care 365 has a clean, flat design and it works seamlessly as a Windows optimization tool. Below we talk about its prominent features.
Features:
Remove invalid Windows registry entries and easily back up/restore the registry.
Clean Windows temporary files, browser caches, cookies, and history.
Scan and clean files with specific extensions on all local drives.
Defragment the drive and registry to prevent common errors.
Disable unneeded programs to save system resources.
Offers brief and detailed info on all crucial hardware components.
Process Monitor shows a complete list of active processes. You can take actionaccordingly!
Pros
Several handy tools come with this PC optimization tool
Gives user full control to clean detected errors
Allows adding tools to the context menu for easy access
The portable app version is available
Cons
Does not include antivirus module
Limited free version
Not an effective RAM booster
Reason To Buy
Real-time windows protection
Easily free up hard disk in seconds.
Multiple tools to protect privacy
13. Razer Cortex
An Advanced Tool to Boost Game Performance on Windows PC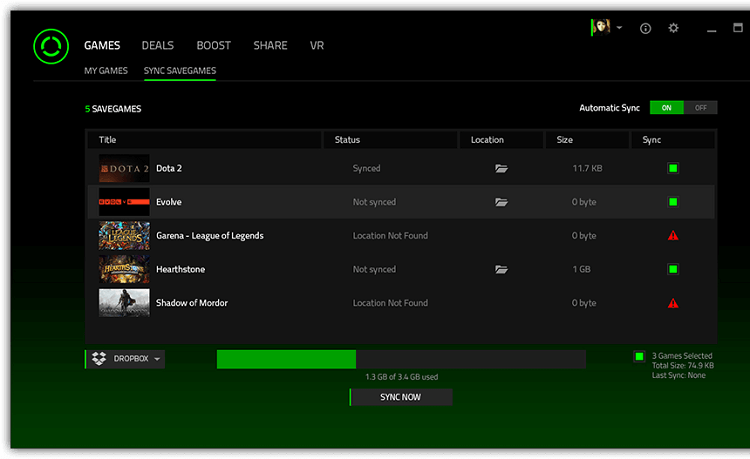 (Windows PC Performance Booster For Faster And Smoother Gaming Performance )
On number 10 we have a robust and best game booster. This tune-up utility majorly focuses on enhancing and optimizing system speed for higher frames per second.
Unlike other PC optimizers, Razer Cortex manages and improves PC performance by killing processes and apps that aren't required when playing. Basically, it is a RAM Booster that speeds up the game speed and Windows 11,10,8,7 speed. Below are it's worth mentioning features
Features:
Automatically detects and deletes junk files to free up space
Enjoy faster load times with effective modules.
Manages and stops non-essential processes/apps.
Auto-boost your gaming experience.
Increases FPS by micro-managing Windows OS and non-essential applications.
Advanced AI with a machine-learning algorithm to calculate best settings.
Pros
Allows scheduled scans.
Allows casting gaming sessions
User-friendly interface
Defragment files used by your games.
Cons
In-accurate malware detection
Can only be used with an internet connection
.Net framework is required
Reason To Buy
Maximize game performance by killing unwanted apps.
Advanced AI Algorithm ensures optimum visuals while playing games
Free of cost
14. Norton Utilities Ultimate
A Comprehensive Tool to Boost PC Speed and Optimize Processing Power
( Automatic PC Maintenance Tool That Fixes Common Issues and Frees Up Space)
When it comes to the best antivirus software Norton is the first name that comes to our mind. But do you know, the developer also provides an amazing optimizer for PC?
Norton Utilities, as the name explains, is a complete PC optimization and speed booster that helps fix invalid registry, cleanup disk, maintain privacy, and a lot more. Some of its prominent features are explained below.
Features:
Perform 1-Click Optimization with an easy-to-use interface.
Automated PC care that runs when idle.
Streamline your registry by removing invalid and obsolete data.
Optimize internet settings for speed and stability.
Disable Windows 10 Wi-Fi network sharing.
Keep your online activity and personal info private.
Pros
Simple and quick installation process
Allows monitoring disk health
Boosts startup speed
Recovers good amount storage space
Cons
Slightly overpriced
No boot-time defragmentation option
Slows down certain software performance
Reason To Buy
1-click optimization
Automatic PC care takes care of the PC when it's idle.
Securely dispose of personal data in a way no one can access it.
15. PCRepair Kit
Powerful Tool To Repair and Fine Tune Windows System
(Cleans Invalid Registry Keys, Repairs Broken Shortcuts and Enhances Overall PC Security)
The name tells the story, PCRepairKit, as the name suggests, is a must-have PC optimization and maintenance tool. Using TweakBit's PC cleaner utility you can fix all PC lagging problems.
Moreover, it includes 4 powerful tools to prevent system crashes, fix registry errors, and improve complete system performance. Some of the striking features of this optimization utility include:
Features:
Remote Registry Protection
Malware Removal Tool To Fix Advanced Threats
Maintain smooth Windows performance by preventing Explorer
Autorun protection to stop the infected external device from spreading malware
A real-time PC optimization tool
Pros
Cleans malware
Powerful scan engine
Pocket friendly
Effective system optimizer
Cons
Lacks advanced features
Slow scanning
Takes time to fix errors
Reason To Buy
Real-time PC optimization.
Remove malware.
16. Avira System Speedup
Simple to Use Windows Optimizer that Helps Enhance PC's Performance
(An Advanced RAM Booster to Speed Up Windows Performance)
Available as both free and paid versions, this PC cleaner is amongst the best optimization utilities for Windows. It comes with a battery optimizer, registry cleaner, PC speed optimizer, cleaner, and more. In short, it can boost an age-old PC and take it to the next level.
Once all detected errors are fixed, you will be amazed to see how well this TuneUp utility works. Below are some of the most prominent features of Best PC Cleaner:
Features:
Automatic junk and clutter cleaning.
Performance boosting and lag reduction modules.
Complete removal of digital traces and temporary data from all browsers.
Powerful deep registry analysis for detecting and cleaning registry problems.
Real-time monitoring software for reminders to clean your machine.
Energy Saver and Power Boost to maximize battery life and performance.
Repairing toolbox with nifty tools for PC maintenance, defragging, and monitoring.
Pros
Offers multiple tune-up tools
Improves PC's performance
Advanced scan engine
Deletes junk files
Cons
Lacks unlimited licenses
Less effective in certain areas
Good only for home users
Reason To Buy
Automatic optimization; results are clearly shown.
Customizable power modes to perform CPU-intensive tasks.
Free up disk space by cleaning unnecessary junk.
17. Restoro
A Robust Tool To Optimize PC Performance And Maintain Its Overall Stability And Security!
(Best PC Cleaner And Optimizer For Both Novice & Advanced Computer Users.)
Last but not least in consideration, our list of Best PC optimization tools is concluded with Restoro. The PC Cleaner for Windows 11 and older versions comes with many modules to clean, optimize and protect your computer in a couple of clicks.
This PC Optimization software also helps replace damaged/missing Windows files with fresh ones to ensure flawless functioning. Restoro helps perform in-depth junk cleaning and removes cookies, faulty files, and other residues.
Features:
Maximize performance with restoration tools
Free up disk space easily in a few clicks.
Replace damaged Windows files and optimize the system.
Real-time threat detection to prevent PC damage.
Optimize and repair the registry at any time.
Conveniently restore or replace DLL files with just one click.
Repair and rebuild Windows with ease.
Solid malware protection
Pros
Easy-to-use tool to optimize PC performance.
Shows a complete hardware profile.
Comprehensively cleans unnecessary privacy traces.
Supports repairing common errors.
Cons
Limited customer support.
Reason To Buy
Real-time PC optimization.
Replace damaged Windows files with healthy ones.
Remove malware.
Wrapping Up Our List Of Best PC tune up and Optimizer Tools To Use In 2023
So, these are our top picks for the best speed boost of system and faster PC Optimization you can use on Windows 11,10,8,7.
If you are the DIY type and want to optimize your Windows PC without using any tune-up utility or PC optimizer let me tell you, it will be difficult. Also, we do not recommend doing it manually because one wrong step can crash your Windows system.
Frequently Asked Questions |More About Best PC Optimization Software
FAQ 1
Can I Optimize Windows 11,10 Manually For Best Performance For FREE?
Yes, by making certain tweaks in system settings, cleaning junk files & disabling unwanted Startup services, you can speed up Windows performance. It requires advanced knowledge.
FAQ 2
What is the process of PC optimization?
In simple words, optimization means cleaning clutter, junk files, and other errors thereby making the system use available resources efficiently.
FAQ 3
How to Optimize & Clean a Computer Running Windows 11,10, 8, 7?
Checkout these methods to tuneup PC:
1. Remove junk files, temporary internet files, cache, cookies, duplicate files, etc
2. Check Your Windows PC for Viruses or Malware
3. Install Latest Updates
4. Upgrade System Memory
5. Use Disk Cleanup And Defragmentation
6. Uninstall Programs You Don't Use
7. Switch Off Unnecessary Animations
8. Clean PC's Internal Fan
9. Reset your PC/Reinstall Windows
The above methods will help perform basic optimization. For extensive cleaning and a performance boost, you'll need to use the best PC Optimizer.
FAQ 4
Do PC optimization software work?
Usually, PC optimization software cleans up junk files, removes clutter, malware infections, updates outdated drivers, fixes registry errors, etc. all this helps boost performance. It only works if you use a reliable and tested optimization software.
FAQ 5
Why Windows Computer Slowdown?
There are numerous reasons. Most common are listed below:
1. Several programs running at startup
2. Almost full space on a hard disk
3. Using several applications and opening multiple browser tabs at a time
4. Virus or Malware Infection
5. Outdated Operating System
6. Corrupted Windows System Files
7. Rogue Programs Hogging Processing Power
8. Outdated Device Drivers
9. Hardware Failure
FAQ 6
How To Choose A Good PC Optimizer?
A good PC optimizer can offer these features:
An intuitive UI
Easy-to-operate.
Offers complete clean up solutions.
Optimizes your PC's memory.
Easily detects & fixes common system errors.
Privacy Protection features for ultimate security.
Helps get rid of Duplicates & other residues & junk files in a click.
Comes with a Game Booster for the lag-free gaming experience
Organized data.
Related Topics