Table of Contents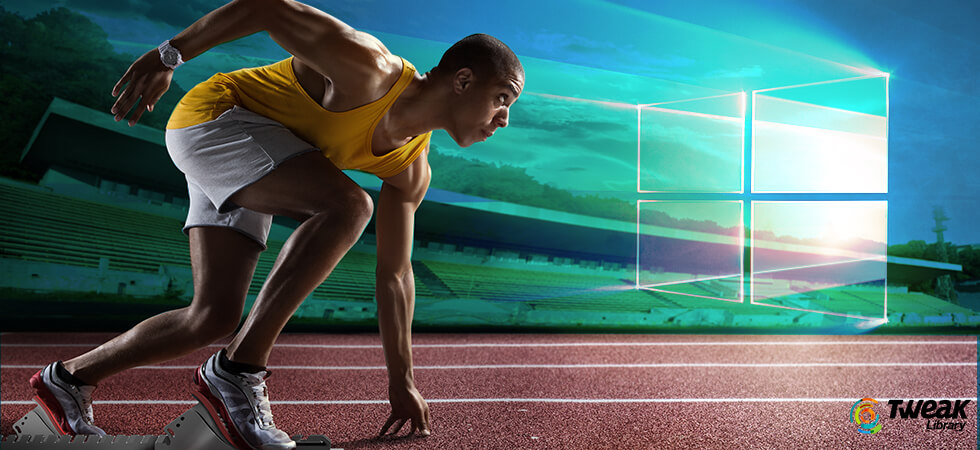 If your Windows PC takes ages to respond or carry out a simple task, then it needs to be optimized. Thankfully, getting your slow computer 'optimized' is no longer a tedious job. Since there are several PC Optimization Software available that can help you out in cleaning your PC & tune-up for smoothest performance.
Basically, these PC Cleaner & Optimizers remove junk from your computer, free up unnecessary occupied disk space, repair registry, drivers, disks, memory errors & fix other common PC issues. 
So, we'll be discussing 9 Best PC Optimization Software in this article that offers a wide variety of system maintenance tools & options to supercharge your Windows computer.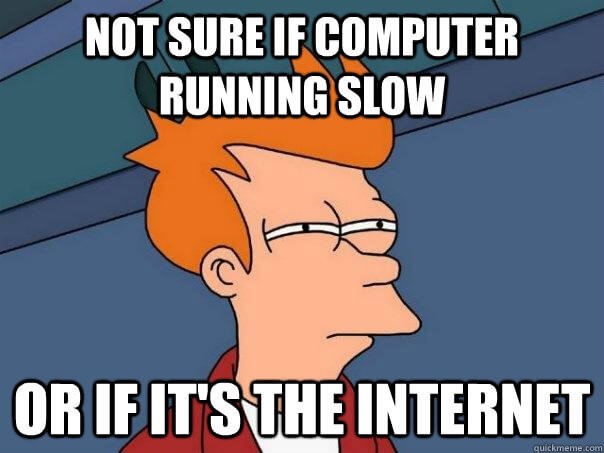 With some amazing capabilities & functionalities, we've listed the best in industry PC Tune-Up Software for Windows 10, 8 & 7.
Best PC Optimization Software For Windows 10, 8, 7 :
Here are some of the top-rated PC tune-up utilities that dig deep into your computer and fix all the trouble areas.
1. Advanced System Optimizer
Clean Your PC, Boost Windows Performance & Secure Your System For Ultimate Protection!
A powerful Windows tune-up software packed with a plethora of performance-tweaking features. Its comprehensive set of scans can detect and repair various types of system issues and lets you get rid of them in one go. Advanced System Optimizer has multiple optimizations, cleaning and security modules that make it one of the Best PC Optimizers For Windows in the market.
Features:
One-Click Maintenance
Repair & Optimize Windows Registry To Prevent Unwanted Crashes
Manage Disk Space For An Organized Library
Fix Faulty Drivers
Game Booster For Lag-Free Gaming Experience
Create A System Restore Point
Backup Your Valuable Data
Get Rid Of Unwanted Duplicates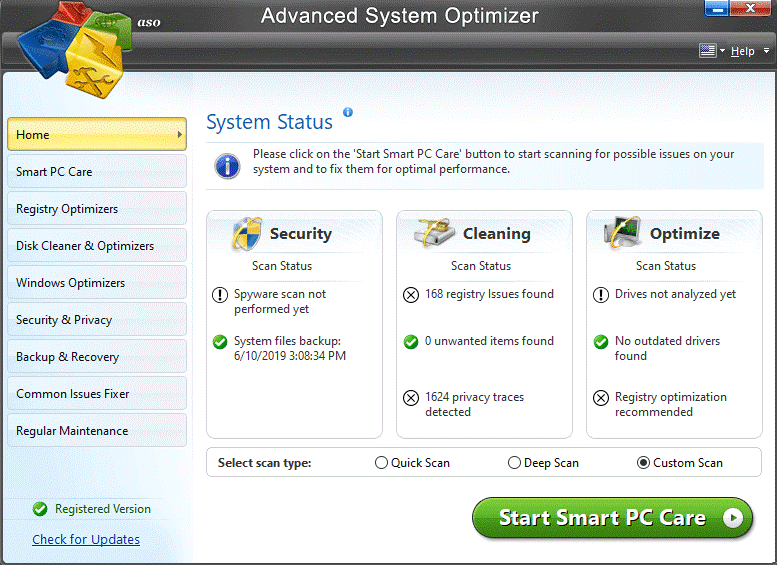 (All-Round PC Optimization Tool To Clean, Protect & Optimize In Few Clicks)
Download Advanced System Optimizer that comes packed with 30+ features to help you optimize your PC for best performance.
2. iObit Advanced SystemCare 12
A One-Click Windows PC Optimizer To Clean & Speed Your PC For Enhanced Performance!
iObit Advanced SystemCare is a robust PC Optimization software, dedicated to enhancing system speed and response rate. It comes packed with all the essential tools to remove unwanted clutter, duplicate files and other junk that takes huge space on a hard drive. Additionally, it manages the startup items for better boot time, optimizes browser settings for faster Internet surfing & protects personal data from prying eyes.
Features:
Advanced Tools To Make Registry Clean For Better Use
Monitors Your PC In Real-Time, Including RAM & CPU Usage
Comprehensive Set Of Tools To Improve PC Security & Stability
Keeps You Personal Data Completely Encrypted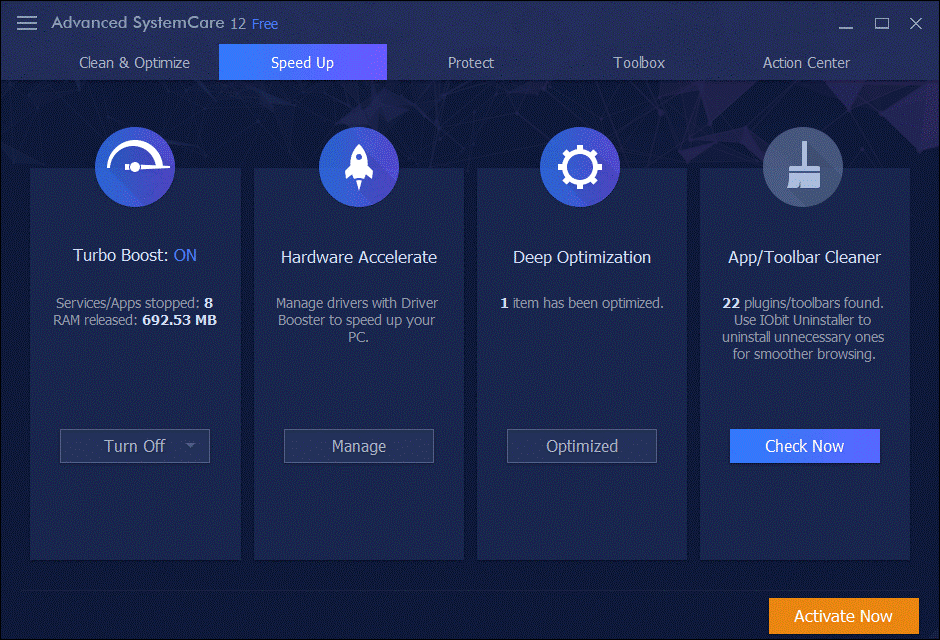 (Best PC Tune-Up Software For Ultimate Privacy & Faster Internet Surfing)
iObit Advanced SystemCare has a bundle of exciting features that fix common bugs, monitors & protect your system activities in real-time.
3. Iolo System Mechanic
Top PC Optimizer To Speed Up Windows & Fix Common System Errors!
Iolo System Mechanic is another best tune-up utility to perform a system diagnostic scan to identify, why your computer is running slow. Thus, you can fix the ultimate problem with a dedicated optimization module and achieve maximum PC performance. Furthermore, Iolo System Mechanic repairs registry issues, fix random system crashes issues, improves gaming experience & helps in speeding Windows boot time.
Features:
Fixes Registry Errors
Restore System Stability
Unleash Internet Speed With Each Scan
Enhance Drive Speed
Removes Bloatware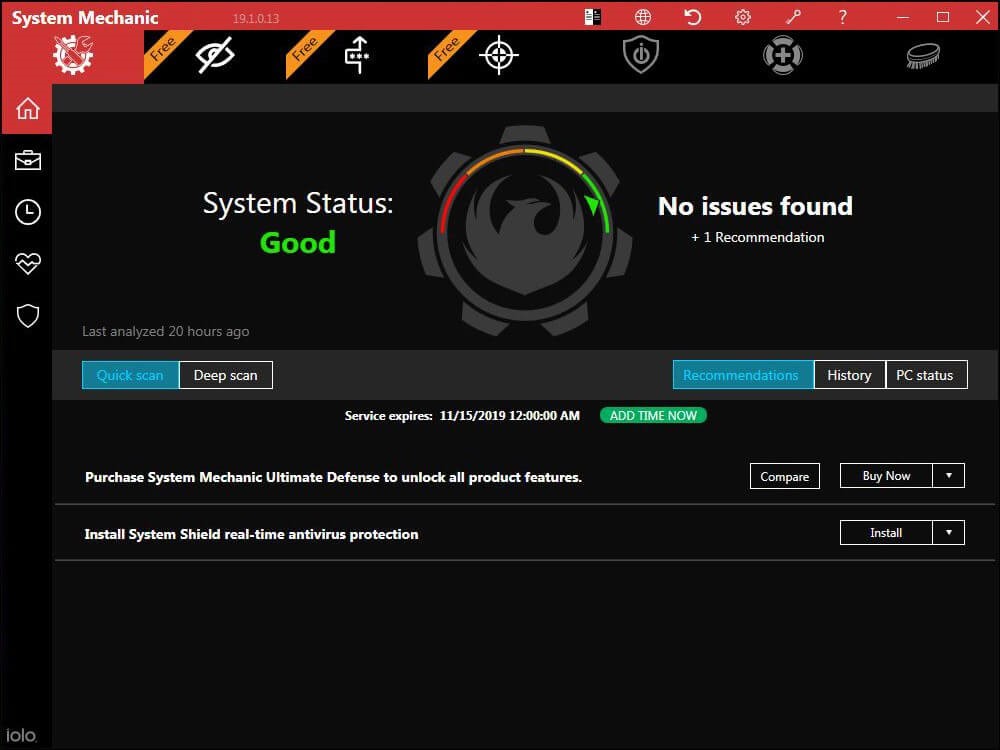 (Best System Optimization Tool To Fix Frustrating Bugs, Crashes & Random Freezes)
Iolo System Mechanic works patented performance technology & holds capabilities to restore maximum speed, power, and stability.
4. Ashampoo WinOptimizer
The Best PC Optimization Software With Powerful System Cleaning, Optimization & Security Capabilities!
Packed in an intuitive UI design, Ashampoo includes an Internet Cleaner, Registry Optimizer, Uninstaller, Startup Manager, Font Manager and much more. When we use Ashampoo WinOptimizer on our PC, we noticed an improvement in system speed, especially during the Startup and File execution time. With its Free Windows Optimization version, you can experience decent results. However, it has two premium versions as well that are also worth considering.
Features:
One-Click Optimizer
Nicely-Designed Interface With Lots Of System Cleaning Modules
Startup Tuner To Edit, Disable Startup Items
Eliminate Web Browsing Traces, For All-Round Protection
Context Menu Editor To Manage Right-Click Menus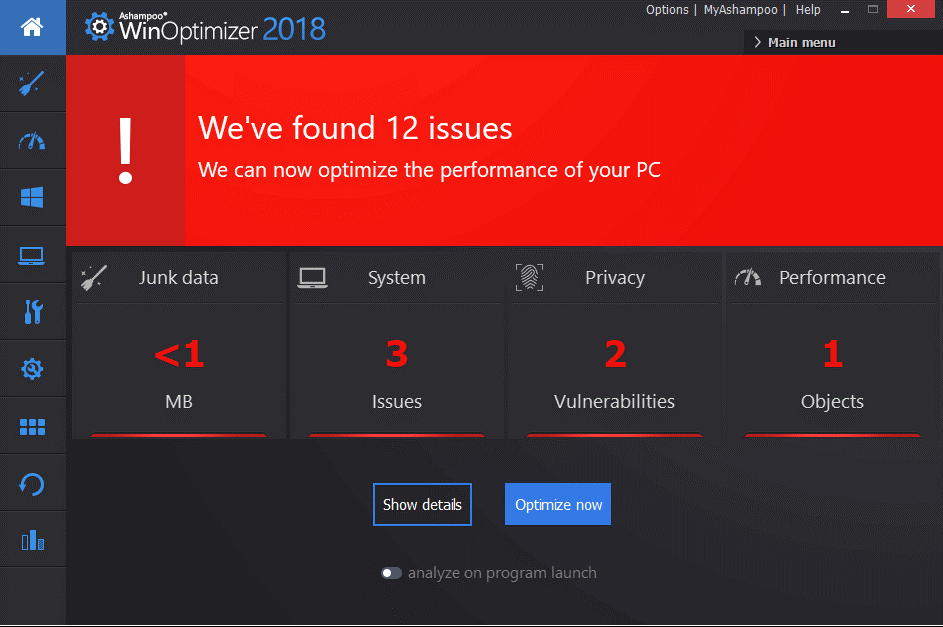 (Top-Rated Free PC Optimization Software To Stay Protected From Threats)
With amazing features and more than 30 modules for Windows Cleaning & Optimization, Ashampoo is a reliable PC tune-up software for better usability and performance.
Download Ashampoo WinOptimizer
5. CCleaner
A Dedicated System Optimization Tool To Free Up Valuable Hard Disk Space & Make PC Run Faster!
Owned by Piriform, CCleaner is one of the most popular & Best PC Cleaning & Optimization software, the industry has ever seen. It comes with a versatile feature-set to improve and optimize PC performance. CCleaner has everything that you'll ever look in an ideal PC Optimizer. It can even locate and fix all common bugs & problematic files that might hamper system performance.  It has both Free & Paid versions that are convenient to use and delivers a noticeable boost.
Features:
Smart Cleaning To Clear Junk, Temp Files, DNS Caches & More
Registry Cleaner To Fix Common Registry Errors, Invalid Shortcuts & More
Schedule Scanning For Automatic Cleaning
Scan & Remove Duplicates In A Click
Startup Manager
System Browser Monitoring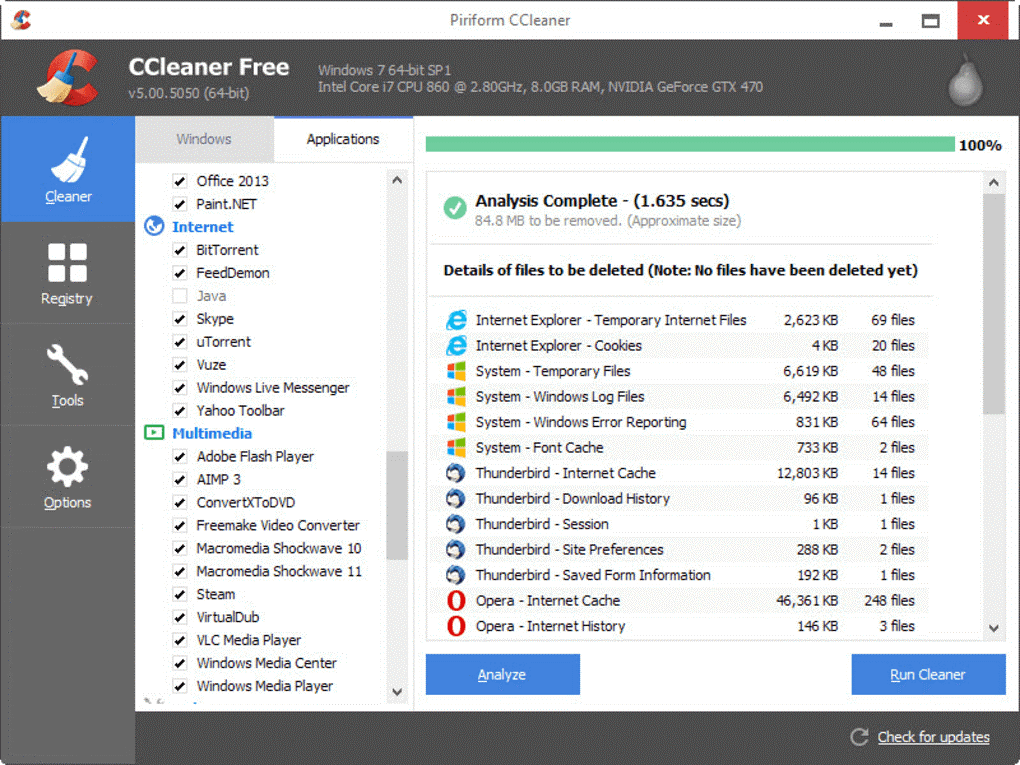 (Best Free PC Optimization Software For Comprehensive Cleaning & Fixing Windows Errors)
Unlike other best tune-up utilities mentioned in this list, CCleaner is the only one that frequently gets updated with the latest cleaning and optimization definitions & algorithms.
6. AVG TuneUp
Restore Your PC To Peak Performance With AVG TuneUp Utility For Windows XP & Above!
Make your old PC live longer with the help of AVG TuneUp Utility for Windows. The latest version comes with revamped Sleep Mode techniques that significantly boost the speed & performance of your PC. AVG TuneUp claims to boost your system performance by 77%, increase battery life by 117% & preserve 75GB of Storage space. The Free PC Optimization software has few features, but you can upgrade to the premium version for $49.99 per year.
Features:
Automatic Maintenance
Removes All The Pointless Junk Files To Free Up Space
Updates All Your Programs Automatically
Uninstalls Useless Software In A Jiffy
Comes with a Driver Updater
Multilingual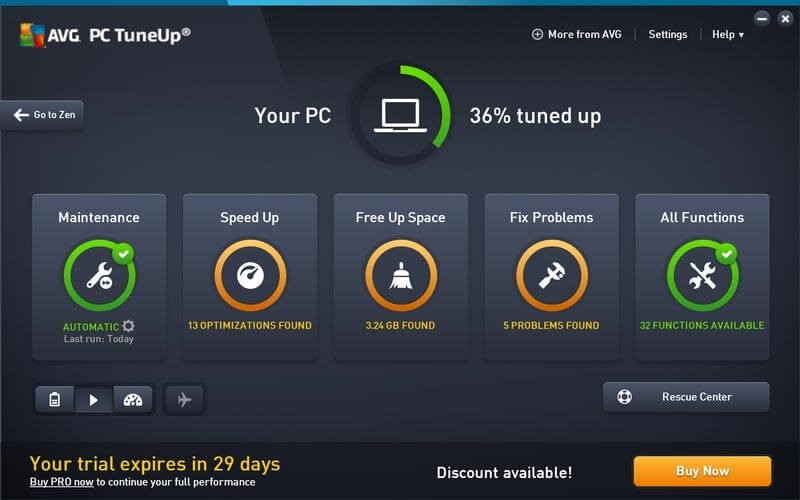 (Robust Windows PC Cleaner To Speed Up, Clean Up & Fix Your PC In A Click)
Apart from featuring all the tools to improve PC performance, AVG TuneUp tosses some handy bonus tools as well that are definitely worth trying.
7. Comodo PC Tuneup
The Best Free PC Optimization Software Dedicated To Speed Up Startup Process & Fix Common PC Issues.
Meet another Best Free PC Optimization software that comes with strong capabilities to fix your system issues, so it responds faster & processes information at a great speed. Besides offering repairing functionalities, Comodo PC Tuneup brings tons of features like Duplicate Finder that removes multiple versions of the same file, Registry Protection, and SafeDelete options. These features help to automatically recover accidentally deleted files & restore PC to its previous state if any mishap occurs.
Features:
One-Click Clean-Up
Removes Useless Startup Items
Comprehensively Evaluates Windows Settings & Helps You Restore Them To Previous State If Needed
Identifies And Repairs Registry Files To Improve Speed Of Your PC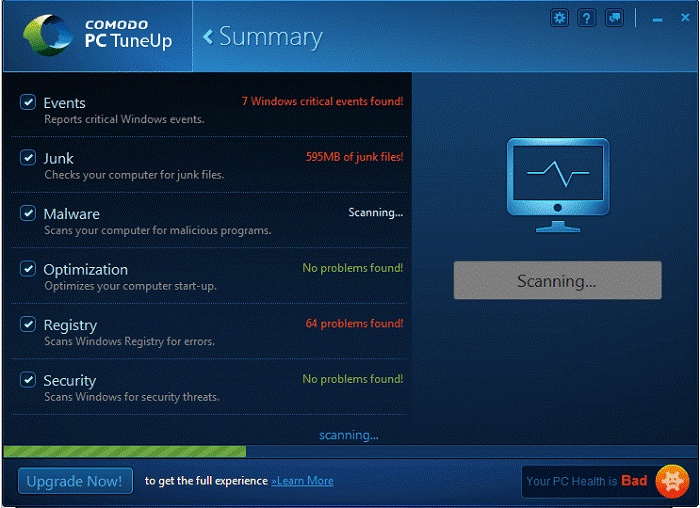 (Best PC Cleaner & Optimization Solution For Novices)
It comes with a user-friendly interface, which makes it super-easy to use. In fact, its one-click cleanup service resolves every PC issue in a single-click to offer you powerpack performance.
8. Glary Utilities
The Best Software To Optimize PC, It Cleans & Fixes The Registry Errors As Well For Lag-Free Performance.
Glary Utilities developed by Glarysoft is one of the most popular and frequently recommended System Cleaner & Optimization utilities of all time. It bundles a plethora of effective sets of performance improvement features & tools to resolve a wide range of PC issues. Glary Utilities features quite basic but colorful interface with modules like Status, 1-Click Maintenance, Privacy & Security, System Tools, Optimize & Improve. 
Features:
One-Click Maintenance
Fix Broken Shortcuts
Clear Temporary Files, Junk & Other Residues
Clean & Fix Registry Issues Without Hassles
Spyware Remover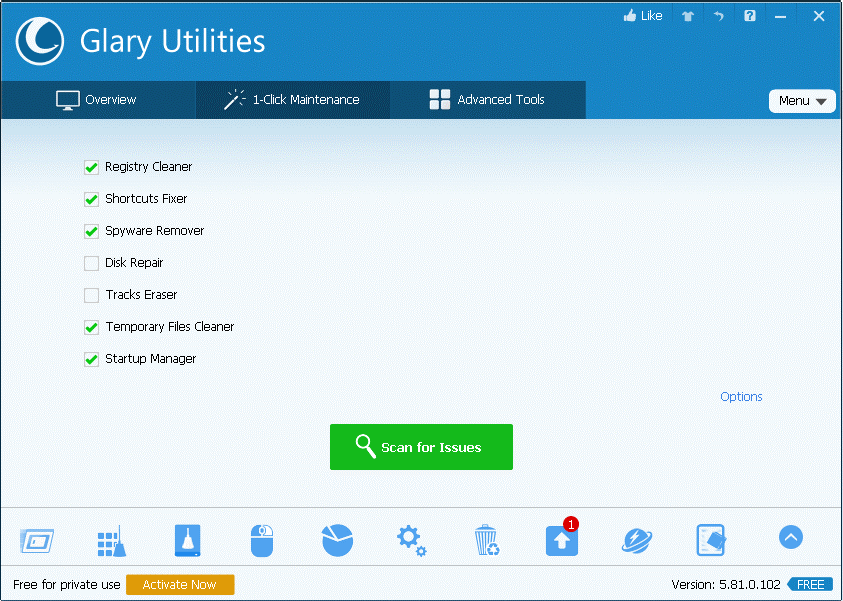 (One-Stop Solution For PC Performance Optimization)
Bundled with Registry Cleaner, Disk Cleaner, Startup Manager, Track Eraser, Safeguard Confidential Files, Recover Deleted Files and much more. Glary Utilities is truly a reliable Tune- Up Solution, to rely on! 
9. Wise Care 365
An Effective Tune-Up Utility That Proffers All-Around System Boost With Additional Privacy Protecting Features!
Wise Care 365 is a wonderful app that can refresh your system with every single scan. The Windows Optimization app has a clean, flat design overall & every feature is clearly labeled, which makes it easier to quickly learn the program. What's more interesting? Wise Care 365 works seamlessly with each program & had amazing compatibility with a multitude of security & antivirus apps.
Features:
Clean Design
Privacy Protector To Prevent Unauthorized Use Of Personal Applications
Hides Important & Sensitive Data
Recover Lost Or Deleted Files In A Click
Boost Games & Other Enterprise Software Performance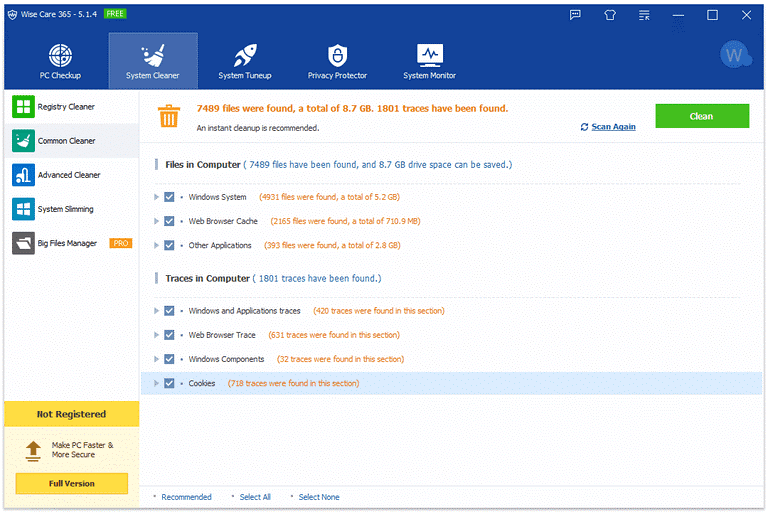 (One-Click Tune-Up Solution To Keep Your PC In Tip-Top Shape & At Peak Performance)
Wise Care 365 is undoubtedly an effective RAM Optimizer to prevent it from frequent slowdown. It has amazing compatibility with Windows 10, 8, 7, Vista and even old XP.
If you wish to optimize your Windows PC without using any third-party tune-up utility, you can try some of the ways mentioned below.
How Do I Optimize Windows 10 For Best Performance For FREE?
If you want a quick boost in Windows 10 performance, a few tweaks in System Settings, Cleaning junk files & Disabling unwanted Startup services, can help you achieve so. Additionally, you can try some other basic troubleshooting methods as well to improve PC Performance in Windows 10, 8, 7!
Quick Ways To Optimize & Clean Computer Running Windows 10, 8, 7:
Try these ways to speed things up on your Windows machine:
1. Reclaim Hard Drive Space By Removing Clutter
2. Check Your Windows PC for Viruses or Malware
3. Install Latest Updates
4. Upgrade System Memory
5. Use Disk Cleanup And Defragmentation
6. Uninstall Programs You Don't Use
7. Switch Off Unnecessary Animations
8. Clean the PC's Internal Fan
9. Reset your PC/Reinstall Windows
Implementing all these basic troubleshooting methods can certainly help you to improve PC performance, but these are not forever solutions. We strongly recommend, running a dedicated Windows PC Cleaner & Optimizer that will help you in maintaining your system for a longer run.  
Basics You Should Know:
Why Computers Get Slow?  
Systems can slow down for numerous reasons; the most common ones are listed below:
1. Several Startup Programs
2. Maxed out Hard Drive or Memory
3. Several Applications & Browser Tabs Are Open At A Time
5. Outdated Operating System
6. Corrupted Windows System Files
7. Rogue Programs Hogging Processing Power
8. Dust In Internal Components Of Computer
9. Outdated Device Drivers
10. Hardware Failure
These are some of the most common reasons what can make your Windows system run slower like a snail. Read further to know the best software to clean and optimize Windows PC!
How To Choose A Good PC Optimizer?
To know this answer, first you need to ask yourself – What Do You Need It For? To boost computer speed? To optimize the Internet connection speed? or to maintain the PC's stability? Once you analyze this, check out what makes a software an ideal PC Cleaner or Optimizer!
The one which has:
An intuitive UI & is easy-to-operate.
Offers complete clean up solutions.
Optimizes your PC's memory.
Easily detects & fixes common system errors.
Offers all the Privacy Protection features for ultimate security.
Helps you get rid of Duplicates & other residues & junk files in a click.
Comes with a Game Booster for the lag-free gaming experience
Helps you in getting more organized.
Have no time to go through the entire article? Watch this video to get an idea about the Best PC Optimization & Cleaner Utilities For Windows 10, 8, 7 that are currently ruling the market!