Looking to optimize and clean your Windows 11 PC?
Well, CCleaner has been a popular choice for freeing up disk space and fixing registry errors. However, it has flaws and controversies. CCleaner has been hacked twice in the past, compromising the security and privacy of millions of users. The software has become more bloated with unwanted features, ads, and data collection. Moreover, CCleaner's registry cleaning might not be effective for Windows 11 and could potentially harm the system. Not to mention the compatibility issues some users are facing with Windows 11 updates.
But fear not! We've done the research, and there's a great alternative that stands out: Advanced System Optimizer. With an impressive track record and a vast user base, Advanced System Optimizer offers a comprehensive solution to optimize your PC. The software also focuses on efficiency and performance, making it a reliable option to keep your Windows 11 system running smoothly. And the best part? It's fully compatible with Windows 11, so you won't have to worry about any update hiccups. In this article, we'll delve into the list of tools for CCleaner alternatives in 2023.
Top 3 Tweak Library's Recommendation: Must Have Alternatives To CCleaner For Windows
Advanced System Optimizer

One Click Cleaner to boost performance
Clean Junk, cache and redundant data
Offer duplicate cleaner, Driver updater & more.

Advanced PC Cleanup

Clean invalid registry entries
Clear system junk
Secure system from malware, virus, and other infections

CleanMyPC

Manage extensions.
Uninstall applications without leaving leftovers.
Clean unneeded files, trash files, and broken data
List of Best CCleaner Alternatives Windows 11/10 & Older Versions
Here is the list of programs like CCleaner for Windows 11/10, that you can use effortlessly to optimize your Windows PC.
| Product Name | Best For | Platform | Price (at the time of writing) 1 PC | Free Trial | File Size | Version Number |
| --- | --- | --- | --- | --- | --- | --- |
| Advanced System Optimizer | Best tuneup utility for Windows | Windows 11, 10, 8, 8.1, 7, Vista & XP | $49.95 | Yes | 16.2 MB | 3.9.3645.18056 |
| Advanced PC Cleanup | System Optimization | Windows 11, 10, 8, 8.1, 7 | $39.95 | Yes | 8.49 MB | 1.5.0.29104 |
|  CleanMyPC | Deleting junk files | Windows 11, 10, 8, 7 | $39.95 | Yes | 26.6 MB | 1.11.4 |
| System Mechanic | Improving PC's performance | Windows 11, 10, 8, 8.1, 7 | $20.98 | Yes | 52.2 MB | 21.3 |
| Glary Utilities | Protect privacy | Windows 11, 10, 8, 8.1, 7, XP, Vista | $19.97 | Yes | 5.89 MB | 5.164.0.190 |
| WinZip System Utilities Suite | Backup and restore files | Windows 11, 10, 8, 8.1, 7, XP, Vista | $39.95 | Yes | 46.8 MB | 3.14 |
| Clean Master for PC | Shredding files | Windows 11, 10, 8, 7, XP, Vista | $29.9 | Yes | 20.6 MB | 6.6 |
| Advanced System Care (Pro) | RAM & Memory optimization | Windows 11, 10, 8, 8.1, 7, XP, Vista | $16.77 | Yes | 48.6 MB | 14.3.0 |
| Puran Utilities | Disk defragmentation | Windows 11, 10, 8, 7, XP, Vista, 2008, 2003 | Free | Free | 10.2 MB | 1.0.3 |
| Wise Care 365 | Protect system in real-time | Windows 11, 10, 8, 8.1, 7, XP, Vista | $29.96 | Yes | 13.5 MB | 5.6.5 |
| BleachBit | Free, open-source cleanup tools | Windows 11, 10, 8, 8.1, 7, Vista | Free | Free | 12.2 MB | 4.4.2 |
| Ashampoo WinOptimizer | Comprehensive suite of maintenance tools | Windows 11, 10, 8, 8.1, 7 | $49.99 | Yes | 26 MB | 17.00.23 |
| Avast Cleanup Premium | Advanced tools for boosting speed | Windows 11, 10, 8, 8.1, 7, XP, Vista | $60.00 | Yes | 134 MB | 23.2 |
| AVG TuneUp | Digital toolbox for improving speed & updating tools | Windows 11, 10, 8, 8.1, 7, XP, Vista | $69.99 | Yes | 212 MB | 16.62.2.46691 |
| WinUtilities Pro | Bundle of registry & disk cleanup utilities | Windows 11, 10, 8, 7, XP, Vista | $29.99 | Yes | 12.6 MB | 15.88 |
1. Advanced System Optimizer: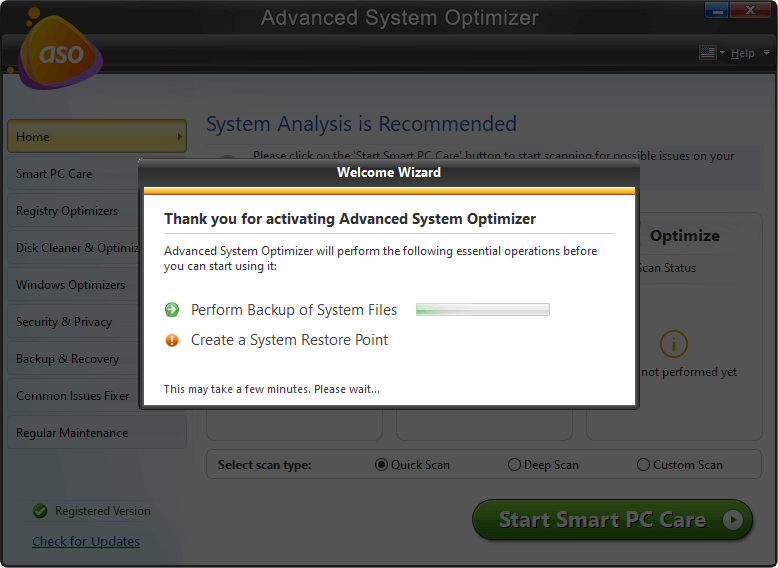 Click Here to Download Advanced System Optimizer
It is a multi-functional optimization suite for Windows 10 that boosts PC's performance. This software like CCleaner offers features like system cleaner, registry cleaner, disk defragger, registry optimizer, junk cleaner, identity protector, anti-malware and others. This helps enhance PC's performance and security, thus assisting in tweaking and optimizing Windows 10 PC.
Moreover, Advanced System Optimizer's Backup Manager helps take backup of all important data and System Files Backup and Restore backs up important system files after the product is installed. In addition to this, Memory Optimizer ensures memory is assigned appropriately when a program stops running. Security Advisor scans the system for security weaknesses, whereas Secure Delete as the name explains helps permanently deleted files, so that they cannot be recovered. Using these features is no hassle. Moreover, if you want to automate all these tasks can use  the Scheduler feature and automatically perform a routine system tuneup and cleanup.
Features & Benefits:
Privacy Protector to remove browse cache and other privacy exposing traces.
Registry cleaner and optimizer to clean invalid registry entries and optimize the Windows registry.
One of the best CCleaner Alternatives as it offers Game optimization that most of the tools lack, memory optimizer, PC Advisor and a lot more.
Pros
Best PC Cleaner and Optimizer
Scheduler to automate scans
Backup manager to secure important files
Cons
PC Fixer needs to be updated
2. Advanced PC Cleanup
Click Here to Download Advanced PC Cleanup
Cleaning and optimizing Windows PC was never this easy, all thanks to Advanced PC Cleanup designed and developed by Systweak Software, the best CCleaner alternative. This tune-up utility features a wide range of tools that helps manage, analyse and clear redundant and obsolete data that might eat lots of system resources and slow down performance. It offers one-click care to identify and remove all the junk at once, a temporary file cleaner, trash cleaner, registry cleaner, startup manager and much more.
Features & Benefits
Recover wasted disk space using Uninstall Apps module.
Detect and delete large, unused and unwanted files in a single scan.
Complete malware protection and identity protector.
Pros
60- days money back guarantee
Fixes invalid registry entries
Detects and clean malware
Cons
No duplicate file cleaner
3. CleanMyPC:
It is more than a regular PC Cleaner. This CCleaner similar program is designed to perform various tasks like cleaning unwanted files, protect privacy, manage Startup items, fix registry issues and so on. It is a user-friendly application and probably a good replacement that can be used by both advanced and novice users. Clean My PC is compatible with Windows 10, 8, 7 & older versions and it helps in keeping your PC organized.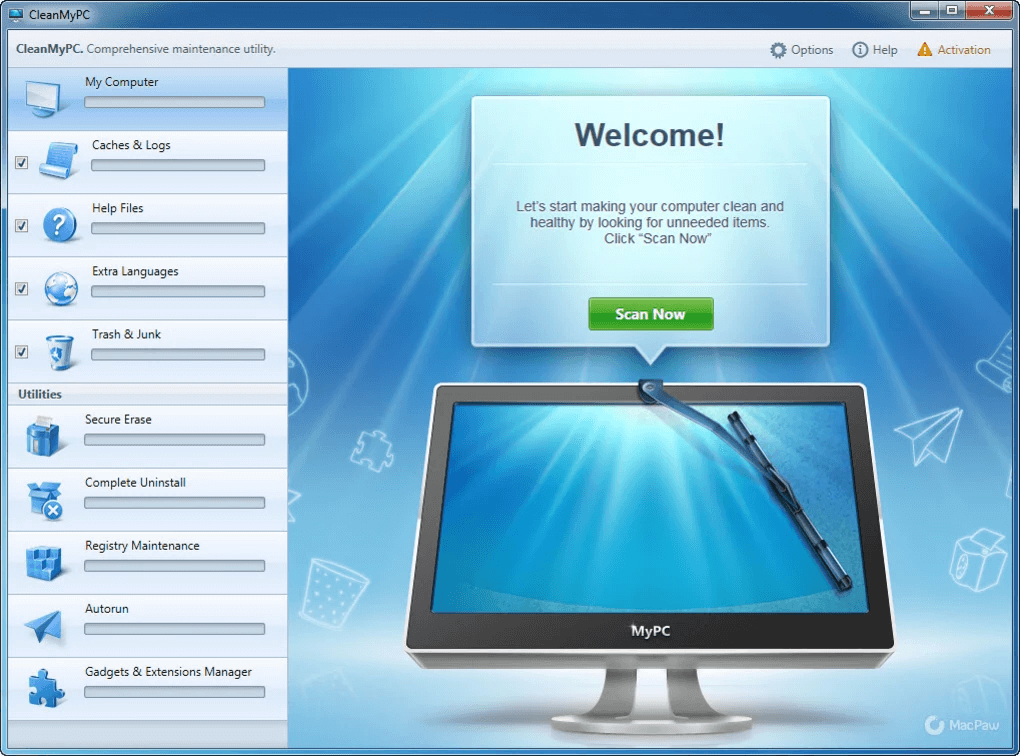 Features & Benefits:
Manage extensions and startup items.
Uninstaller
Privacy protector
Pros
Easy to use interface
Helps reclaim storage space
Works great as an uninstaller
Cons
Alerts are sometime annoying
4. System Mechanic:
System Mechanic from iolo is a PC Optimization Tool and an alternative to CCleaner on Windows 10. It is a handy and excellent tune-up utility that helps improve PC's performance by deleting junk files, making changes to virtual memory, defragging the hard drive and performing other tasks. Where software like CCleaner constantly nags and frustrate users, System Mechanic offers various options to accelerate PC speed, optimize memory, and more without bothering the user.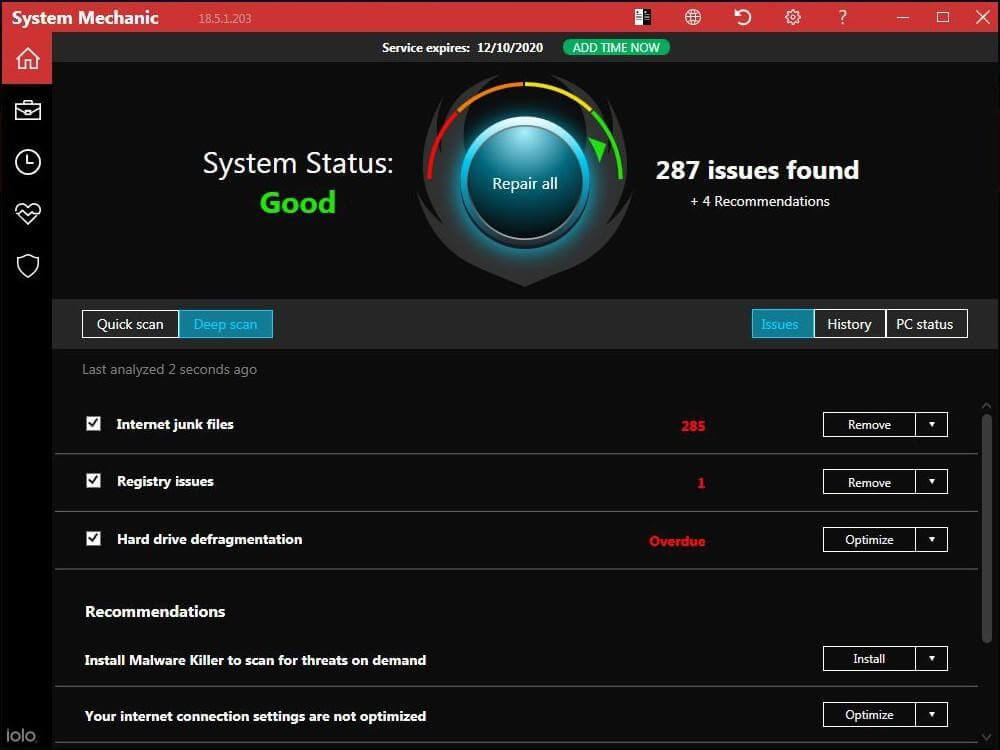 Features & Benefits:
Cleans junk files.
Schedule system cleaning.
One-click optimization.
Pros
Great customer support
Clean user interface
Excellent performance boosting tools
Cons
Advanced features only available in paid version
5. Glary Utilities:
It is another software like CCleaner and one of the best CCleaner alternatives is Glary Utilities. This freeware is an all in one utility that can clean your PC, stop errors, freezes, and crashes. It is an easy to use program that helps optimize your computer's functioning. This utility has an interface like CCleaner and it offers extensive utilities to improve your system's performance and protect your privacy. Moreover, this tool offers a registry cleaner, spyware detection, disk cleanup, memory optimizer and lot more.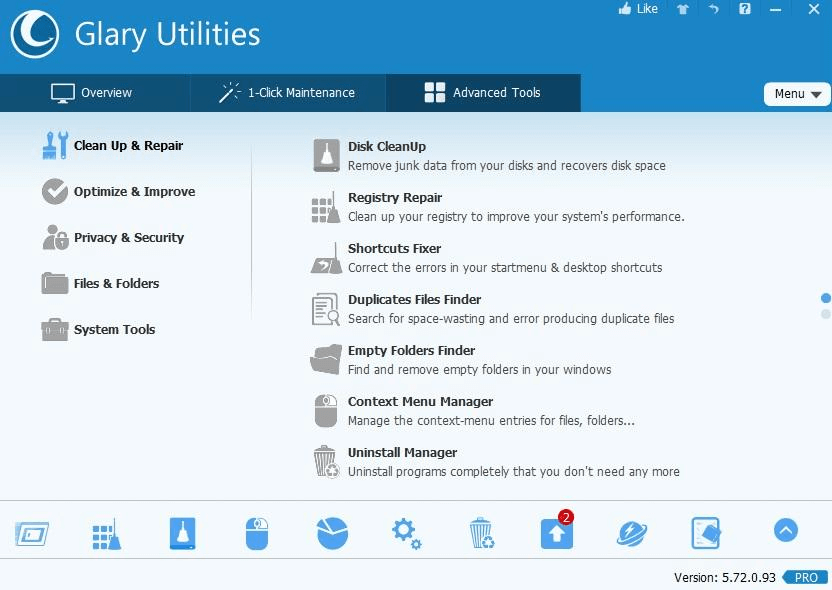 Features & Benefits:
All in one PC cleaning utility.
Boosts PC Speed and fixes errors.
Easy to use tool that provides automated options.
Pros
All in one PC optimization services
8X faster scanning engine
Automated one click functionality
Cons
Not user friendly for beginners
6. WinZip System Utilities Suite:
As you are looking for CCleaner similar it needs to be good and useful. WinZip System Utilities alternative to CCleaner as the name suggests brings a slew of useful features under one tool. It is a complete system optimization suite that helps in optimizing Windows 10 and older Windows versions. This tool is designed to improve your PC's performance by cleaning registry errors, removing junk data, defragging hard disk, backup system data and more. It is considered as one of the best alternatives for CCleaner as WinZip System Utilities has all the features that will help to boost Windows performance. Moreover, using this tool is easy.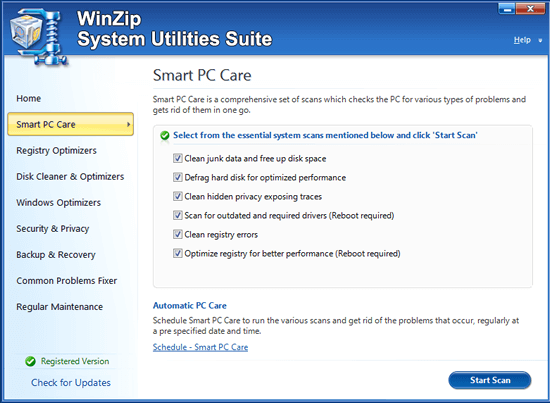 Features & Benefits:
Backup and recovery
Advanced diagnostic tools
Cleans and protects PC
Pros
20+ system optimization tools
Game Optimizer
Helps update outdated and missing drivers
Cons
No differentiation between major and minor Windows issues
7. Clean Master for PC
This program like CCleaner cleans and optimizes your PC by deleting junk files and organizing files in a similar manner like native Windows file explorer. With this tool cleaning of junk files, obsolete registry entries or selecting categories you want to clean is super easy.  Clean Master for PC allows cleaning what needs to be cleaned without running the complete tool. Moreover, you can clean each category entry individually this is what makes it the best CCleaner alternative.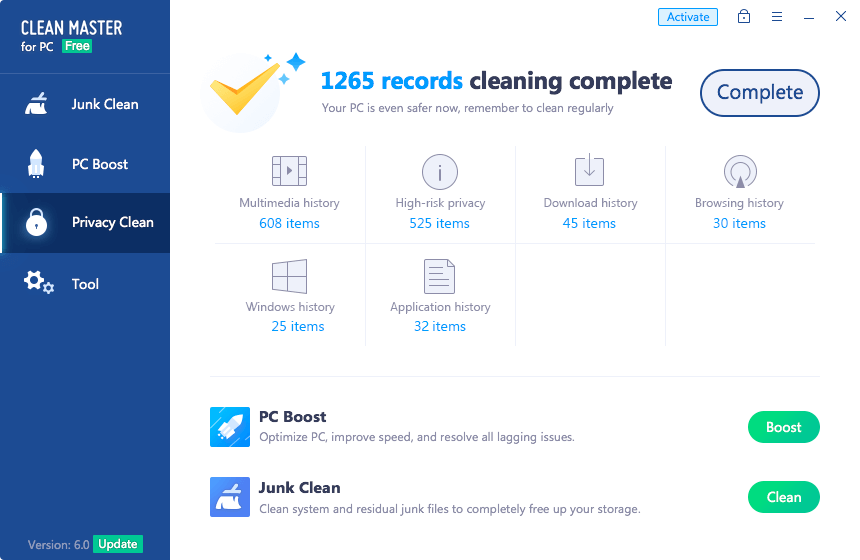 Features & Benefits:
Privacy protection
File shredder
Resolves system lag
Pros
Stop unnecessary background apps from running
Helps recover files
Optimizes PC
8. Advanced System Care:
As the name indicates this CCleaner similar is an all in one system optimization tool that helps cleaning the Windows registry as well as junk files. This easy to use tool is an alternative to CCleaner on Windows 10, as it helps monitor PC's RAM/Disk Usage/CPU temperature, block untrusted program, protect sensitive data, sweep privacy traces and more. The free version of the product is limited functionality while the Pro version is annual subscription-based.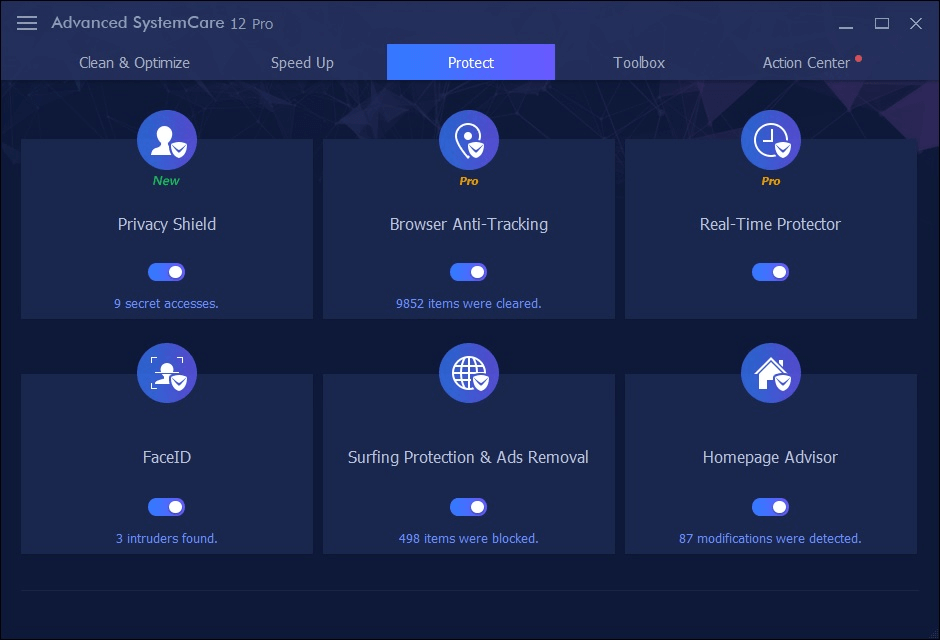 Features & Benefits:
RAM optimizer.
Registry Cleaner.
Internet speed booster.
Pros
System protection
Improves PC performance
A glance at system information
9. Puran Utilities:
Puran Utilities is a program loaded with features that will help to improve your Windows 10 computer performance. It is an incredible tool for both beginners and pro.  The program like CCleaner gives 20 boosters to optimize your Windows 10 machine and older versions. It is an alternative to CCleaner on Windows 10 as it offers a handy guide on how often each module should be used and in what order. Moreover, Puran utility defragmenter alternative to CCleaner does a good job of cleaning up hard drive and permanently deletes unwanted files.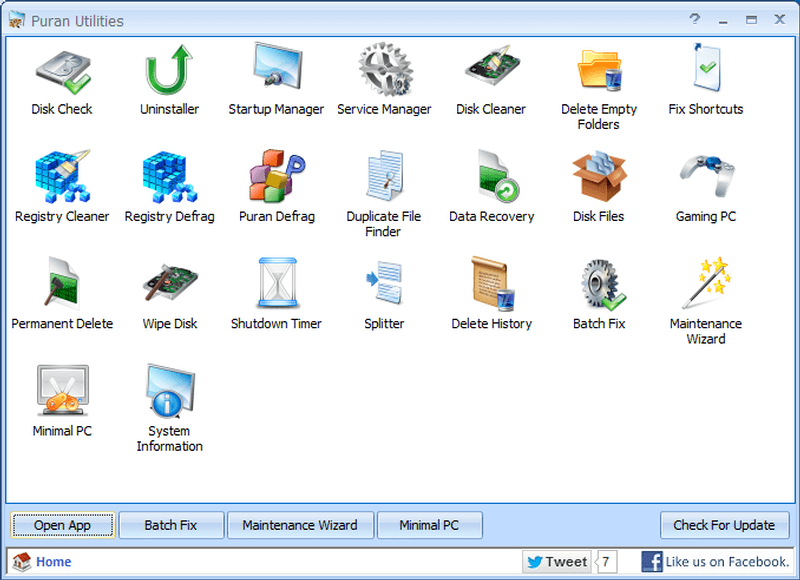 Features & Benefits:
Disk Check.
Fixes shortcut errors.
Data Recovery.
Pros
Free PC tuneup utility
Fixes corrupt shortcut
Helps delete empty folders
10. Wise Care 365
Wise Care 365 is a popular and high-rated PC cleaning, speed up tool that helps in cleaning invalid registry errors, junk files, protect system in real-time, clean file specific extensions, erase privacy exposing traces and more from your Windows 10 machine. This is an alternative to CCleaner on windows 10 as the tool adopts the world's top technology and comes both a Free and Pro version.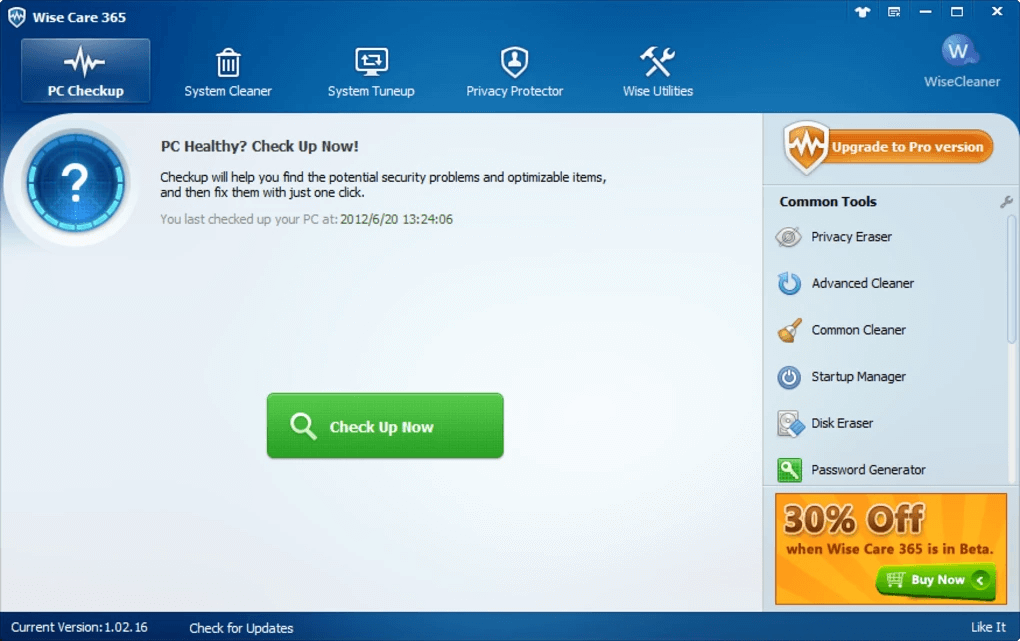 Features & Benefits:
Prevents unauthorized use of personal applications.
Cleans, optimizer and fixes invalid registry errors.
Data Recovery.
Pros
Easy to use interface
Stable PC optimization tool
Does not consume much system resources
Cons
Limited functionality in trial version
11. BleachBit
One of the most basic and freeware alternatives to CCleaner on Windows 10, older versions and Linux is BleachBit. Unlike other tools it is simple to use, requires less storage and comes in various languages like English and Spanish. This tool quickly frees disk space, guards your privacy by cleaning Internet history, deleting cookies, cache and more. Further, BleachBit includes advanced features like shredding files, securely wiping free disk space to hide traces and more. To know what else the product can do download it now: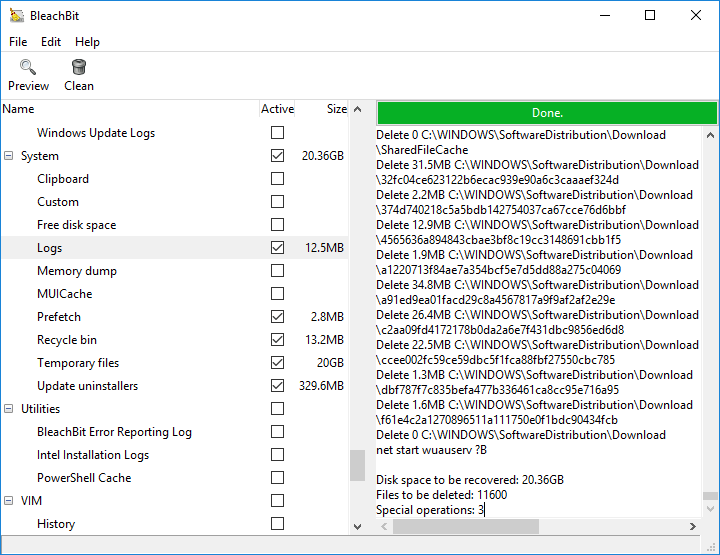 Features & Benefits:
Privacy protector.
frequent software updates with new features.
Compatible with Windows and Linux.
Pros
Free up disk space effortlessly
Clear cache, cookies
No adware, malware, and spyware
Cons
No built-in file recovery
12. Ashampoo WinOptimizer
Our list of Best alternatives to CCleaner is certainly incomplete without mentioning Ashampoo WinOptimizer. The tune-up utility features a stylish and attractive interface and offers excellent modules to delete junk files, defrag hard drive, fix registry issues, run system benchmark, uninstall programs, delete duplicate files, eliminate browsing traces and much more. WinOptimizer is one of the best CCleaner alternatives, which features a complete suite of useful cleaning, optimization & security tools to enhance overall performance and maintain system stability.
Features & Benefits:
PC Benchmarking utilities.
Accurate duplicate file finder.
Variety of system maintenance tools.
Pros
Accelerated system speed
Helps boost startup time
One click powerful scanner
Cons
Wipe internet traces feature not available
Avast Cleanup is an excellent CCleaner alternative that optimizes and accelerates your PC performance with ease. The tune-up utility for Windows will help you get rid of all types of trash & traces, so that no residues can clog your system storage unnecessarily. The PC Cleaning solution works thoroughly when it comes to detecting and deleting junk files, caches, cookies and temp files. Apart from these, you can enjoy a plethora of functionalities and benefits using the alternative to CCleaner. So, let's check them out!
Features & Benefit:
Registry cleaner for repair invalid registry entries.
Bloatware remover to uninstall unwanted applications on Windows PC.
Sleep mode to identify which apps are running in background and put them to sleep to enhance overall performance.
Pros
Shortcut cleaner
Automatic maintenance tool
Rescue center
Cons
Cleaning cookies sometimes creates issues
14. AVG TuneUp
Features a sleek interface with clearly labelled buttons, AVG TuneUp is another closest alternative to CCleaner. Considered to be one of the best PC repair software, it offers plenty of tools to scan critical areas of a PC and fix the issues to smooth overall system performance. Using the Windows tune-up utility, you can fix broken registry items, shortcuts, clean system junk, caches, cookies, browsing history and other residues. Additionally, it has all the valuable tools like Defragmenter, Storage Sense, Startup applications manager & more at one convenient location.
Features & Benefits:
Rescue Center to undo recent changes.
File shredder to permanently delete sensitive files.
Tools to automatically update programs.
Pros
Great PC Tuneup utility
Battery life saver
Easy to use one click optimizer
Cons
Huge list of features is often confusing
15. WinUtilities Pro
WinUtilities Pro features all the tools and functionalities for maintaining overall PC performance, which makes it the best CCleaner alternative for Windows users. Ranging from hard drive cleaning to shortcut fixer, WinUtilities Pro tries to keep your system running like a new one. The tune-up utility for Windows is lightweight and offers numerous optimization and security tools as well. It's one-click maintenance feature is what makes WinUtilities Pro an excellent alternative to CCleaner for boosting PC speed.
Features & Benefits:
Privacy & security tools to clean Internet history & other traces.
Registry tools to manage and repair registry entries.
Protect files & folders.
Pros
Full functional trial version
Family license available
Allows scheduling task
FAQ's On CCleaner Alternatives
What made us put Advanced PC Cleanup, CleanMyPC, System Mechanic, and other tools on the list?
FAQ 1
Benefits of using CCleaner alternative Apps
Before we get into details, it's worth noting that we've included all-in-one system utilities as CCleaner alternatives, as they are in need of the hour. Using them you can perform tasks like –
Cleaning duplicates
Fragmentation of hard disk
Removing bloatware
Managing startup
Cleaning invalid registry entries
Protecting system from malware
Clearing RAM and more.
All of which is important to improve performance and keep the system in proper shape. The utilities listed here have their own perks, as you read, you will get to know which does what.
FAQ 2
What is the best alternative to CCleaner?
Advanced PC Cleanup as discussed is a great CCleaner replacement.
Also, the recommendations listed below are from the best to the least. Moreover, we took the following points into consideration when looking for an alternative to CCleaner:
Ease of use
Features
Compatibility with Windows 10 and older version
Price
Reliability
FAQ 3
Does using CCleaner alternatives involve risk?
The short answer is No. There is no risk involved in using the CCleaner alternatives listed below. In fact, these apps are safe to use, and they help clean junk files, private traces, cache files, and more.
Note: Though these apps are tested, we still recommend you use them at your discretion. We do not claim any responsibility that arises due to using any app.
Final Verdict:
These best CCleaner alternatives listed above will help you optimize your Windows PC. Moreover, if you decide to go with our recommendation i.e. Advanced PC Cleanup. No longer you'll need to install a separate anti-malware tool as it includes one. Moreover, using Identity Protection, you can secure your sensitive data, and keep it out of reach of nasty people. Do let us which tool you chose you to use and why. Your feedback is valuable to us.