Table of Contents
Hate waiting for the PC to boot or a program to open? Want your PC to work as new?
No problem, here we will explain how to give your PC a new life with trusted and reliable Advanced System Optimizer. All your machines, including Windows need good optimization tool that can help clean junk files, obsolete data, optimize registry and perform similar functions that help boost PC speed.
In this guide, we will review an amazing tool known as Advanced System Optimizer. This best system optimization suite not only cleans unwanted data from your PC but also helps boost system speed making it work just like a new system.
Advanced System Optimizer – At A Glance
Features At A Glance
Cleans Junk and Obsolete Files
In-built Game & PC Booster
Optimizes memory
Fix invalid registry entries
Clean and optimize disk automatically
Backup and restore the system files
Update outdated device drivers
Protect system from malware, virus and other infections
Click Here to Download Advanced System Optimizer
Why Trust Me?
After years of using Windows machine, lately I started facing problems with it. At first, I thought the huge amount of data stored on the system, is the reason. So, I moved files but no luck, then I realized since my PC is not optimized, I am facing this problem. This was when I started looking for an windows tuneup utilities and found the life-saver tool – Advanced System Optimizer. Priced at $49.95 this PC cleaner is one of the best tuneup utility. Using it you can enjoy optimized PC performance in no time.
Loved by millions of users this all-in-one PC cleaning software is easy to use and it offers various modules that help clean computer. Moreover, using it in no time you can recover storage space, securely delete files, encrypt important files, update outdated drivers, secure system from malware, restore deleted files and do a lot more.
Also Read: Best PC Optimizer Software to Speed Up Your Computers Performance
Overview- Advanced System Optimizer – The Best PC Game Optimizer
To keep the PC clean, the best PC optimization software is required & Advanced System Optimizer is just the right utility. This computer cleaner not only sorts out and deletes unnecessary data from your hard drive, it even offers different scan types for user's convenience.
This PC tuneup & cleanup tool scans each section of your hard drive to identity problems and fixes them in a single click. Alongside tidying up your system files, Advanced System Optimizer cleans duplicate files, deletes privacy exposing traces, and does a lot more. You can see performance after first scanning and fixing of errors.
Available for Windows XP, 7, 8, 10, Advanced System Optimizer is lightweight. The program consists of multiple system tweaking tools including a registry cleaner, duplicate file cleaner, disk optimizer, game optimizer, Secure delete, and more.
Read Further: How To Optimize Windows 10 PC for Best performance
Benefits of Using Advanced System Optimizer
Boosts PC performance
Scans and deletes duplicate files
Game Booster
Memory optimizer
Securely delete files permanently
Encrypt files and folders
Backup important data and create system restore point
Highlights – Top PC Junk Cleaner, Advanced System Optimizer
Automatic Memory Optimization
System cleaner to remove junk files
Secure Encryption
Secure Delete
Startup Manager
Driver Updater
System Protector
Pros
User friendly, easy to use
A complete system optimization suite
Helps recover a huge amount of storage space
Removes privacy exposing traces
The scheduler makes automatic PC scanning and optimization easy
Fixes registry errors and does a lot more
Cons
PC Fixer module needs to be updated
No decent Internet Optimizer
| | |
| --- | --- |
| Free | One day free trial |
| Deployment | Windows – XP, 7, 8, 8.1 10 (32 and 64-bit) |
| Training | No Training required |
| Support | Email, FAQ and Video tutorial |
Effectiveness 4 OUT OF 5
Recover valuable disk space and keep PC running smoothly
Price 4 OUT of 5
$49.95
Ease of Use 5 Out 5
User-friendly, Intuitive
Support 4 Out of 5
Email support, online FAQ and video tutorial
Overall Rating 4.5 OUT of 5
Best for –  Loved by thousands of users across the global. It is best for Home Users and is available for $49.95.
What makes Advanced System Optimizer a must-have tool?
It is a suite designed to fix all Windows related problems. From optimizing disk, to fixing registry error, cleaning duplicate files, removing privacy exposing traces, securely deleting files, optimizing disk, this tool can perform any operation. Once you have it on your machine, you'll no longer need to use different optimization tools on your machine.
The main attraction of Advanced System Optimizer is its Smart PC Care feature, a service that scans all essential sections of your PC in one click. Using the amazing junk cleaner, you can recover valuable disk space, fix registry errors, uninstall unwanted software and more.
Features Offered by Advanced System Optimizer
Different Scan Types: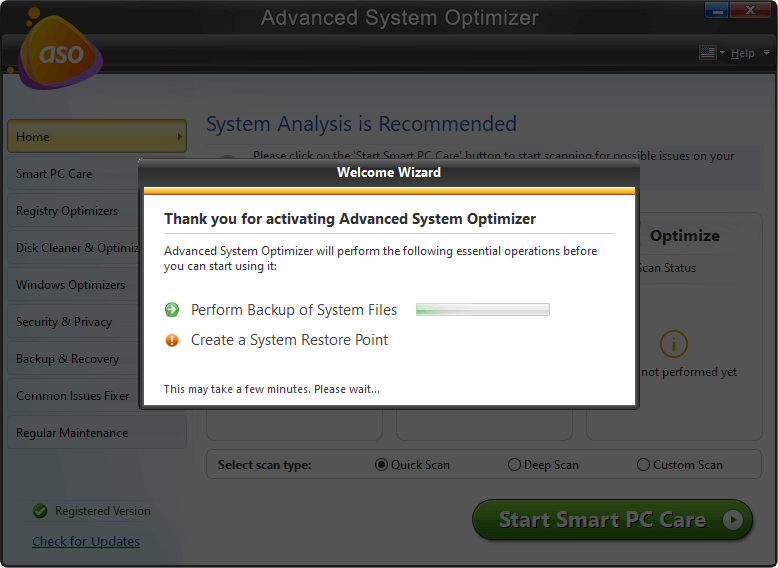 Clean junk files, clear out cookies, cache, fixes registry errors, and optimizes registry.
Thorough and time taking. Alongside cleaning all the areas mentioned in quick scan, it even defrags hard disk.
As the name explains gives user the option to select areas to scan
Have A Look: Best Anti-Malware Software For Windows 10
Smart PC Care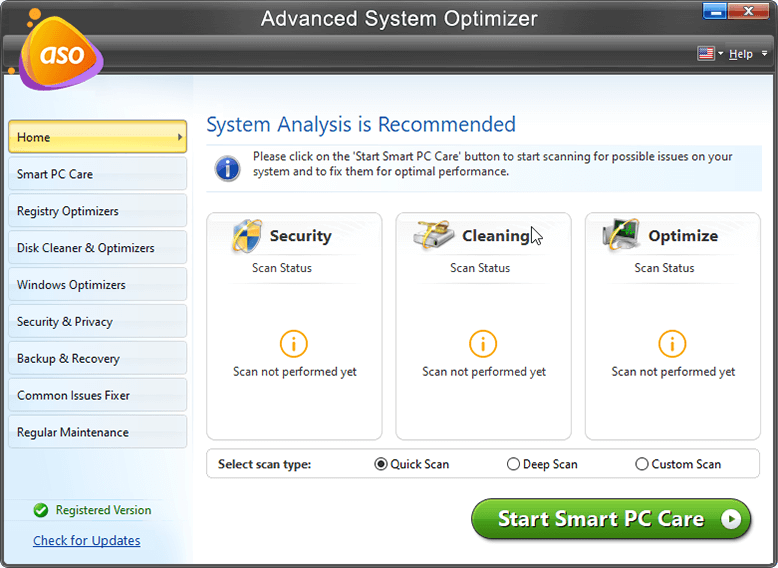 This section is the home of primary cleaning tasks. In just a single click you can perform different operations. Scanning of different areas will be based on the scan type selected by the user.
In addition to this, there are individual modules to perform specific tasks.
Registry Cleaner and Optimizer
Divided into two parts this section helps fix registry error and optimizer registry.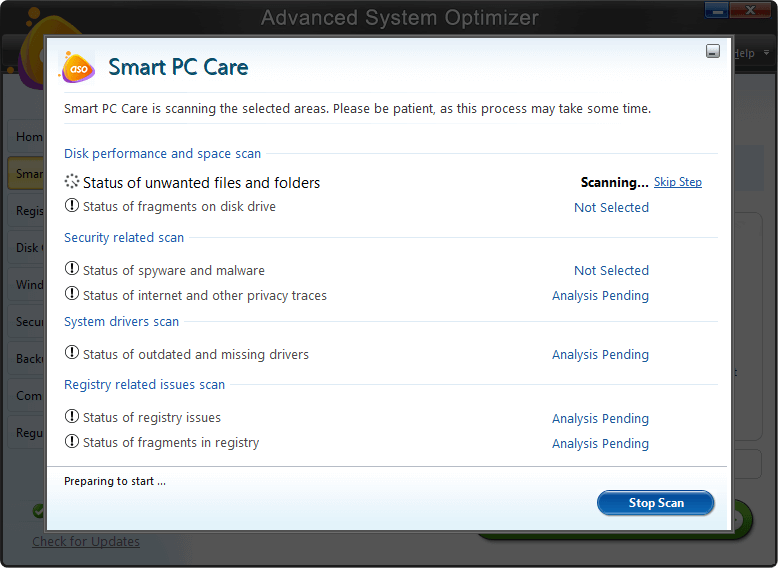 Scans the system for the invalid registry, repairs Windows registry issues, and prevents unwanted application crashes.
Optimizer registry to help Windows run faster and be less prone to problems.
Disk Cleaner & Optimizer
Makes your Windows run faster by cleaning junk files, obsolete data stored on your computer's hard drive. Using subsections of this module you can remove junk files, check the disk for startup issues, and remove disk fragments resulting in boosting PC speed with faster response and load time.
Helps delete junk files and unwanted clutter from your PC to give a clean and optimized PC.
Defrags hard drive for better data allocation and speeding data read the time.
Avoids unexpected system slowdown and crashes by checking the storage disk at startup.
Categorically displays data to help the user know about the files and folder stored on the system and manage disk statics.
Windows Optimizers
Offers in-built utilities to optimize and maintain your Windows PC with ease. It offers different subsections to optimize memory and more.
Enjoy distraction-free gaming and get a faster gaming experience by playing games in a virtual environment.
Free up RAM and unused allocated memory to work faster and boost PC performance.
Update outdated drivers and save yourself from encountering BSOD, outdated drivers related issues and other problems.
Security & Privacy
This tab shows what information your browser has stored. Using it you can clear cache, cookies, saved history all of which make you vulnerable to cyberattacks.
Certainly, it is something you can manage on your own but for that, you will have to head to each browser. Advanced System Optimizer the PC optimizer offers a quick and simple way to manage them all at once. If you are giving your PC a fresh start this module is worth giving a try.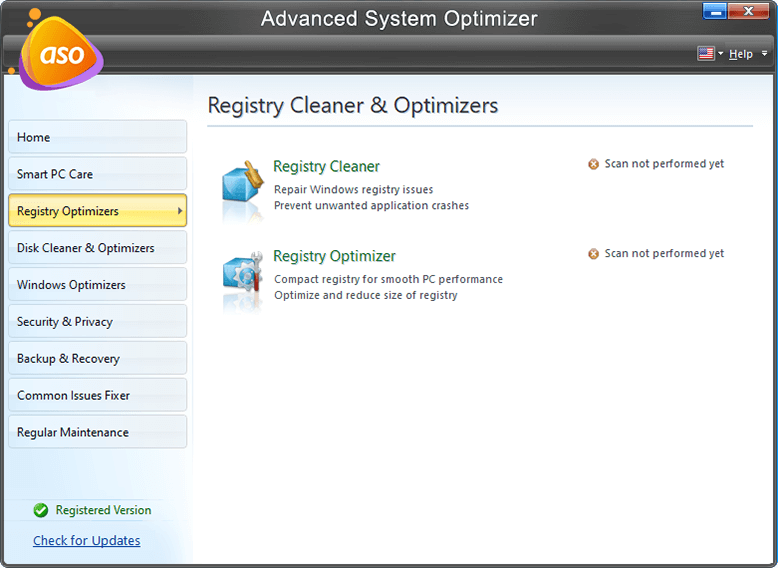 Secure your PC from malware, virus, adware, PUP and other malicious threats that affect system performance and hampers productivity.
Remove internet browsing history, cache, cookies, and other hidden traces that make you vulnerable and prone to be attacked.
Delete files permanently that you don't want to be recovered using the military-grade method. Thereby, helping avoid critical data recovery using data recovery software.
Encrypt important files with a password and prevent unauthorized access.
Backup & Recovery
To stay protected from ransomware, malware, spyware attack, and to be ready for unforeseen situations like hard disk crash and others, data backup is important. Using this module, you can Backup important files such as videos, audio files, photographs, and documents. Alongside can backup important system files.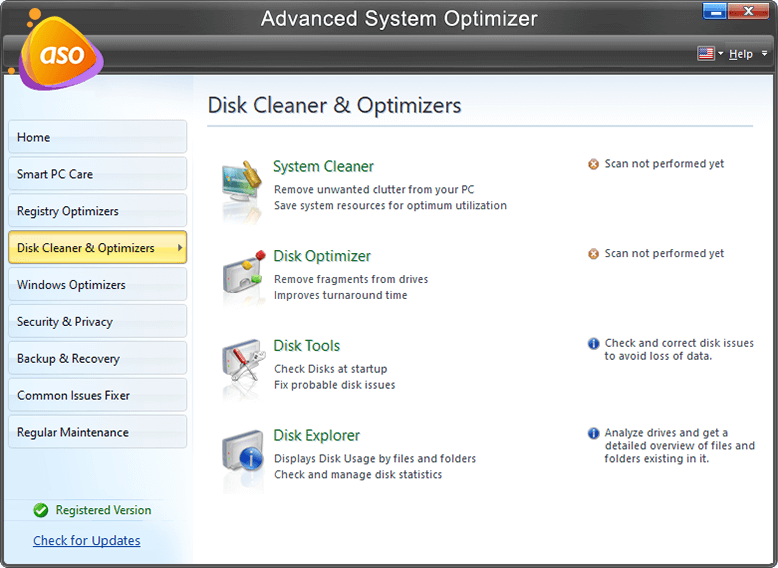 Retrieve accidentally deleted or lost photos, documents, videos or any other file easily.
Backup and restore important data in a jiffy using Backup Manager.
System Files Backup & Restore 
Create a backup of system files and restore old backups as per need.
Common Issues Fixer
As the name implies this section covers those modules that help fix common Windows-related problems. The most effective of all the three subsections is Duplicate File Remover.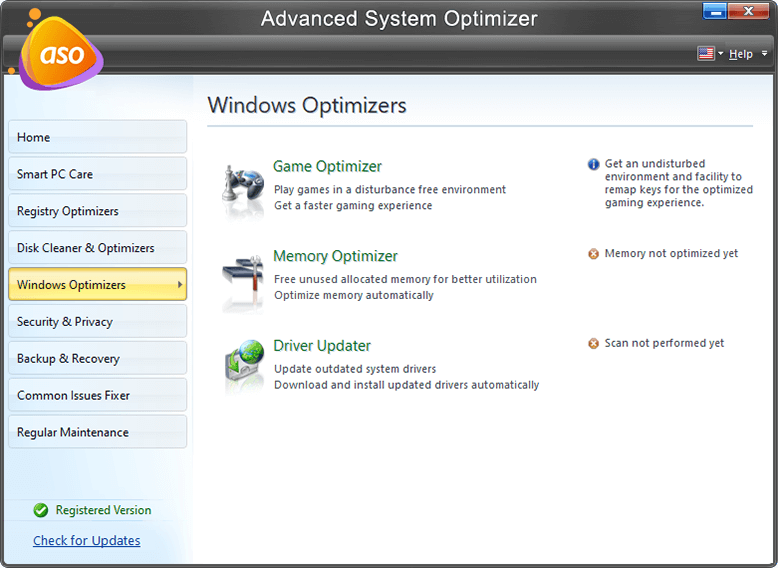 Duplicate File Remover – delete unwanted duplicate files from the system and recover valuable disk space. Duplicate files are the most common reason for disk space almost full error message. Using this module you can save yourself from getting this message.
Must Read: Best Duplicate File Finder and Remover Software for Windows 10 
Regular Maintenance
To keep your system optimized and in shape, this module plays an important role. Using it you can manage system startup, uninstall programs, and schedule automatic scanning.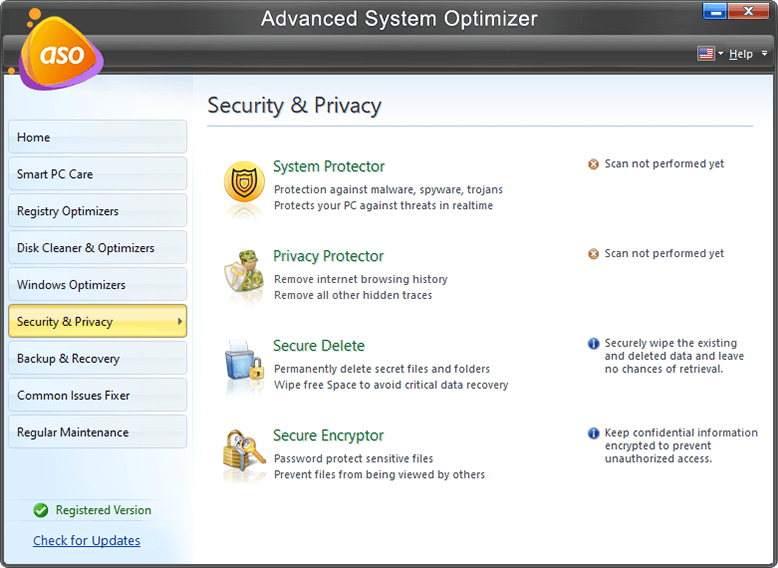 Get the latest and compatible driver update for all the connected device in a few clicks and enhance PC speed.
A simple way to stay on top of autorun programs is to know about them. Using Startup Manager you can manage programs that run at system boot time. Since we are not aware of these programs & we let them run resulting in slow boot time. This module helps know about these programs and disable them to improve system startup speed.
Using the uninstaller module offered by Advanced System Optimizer you can easily get rid of unwanted software and recover hard disk space. Moreover, Uninstall Manager never leaves leftovers that interferes with functioning of other programs.
To make this amazing PC cleaner and system optimization tool work on its own you can use this module. Using Scheduler, you can set an automatic scan to run weekly, or once. This will help optimize PCs, even when you are not around.
Conclusion
Undeniably, Advanced System Optimizer excels at what it does. It's an advanced and excellent PC optimization tool that helps in keeping system clean.
From recovering valuable disk space to speeding up boot time, fixing registry errors, backing up files, updating driver, restoring deleted files, cleaning malware, this program offers something for everyone. Likes by both advanced and beginners PC RAM cleaner tool comes as a blessing in disguise.
The interface is easy to navigate, using Smart PC Care in just a single click PC cleaning and optimization can be done. The privacy module is amazing, it gives clearing cookies and cache control at your fingertips. Not only this, for gamers it has a game booster and memory optimizer. In a nutshell, Advanced System Optimizer the PC cleanup tool is a worth trying.
We hope you will give this PC cleaning software a try. Do share your experience in the comment section below.
Read Next: 
How To Optimize Windows 10 For Gaming