Table of Contents
Short on time? No problem, here is the best Anti-malware software for Windows you should use in 2021:
Advanced System Protector: A complete security solution for your Windows system that is designed for speed, accuracy, and effective results.
Download Here Advanced System Protector
The best antimalware software solutions are designed to mitigate various cyber security threats that are harmful to your data and system security. You can find these tools dime a dozen online, but the fact is there are very few antimalware software that could make the cut.
In this article, we have tested and reviewed 10 best malware protection software for Windows that you should use in 2021.
Check the best anti-malware software for Windows:
Free Antimalware isn't really "Free"
The issue with "free" antimalware software is that they hardly offer features that could even meet your basic security needs. So, you need to go premium if you want a comprehensive security solution for your PC. In addition to that, selling user's data collected from free subscriptions is another issue that brings service providers in question. So, you need to be careful with any free software or plan that could cost you otherwise.
How have we reviewed the best antimalware software for Windows?
Advanced malware tracing & removal: The tool that is tasked to clean your system from malicious content should have advanced malware tracing and removal features. Various software providers work on meticulously designed technologies to provide effective deterrence against malicious content.
Real-time protection: This is important to protect your system from existing and emerging threats both. Many of these security solutions for Windows run in background to provide 24/7 protection against malware threats.
High detection ratio: High malware detection ratio will ensure high levels of cleaning. Thus, you can rest assured that you will be protected against all threats effectively.
Value for money: This is the next important determining factor to decide best antimalware software for your PC. While some software solutions are overpriced others offer more features than they actually charge for.
Customer support: Seamless customer support is important when the matter is about your data and system security. While you get premium customer support with your paid plans, even with free antivirus solutions, you get the option to discuss issues with their team.
10 Best Antimalware Software for Windows in 2021
As we have discussed some of the best anti-malware software includes features like advanced malware tracing & removal, real-time protection, high detection rate, complete cleaning, value for money, and customer support. Here, we have tested & reviewed 10 best antimalware for Windows you should use in 2021.
1. Advanced System Protector
Let's try Today! Download 24 Hour free trial version of Advanced System Protector Now!!
The first best malware removal software in the list is Advanced System Protector. This powerful tool is designed to protect you against Trojans, spyware, adware, viruses, and all other malware threats. Advanced System Protector offers various scanning modules to offer complete cleaning. It offers one-click cleaning to keep you protected from all existing and emerging threats while saving time.
Features of Advanced System Protector
Different Scan Types: Software offers multiple scan types including Quick, Deep, and Custom scan options. It is useful to fulfill all your scan needs.
Privacy Protection: It provides complete protection against all malware types. Additionally, it deletes browser cookies and Internet browsing history to keep your privacy intact.
Light weight tool: The software is light weight and consumes very limited device resources while providing best-in-class security. It offers the highest detection ratio for complete security.
Complete browsing protection: It offers web protection, security against rogue apps & keyloggers, prevents browser hijacking, and removes password related threats.
Bottom line: If you are looking for a complete security solution that keeps your data secure against all emerging and existing threats, then you should pick Advanced System Protector.
2. Systweak Antivirus for PC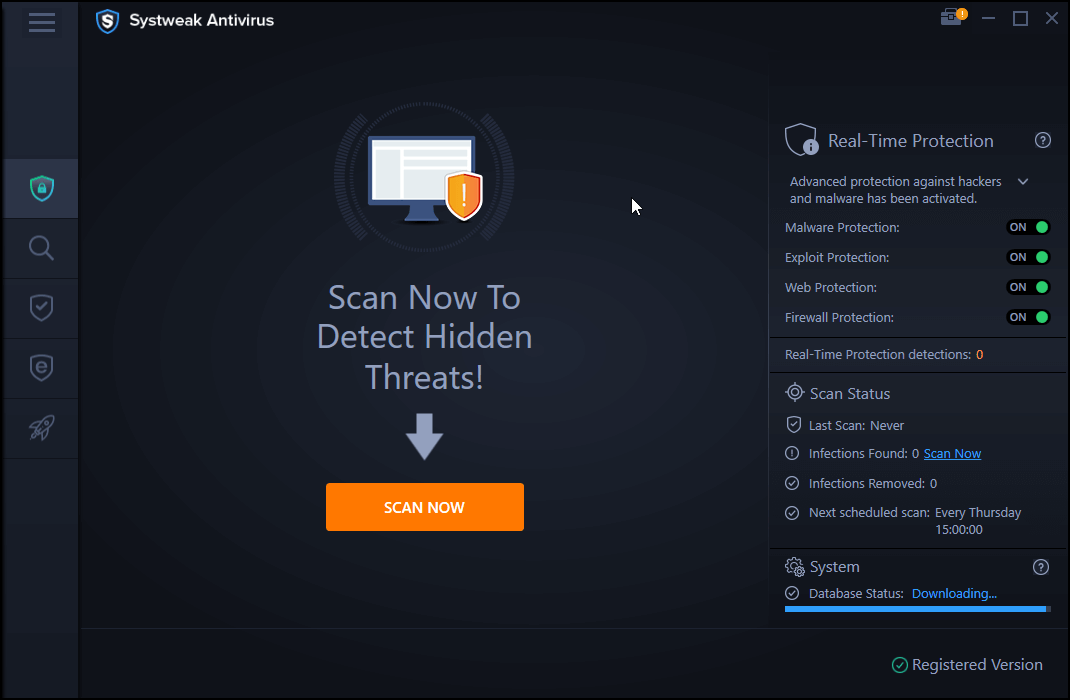 Click Here To Download Systweak Antivirus
Systweak Antivirus offers robust real-time protection for your PC. It scans your system storage to find & clean all malicious contents effectively. It offers a 60-day money back guarantee to ensure seamless user experience.  Systweak Antivirus is one of the best antimalware for Windows that eliminates all threats effectively.
Features of Systweak Antivirus for PC
Real-time Protection: It constantly monitors your system to keep it protected against various threats in real-time. Once it finds ant threats, it helps remove them immediately.
Exploit Protection: In addition to complete malware protection, it offers exploit protection against unknown files that you run on your PC.
Secure Web Browsing: It offers StopAll Ads extension to help you block all intrusive online ads. It also removes cookies and Internet history to keep your online activities secure.
Protection History: It keeps a record of all scans and detected threats in a separate log to help you keep tab on all possible threats.
Bottom line: Systweak Antivirus for PC ensures security and keeps your overall system in good health. Your search for comprehensive antimalware for Windows should end with this tool.
3. Bitdefender Total Security 2021
You can download a 30-day free trial of Bitdefender Total Security to explore its various security & privacy features. It provides complete protection for all your devices with antivirus and antimalware features. It works on powerful scan engines to provide unbeatable threat detection to stop sophisticated malware threats. With multi-layer ransomware protection, it keeps your data secure against ransomware threats.
Features of Bitdefender Total Security
Complete Protection: Bitdefender Total Security provides complete protection against all virus and malware threats including ransomware, phishing, online fraud, spam, and more.
Better Performance: With multiple features like autopilot, Bitdefender Photon, global protective network, game, movie & work modes, oneclick optimizer, and battery mode, it ensures seamless system performance.
Complete Privacy Protection: With features such as Bitdefender VPN, anti-tracker, microphone monitor, webcam protection, file encryption, safe online banking, parental control, etc. it keeps your privacy intact.
File Shredder: It helps you shred unwanted files permanently so that no one can access them. It is a useful feature to delete sensitive files permanently for data security.
Bottom line: With tons of security and privacy features, Bitdefender Total Security is one of the best antimalware software for Windows. You can download this software for complete family security.
4. McAfee Total Protection
McAfee Total Protection is a premium antivirus for Windows. It offers safe web browsing and PC optimization features to keep your system performance intact. It offers multiple user plans to fit into various security needs. You can download this software to defend yourself and your entire family against all malware threats.
Features of McAfee Total Protection
Comprehensive Internet Security: It offers features like spam filtering, mobile virus protection, and encrypt sensitive files to provide comprehensive Internet security.
Multi-faceted Privacy Protection: It helps you shred sensitive files, delete cookies, remove Internet history, and more to offer complete privacy protection.
Clean System: In addition to security features, it also helps you speed up your PC performance by cleaning junk.
Encrypted Storage: It keeps sensitive files protected by storing them on your system wth 256-bit AES encryption.
Bottom line: It offers some of the best features to keep your privacy intact. So, if you are looking for antimalware software that ensures data security and privacy, then you should download McAfee Total Protection.
5. Norton 360 Standard
Norton 360 Standard is the next best antimalware software for your Windows system. You can subscribe to one of its plans to enjoy better security for your data and system. It covers protection to all devices including Windows, Mac, Android, and iOS. It offers multi-layered real-time threat protection to help you protect against existing and emerging malware threats. With the SafeCam feature, it notifies you when cybercriminals try to use your webcam and effectively blocks them.
Features of Norton 360 Standard
Secure VPN: With secure VPN option, you can browse anonymously while keeping your privacy intact. It offers bank-grade encryption to keep your information secure.
Dark Web Monitoring: Powered by LifeLock, it continuously monitors dark web and notifies you if it finds your information on the Dark Web.
Password Manager: It also works as a password manager and helps you create, store, and manage your passwords, credit card information, and other credentials.
10GB Cloud Backup: It offers up to 10GB cloud backup to store ad protect your data against hard drive failures, viruses, and stolen devices.
Bottom line: If your plan is to access 360 degree protection against all malware and online threats, then Norton 360 Standard should be your choice. It also has two other plans including Norton 360 Deluxe and Norton 360 with LifeLock Select to fulfill your enhanced security needs.
6. Kaspersky Endpoint Security Cloud
Try this advanced cloud-based endpoint security software to keep your data secure against various online threats. It is designed meticulously to protect your business, without sacrificing your IT resources, time or budget. It's available in two versions including Cloud and Cloud Plus to fulfill all users' needs. It supports all devices while providing cloud based support.
Features of Kaspersky Endpoint Security Cloud
Security Features: It offers multiple security features such as web-mail threat protection, firewall, ransomware & exploit prevention, network attack blocker, vulnerability scan, and more to provide complete security.
Cloud based support: As it offers cloud based security, you remain stress free from use of your limited device resources. Here, it offers cloud blocking where it blocks user access to inappropriate or unauthorized cloud resources.
Security for Microsoft Office 365: It offers all-in-one threat protection for Microsoft Office 365 communication and collaboration services for effective results.
Web Control: It offers control user access to Internet resources depending on a site's content or location. With better web control, it ensures you remain secure during all your online interactions.
Bottom line: If your primary need is to secure business data, then Kaspersky Endpoint Security Cloud should be your choice. With features like cloud discovery, cloud blocking, web control, and encryption management, it ensures you get best security every time for your business.
7. AVG Antivirus Free
Try this best free antivirus for Windows that installs in moments and protects your PC forever. This smart antimalware is compatible to all devices including Windows, Mac, Android, and iOS. You can use this powerful free antivirus tool to scan for both malware and performance issues. It offers real-time security updates and catches malicious downloads before they reach your PC.
Features of AVG Antivirus Free
Automatic Updates: It offers automatic updates to provide you all-round security 24/7. With cutting-edge virus scanner, it ensures no threats reach your device.
Keeps Performance Intact: In addition to security features, it also ensures your system remains in good health by offering various performance based features.
Real-time security updates: For 24/7 security, it offers real-time security updates. Here, it blocks all malicious content from downloading on your system in real-time.
Full version: You can try its full version to enjoy complete security for your data and system.
Bottom line: If you are tight on budget and looking for the best free antimalware for Windows, then you should pick AVG Antivirus free. It offers all basic security features for free with effective results.
8. Avira Free Security
This is another best free antimalware for PC. You can try this free antivirus software for Windows to avoid all security threats including scams, identity thefts, and financial losses. It is available for free for home users and keeps your hoe=me network secure from various threats. It not only blocks various threats, but it also helps you speed up your device performance and free up disk space by removing junk. This comprehensive security solution for Windows offers a single smart scan to save time.
Features of Avira Free Security
Complete antivirus protection: It offers complete protection against malicious websites, ransomware, spyware, and viruses.
Free VPN: To secure and anonymize your online activities, it offers free VPN. You can enjoy up to 500 MB/month for free.
Free for home users: Avira Free Security is free for home users. You can get its premium version to explore more security features.
Additional features: Additionally, it offers features like speed booster, identity protection, anti-scam protection, firewall, software updates, and PC cleaner to keep your system in good health.
Bottom line: If you are looking for best free antimalware with advanced PC cleaner features, then AVira Free Security is the best solution available for you. It also offers multiple other useful features to ensure better protection and performance.
9. Comodo Antivirus
Comodo Antivirus provides tons of useful security features to keep your system security & privacy intact. You get antivirus, firewall, sandbox, host intrusion prevention, and lot of other useful features with this advanced antimalware software for Windows. You can download its free version to explore various features before you buy full version. With single license, you can secure all your devices effortlessly. This powerful security solution for Windows is designed to deliver effective results with few clicks process.
Features of Comodo Antivirus
Cloud based White listing: Comodo Antivirus offers cloud based white listing to ensure your important data remain protected against various threats.
Prevention based protection:  It offers prevention based protection to block threats at origin.
Cloud based antivirus: It provides cloud based protection to all your devices. Thus, you can remain stress free from all online threats.
Payments protection: It also offers payments protection to keep your online transactions secure.
Bottom line: Your search for cloud based antivirus software should end with Comodo Antivirus. This advanced malware protection software for Windows is a comprehensive solution for all your security needs.
10. Microsoft Defender Antivirus
Formerly known as Windows Defender, Microsoft Defender Antivirus comes built-in on your Windows system. It provides complete protection against viruses, spyware, and all other malware threats. It offers real time protection with a full suite of advanced security safeguards. This tool is a next-gen protection component of Microsoft Defender ATP. It brings in-depth threat resistance research, big-data analysis, machine learning, and the Microsoft cloud infrastructure to provide comprehensive security.
Features of Microsoft Defender Antivirus
Real-time protection: It includes behavior monitoring and always-on scanning process to provide real-time protection. It also detects and blocks apps that are deemed unsafe.
Cloud delivered protection: With this powerful antimalware for Windows, you can find near-instant detection and blocking of existing and emerging threats.
Product updates: It sends you regular software updates to provide up to date security for your device and data on it.
BAFS: It offers block at first sight protection where it continuously monitors harmful objects coming to your device and blocks them at first sight to keep your system protected.
Bottom line: If you are looking for a native security utility that ensures better security and data protection, then Microsoft Defender Antivirus is for you.
FAQ
What is the difference between virus and malware?
Virus is a small rogue piece of software that infects your system and self-replicates itself. It could infect your complete system or even network causing larger damage. Trojans and Worms are two good examples of viruses. Malware is an umbrella term for all types of malicious software. It includes spyware, ransomware, adware, viruses, and all other malware types.
What is the difference between antivirus and antimalware?
Antivirus is specifically designed to protect your system against viruses. It uses techniques where it blocks self-replication of viruses on your system. Whereas, antimalware is designed to fight against broader types of malicious software including ransomware, spyware, viruses, and more.
Knowing the importance of antimalware software, most antivirus developers provide a complete suite within their software to fight against various malware types. So, you need to be vigilant when installing antimalware or antivirus software on your device.
What is the best antimalware for Windows?
Based on various factors including malware detection & removal, high malware detection ratio, user friendliness, value for money, customer support, and real-time protection, we suggest you should use Advanced System Protector for effective results. The next best software available is Systweak Antivirus for PC you can try for complete data security.
How does antimalware work?
Antivirus and antimalware software works on advanced techniques, where it scans your system to detect and remove suspicious files that are blacklisted malware definitions. It also uses a Heuristic method or real-time protection to keep your system secure against various threats.
Do I need both antivirus and antimalware?
Technically no! Why we are saying this is because most security solution providers provide all security features in both antivirus and antimalware. But, to greater extent using antimalware is suggested as they are specifically designed to protect your data and system against all malware threats.
Conclusion
So, this was a complete guide on best antimalware software and what you can expect from these security software. As we have thoroughly tested and reviewed these software, you can use any of these malware protection tools for Windows to stay secure in 2021. Do try these software and share your experience in the comments below.
We would also like to hear from you if you have tried some other tool in the past and you want us to add that in the list. You can follow us on our social media accounts to get more information on topics you care about!
Recommended Readings:
How Apps Leak Your Personal Data
Cyber Threat Latest Computer Virus
Choose the Best Antivirus for Windows 10
Systweak Anti-Malware: One Stop Solution To Protect Your Android Device