PUP or Potentially Unwanted Program are otherwise known as PUP Viruses and PUP Malware. They are often feared to be the malicious software that is there to steal your data and information. Well, what actually is PUP Malware? How does it function? How does it pose a threat to your data and privacy? Let's move forward and get deep in each aspect of PUPs.
What is PUP?
It is not hard to guess what a PUP or Potentially Unwanted Program is. As the name suggests, PUP or Potentially Unwanted Program is the program which a user didn't need and never asked for. These are often the programs that come bundled with another program that you download. These programs are often unnecessary and not needed by most users. However, because most users aren't aware of the presence of these applications or some people just ignore them, they stay on their computer for a long time before users start to see the trouble with them.
If you have ever tried to download a third-party application that isn't used widely, there are chances that they would come with some PUPs or Potentially unwanted Applications.
Are PUPs Illegal?
If you have come across a PUP and wondering if you could sue the company that has sent you other software bundled with theirs, let me clear this out, you can't, well in most cases. Though PUPs aren't the software you asked for primarily and also you have no idea that you have downloaded and installed them, they are completely legal.
Most PUPs follow the practice of seeking the permission to download the bundled software disguised in the dull generic software installation pages where most users just generally click NEXT. Hence, though the software has been imposed on you, you are the one that has given information to the PUP malware to get installed on your PC.
Why are they called PUPs and Not simply Malware?
PUPs are called PUPs and not Malware because they aren't malware. Malware (Malicious Software) is any software that contains malicious code, programmed to steal your data and privacy without your permission. On the other hand, PUP though are unwanted applications, they don't necessarily contain any malicious code.
Also, whatever they do is with your permission. It is just that most people don't know what they are giving permissions for.
Once Avira was sued for calling the bundled software a PUP or Potentially Unwanted Program. Avira won the suite in the end but the case would have been different if they had called them Malware. Hence, PUP isn't Malware and shouldn't be called Malware.
Are PUPs Harmful to your Privacy and Data?
As we just said, PUPs aren't malware and hence, shouldn't not be called malware, so why is it that they are harmful to your PC?
Most PUPs or Potentially Unwanted Program have a very little use case scenario and often are included to do more harm than good. PUPs though don't include any malicious code programmed to steal users' data and privacy; they often ask for permission which they misuse. We all have come through these unwanted applications a few times in our lives for example the additional search bars in the browser, additional plugins, etc. These unwanted applications slow down the PC and also pose a heavy threat to safety and security of your data.
There have been many cases where PUPs or Potentially Unwanted Applications were involved in browser hijacking, privacy threats, and misuse of data. Hence, PUPs are undoubtedly harmful in more cases than not.
How to remove PUP?
Though PUPs are extremely harmful and dangerous for privacy and data security, removing them isn't a big task at all. PUP is just the normal software installed on your PC with abnormal permissions and intentions. Most people encounter them and ignore them because it isn't bothering them much.
However, for any reasonably concerned person, they are pretty easy to get rid of. All you have to do is be a little cautious while installing the applications and clicking NEXT like a maniac, don't ignore such applications and delete them right away if you come across any of them, and pay a regular visit to the Apps menu where you can find all the installed applications on your computer.
In addition to these practices, users can also deploy a trustworthy antivirus to protect you from such unwanted applications. One of our trusted software is Systweak Antivirus.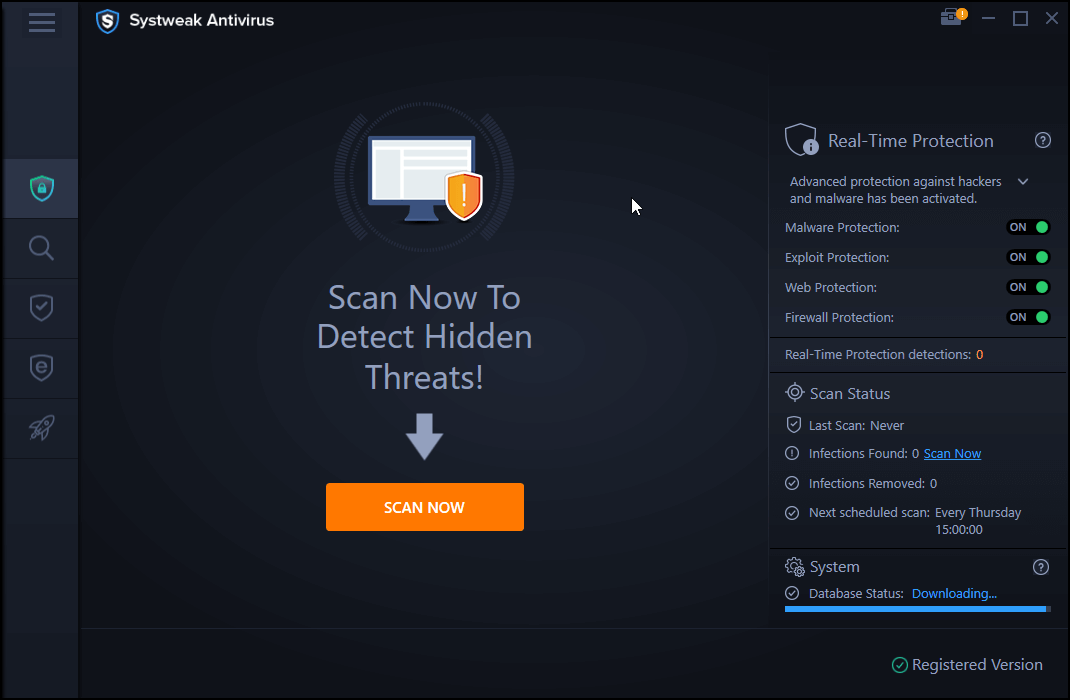 Click Here To Download Systweak Antivirus
Systweak Antivirus:
It is an awesome application to safeguard your privacy and data from all kinds of online and offline threats that your system is posed to everyday. Systweak Antivirus features advanced malware protection and privacy protection. Let's look at some of its features in brief:
1. Malware and PUP Protection:
Systweak antivirus offers advanced real time protection from malware (malicious software) and also offer protection from these unwanted programs that get installed on your PC without you being aware of them and do more harm than good.
2. Real-Time Protection:
Systweak Antivirus continuously monitors the working of different software on your PC and when it comes across a program that is acting fishy, it immediately prompts the user about the software and suggests the action needed.
3. Quarantine Zone:
Systweak Antivirus features a quarantine zone. A quarantine zone is a separate isolated space on the same hard disk. When Systweak Antivirus monitors suspicious activities in one of the files or programs, it immediately puts it in a quarantined zone from where it can't access other files and permissions present on the device.
With all the above given features and more, Systweak Antivirus can provide strong unbreakable protection from PUPs/ Potentially Unwanted Programs and malicious software & files. To know more about Systweak Antivirus, Click Here to read.
We hope we were able to provide you all the information relating to What is PUP and how to get rid of them. Do let's know your views, we love hearing from you.