We often undermine the importance of cyber-security by thinking that Anti-virus software is optional. An Antivirus program is not just another software but is the last line of defense between you and the malicious horrors of the internet that could strike without warning. So you need to make sure this defensive wall doesn't have any loopholes & isn't weak at any corner. Choosing any one just for the sake of having an antivirus, wouldn't work when a malware actually strikes. Therefore your choice of Antivirus program makes a lot of difference in the security you get.
Users look for features including the compatibility, deep scanning, real-time protection, secure web browsing, & many others that make an antivirus a dependable one. & we have got that one for your Windows PC that will make the whole experience a worth-your-time with top notch security parameters.
Also Read: Cloud Based Free Antivirus Program
Systweak Antivirus for PC
Systweak Antivirus has been considered one of the best antivirus software because of the variety of features it gives to the users. From a security point of view to complete protection of your PC, the tool surely is one-of-a-kind. With the concept of "different scanning modes for fast & thorough scanning", Systweak Antivirus is gaining immense popularity.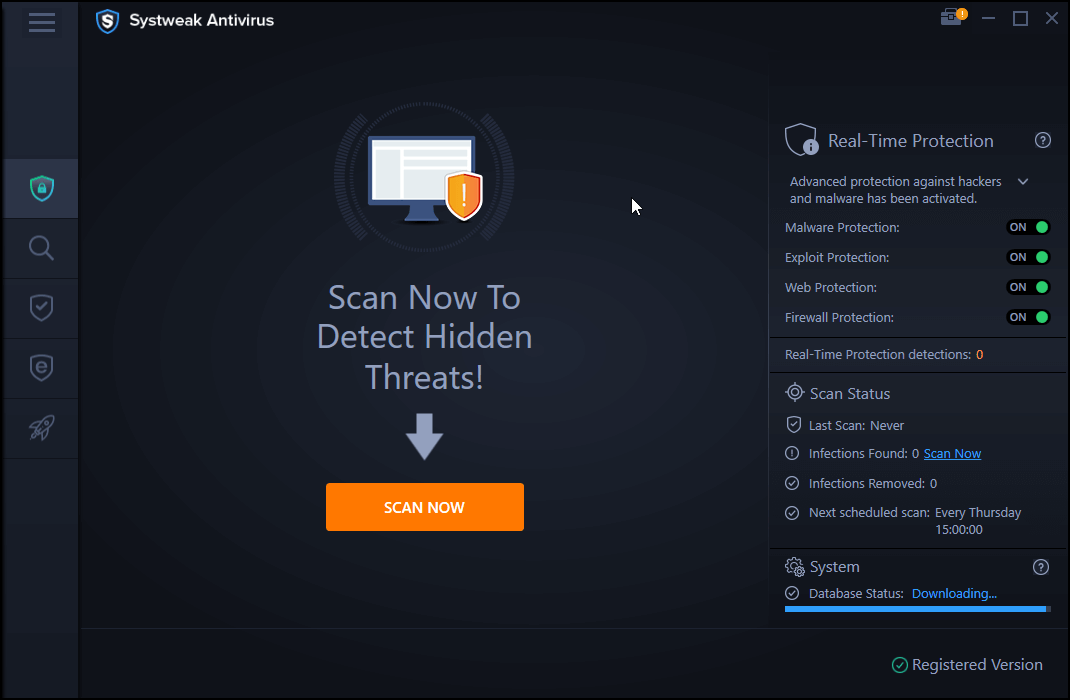 Click Here To Download Systweak Antivirus
Sometimes, our PC starts behaving strangely out of nowhere & we try to restart it thinking it might start working fine. However, maybe the reason is something else & we are looking in a totally different direction. Just because your system is behaving strangely or slow (to be precise), the possibility can be that your system files got in touch with an online malware or virus. & that's where you'd need the Systweak Antivirus software that would flush these infectious elements out of your system & make it smooth again.
There are many questions around "how does an antivirus work" & removes the unwanted or bad behaving files. So, Systweak has explained the whole process of how this tool works in simple words as below:
"Systweak Antivirus software scans and removes infected files from your computer. It scans and removes all malicious items into a quarantine section to eliminate the risk of infection. Once moved, it provides an option to delete the infection completely."
& that's how you keep your system clean from all these malware or possible malware activities. User experience is the only thing Systweak looks for & it believes that it needs to be smoother every single time (no matter how old the device is).
Systweak Antivirus Compatibility
Systweak Antivirus has been designed by keeping one of the most popular operating systems in consideration & that's Windows OS. So you can freely & easily download & install Systweak Antivirus on your Windows 7 or later computer (32bit & 64 bit).
What Features Does Systweak Antivirus Offer?
Out of all the features an antivirus should have, Systweak Antivirus is one step ahead. From real time protection to malware detection, Systweak Antivirus builds a thick security wall for you. The main aim of any antivirus is to minimize the risk of potential or already existing bad behaving content on your system & this tool does take care of that.
Real Time & On Demand Protection
One of the best features Systweak Antivirus has, is working constantly in the background. This results in encountering any possible malware (whenever), deals with it then & there only.
Apart from this, the Real Time Protection can be considered as the USP of this software & that cannot be measured. From normal protection that covers Malware & Exploit protection to on-demand protection, Systweak Antivirus does take care of everything on your system.
Any malicious activity or bad behaving content that can possibly harm your system in any possible way, Systweak Antivirus flushes it out. Also, you can check out the history of whatever probable issue your system went through that this tool figured out & solved as well.
Security Point of View
One of the most important & top notch necessities is the security an antivirus provides & Systweak Antivirus has different categories for that.
In order to keep your device secure, this software provides you features including real-time protection, active virus control, protection history, & different types of scan.
Running in the background, the real time protection helps your system block every new threat that's coming your way & make that disappear. Your system starts getting auto protection that eventually will scan the system for suspicious activities & make them stop.
Quick, Deep, & Custom Scans
Obviously, if you want to catch almost every bad behaving file on your system, you have no idea where it is actually. & that is why you need different types of scans so that it can catch the file one way or the other. The different types of scans are Deep scan, Custom scan, & Quick scan.
All these scans are quite self-explanatory only by the names itself, however, if only you want to know more about them, Quick scan does inspect the most vulnerable areas of your computer. Wherein, Deep scan does a very detailed scanning of your entire system for the bad behaving items, files, or content. & the last one, Custom scan work as the name suggests as it allows you to select the drives or addresses you want to scan for malicious content.
StopAll Ads Feature with Optimized Surfing
After using the above scanning techniques & real time protection for online malware, the end result will boost your PC performance. With the enhanced performance & eyes on malicious items, computer speed will boost like anything. Performance Booster includes Ads blocking extension while web browsing & does virus scanning as well.
Systweak Antivirus helps secure the computer from all the possible threats. The powerful scanning & other top notch features are built in a way that they safeguard your system entirely.
Recommended Apps/Tools Feature
Anyone would tell you to use one of the best tools to solve your issue. However, no tool would recommend you to use other tools to help you out with every possible situation you may face. In order to keep your device better than before with exceptional performance, Systweak Antivirus recommends you different tools from Photos Fixer to Disk Recovery.
Pros & Cons of Systweak Antivirus Software
Be it any device or a software, the scope of improvement is always there if you look thoroughly & inspect it deeply. Not that Systweak Antivirus has any flaws but yeah, there is a challenge that needs attention.
After using the Antivirus, below are the pros I encountered:
Constant Real-time protection for your device
Ads Blocking for secure web browsing
Extraordinary virus detection capabilities
System performance boosting
There aren't any cons that you can list out, however, sometimes, deep scanning can go up to couple of hours. Obviously deep scanning means detailed scan of all the folders & sub folders and usually takes time depending on how huge your data is. However, if this goes for hours, users might go impatient.
Money Back Guarantee
For Systweak, customer satisfaction is everything, be it any product or service. So in case you are not sure about the product, contact us within 60 days of purchase, the company will process a refund against the purchase.
Click Here To Download Systweak Antivirus
Wrapping Up
After using the Systweak Antivirus, two of the things I liked the most are Ads blocking & different types of scanning. Providing product customization to your customers gives them more confidence & authority in the product. & Systweak Antivirus does the same. From real-time protection to speed up the PC performance, the tool is a must to have on your Windows PC.
So, don't waste too much time & download Systweak Antivirus on your Windows 10 PC right away.
Next Read:
Best Android Cleaner Apps & Optimizers
Best Free Driver Updater Software For Windows 10