Table of Contents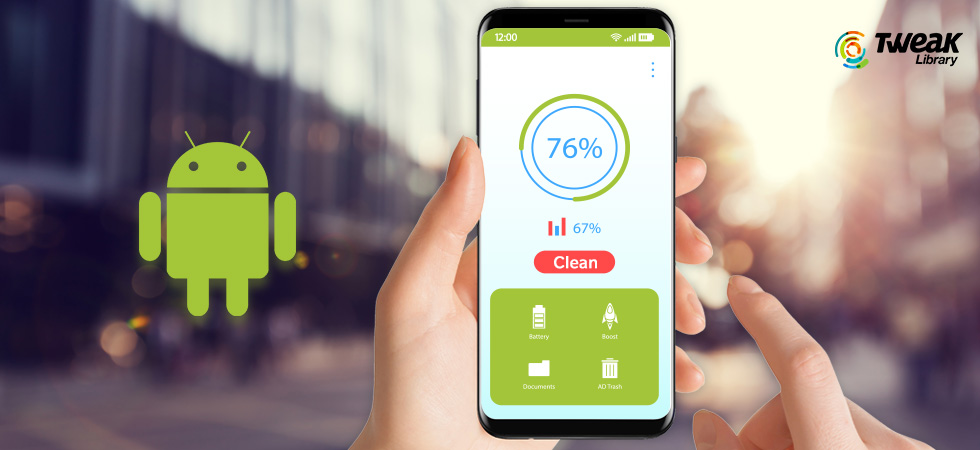 Optimizing your smartphone is the essential task to keep your device working fine. It maintains your smartphone's health and helps you prevent several unwanted issues such as low storage.
There are many hidden processes on smartphones running in the background, which needs to be closed if not necessary. So your phone sustains a longer battery life.
Doing all these manually could be troublesome. Therefore you need  Android Cleaner apps or speed boosters for your phone? The app is named differently by developers, but the sole purpose is to optimize your phone's memory and clean the junk.
To provide you with the best Android cleaner and optimizer apps as well as memory optimizers, we have created a list of tools that will be a treat for your phone.
Also Read: How To Optimize Battery Performance on Android
Let's go through the topmost phone memory cleaners to know the perks they offer:
Best Android Cleaner and Optimizer 2020
1. Cleaner For Android
A self-explanatory and one of the best RAM cleaner apps, Cleaner For Android truly justifies its name with the extraordinary features it comes with. Ever experienced that your device is freezing now and then, when you are listening to music, watching videos, working on multiple apps, or playing games? I'm sure; it did happen! So, Cleaner For Android is the best option you can opt for as it has all the things to offer that we need.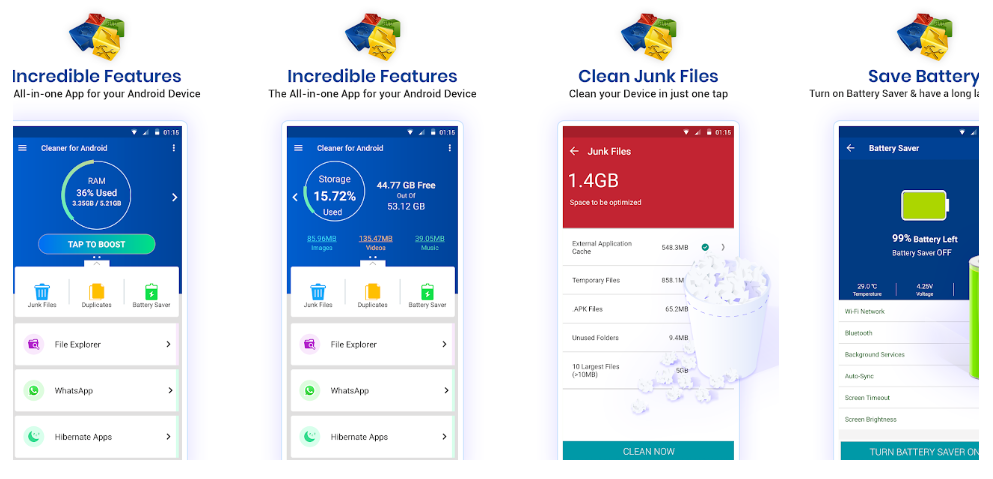 An excellent junk cleaner and Android optimizer, Cleaner For Android is quite user-friendly and scans your phone deeply to give you the results you had no idea about. In a few seconds, your Android phone will be up and running exactly like when you bought it. It will clean the junk and cache as well as optimize memory so that the unnecessary processes and apps can be stopped.
Install the best Android cleaner app from here.
2. Clean Master
Undoubtedly, one of the most tried and used junk cleaner for Android, Clean Master comes with space cleaner as well as antivirus. This memory optimizer helps you keep your phones clean and safe from viruses.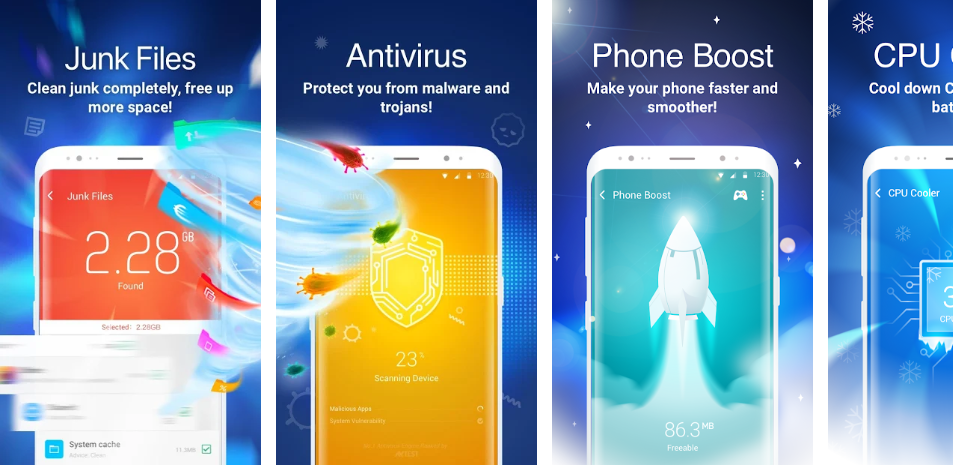 In case, you are a game geek and looking for a speed booster for your Android device; then Clean Master is the app you are looking for.
A few additional features of Clean Master that you're going to love includes usage of Wi-Fi Security to detect illicit and fake Wi-Fi connections, inbuilt Applock to maintain your privacy.
The trusted Android cleaner and optimizer, Clean Master is available here.
3. CCleaner
Another popular phone memory cleaner and junk cleaner, CCleaner helps you in many ways to optimize your phone memory and improve device performance. A few of the primary purposes it serves are helping in cleaning RAM to reclaiming phone space, browsing safely, and removing junk and cache.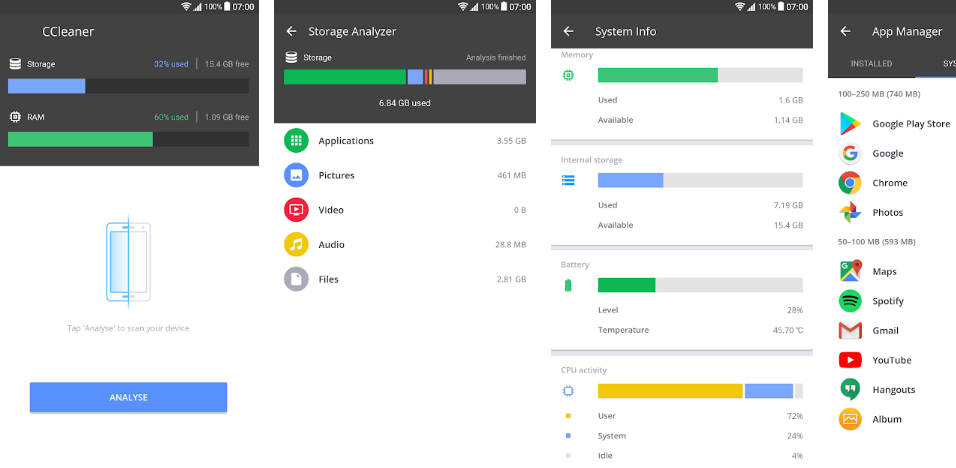 One of the best Android cleaners, CCleaner, encounters the battery draining apps and the apps which are consuming your mobile data. Easy to use and navigate, this Android optimizer ensures that your device stays healthy if everything is okay and tries to improve the device performance in case there is an issue.
Go, tap on the link and install CCleaner, a popular and topmost Android cleaner app.
4. Speed Booster – Phone Booster, Cache Cleaner
With more than 5 million installs, Speed Booster helps you clean junk files of your Android phone. An effective phone booster and cache cleaner lets hibernate running apps that you choose to speed up your phone and cool down your phone's temperature.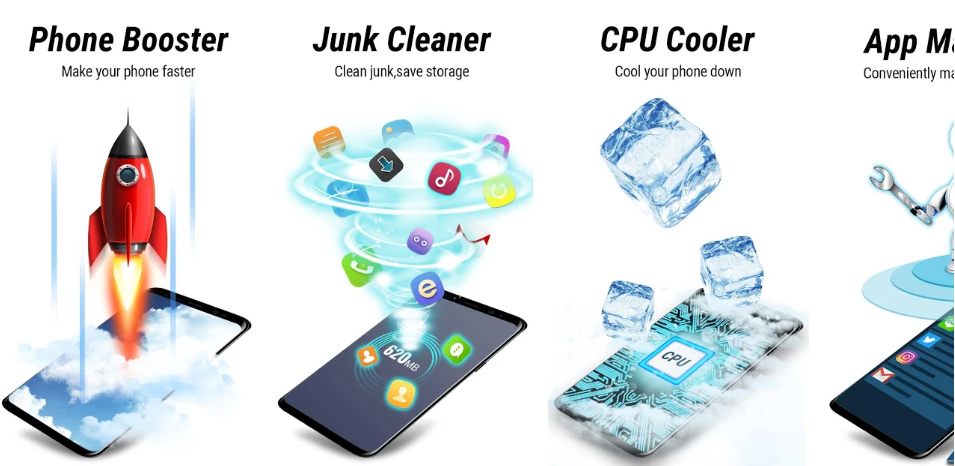 This fantastic junk cleaner for Android cleans the unnecessary processes and restores memory space that ultimately helps in improving the performance of your device. The memory optimizer and RAM Cleaner app save storage space by cleaning junk files and conveniently manages all the installed apps to the level of optimization.
To have a fantastic RAM cleaner for Android, click and install Speed Booster – Phone Booster, Cache Cleaner.
5. Avg Cleaner
Trusted by more than 1 million users all around the world, Avg Cleaner lets you keep your Android device as its best with its speed booster features. This RAM Cleaner for Android is best at finding the low quality and similar photos on your device and lets you decide to keep them or delete to reclaim the space.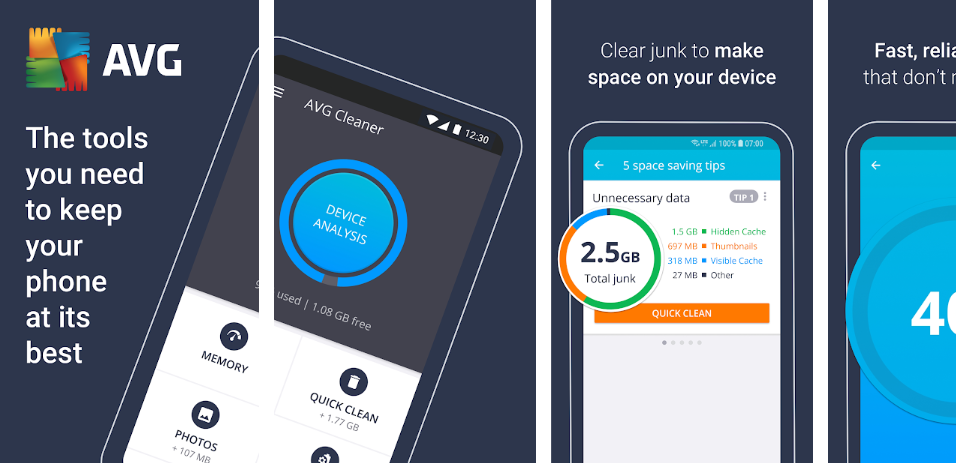 With a quite effective RAM cleaner and cache cleaner, Avg Cleaner wipes off the junk out of your device. The Android cleaner and optimizer app also come up with hibernation features to save battery that ultimately helps in improving your device performance.
Looking for an excellent junk cleaner for Android, install Avg Cleaner.
6. Droid Optimizer
With more than 1 million installs and 4.7 stars out of 5, Droid Optimizer has been considered as one of the most used Android optimizers. If you think that your smartphone is getting laggy, battery getting empty sooner than expected, and launching new apps takes a lifetime, Droid Optimizer works like a charm for you.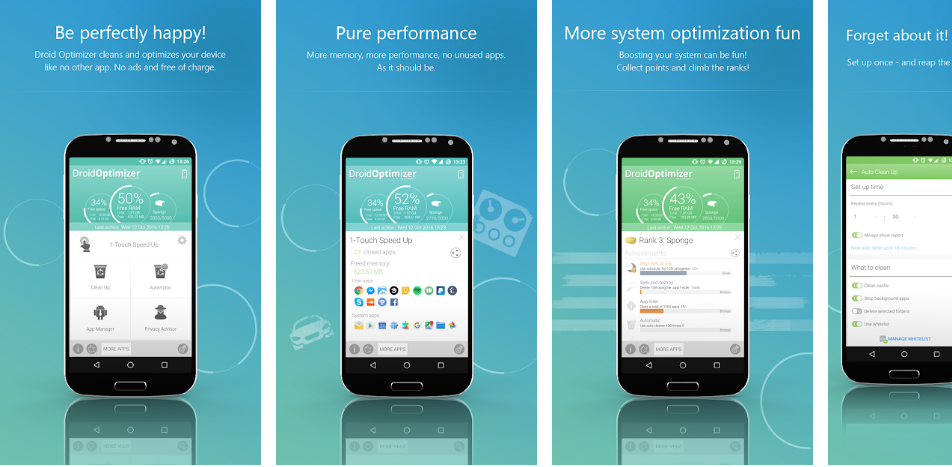 With the click of a button, Droid Optimizer boosts your smartphone performance that results in freeing memory of your device. It manages installed apps automatically and put a stop to the foreground and background apps. A proven Android cleaner and optimizer clears browsing history and exposes spy apps as well.
To use this RAM Cleaner for Android, click and install Droid Optimizer.
7. All-in-One Toolbox
All-In-One Toolbox truly justifies its name that works its best at cleaning your Android, optimizing memory, and cleaning junk. Well equipped with more than 30 tools to support the device functioning, All-In-One Toolbox is a set of necessary useful tools that helps your Android working the best that it can.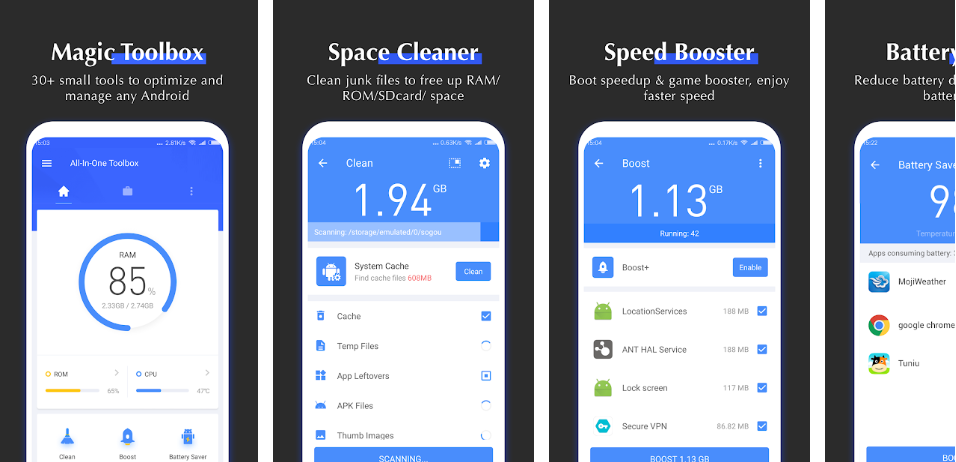 Every Android Cleaner comes with a few features that make it different from the other cleaners. Likewise, All-In-One Toolbox compresses photos to deduct the size and has a QR and barcode scanner that makes scanning easier for you. This small size app makes a huge impact to give you the maximum benefit of the app.
You can go ahead and install All-In-One Toolbox Android cleaner.
8. Norton Clean
We all have heard this name before that comes with a suffix "Antivirus". As Norton is a renowned name in the market already, the brand offers different services to keep your devices up and running smoothly. With Norton Clean, you have the option to create space for more pictures and the latest apps installation.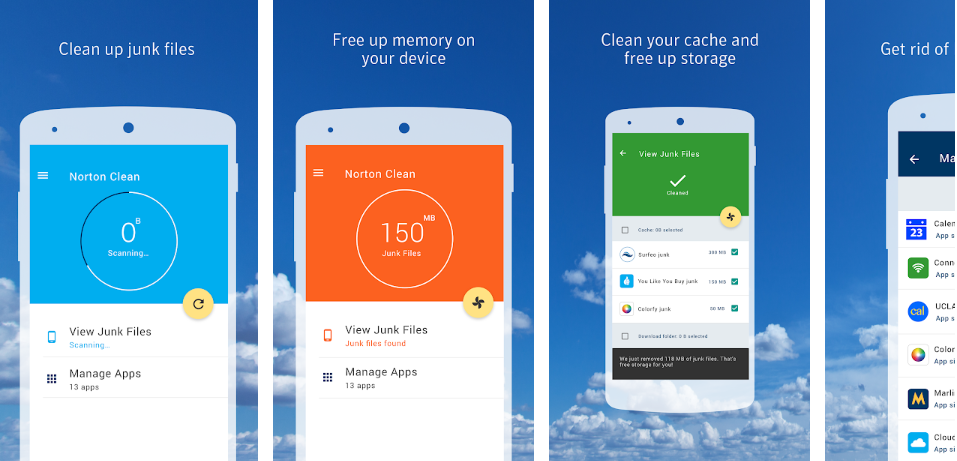 A few of the features to be listed are, Norton Clean finds the obsolete APK files and removes them with the help of inbuilt APK File Remover. Similar to other Android Cleaners, Norton App Manager lets you remove bloatware and unwanted apps from your device.
This promising Junk Cleaner for Android, Norton Clean is available for Android here.
9. Go Speed
A user-friendly Android cleaner, Go Speed is the smallest phone booster on the market. Though it is lowest in size, the results and the reviews from the users say very high of it. The Android optimizer apparently can boost the speed of your device by up to 60%, and also safely clean junk files to increase available space.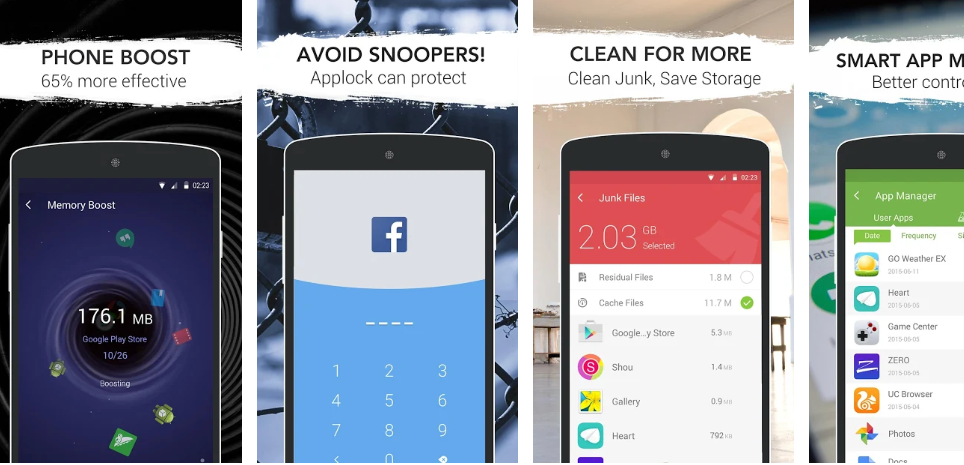 The smart app manager comes with the advanced process monitoring technique that can intelligently clean background processes and stop stealthy running apps. The small yet powerful Android cleaner, helps you improve the overall performance of the device, which is the ultimate goal.
This small-package-big-things-come-in junk cleaner is free to use and is available here.
10. Cleaner – Boost, Clean, Space Cleaner
With 4.3 stars out of 5, Cleaner is easy to use and one of the most trusted apps on the Play Store. As the name says, the Cleaner lets you boost, clean, and helps you reclaim the space in your Android device. If you have ever come across a situation that your phone starts heating often than ever, you can try this RAM cleaner app.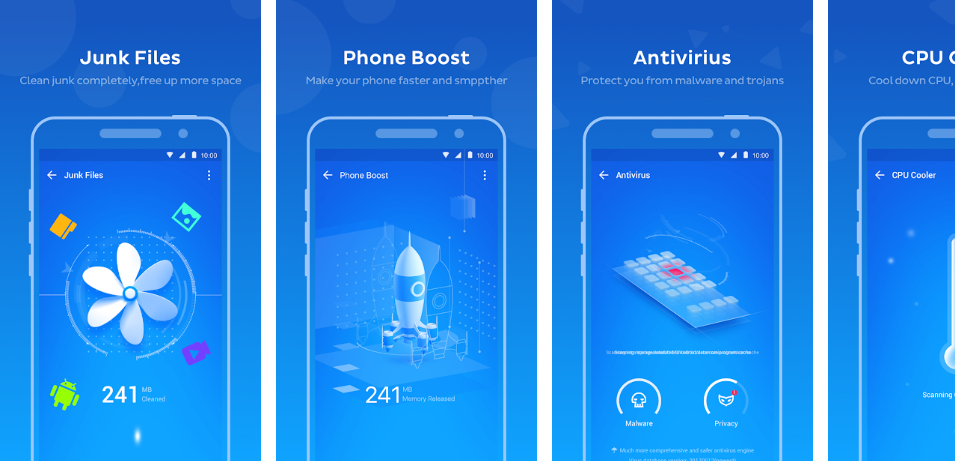 The cleaner has many features that help to increase your device's performance, including in-built antivirus and CPU cooler. It's a great tool to clear the application's cached files with just a single tap and with the help of running a speed test, lets you analyze the performance of your smartphone.
Install this Space and RAM cleaner here and enjoy the hassle-free experience.
Wrapping Up
So, these are the best Android Cleaner apps that can help you in various ways, including boosting the speed of your device, recovering space to save more data on your phone.
Next You May Like to Read:
Quick Ways to Free up Space on Android Phone
When Should You Factory Reset Your Android Phone?
Do share your experiences in the below comments, if you find the above list of Android cleaner apps helpful. Also, let us know if you are using some other Android Cleaner that you'd recommend other people to use.