When you factory reset Android phone, your phone is restored to the original settings just the way when you unboxed it for the first time. Now there are several ways using which you can factory reset an Android device (and we presume, you might be aware of one of the many ways), but we have mentioned an easy way.
But before that do have a data backup ready!
In that case, it is always advisable to take a backup of all your data.
Keeping A Data Backup Is Of Crucial Importance
Taking a backup of your data using these settings on your phone or use dedicated apps that do the task for you. The latter option can come in handy when you have to create scheduled backups, or you need better cloud storage in which you can use apps like Right Backup which helps you backup and retrieve photos, documents, videos, music and other files with the utmost ease.
It comes with an automatic 12-hour scheduler with the help of which your data gets backed up every 12 hours
Smart and custom restore options that help you select the exact files that you wish to back up
You can access data on any platform.
Install Right Backup For Android
Once you have created a backup, let us know how to factory reset using the simplest method:
Note: Depending on the model of your phone, these options might differ
Go to your Settings
In the search bar type Factory data reset
Tap on Reset button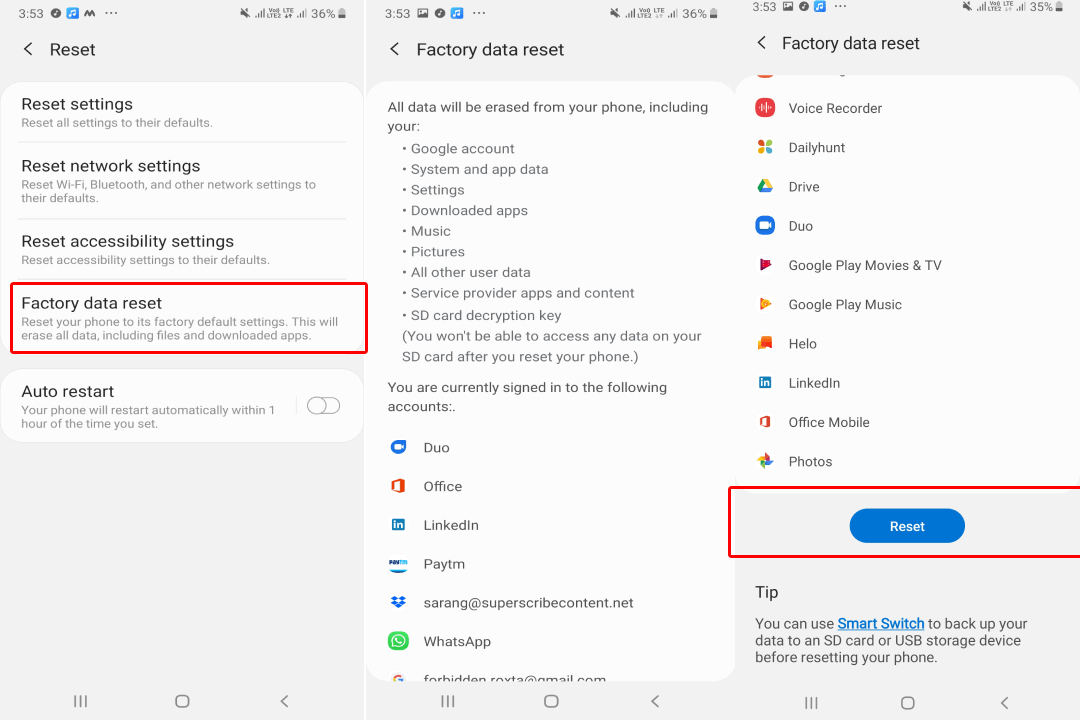 As is mentioned in the figure above, when you factory reset your device, you give the device permission to erase all the data on your Android phone. This also means that all the critical data will be erased from your device which will include all settings, accounts, apps, music, photos and other data. 
Situations When You Might Need To Factory Reset Android Phone
There are several situations when you may be required to perform a factory reset on your Android phone. Let's have a look at some of the possible situations when you might have to reset your Android phone
1.  You Could Reset Your Android Phone Just To Clean All The Unnecessary Junk
Now, this should not be your final step. There are several ways you can get rid of junk on your device. For instance, there are several third-party apps that help you get rid of unwanted. Smart phone cleaner, for instance, helps you analyze your phone for unwanted junk and thereby cleans and optimizes your device in one click.
Install Smart Phone Cleaner
Sometimes you need to factory reset Android to get a clear working environment. If you have had your phone for some time now, you must have stored countless apps, photos, videos, games, and whatnot. It also must have accumulated a lot of junk from the several processes that are run on it day in and out. In that case, a factory reset can be quite medicinal as it would help you get rid of all junk and unnecessary files that are there on your phone.
2.  Factory Reset Could Actually Fix An Unresponsive Phone
Sometimes, we tend to ignore an unresponsive phone thinking that the issue is temporary, not knowing that there could be an underlying issue. This can be resolved if you factory reset your Android Phone. Here, you need to make sure that the unresponsiveness has come up because of a crash. Otherwise, you can even check if there is a faulty app or a faulty SD card that is making your device unresponsive.
3. Factory Resetting Can Be A Lifesaver If You Are Selling Your Phone
This is an important step. If you are planning to sell your Android device to someone, it is important that you let go of the tiniest bit of information that is there on your device. You don't want to get into trouble because of the new user misusing your prevalent data. As already mentioned when you factory reset Android phone, not even a spec of data is left on the device. 
To Conclude
So, this was a basic overview of when and how you should factory reset your Android device and hope this information has proved to be helpful to you. Depending on the model and brand of your Android device, steps to access factory reset settings might differ.
Do let us know in the comment section below when was the last time you had to factory reset your device? Did that prove to be useful?
For more such tech related updates, useful information, fun facts, and all tech-related stuff keep reading Tweak Library.
Next Read
Best Antivirus Apps For Android