Most Android users think they don't need a malware removal app as they download apps from Play Store and Google Play Protect scans all the apps. Of course, this is true but if hackers attach a malware with another app, or you click on a malicious link then what? Who will identify and help you remove malware from Android phone?
In such cases, anti-malware apps for Android comes to play. Some Android might not agree with this, as for them Android malware does not exist. But trust us Android malware exists latest Agent Smith malware is one such example.
Also Read: Best Antivirus apps for android 
What is Android Malware?
Malware is a malicious software designed to control your device, steal private information, and perform other nefarious activities. Moreover, malware is used to steal passwords, financial details, and other personal information without users consent.
Identifying these threats isn't easy in such cases security protection apps that offer excellent protection and a rich assortment of features are supported. Moreover, Android malware scanner apps not only offer great malware detection and security, but they also have a wide range of privacy features.
Even after knowing all this you think of dodging anti-malware app, then you are putting your device at a higher risk of being infected.
Here Are the Best Malware Removal App for Android
1. Systweak Anti – Malware
The Systweak Anti – malware app for Android acts like a shield to protect your device against malware attacks. It is your one-stop solution to safeguard your device and data from harmful malware. The Systweak Anti malware app is a free, easy-to-use security application offering robust virus protection and infected files. It closely scans your device to hunt for malware and identifies files that may potentially harm your sensitive data. The app is developed using advanced algorithms that deep scan your Android phone and keeps it protected from virus and malware threats.
Download Systweak Anti – Malware App
Features: Systweak Anti – Malware
Removes malicious apps and files instantly.
Easy to use, streamlined interface.
Offers an option to "Whitelist" apps and folders.
Prevents you from downloading files from unknown sources.
Allows you to view previous scan logs.
2. Smart Phone Cleaner
Finding the best free mobile security app for Android wasn't easy. To decide the best, we had to set certain factors. The following criteria helped us find the best app to safeguard Android smartphones from virus/malware attacks.
Does the malware cleaner app have an easy-to-use and intuitive interface?
Does the anti-malware app search for the latest threats?
Does the mobile security app offer real-time protection?
Does the malware removal app check for permissions granted to installed applications?
Do free malware removal apps list apps based on the money they cost, tracking, accessibility, and others?
Does the security app provide whitelisting options?
Does the phone security app offer automatic malware detection?
After checking several mobile security apps for Android, we conclude that Smart Phone Cleaner by Systweak Software is the best option for most Android users. Coming from a company that has excelled in security solutions for a long time now, we trust this malware cleaner app!
What Smart Phone Cleaner does? What makes it the best free malware removal & Android cleaning app?
Smart Phone Cleaner is an efficient Android cleaner app, equipped with an advanced scan engine. Using this Android malware scanner is pretty simple. It holds a large database of malware threats that may impact your device. Besides detecting and removing viruses and common malicious threats, it provides robust real-time protection, whitelisting genuine apps, scans for privacy settings shows the number of permissions granted to third-party apps, and more.
This security application will help you resolve unnecessary battery drainage issues on your Android and also helps in cleaning duplicate files, junk files, managing apps, locking private applications, and more.
In a nutshell, Smart Phone Cleaner is a one-stop solution to clean your device from redundant data, optimize its performance and protect it from existing and potential malware threats.
Besides this excellent Android security tool, you can explore some other free anti-malware apps as well, that are    worth considering. So, without further ado, let's get to know them!
3. Kaspersky Mobile Security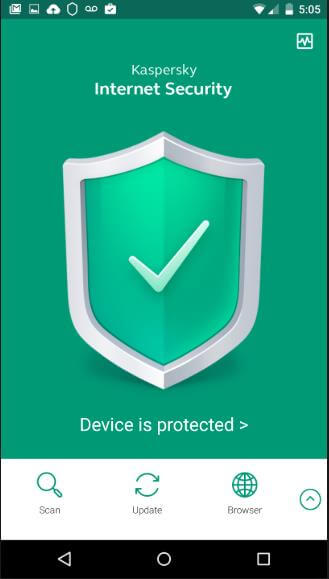 Kaspersky is a noteworthy malware app for Android. This one of the best anti-malware cleaner app for Android offers both free and paid and version. The free version of Kaspersky Internet security features manually scanning of apps for malware, viruses, and other threats. Unlike Systweak Anti-Malware you will find features like real-time protection, anti-theft, app locker in the paid version. However, if you consider this option you can try using these premium features for free for 30 days.
Features: Kaspersky malware removal app
Secures from malware, viruses, trojans, etc.
Call filtering to block spam calls.
Find my phone feature to locate the lost phone.
Background apps check to detect malware in downloaded apps.
4. Bitdefender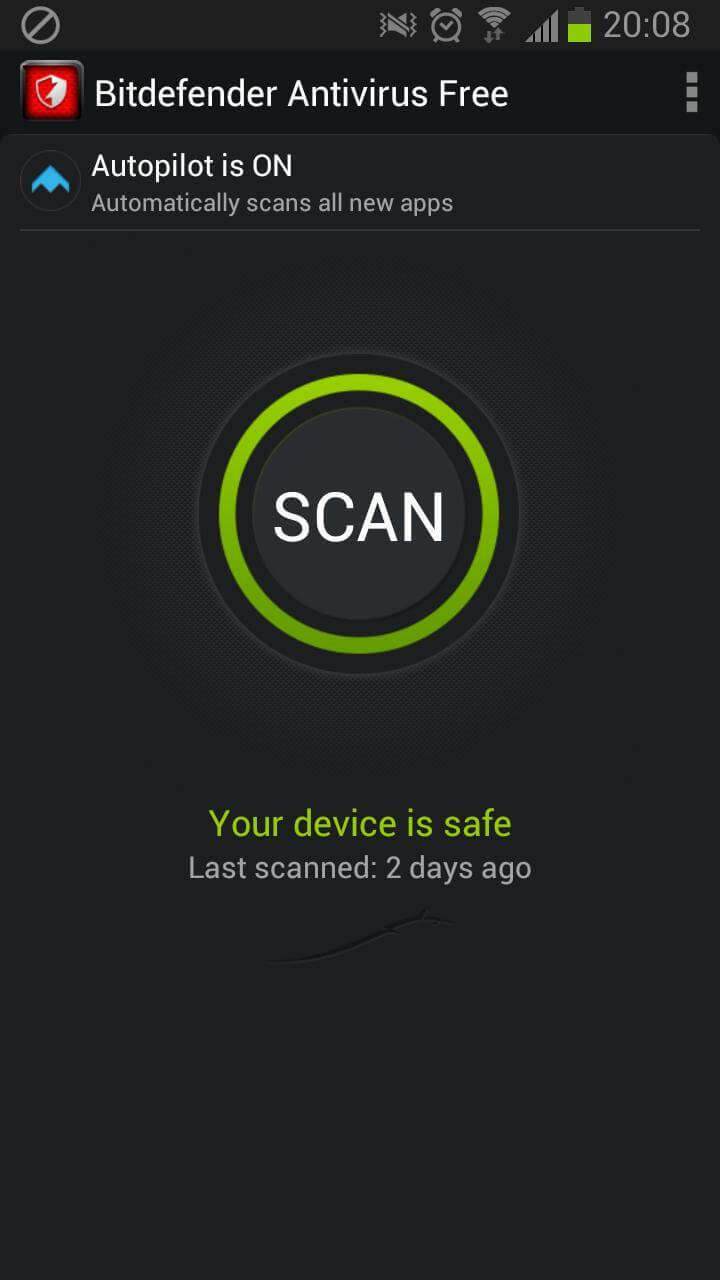 This again is an effective Android malware scanner app that will help to remove malware from Android phone. This app uses cloud scanning technology that makes scanning faster. Moreover, Bitdefender Antivirus offers real-time protection, scans apps while they are downloaded, and it does not slow down your Android device.
If you want, you can purchase the paid version of Bitdefender that comes with 14 days trial version. It has more advanced features like account privacy, web security, App locker, etc.
Features: Bitdefender – malware cleaner for Android
Scans and protects from malware, adware, and other threats.
Integrated VPN to access blocked websites.
Smart unlock for easy unlocking.
Support Android compatible Wearables.
5. Sophos Mobile Security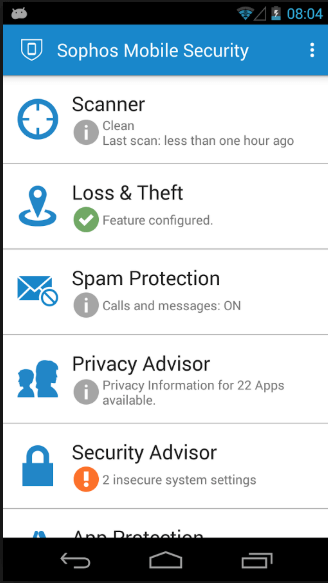 Sophos is an excellent free anti-malware app for Android phone. Although free this malware cleaner doesn't display any ads. It is a feature-rich mobile security application that offers features like app locker, theft protection, security adviser, etc.
This malware removal app has more than 1 million downloads and it does its job of protecting you from malware perfectly well.
Features: Sophos
Advanced Scan engine to detect the latest threats.
Blocks malicious websites using web filtering.
Protects apps with a passcode.
Wi-fi security to safeguard from snooping users.
Blocks spam calls.
6. McAfee Mobile Security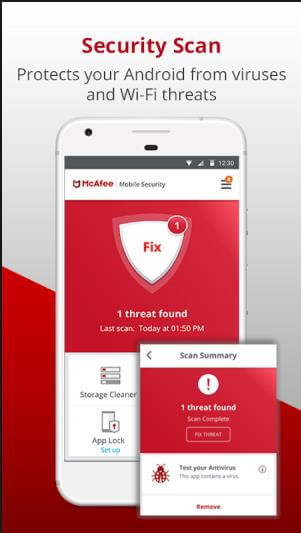 This free anti-malware app for Android phone has won several awards since its release. It comes with advanced features like anti-theft protection, security lock, Wi-Fi security, etc. McAfee Mobile Security has an intuitive interface, and it provides tutorials for ease of use.
This malware cleaner for Android is one of the best free anti-malware removal apps for Android.
Features: McAfee Mobile Security
Camera to capture intruders.
Offers amazing feature to wipe data if it gets lost or is stolen.
Does not allow an intruder to uninstall McAfee Mobile Security.
Supports wearables.
7. Norton Android Security

The latest version of Norton Android malware scanner offers advanced features in the free version. This app has almost 100% detection rate and it helps to remove malware, virus and other threats.  Moreover, Norton mobile security app helps to stay safe when you connect to public WIFI by notifying if the connection is insecure. Premium version of the app offers a 30-day trial version using which you can get a taste of advanced features.
Features: Norton Security
Notifies when connected to unsecured wi-fi connections.
Flags unsafe websites during browsing.
Blocks spam calls.
Captures people who try to sneak onto to your device without authority
8. Avast Mobile Security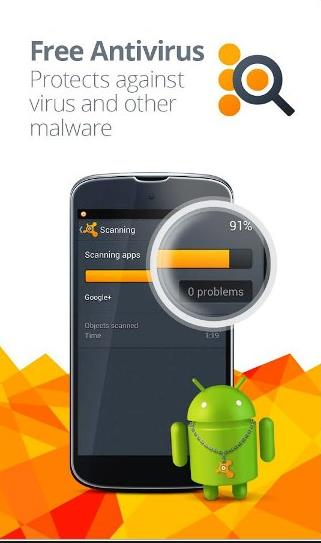 Avast mobile security is the most trusted free antimalware app for Android. This app is downloaded by over 100 million users. It helps to keep intruders out of your device by blocking unwanted calls, performing a regular scan to detect threats, remotely wiping data if it is stolen or lost and much more.
In addition to his Avast free anti-malware app for Android phone helps to free up storage space, speed up RAM, extend battery life, etc. The free version of Avast comes loaded with incredible features to provide round the clock protection.
Features: Avast Mobile Security
Gives insight into the time you spend with a particular app.
Cleans junk to free up storage space.
Secures photos from unwanted access.
Web shield for safe web browsing
9. DFNDR Security
DFNDR is one of the top-rated mobile security app trusted by 150 million people. This app protected against identity theft, phishing attacks, malware, virus, and other threats.
The free version of DFNDR offers security scan, anti-hacking protection, Lockscreen charge monitor, memory booster, WiFi Checker, etc.  It is an all-in-one phone protection app that also helps in speeding internet connection by closing background apps that consume bandwidth.
Features: DFNDR Security
WiFi checker to provide added security when connecting to WIFI.
Internet accelerator.
Daily alters about how the phone is performing
Quick cleanup.
So, this was a comprehensive list of best free malware removal apps for Android. You can choose any one of them to secure your device. But if you still have doubts and have the question of why to use Anti Malware apps? Then here is the answer:
Most common threats that put your Android device at risk are:
Trojan downloader – downloads malicious apps without the user's knowledge.
Ransomware locker – locks the user out of the Android device.
Adware – displays unwanted advertisements that slowdowns your Android device.
Fake Apps – malware disguises as genuine apps and tricks user into downloading fake apps.
SMS Trojan – uses your Android device to send premium SMS messages that cost you a lot.
Spyware – infects your device to gather and transfer information.
Detecting these threats isn't easy as they disguise and make detection difficult. In such a case, a good anti-malware will help you identify threats and protect the device from malware attacks.
How malware gets installed on your Android device?
User behavior and geography are the prime reasons your device gets infected by malware. The best way to stay secure from it is to stick with downloading apps from known sources like Google Play Store.
Although, this doesn't guarantee anything as fraudsters will do their job. They will either disguise malware on the app store or on the website to gain access to user data. Say for example if you get the free version of a paid app or any offers that look too good to be true watch out. As once such apps get installed, to begin with, they might work like genuine apps but once updated they might get the malicious capabilities.
Why do you need anti-malware for Android?
PC malware sneaks onto your system when you visit an infected website. However, in case of Android, if you use a rooted Android device or allow downloading apps from unknown sources, you put your Android at risk. And in such cases, a decent malware cleaner app for Android gives peace of mind.
Android viruses get installed with dubious apps and when you install apps outside of Google Play. Installing anti-malware for Android is a way to keep yourself safe.
Is Smart Phone Cleaner safe to use?
Yes, no need to worry about it. Systweak's Smart Phone Cleaner secures you from the latest threats, as its malware database gets updated regularly. Plus, when it comes to user privacy you can trust this application. As it never stores or shares data with any third-party users whatsoever.
"Smart Phone Cleaner" does not make any changes to Android settings. Instead, it asks for permissions and displays a list of permissions granted to the installed apps on your device. This application is safe to use, and we believe it is something you can rely upon, to begin with.
Our final take on the best anti-malware app for Android
If you ask us "Systweak anti – malware" is a great cleaner and mobile security app for any Android device. While testing the app with other anti-malware apps it detected more threats with fewer false positives. Moreover, it was light on phone resources. Hence, you don't have to worry about battery drainage or unnecessary memory getting hogged.  Considering that it is a free mobile security application we were worried at first, but this application works flawlessly without any hiccups. That's the only reason we stick with its robust Android malware scanner to get rid of potential threats and emerging vulnerabilities for smartphones.
Pros
Easy to use interface.
Advanced malware scanning engine.
Great features, real-time protection, and whitelisting options.
Provides a safe web browsing experience.
Cons
Call blocking feature will be an add-on if added.
Wrap Up
To sum up, Systweak anti – malware and Smart Phone Cleaner are the great mobile security and cleaning tools designed for Android users because it offers real-time protection, deep scanning, and other useful features, all equipped with an easy-to-use interface.
Certainly, other options listed are also worth considering if you want to see it yourself you can try using any of apps listed under best free malware removal for Android. Whatever the case, we would like to hear from you. Please leave us a comment to let us know which malware removal app you considered and why. If you find the information useful share it with your friends and family.