Few things in life are as frustrating. One of them is finding your Android smartphone running out of space. This means you cannot install any more app updates, store photos, download anything. But unlike other things in life phone storage full annoyance can easily be fixed.
You can free up space on Android by clearing cache, removing obsolete downloads, junk data, finding and deleting duplicate files, and other unwanted data. The tips we will explain in this tutorial will help you power clean your Android and recover storage space by clearing cache and other unwanted data.
Tips: Smart Phone Cleaner – storage cleaner, scans, cleans and optimizes your Android in a single tap. Not only this, it power cleans your Android by clearing app cache, downloads folder, archiving unused apps, finding and deleting duplicate files, and more.
Also Read: How to Speed Up Android Phone
Best Ways to Free up Space on Android Phone
1. Clear App Cache on Android
Each app installed on your Android smartphone has its own cached data that varies from a few KB to Megabyte or even more. You can check cached data of each app and can delete it from Settings > Apps > Storage > Clear Cache.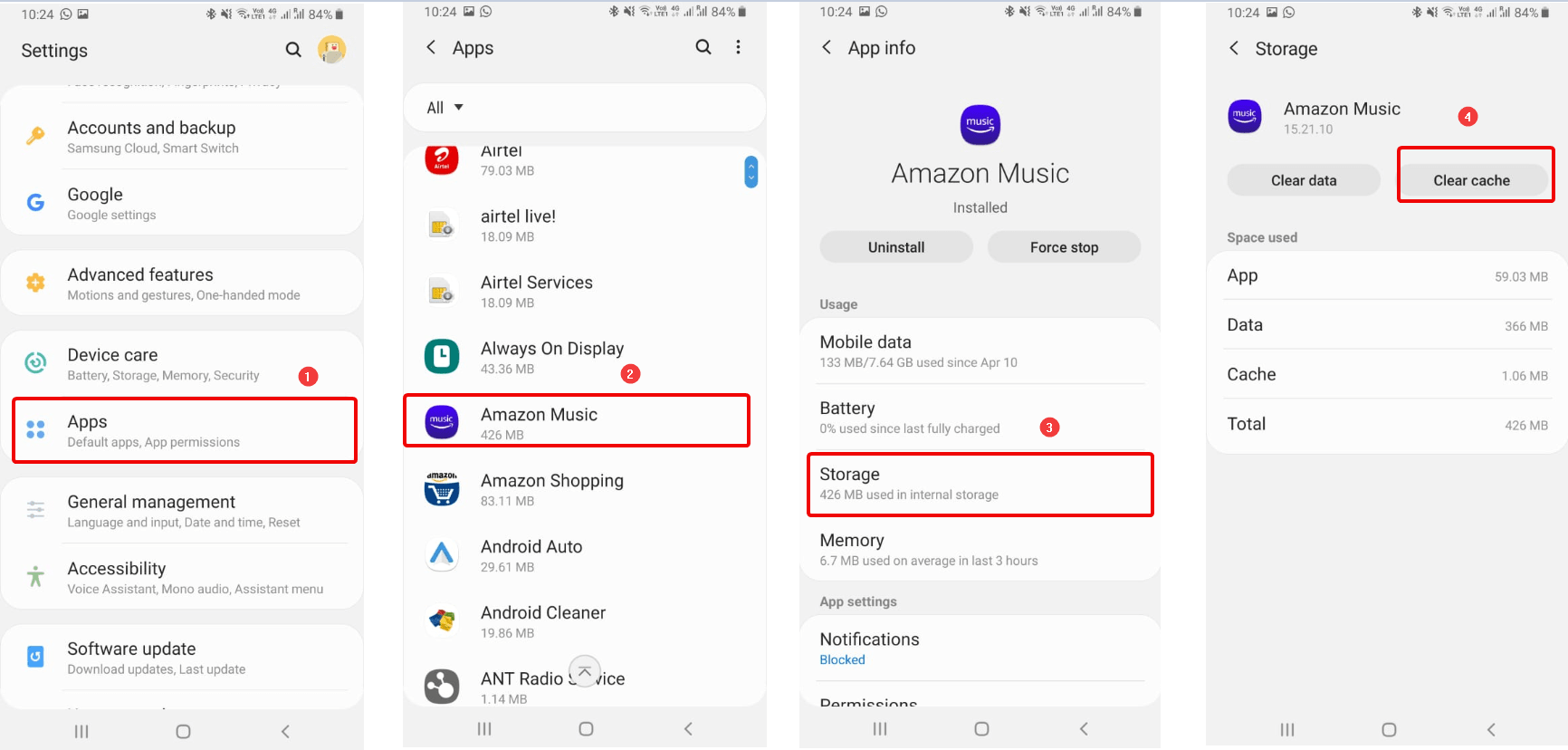 Cached data on Android takes up enough storage space i.e. more than a gigabyte. Therefore, to free up space on Android you need to clear cached app data on Android.
Cached data is essentially just junk files, therefore without worrying about any negative effects, you can clear cache and free up space on Android smartphone.
2. Clean up the Downloads folder
Like PC and Mac, Android too has a Downloads folder and it is favorite hideout for the junk files downloaded along with the apps or from the Web. Moreover, cleaning unwanted data from download folder works like phone memory cleaner.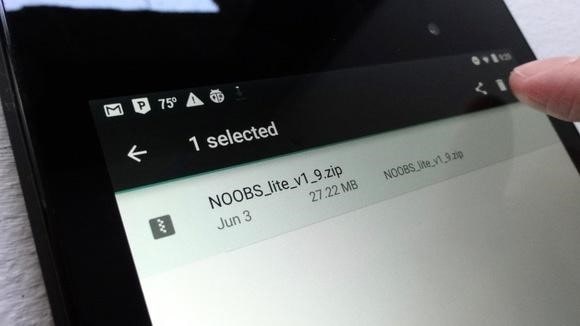 To power clean your Android and to optimize its performance tap Downloads folder > Trash button > tap bin to delete it.
If this is confusing you can try using Smart phone cleaner – storage and memory cleaner to help you identify and delete unwanted data from Download folder.
To use it, download Smart phone cleaner from Google Play Store or tap on the link below:
Once done launch Smart phone cleaner – phone memory cleaner > File Explorer > Downloaded Files > tap and select the file that you wish to delete > Delete Now.
Using these simple steps you can easily delete unwanted downloaded files and clean phone memory of your Android.
3. Remove photos from gallery that are backed up
Android phone users will agree Android phones are amazing. One of the best features offered by Google's Photos app is backing up complete photo library to your online Google account. Once all the media is backed up you can remove them from local storage to free up space on your Android.
To Free up storage space on Android without worrying about data i.e. photos follow the steps below:
Launch Photos app.
Tap the horizontal lines in the top left corner > tap Free up space.
Photos app will now let you how much space you will be able to Free up. In my case it is 3.28 GB.
Tap on Free up. With this all the backed-up images that are taking internal space on your device will be removed.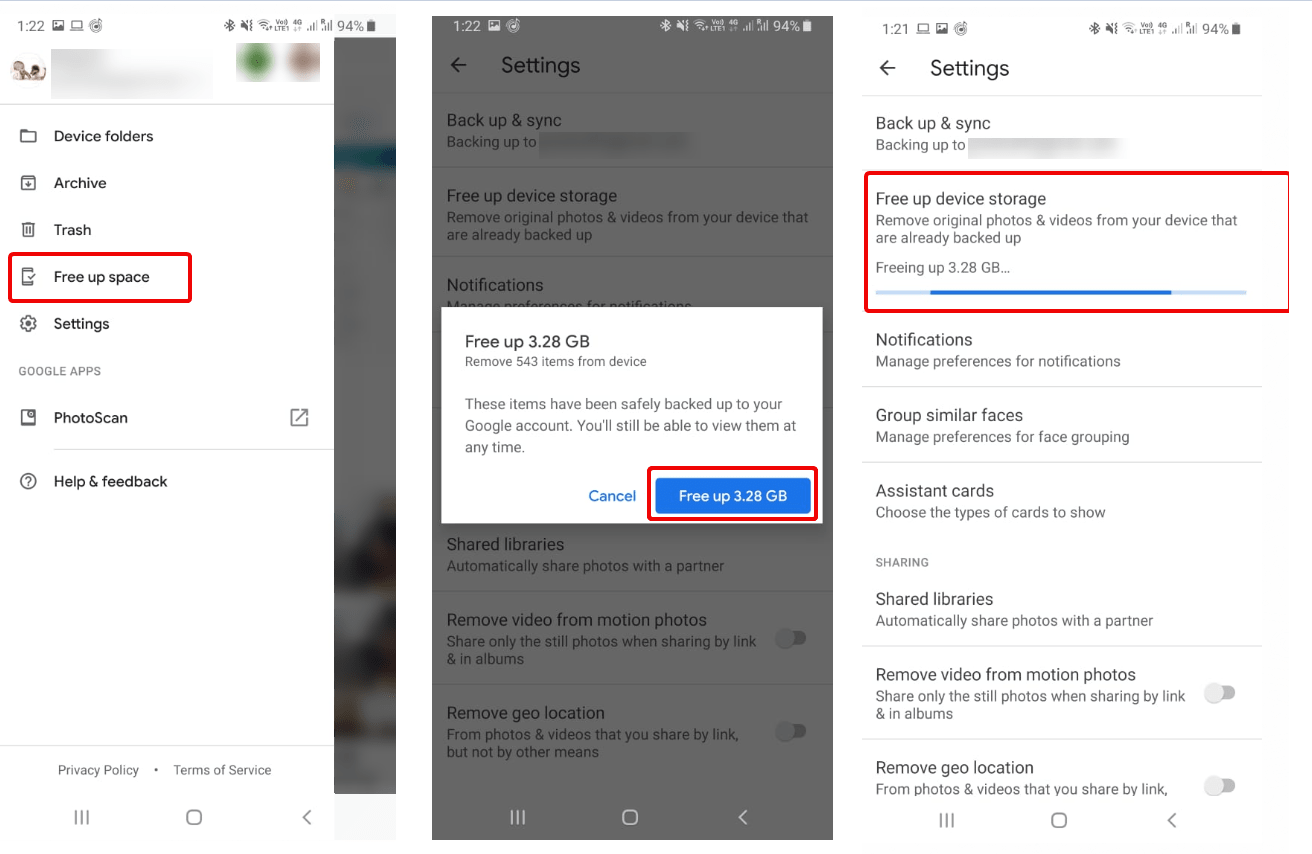 This will help you power clean your Android and free up space.
Note: Remember Photos App delete full resolution originals if you've setup "High quality" setting for unlimited but lower-resolution cloud storage for backed up photos. Therefore, before you use this feature take backup on some other device.
4. Manage downloaded music
Mostly all music apps give you option to download music, you can decide where you wish to save it. Either way you'll end up with a lot of music files taking large amount of storage space.
However if you are using Google Play Music you can check the storage space reserved for music and podcasts. To check and manage downloads tap the three horizontal lines in the top left corner > tap Settings > Manage downloads.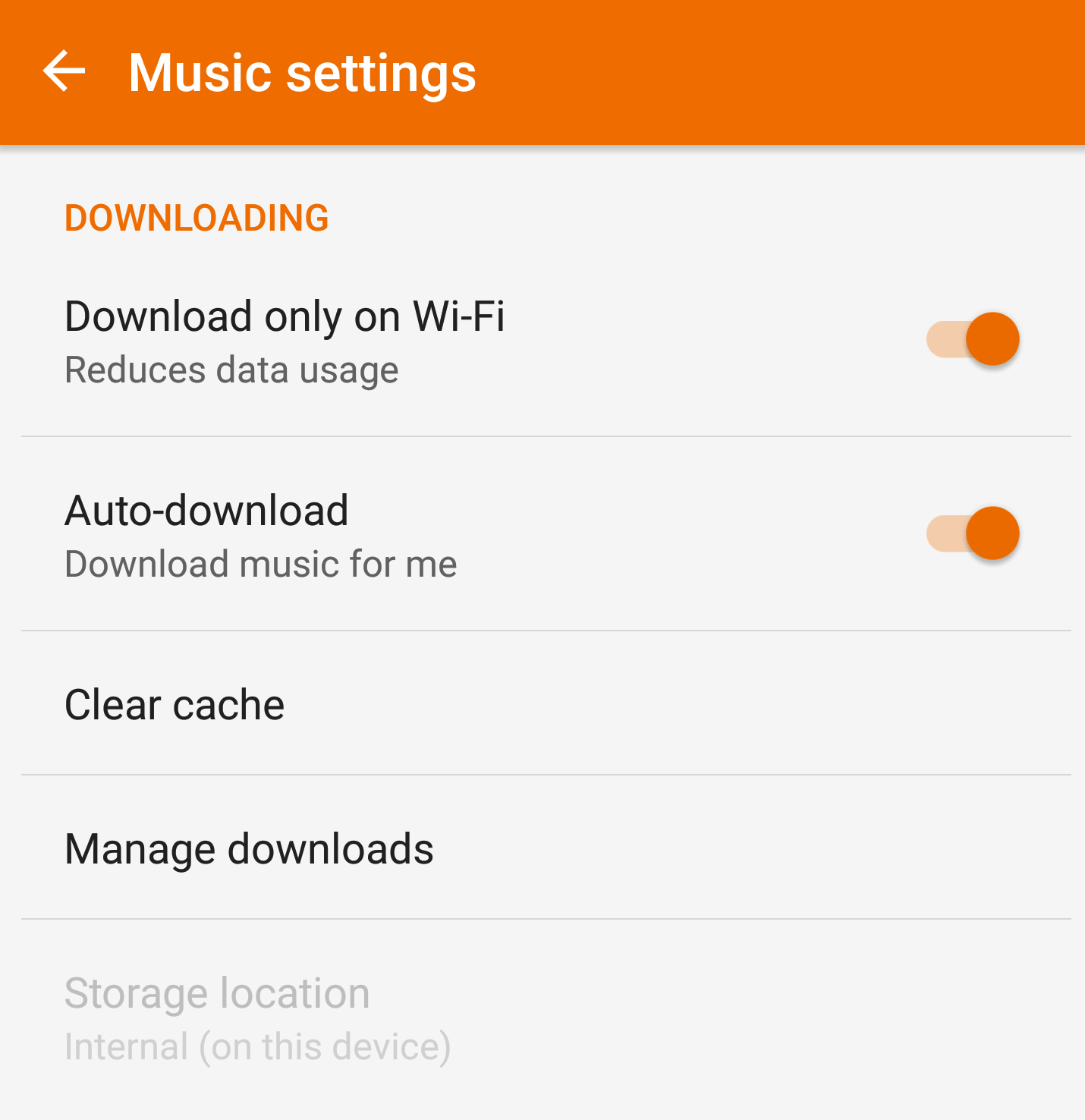 Here you'll get all the information. To delete a downloaded song or podcast, tap orange Downloaded button. Similar steps will work with popular music apps like Spotify, YouTube Music, or Apple Music etc. This means you can delete anything you've downloaded when you no longer need it and free up space on Android .
Tip: Same steps can be used to manage your downloads in the Play Movies & TV app.
5. Remove offline Maps to clean storage space
Offline Maps is indeed a great feature provided by Google Maps. It comes in handy when you are in no network zone and don't know the way out. But like other things this too has its own pros and cons. It takes storage space on your Android. Therefore, if your phone storage is full try deleting offline maps.
To check how much space offline maps are taking and to delete offline Google maps. Open Google Maps > tap three horizontal lines at the top left corner. Here you can see all the offline maps along with the information about storage space they take. If it is more, delete offline maps to free up storage on Android. To do so, Tap on three dots next to the location you wish to remove > Delete.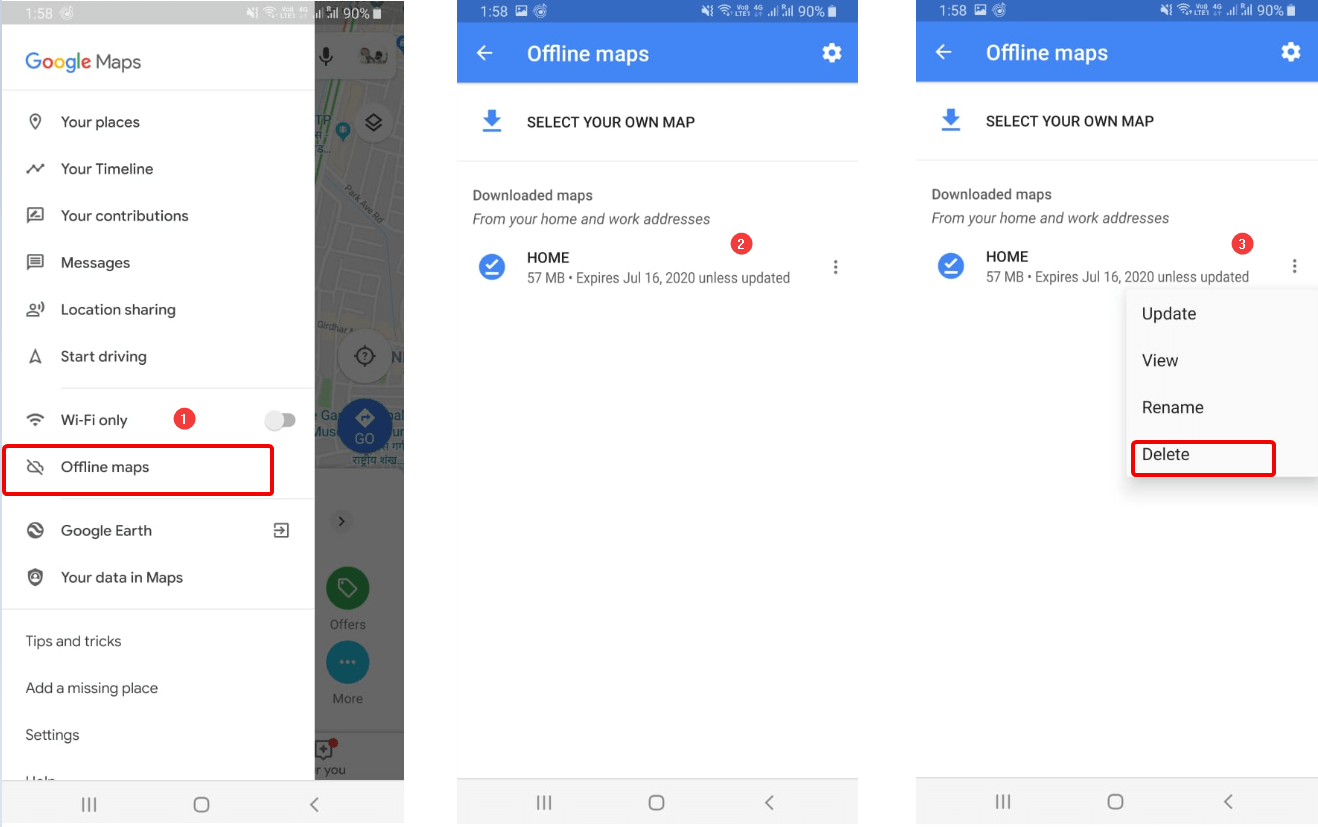 This will help reclaim storage space on your Android device.
6. Archive apps
Downloading apps at your convenience is what makes Android stand out. This means even from a desktop web browser you can download and install. apps. But this clogs your Android smartphone with apps that you rarely use or have never used.
The solution, of course, is to delete these apps. But checking each app is time-consuming. Hence, you can use the App Manager module of Smart phone cleaner. It will list all the installed apps, giving you the option to either Archive or Delete apps.
Archiving helps to clean internal memory and restore application whenever you need them. This is the easiest method to clean phone memory and free up space on Android.

Besides this you can head to Play Store app > tap the three-line menu button > My apps & games > Installed tab > Sort button three horizontal lines> sort by selecting the option.
If you select Last Used option, scroll down to the complete list and look for the least used apps. Tap the app and Uninstall it. This will help to free up storage and clean phone memory on Android.
7. Delete Duplicate Files
We assume you have downloaded Smart phone cleaner by now. If you haven't you can download it from above  download button.
Using this smart Android power cleaner, memory optimizer and storage booster you can find and delete duplicate files easily. Moreover, you can take Backup of these files and clear app cache.
Duplicate files gets stored on your phone due to several reasons – a file is downloaded multiple times, sending and receiving same picture via WhatsApp or other social media platforms, consecutively clicking photos and other reasons. These files take a lot of storage due to which phone storage gets full. To reclaim space taken by these files you can use Duplicate feature of Smart phone cleaner.
This feature will help you find and delete duplicate files.
To use it launch Smart phone cleaner > Duplicates. You'll now see list of duplicates stored on your Android that you can remove to free up space on Android.
To make things simple Duplicates module auto marks one copy of each group. If you are ok with the selection tap on Delete Now. Alternatively, you can select the files manually. This will help to free up storage on Android.
8. Use Google Drive
With every Google account you get 15 gigs of free cloud storage. Anything that you don't use frequently on your Android phone can be backed up on Google Drive. Simply select the file > Share or Send to > choose Drive from the options.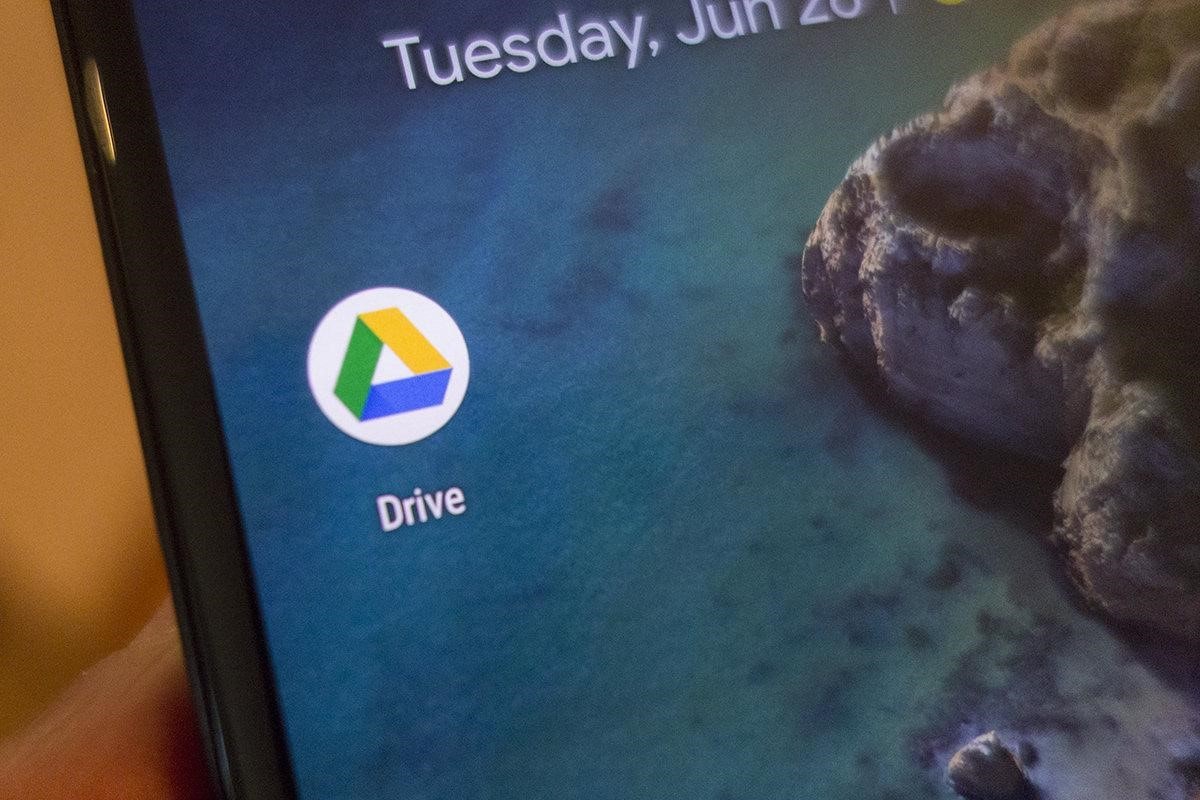 This way you will be able to back up all the selected data on the drive and free up internal storage space.
In addition to these steps, you can use Smart phone cleaner – phone memory cleaner to clear app cache, WhatsApp data, junk files, hibernate apps, boost game performance and lot more.
This app cache cleaner, phone booster & memory optimizer comes with an easy to use and intuitive interface that will help to free up storage on Android.
To find how much storage space WhatsApp media is taking launch Smart phone cleaner > WhatsApp.
You will now see a category wise list of files taking space i.e. images, videos, documents. Select the files you no longer wish to keep and tap Delete Now.
This way you'll be able to free up storage space on your Android taken by WhatsApp media.
To save battery on your Android you can Hibernate apps. In addition to this, you can clean junk files, clear app cache etc.
We all want to keep our Android smartphone-optimized but doing so manually is time-consuming. Therefore, if you are looking for an easy to free up storage, clean phone memory, clear app cache and do lot more try using Smart phone cleaner. Along with use above mentioned tips, to clean phone memory, handle phone storage full, clear app cache. We hope you liked these quick tips to free up space on Android. Do share them with your friends and family, as sharing is caring :-).  To get more such tips and tricks follow us and do watch our YouTube channel.
Next Read
Best Antivirus Apps For Android