Table of Contents
Mac can't be infected? That's a myth! Nowadays viruses and malware are so advanced that even a Mac can get infected. Therefore, keeping your Mac protected from viruses, malware, spyware, and cyber-attacks have become a top priority these days. Installing antivirus protection on Mac helps you to avoid compromising data security. You can protect your Mac computer from online threats by choosing the best antivirus software for Mac.
Mac might be a rarely tempting target for malware infections and viruses, but Mac is not attack resistant. Though you don't care about adware, it's still possible to be a victim of ransomware, password theft or stolen iPhone backups. Therefore, to help you protect your data we reviewed and compared numerous antivirus & Internet security software. And here we bring for you a list of top and best antivirus for Mac that you can use to secure your Mac system.
Best Antivirus Software for Mac 2021
1. Systweak Antimalware for Mac
Download Systweak Anti Malware for Mac
Systweak Antimalware is one of the most promising security systems for Mac machines. Systweak Antimalware can protect your Mac machine against malware, spyware, adware, and trojan threats attacking or residing in your system and ensures that your system stays secured against malicious threats.
Systweak Antimalware has got one of the most intuitive interfaces with one-click scan that can detect vulnerabilities in startup scripts, cron jobs and login items. It is also capable of finding and removing suspicious or malicious browser add-ons and plugins. This can be your best Mac-mate to quickly identify and quarantine any malicious threats hiding on your Mac machine.
Systweak Antimalware Features
• Smart Quick Scan
• Schedule Scan for idle times
• Effective Deep Scan on all connected drives
• Safari, Mozilla, Chrome Browser security extensions
• Easy to set up for effectively security
• Startup Scan for startup scripts
2. Norton Security for Mac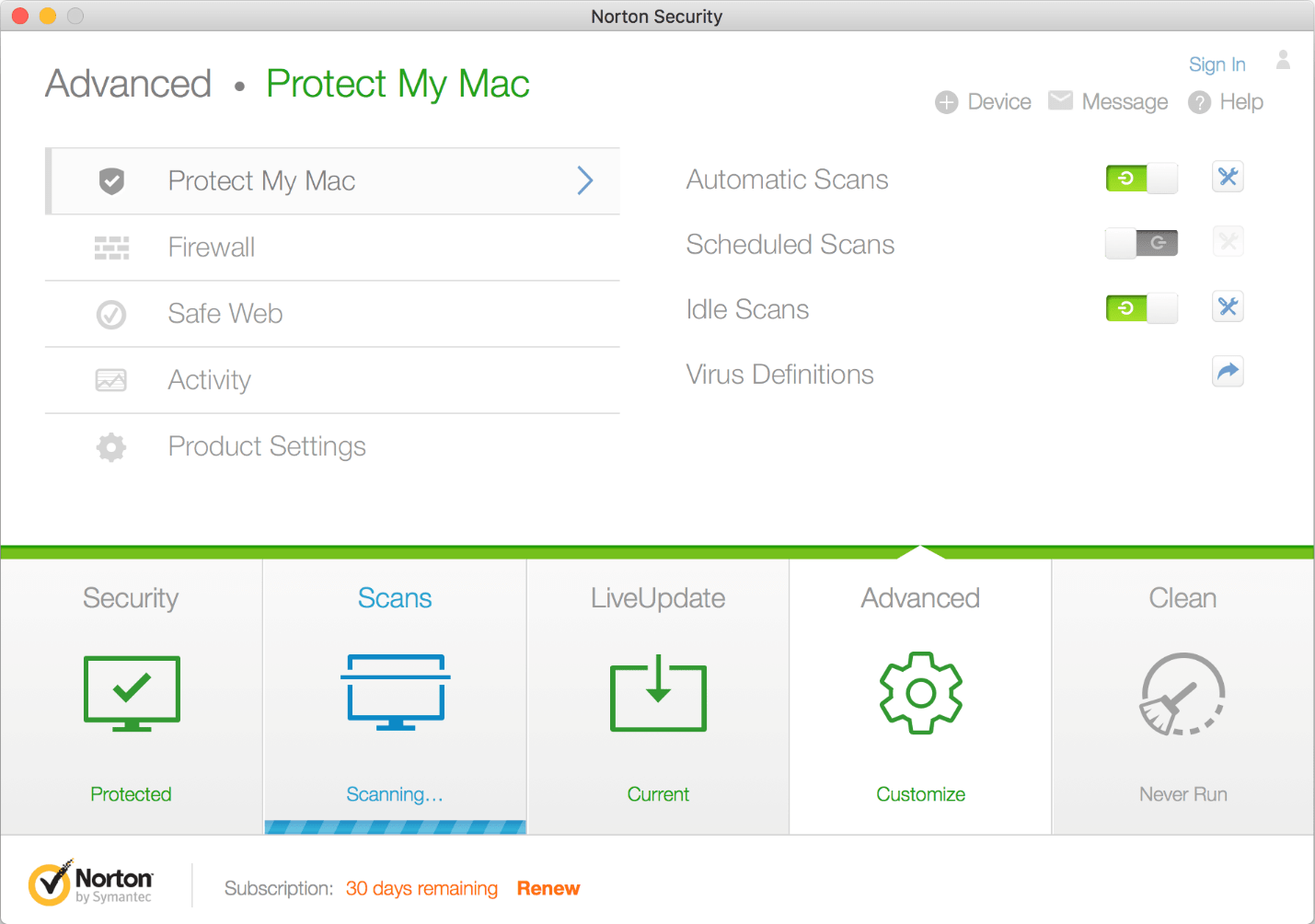 Norton is one of the most renowned names in the antivirus industry. Installation of Norton Security Standard for Mac is comparatively quick. Post installation, we recommend installing two Safari plugins, 'Safe Web' and 'Identity Safe'. 'Safe Web' will stop you from getting on to bad sites, and 'Identity Safe' will save you from password theft by managing passwords for you.
Data security comes with its Automatic Scan always-on, and protection shield enabled by default. These settings can be changed if you want to schedule scans as per your usage. The scan is quick and doesn't eat up much of your time. It gives better results than many alternatives in its league. Due to these and other advanced features, Norton Security ranks first in our latest tests for the best antivirus for Mac. Norton Security Standard will cost you $49.99 a year ranging up to $99.99 a year with its premium subscription with LifeLock Select. Check out the buy now link for available discounts running as of now.
Features
Secure VPN
Password Manager
10GB Cloud Backup
Starts at $49.99
Dark Web Monitoring
Real-time Threat Protection
SafeCam for webcam protection
3. Kaspersky Internet Security for Mac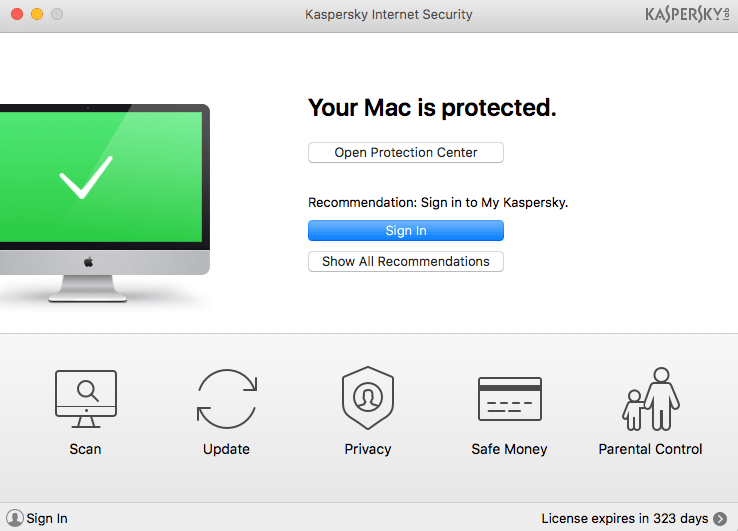 Kaspersky is a renowned name in the field of antivirus protection, and it upholds that reputation with its world-class Internet Security for Mac OS. If you are installing Kaspersky for the first time, the installation process may sound a little tricky. All you need to do is, choose the right version for your operating system and you are good to go. The scanning process is bit slow however it certainly detects, deletes, and quarantines found viruses.
Features like protection against ransomware, parental controls, Safe Money for online payment etc ensure your data security and safety. It not only detects malware with perfect precision but also achieves the lowest system performance impact.
Features
Starts as low as $19.99
Protects against online attacks
Help keep your privacy intact
Protection against ransomware
Lowest System performance impact
Enhanced security while online banking & shopping
4. Bitdefender Antivirus for Mac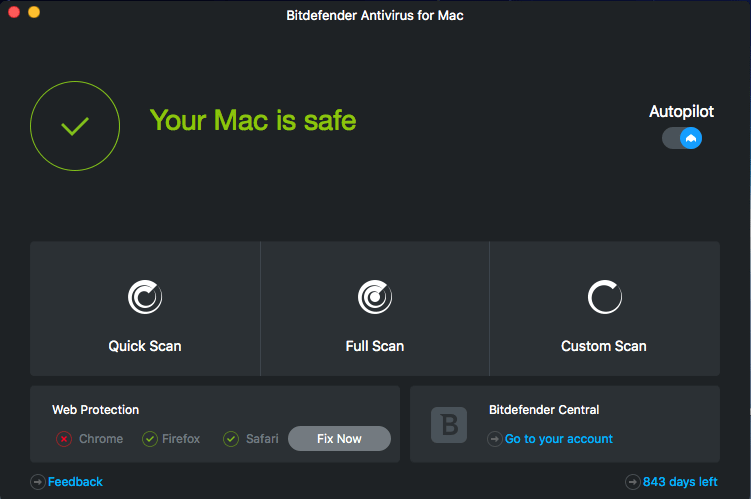 Bitdefender Antivirus for Mac is one of the most brilliant and accurate virus protection suites for Mac devices. This multi-featured product is famous for its adware removal, multi-layer ransomware protection, a VPN with 200 MB of daily capping, a plugin for Safari that blocks trackers and detects phishing attempts, and malware protection. This program Integrates well with macOS and can scan the Mac system for Windows Malware. Bitdefender Antivirus for Mac is suited for malware detection on Mac systems. Bitdefender couldn't stand on number one as its system-impact scores are still lesser than Norton.
Older version of Bitdefender Antivirus for Mac disappointed many Mac users. However current version Bitdefender Antivirus for Mac has improved significantly and has won hearts of millions of users. Bitdefender Antivirus once again scores 100% in anti-malware protection.
Features
Starts from $34.99
VPN Protection
Autopilot Mode
Traffic Light scan
Live Adware blocks and removals
Multi-layer ransomware protection
Total protection against all Mac threats
Also Read: Five Important Functions required In An Antivirus Software for MAC
5. Trend Micro Antivirus for Mac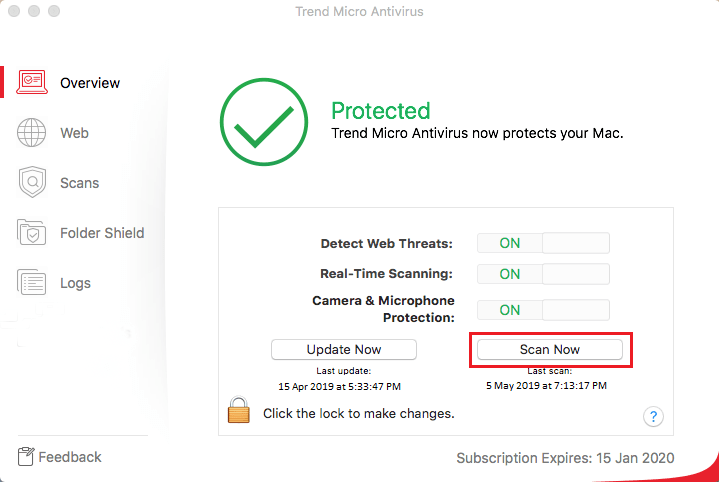 Trend Micro Antivirus is a well-known name in the security industry. Installing Trend Micro Antivirus software for Mac is quick and easy. Its features like antivirus protection, ransomware protection, email spam filtering, social media privacy checker offer brilliantly speedy full scan. For those who are using Mac High Sierra (10.13) Trend Micro Antivirus is one of the best choices as it has been built with the best possible compatibility with those versions. Scanning speed has been drastically improved in the latest versions making it faster and accurate.
During our tests, Trend Micro was considered as the best antivirus for Mac as it was able to capture all the viruses that we threw at it. However, it chose to ignore a few of them with less hazardous factors. As said, we like the simplicity and ease of use factor of this antivirus.
Features
Starts at $29.95
Clear and easy to use
The speedy virus scan process
Accurate and Reliable protection
Advanced Ransomware protection
Safety with online banking and shopping
Privacy protector to safeguard identity theft
Also Read : Do I Need an Antivirus Program for My Mac?
6. F-Secure SAFE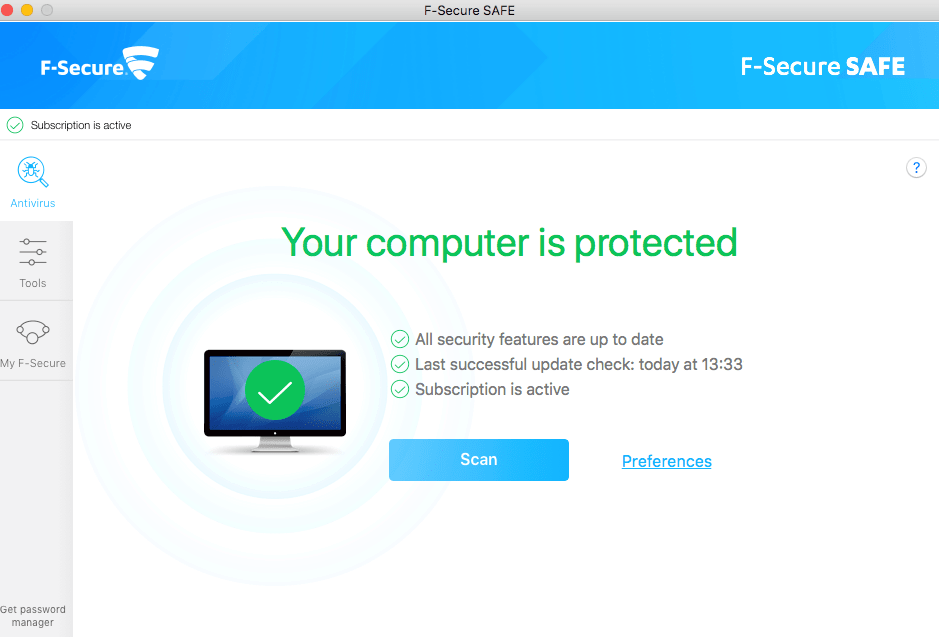 When it comes to security and safety of the entire family, and you want to protect all your devices, including PCs, Smartphones, Tablets as well as Mac, F-secure is the best choice. This antivirus tool for Mac might be at number 5 on our list of the best virus protection for Mac, but it scores 100% in threat protection.
It comes with some nifty competences such as parental control, ransomware, banking protection to block specific sites and apps from interacting with your Mac while you're logged in. Still, it lacks a lot of features which are available with other rival products. In short, F-Secure's user-friendly interface and accurate protection against threats make it an acceptable choice.
Features
Starts at $69.99
Integrated parental controls
100% detection and protection
Accurate protection against threats
Easy to use and user-friendly console
So here we discussed our best antivirus for Mac in 2019 and all of them are top brands and popular for their protection. You should try them to protect your Mac and ensure that your Mac is not affected by any threat. Few of them provide free trail for those who want to test before shedding out money, however, these products are tried and tested in our labs to list out the best antivirus for Mac in 2019. Do let us know which one did you pick and why!
For more such tips, tricks and tech related updates subscribe to Tweak Library and if you are more into tech-related videos do watch and subscribe to our YouTube channel. You could also reach us on Facebook and Pinterest.