Table of Contents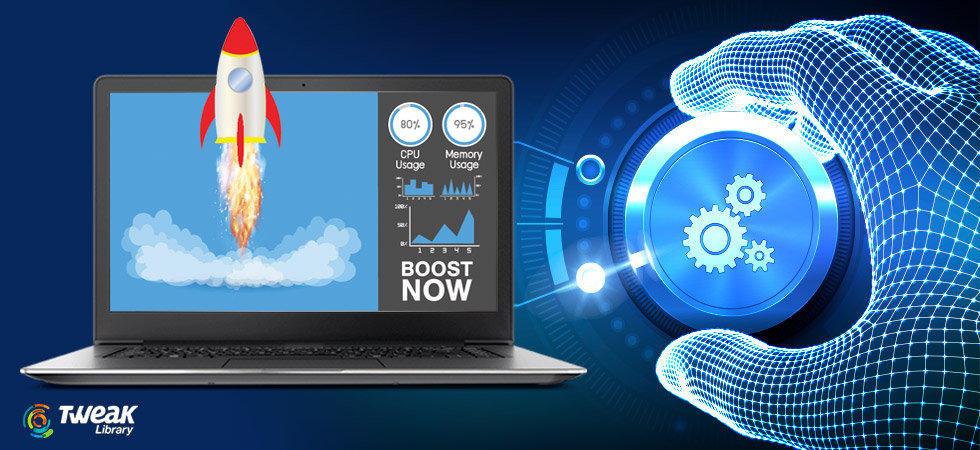 Certainly, a sluggish computer irritates us and forces us to buy a new computer. This article will help save you thousands of dollars. How?
Here we are talking about the best tune-up utilities for Windows 10 and older versions to get the most out of your PC.
Using these best PC Optimizer tools, you can not speed up your PC in just a few clicks and scans but can also free up space. These best free PC tune-up utility software does wonders. Using any of the listed tune-up utilities you can improve PC performance, clean junk files, cache memory and perform complete PC tune-up.
These tuneup utilities can't fix hardware issues but can ensure that whatever hardware you have, it can make the maximum out of it by PC cleanup and optimization. Here is a quick comparison of best tuneup utilities that you can use on your Windows 10 and older versions.
Most Recommended
[pricingtablecustom]
Best Tuneup Utilities for Windows 10
Advanced System Optimizer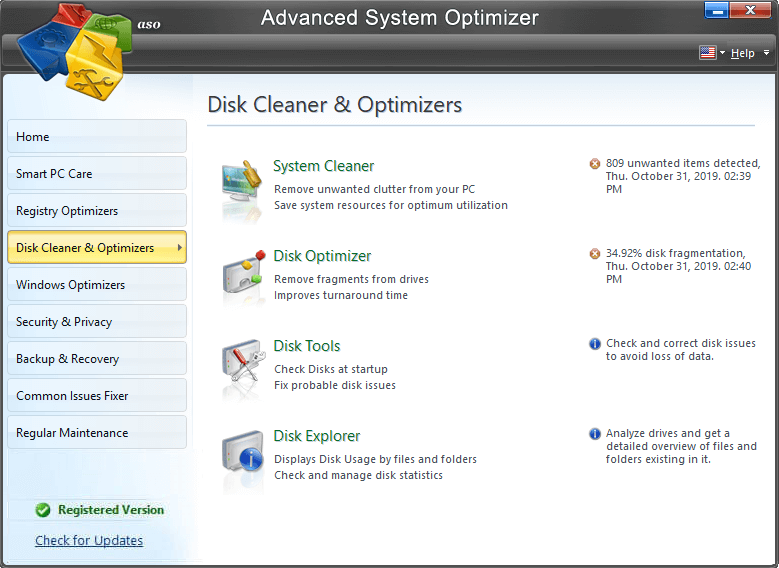 Advanced System Optimizer is one of the most trusted and widely used system optimization & tuneup utilities in the world that not only optimizes the computer but also performs PC tune-up on Windows 10 and earlier versions. This tune-up utility is in existence since 1999 and has over 10 Million downloads so far.
ASO is not only a Windows optimizer utility but it also works best as a system cleaner, game optimizer, driver updater, system protector, disk optimizer utility. Advanced System Optimizer is an all-in-one complete suite that turns your PC as good as new. From cleaning your hard drive, updating the most recent drivers for all your peripherals, providing continuous protection to optimize the disk to give its best performance, ASO does it all.
Advanced System Optimizer Features
Defrag and cleans disk space to speed up system performance.
Secure your sensitive data by blocking all types of attacks and prying eyes.
Experience distraction-free gaming with a one-click switch between gaming or home/business machine.
Reduced system crashes with the most updated device drivers for a prompt response.
Compatible with Windows 10 and older 32-bit & 64-bit OS versions.
Symantec Norton Utilities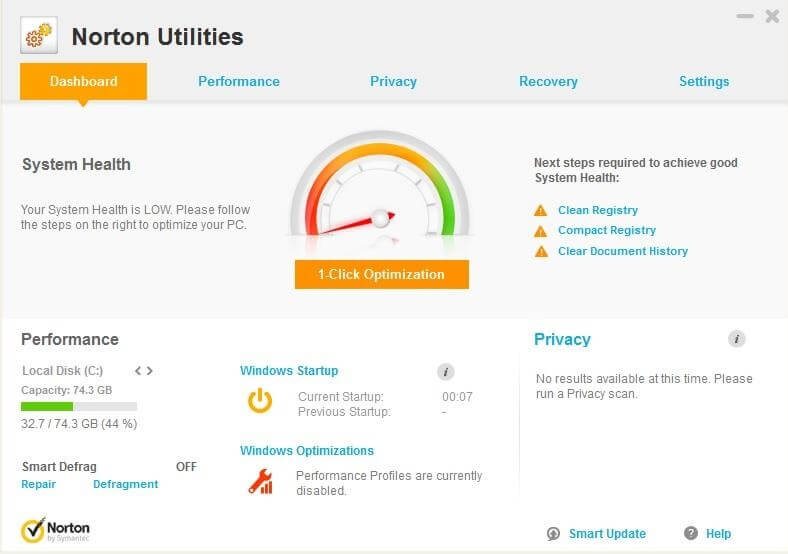 Norton Utilities is one of the most intuitive and effective PC cleanup and optimization utilities available to optimize Windows 10 and older versions in 2020. It has got easy to use and user-friendly console bifurcated into different sections. The smart dashboard displays a complete summary of your PC health that includes the status of third-party applications, Hard Drive and RAM status, Windows startup time and privacy issues.
Norton Utilities is also bundled up with performance, privacy and recovery tools to recover lost files and restore registry backups. It also performs disk defragmentation and system, registry, browsing history and cache cleanup as its main functionality.
Symantec Norton Utilities Features
Automated PC scan and tuneup utilities to boost system performance
Free up RAM and Hard drive space to enhance quick access to other programs
Maintains security of your privacy and identity without leaving any tailing traces
User-friendly and easy to use interface that allows you to go for one-click optimization on your PC
Fixes performance-related issues and registry entries that may slow down the PC
Safe-delete feature dispose of documents in a highly secured manner
Automated PC care triggers cleaning when your PC is in idle mode
AVG TuneUp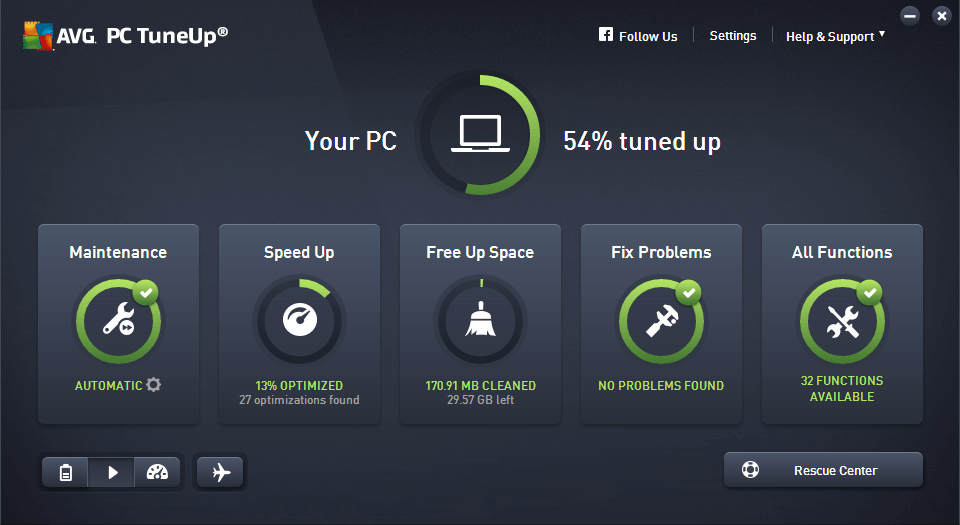 AVG Tuneup utilities have been in business since the last decade and have improved a lot on its newer versions. AVG Tuneup utilities are ranked as one of the best tuneup utilities for Windows 10 and older versions. AVG Tuneup can boost up your computer performance by cleaning and fixing all your performance-related issues and works as PC optimization and cleanup utility.
AVG Tuneup has distinctive features like it can analyze put performance draining apps to sleep mode. Its software uninstaller can help you remove unwanted software and programs that were not used for quite a while. AVG Tuneup utilities can perform rigorous Disk & Browser cleaning and erase junk files from over 200 applications and Windows files.
AVG TuneUp Features
The single license works on all PCs at home
Continuous updates of essential security patches
Disk and Browser cleanup cleans up to 200 plus apps
Weekly automatic maintenance to clean up and speed up PC
Improved Sleep Mode to put apps to sleep and improve performance
Tuned up to support Windows 10 and older versions
Intuitive dashboard for user-friendly optimization
Maintains complete logs of optimization history
Piriform CCleaner Tuneup Utilities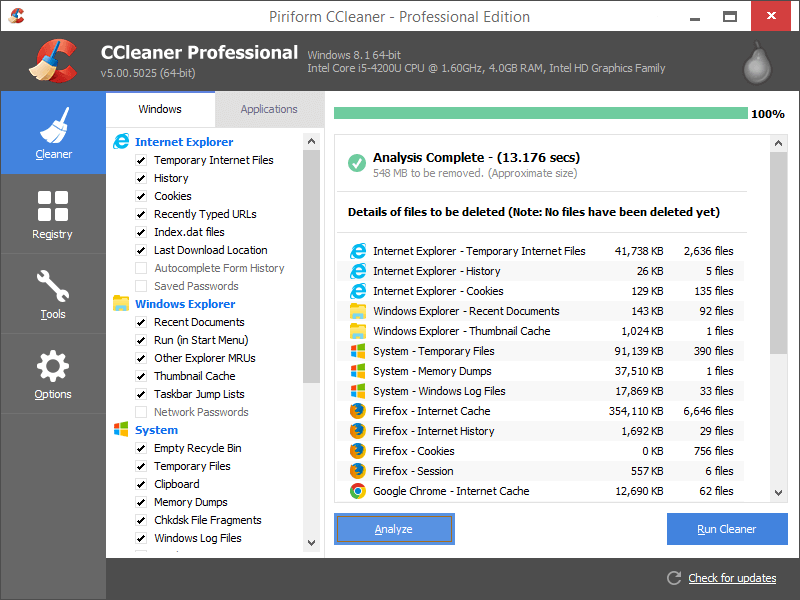 Piriform CCleaner Tuneup Utilities has been in the market for quite so long and has been ranked as the best tune-up utilities several times. It is a smart PC cleanup and optimization utility to optimize Windows 10 and older versions. The paid version of this optimization toolkit is bundled up with real-time protection along with the cleanup schedule.
For sluggish PC performance, this Windows optimizer and pack of tuneup utilities is one of the best tuneup utilities for Windows 10 and older versions to try for free. CCleaner has been downloaded for over 2.5 Billion times worldwide and cleans over 35,000,000 GB of junk files on a monthly basis. This product is not available in English, but you can download it in over 55 languages and be a part of over 5,000,000 installations every week.
CCleaner not only wipes out computer junk files but also takes care of your browsers like Google Chrome, Internet Explorer, Firefox, or Microsoft Edge. CCleaner also takes care of your registry errors and cleans unwanted registry entries. Moreover, it is packed with other Windows optimization features to make it a complete tuneup utility suite.
Piriform CCleaner Tuneup Utilities Features
Cleans all browser and system junk
Fixes Apps and system errors on a real-time basis
Fixes registry errors and removes invalid registry errors
Automatically manages unwanted startup items
Cleans up all user profile cache and temp files
Auto-update utility and device drivers
Iolo System Mechanic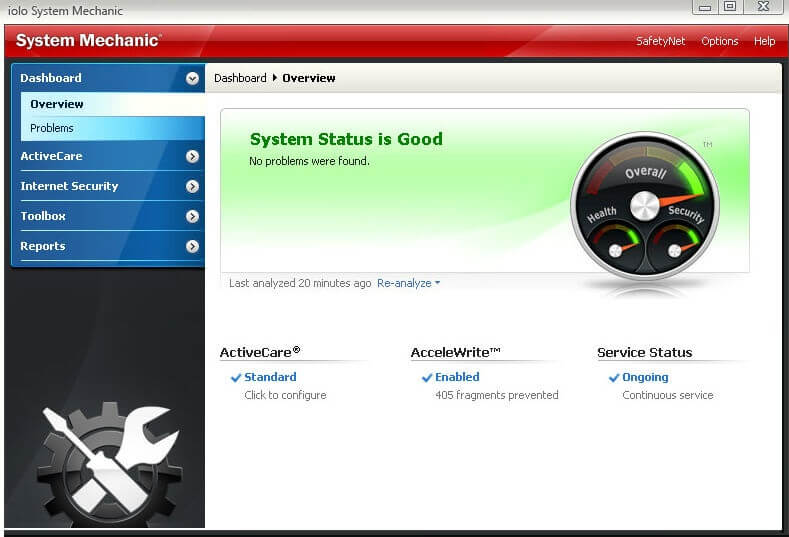 If your PC takes a lot of time to boot and load Windows applications, you surely need a PC tune-up done with the best tuneup utilities for Windows 10 or earlier versions. Iolo System Mechanic is one of the finest and accurate Windows optimizers to optimize Windows 10 and older versions. Iolo System Mechanic not only frees up your system resources but also abolishes browsing traces to keep your privacy intact.
Iolo System Mechanic claims to boost up startup speed by 88%, download speed by 39%, CPU speed by up to 17% and graphics by up to 8.6%. It has got a convenient user interface to optimize Windows 10 performance with a single click.
Iolo System Mechanic Features
Programmed to repair more than 30,000 system problems
Finds and eliminates unwanted startup program that hampers system performance
Iolo automatically optimizes the system and enhances hard drive, CPU, and RAM speed
Safely erases browsing history and loads Windows security patches
Optimizes hidden Internet settings for a swift browsing experience
Summing Up
In this roundup, we have compared the best tuneup utilities for Windows 10 and older versions than can optimize Windows 10 performance to its best. These best free PC tune-up utilities software comes with a trial version where you can test their features and then go for a pro version. You can try out any of these tune-up utilities to perform PC tune-up on your computer and experience the change in the system performance.
If this article turned out to be helpful to you, please like and share this with your colleagues. For more such tips, tricks and tech-related updates, click on the bell icon to get regular updates from Tweak Library. Do share your thoughts about this article in the comment section.
Follow Us: