Table of Contents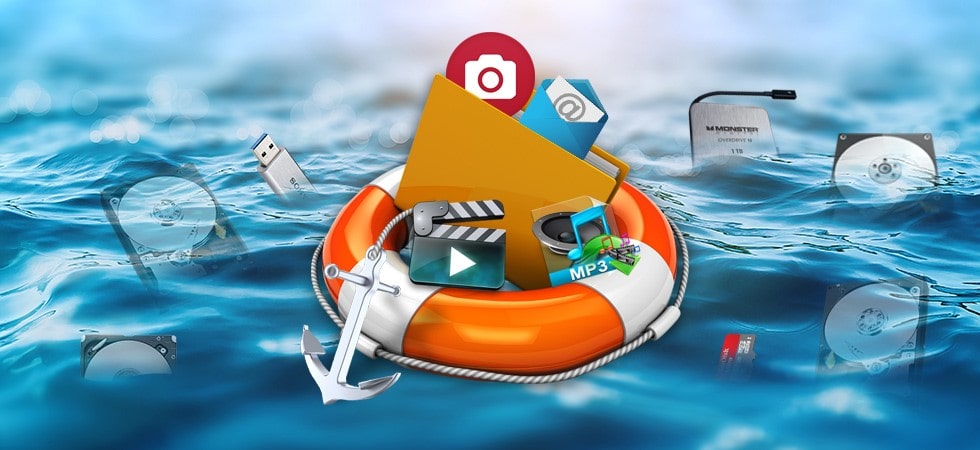 Data loss is one of the biggest problems no one would want to face. It's like an elephant in the room that you do not want to ignore! Data loss is a common problem not just on a personal note but also in a professional environment which you always tend to hide if it's a human error. It's such a pain and cost you stress and a lot of money to recover lost files and folders. We have analyzed and listed the top 5 best data recovery software for Windows to recover deleted files.
There can be many possible causes of data loss. A cyber-attack, system crash, natural disaster, virus attack or a human error may result in data loss. Many companies face data loss issues due to a server crash and as they can't afford their precious data to be lost, they pay a huge amount to recover crucial company files and information. Companies not only spend a lot of money, time and resources on fixing loopholes in their security defenses but also faces reputational consequences. Imagine your personal information is compromised and viral on social media or misused. It may give you goosebumps but don't worry, we have researched several data recovery tools and came up with the best pick for you to recover deleted files. You need not be an expert in how to recover deleted files as these tools will do the needful.
We have tested a dozen of data recovery software and identified the best ones to restore data from storage devices like Hard Drives, USB Sticks, Memory Cards0020and many more.
Best Data Recovery Software To Recover Deleted Files:
1. Advanced Data Recovery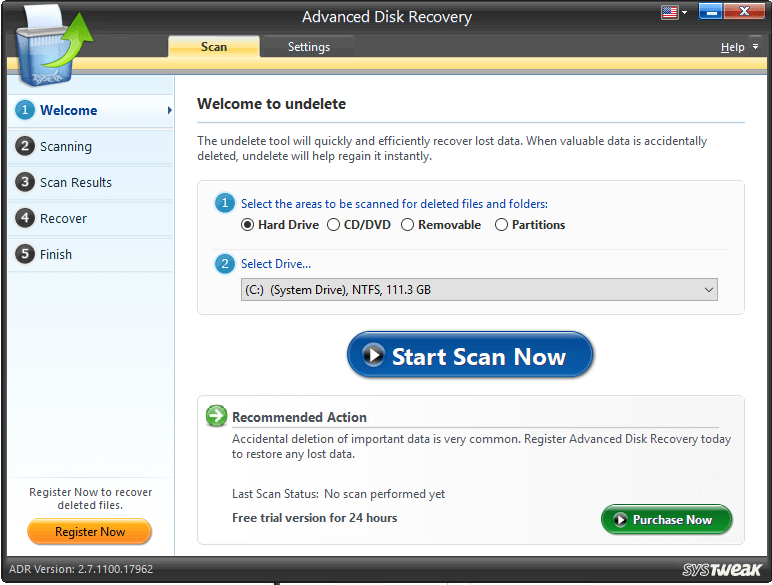 You may directly try the most trusted and recommended Advanced Disk Recovery software to recover accidentally deleted data or formatted hard drive OR you can go through the roundup and decide for yourself. Advanced Disk Recovery is compatible with Windows 10/8.1/8/7/Vista and XP operating systems with both 32-bit and 64-bit versions. Its simple and intuitive interface recovers data of all types through quick and deep scans. Now you can recover data from multiple storage devices at the same time.
Pros:
1.  Easy to use interface with the user-friendly console.
2. Recover any type of deleted data irrespective of file, format, size or type.
3. Offers two types of scans, Deep Scan & Quick Scan to recover recent or permanently deleted files.
4. Pause your session anytime you like and resume it whenever you have free time.
5. It can recover data from local Hard Drive, USB, CD/DVDs running with FAT, NTFS, HFS+, EXT4 file systems.
Bottom Line: Advanced Disk Recovery is one of the smartest data recovery software which not only recovers data from active Hard Drive partitions but also recover from deleted partitions or even when the system is in the no-boot state.
2. Disk Drill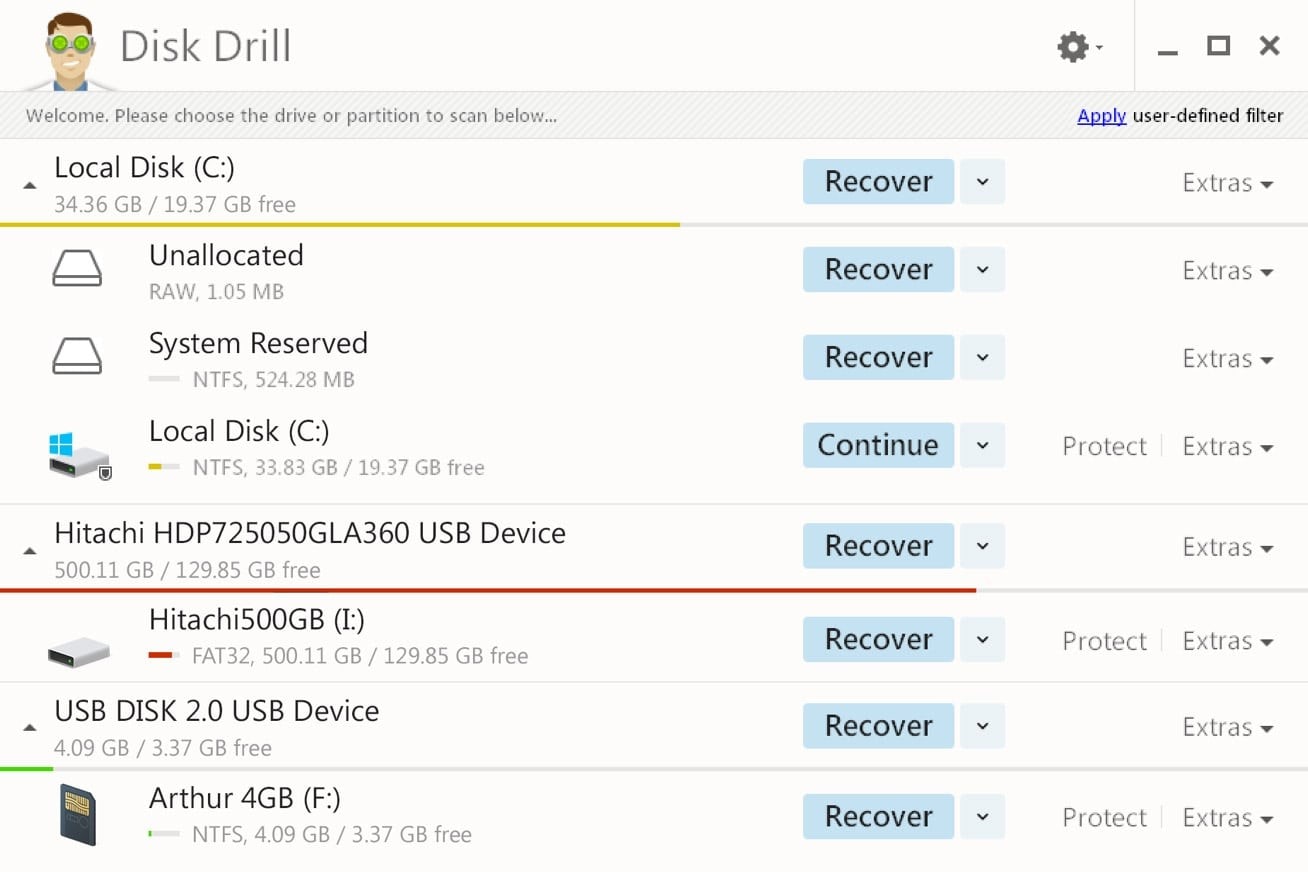 Disk Drill is an amazing recovery program by CleverFiles which is one of the most buzzing tools known for its features and technical competencies. The free version comes with a limitation of 500 MB of recovery however gives full functionality.
Disk Drill can recover all your deleted Documents, Music, Photos, Videos and other file formats swiftly and easily. This program is compatible with all versions of Windows and can be used for retrieving lost and damaged files from external and internal storage. This tool support device with FAT, NTFS, HFS+, EXT4, or any file system that you can think off.
Pros:
1. Disk Drill recovery vault comes with an additional layer for Recycle Bin, specially designed to maintain a backup reference for deleted files.
2. Disk Drill provides Guaranteed Recovery as its database preserves a record of every single file movement.
3. Disk Drill allows you to create files in ISO, DMG or IMG formats.
4. It supports more than 200+ file types with speed and accuracy.
5. Not only Windows but this software is also compatible with iOS and Android as well.
Bottom Line: Disk Drill is not only a complete solution to data recovery but also one of the best data recovery software for PC. It has cleared all the tests and been confirmed to be the most futuristic tool to recover deleted files.
3. Recuva Data Recovery
Recuva is one of the most amazing data recovery software for PC. This comes with a free trial version with some limitations to recover lost data from Hard Drives, USB Flash Drives, MP3 Players, Memory Cards, and other storage devices with FAT and NTFS file systems. This application is compatible with both 32-Bit and 64-Bit versions. Recuva is also available in a portable form which means there is no risk of overwriting. Recuva is a Freemium app, which means you can enjoy all its features by going premium. Recuva can successfully recover deleted files like unsaved Word Documents, Images, Music, Emails, Videos, and many other popular file types.
Pros:
1. Quick Scan, Low Price, Free Version available
2. Military-standard recovery/deletion, User-Friendly interface
3. Preview screen before recovery, Full Hard-Drive Scan, External Recovery
Cons: Can't recover re-written files as compared to other high-priced rivals.
Bottom Line: Recuva is pleasingly priced and easy to use software, although it can't perform deep scans as compared to high-priced data recovery software for PCs. But the most amazing part of this software is this includes data recovery from deleted partitions and can also recover data from no-boot systems.
Purchase Recuva Data Recovery Here
4. EaseUS Data Recovery Wizard
EaseUS Data Recovery is again one of the best data recovery software for PCs. It's designed keeping the convenience of the end users in mind. EaseUS performs an extreme level of recovery process without any hiccups on almost all version of Windows.
EaseUS Data Recovery Wizard not only recovers lost/deleted, files but also helps in recovering corrupt files without any hassle. It is a robust and effective data recovery software for format retrieval, hard drive retrieval, partition retrieval, and raw retrieval.
This Windows-only tool can search for specific file types. It also allows you to pause and restart the scanning process at any time and sort retrieved files by file name, file type or date. You can also preview file's probability of recovery. The software is compatible with all versions of Windows and you can try the software's trial version before purchasing.
Pros:
1. Quick and easy to use with a user-friendly interface
2. Raw file recovery made possible
3. Displays probability of recovery and recovery results once done
4. Comparatively cheaper than other rivals with such capabilities
5. Automatically sorts recovered files by name, file type or date
Cons:
1. Doesn't recover files from a reformatted hard drive
Bottom Line: Branded, Trusted and effective tool to recover lost files. User-friendly and effective console is designed for new users to efficiently recover deleted files and folders.
Purchase EaseUs Data Recovery Here
5. Wise Data Recovery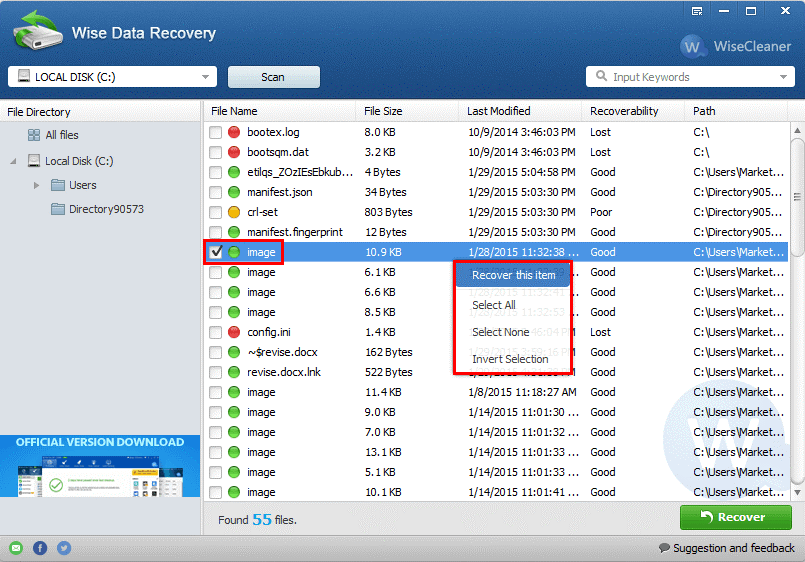 Wise Data Recovery is a lightweight and simple data recovery software for PCs which is free of cost yet effective recovering accidentally deleted Files, Photos, Emails, Music, Compressed Files, Videos, etc. This is efficient enough to recover files from any kind of storage device. All you need to do is select a drive to be scanned and it performs a deep scan based on the keywords or file types you have selected to narrow down the search. It has got advanced algorithms, it takes less time and effort to scan the entire Hard Drive and suggests the restoration of deleted files.
This free undelete program takes no time to install and scan the PC in the least possible time. It works well with numerous USB Devices, Memory Cards, External Hard Drives, and other removal devices.
Its instant search function enables it for a quick and easy scan to search for deleted files and recover. Its user-friendly console gives clarity on the likelihood of files that can be recovered with Good, Poor, Very Poor, or Lost status. You just need to right click on the file to restore. Wise Data Recovery is compatible with all versions of Windows with a portable version available for ease of availability on the go.
Pros:
1. Quick scan for deleted files on Windows 10 and earlier versions
2. Colored circles make it easy to identify the probability of recovery
3. Free of cost portable option available
Cons:
1. While recovering deleted files, the original folder structuring does not remain intact
2. Only compatible with Windows, doesn't work on Mac or Linux
Bottom Line: Wise Data Recovery software as the name suggests, is actually an intelligent tool to identify and recover lost files. Developers just need to work on folder structuring and variants for Mac and Linus.
Purchase Wise Data Recovery Here
6. Wondershare Data Recovery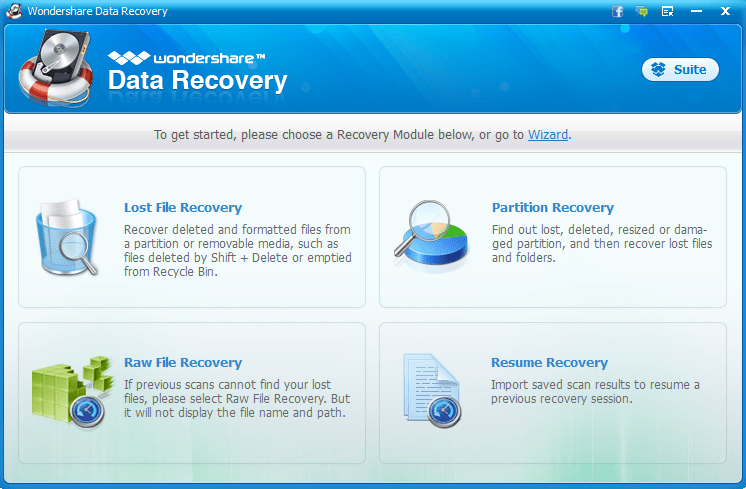 Wondershare being on number 5 on the list doesn't mean that it is less competent than others. This is again one of the best and complete data recovery software for Windows-based computers and other storage devices like External Hard Drive, Flash Drive, Digital Camera or Memory Cards. It is capable of recovering more than 550 file formats including Documents, Music, Photos, Videos, and Emails. It's simple, user-friendly and favorite of more than millions of customers. It not only recovers accidentally deleted files but also takes care of formatted files, inaccessible or raw files, virus damages, improper operations and many more.
Pros:
1. Wondershare Data Recovery software for PCs covers a comprehensive list of formats allowing you to recover almost all kinds of Documents, Pictures, Videos, Audios, and much more.
2. It is compatible with almost all latest versions of Windows.
3. It also features a pause and resume the process at any point in time during scanning.
Cons:
1. There's no option for live customer service, chat or online tech support.
2. Key features like startup disc recovery and drive cloning are missing even in paid versions.
Bottom Line: Wondershare Data Recovery wizard is well designed like others. It is an intuitive tool and offers excellent options to tailor-scans as per your needs and recover deleted files. The ability to scan is loved by testing team however the tool takes a lot of time during a deep scan and you may also witness lag in system performance during the scan process.
Purchase Wondershare Data Recovery Here
Why Trust Us?
We simulate multiple products for testing as closely as possible simultaneously keeping customer's reviews and functionalities in mind. We test each software by comparing their conversion fidelity, ease of use, speed and optimization features. As per test results, these 5 software turned out to be the best in class tools for data recovery though you may try other free software as per your needs. So even if you don't know how to recover deleted files, you are still safe as these tools will help you solve the purpose.
For more such tips, tricks and tech related updates subscribe to Tweak Library and if you are more into tech-related videos do watch and subscribe to our YouTube channel. You could also reach us on Facebook and Pinterest.