Why do you need a data recovery software for your Windows 10 PC? Or why should you learn some data restoration techniques? Consider two scenarios –
Swarmed by an ocean of unnecessary files, you decided to hit shift+ delete. But, what happened next was not something you expected in the wildest of your dreams. You accidentally deleted some very crucial files and now there seems to be no redemption whatsoever. Or, is there a way you can undo your mistake. What if we said yes? There is a way – you can use data recovery software to get those precious files back.
Take another scenario, your Windows 10 PC was working absolutely fine, until one day it crashed. Since you hadn't taken a backup of your data, you have no other option but to let go of your data. Well! Maybe there's a way you can get your lost data back, you can take the help of a data recovery tool.
If you are new to the concept of data recovery software, we'll help you get your head around without any hassles. Let's dive in!
How Does A Data Recovery Application Work?
This is how any decent data recovery application functions to help you recover deleted files. And, that is unless you have used a file shredding software that completely deletes data to an extent that it is impossible to get it back. The file shredding or security software is meant to help you get rid of any sensitive data completely. But, that's a different topic altogether. Interested? Read our post on how to safely delete private data forever
A data recovery software helps you restore deleted files that are inaccessible or that can be overwritten. Such applications swiftly scour all the various locations on your computer, PC, or any storage device provided the data is in a recoverable state.
Before recovering a file, you can even choose to preview the file details. Using the data recovery algorithms used by data recovery applications you can filter data by size, type, date, compress type, etc. Most data recovery software also helps retain the folder structure of the file as well.
To rightly exemplify how data recovery software works, let's have a look at Advanced Disk Recovery which is one of the best data recovery software for Windows 10.
How Does Advanced Disk Recovery Work?
Here we will even discuss how you can use this data recovery software to retrieve deleted files and folders from various areas and partitions in your Windows 10 PC.
● Kind Of Data That Advanced Disk Recovery Retrieves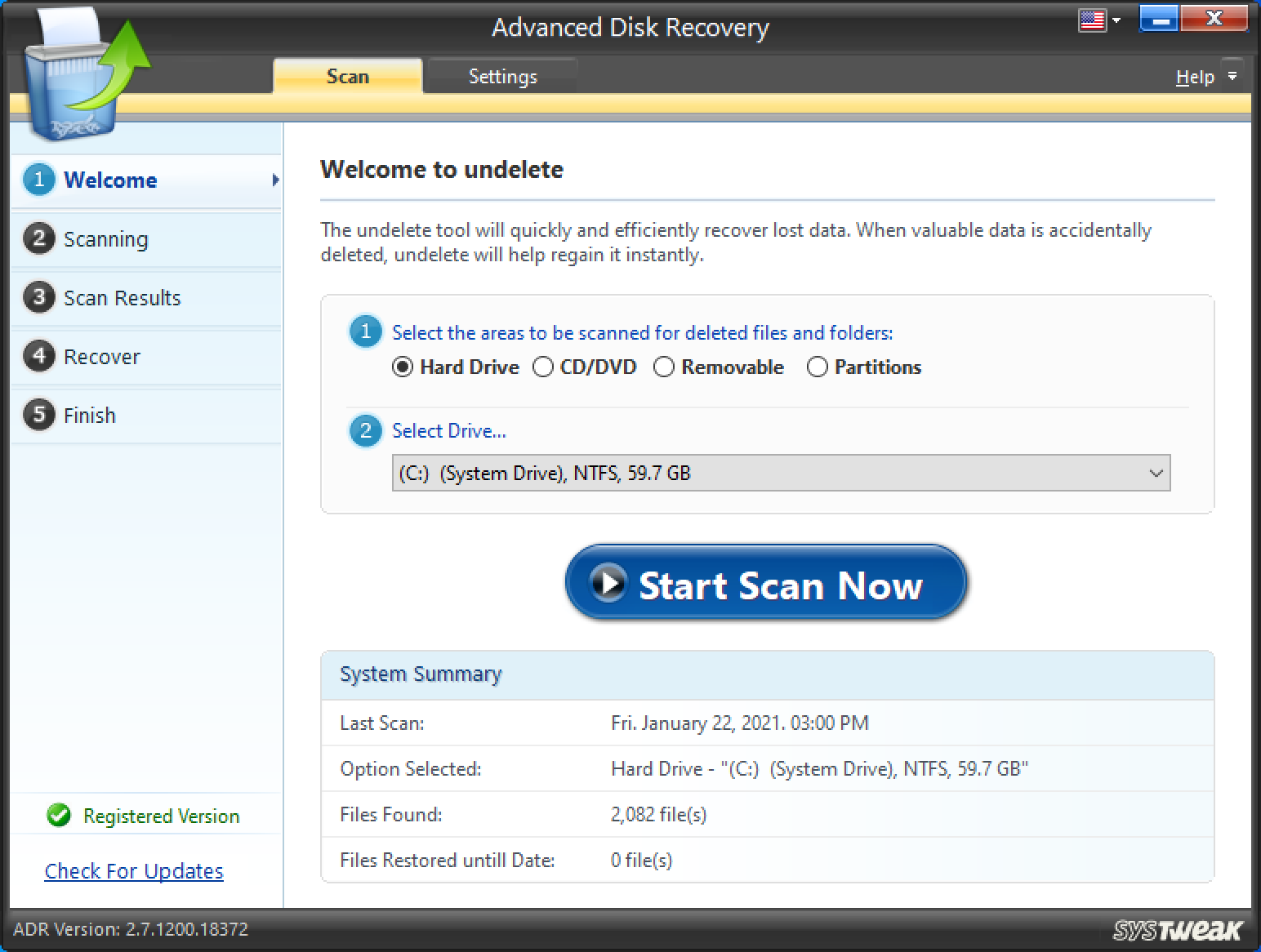 Advanced Disk Recovery can restore deleted or lost documents, images, videos, audio files, and all the other kinds of files from your computer (PC or laptop) hard drive, memory cards, SSD, USB, external hard drives, and other storage media. It even scans the partitions on your hard disk for any deleted or lost files and folders.
Download Advanced Disk Recovery
Review on Advanced Disk Recovery Software
● Scanning Methods
Advanced Disk Recovery offers two scanning methods namely – (i) Quick Scan and (ii) Deep Scan Let's discuss these methods in brief –
(i) Quick Scan
It is the faster of the two methods and can be used if you are short on time. Here the master file table (MFT) is checked for deleted files.
After you have clicked on the scan button Advanced Disk Recovery checks the master table for lost files. Next, choose the drive or storage medium that you want to scan for lost files and hit the Scan now button. Choose the Quick Scan radio button and click on Scan now. In a matter of seconds or a couple of minutes, you will be presented with a list of deleted files.
You can then click on the recover option and save the deleted file wherever you desire (at the desired location on your PC or Laptop). The deleted files are shown in red color.
(ii) Deep Scan
This is a more in-depth scan where the hard disk is scanned sector-wise to track if there are any deleted files. The signature of the files is also scanned in this method. This method might take a few minutes as the condition of each file is analyzed and partitions are checked.
This method can especially come to your rescue if you have accidentally formatted external drives or any hard drives.
Preview And Analyze Files Before Clicking On The Recover Button
An important aspect of the data recovery algorithm that Advanced Disk Recovery adheres to is the fact that it lets you preview the files before restoring them back. One way it does that is by showing you a table-like format where you can check details like the extension of the files, last modified date, health state, size, etc.
The second way it helps you analyze files is by letting you filter them.
● Filter Options
Unless and until you put some kind of filters, your scan results may provide you with empty deleted files. Or, it could even be that you want to restore files of a certain size only deleted on a specific date. For this purpose, you can use a variety of filters to locate and retrieve files based on size, data, time, etc. Broadly Advanced Disk Recovery offers two kinds of filters –
(i) General
(ii) Advanced Filters
Conclusion
Mishaps can happen to anyone. Computer crashes, accidentally deleting an important file or files, losing data from a flash drive, such instances can leave you overwhelmed if some important data is lost. With the above blog not just have we focused on how you can retrieve lost files and folders, but, how you can do that quickly. If the information has helped you, do give this blog a thumbs up and spread the goodness with others by sharing the blog. You can also find us on Facebook and YouTube.
Next Read:
Best EaseUS Data Recovery Alternatives For Windows