You hear about data recovery & EaseUS is one of the names that will definitely come up. Though the tool is arguably one of the best data recovery tools in the market, there are other alternatives as well. Some offer advanced features, simpler UI, faster recovery, or low subscription plan.
But the ultimate question is, do those alternatives work as effectively as EaseUS does or better than that? These different questions juggle up with your thoughts until you've got yourself a list of limited yet effective data recovery tools. That is why we have brought you the best tools that can help you recover your data.
Best EaseUS Data Recovery Alternatives For Windows
1. Advanced Disk Recovery
The perfect combination of reliability, effectiveness, & user experience, Advanced Disk Recovery tops the list. Just like EaseUS Data Recovery focuses on recovering the data seamlessly, the same way Advanced Disk Recovery makes it the sole mission to get the lost data back. Irrespective of the media source (internal or external), the lost/deleted/removed/formatted files will be successfully recovered.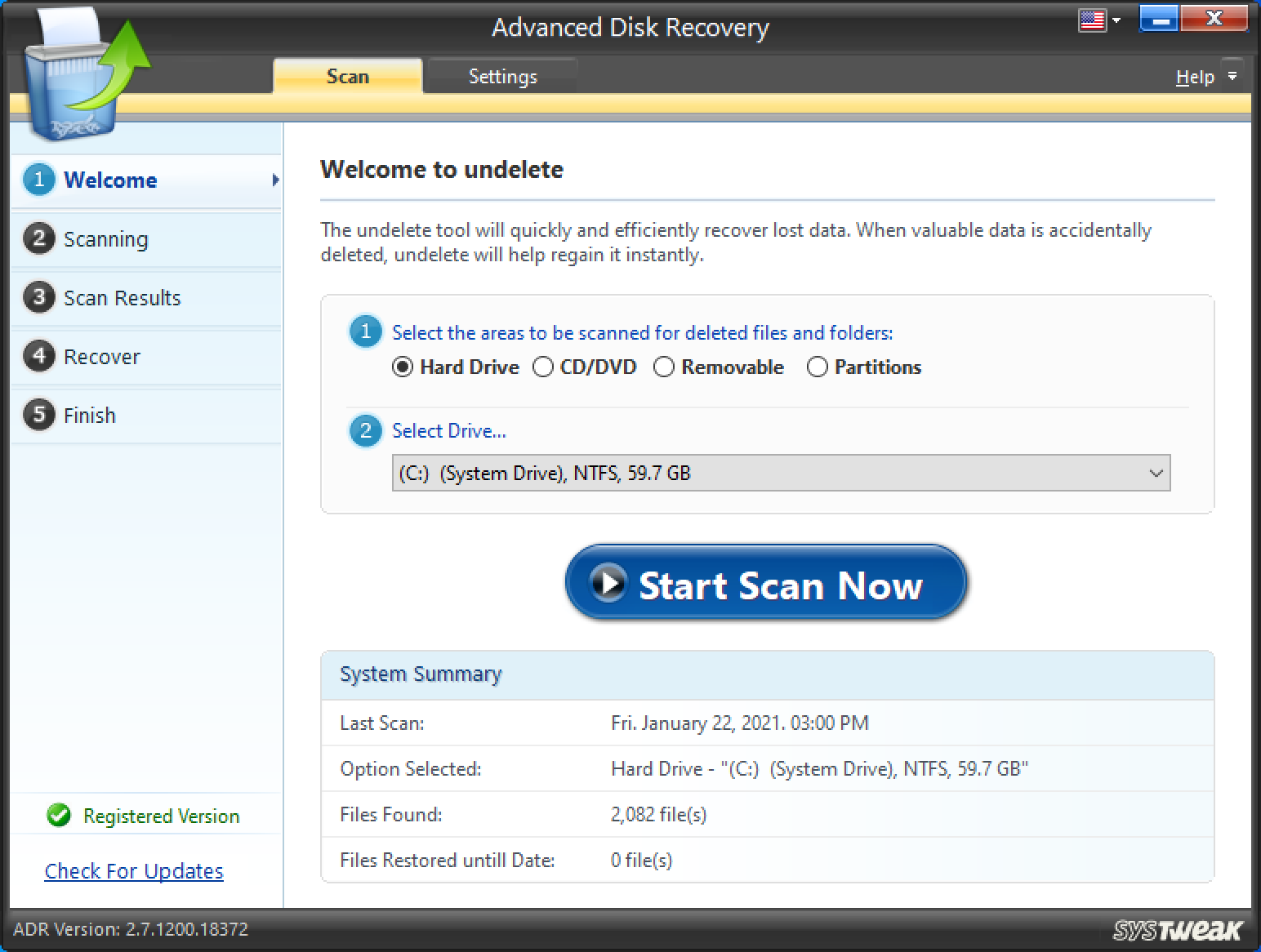 You just need to download this one-stop-solution on your system & give it the path from where the files have been deleted. The tool will start acting actively & within a while, you will have the files that are deleted from the drive.
Simply select the files you want to retrieve, tap on Recover, & sit back to see your deleted files retrieving so quickly than ever.
What makes this tool one of the best data recovery software for Windows is, the user friendly interface, simple yet effective controls, & speed to take action.
Download Advanced Disk Recovery
2. Wondershare Recoverit
Another addition to the list of the EaseUS Data Recovery alternatives for Windows is a powerful source that can recover the lost or deleted data seamlessly. From your cell phone to digital camera & USB drive to local hard drive, the lost data can be retrieved from anywhere. & when it comes to the media files, from your important documents to the confidential emails that got deleted mistakenly, everything can be retrieved quickly.
You just need to download Wondershare Recoverit & launch the app after successful installation. Now scan a specific disk to restore the deleted files & before getting them back. Also don't forget to Preview the files to know what's important. With these simple three steps, you have got yourself the files that were mistakenly or deliberately removed in the first place.
& just like any other data recovery tool, Wondershare Recoverit also offers the FREE & the premium version as well.
3. Veritas Backup Exec
Since we are talking about recovering the lost or deleted data from any device (cell phone to hard drive), Veritas Backup Exec is a must-mention-name. With the undivided focus on data protection, Backup Exec lets you manage your entire data ecosystem from a single console.
Also this one of the most advanced data protection tools minimize downtime and disruption using integrated bare-metal disaster recovery, physical to virtual (P2V) and virtual to physical (V2P) recovery. The combination of virtual workload protection, smart integrations, & security and compliance make this tool one of the best EaseUS Data Recovery alternatives for Windows operating systems.
4. Acronis Cyber Backup
The list is getting better & better with every addition & now we have got Acronis Cyber Backup as another EaseUS data recovery tool alternative. Considered as one of the easiest & fastest solutions you can look for retrieving your lost or formatted data. With continuous improvements & updates, the tool always makes sure not to deviate from the sole purpose of data protection.
With the ultimate compatibility on Windows, Linux, & Mac operating systems, Acronis Cyber Backup offers you more than just a data recovery tool. & just like every other data recovery tool, Acronis Cyber Backup can retrieve data from almost every device from a USB drive to local hard drive or mobile device.
5. Piriform Recuva
With the tagline of "Recover your deleted files quickly and easily", Piriform Recuva lets you retrieve files from your local drives to Recycle Bin; even from the MP3 Player. Sometimes, there are files that are hard to find & that's where Recuva does deep scanning for those buried files in the specific drive/path. Awarded by reputed entities, the tool also can recover files from the damaged disks as well that is not possible with some of the data recovery solution tools.
6. MiniTool Power Data Recovery
There are many modules on MiniTool Power Data Recovery you can choose from while trying to recover lost or deleted data from your system drives or external sources. This data recovery tool for your Windows PC is quite an effective & reliable data recovery solution. With the latest update of version 9.0, you can recover more than 100 types of files without thinking twice.
Recovering you from various data loss situations, MiniTool Power Data Recovery pulls you out from virus invasion, disk failure, & file system error as well. This one of a kind data recovery tools makes your whole experience better than ever before.
7. Disk Drill
Like every other data recovery tool, Disk Drill also helps you from recovering any type of file from documents, messages, and media files quickly and easily. You can give more stars to the reliability of the software where it will help you restore deleted files from an HDD, USB drive or any kind of disk-based storage media with just a few clicks.
On Disk Drill, from crashed hard disks to corrupt memory cards, you can retrieve your lost data from almost anything. Let's start with scanning the lost data (on the specific path), choose the files/docs you'd want to recover, & retrieve the data without any interruptions. Additionally, while recovering the data you can use advanced filters to narrow down your search results.
Wrapping Up
The whole data retrieval process revolves around data recovery & data protection and you always need a tool that can perform both the things seamlessly. That is where the above data recovery tools will help you to recover your lost/deleted/formatted data as well as keep it secure like never before.
These powerful, advanced, & reliable tools are the best alternative to EaseUS Data Recovery software so explore every one of them & then choose the one that meets your requirements.
Next Read
Best Data Recovery Software for Windows PC in 2020
Stellar Windows Data Recovery Premium