Losing precious data is undoubtedly a nightmare! In the U.S. alone, 140,000 hard drives crash every week and almost sixty percent of device failures occur due to mechanical failure, while the rest of the percentage are the result of human error. While data loss may seem unavoidable, with proper precautions in place, you can prevent such situations. For starters, you need to be prepared for the unexpected – Backup your system regularly!
You can either use Windows 10 built-in functionality to back up your entire computer in an automated fashion or consider using a cloud storage service like Right Backup to safeguard all your precious files and other data on a cloud safely. If you are frantically looking for a way to recover deleted files from a hard disk or other storage device, try using Advanced Disk Recovery (ADR). It is probably the best file recovery tool in the market right now for Windows users.
Not only the documents, but ADR allows users to restore any type of multimedia file from Recycle Bin, Memory Card, USB Flash Drive, Hard Drive & other external storage devices.
With the result oriented & easy-to-navigate-interface tool, let's explore Advanced Disk Recovery:
Let's Recover Deleted Files With Advanced Disk Recovery
We all know how to undo any command on the system or restore deleted items from the Recycle Bin. However, we go blank when we realize that we cannot recover a certain file from the system or hard drive, due to corruption, human error or any other technical glitch. That's exactly where this Windows operating system recovery tool shines and can help in recovering files from hard drive and other storage devices easily.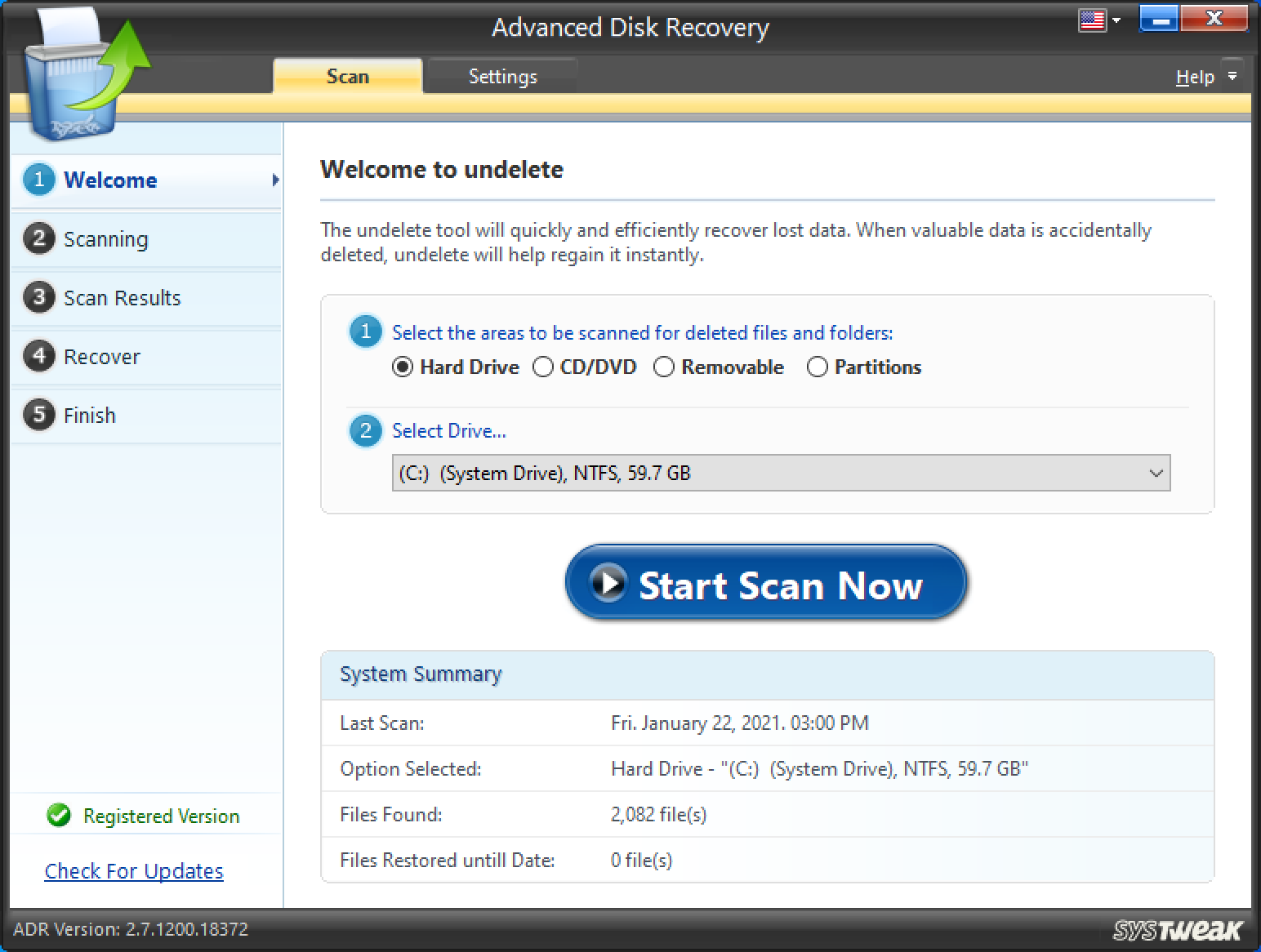 A Systweak product, Advanced Disk Recovery is an expert when it comes to retrieving lost, deleted, missing or even formatted data from hard drive, USB, & other storage media. Just like any other tool designed by Systweak Software, Advanced Disk Recovery arrives with several great features:
Pros
Simple, straightforward & easy to use interface
Deep & quick scanning modes
Recover unlimited amount of data
Supports both internal & external storage
Preview before recovery
30-Days money-back guarantee
Best-in-class customer support
Cons
No compatibility with other operating systems
Click Here to Download Advanced Disk Recovery
Get Your Important Files Back From Hard Drive & Other Storage Media
The one-stop solution, Advanced Disk Recovery is the answer to all your data loss problems. Just in a few clicks, you can have all your missing or lost files back, such as images, documents, audios, text files & other multimedia data. The Data Recovery tool can easily recover unlimited amount of data, & it supports multiple file formats. Additionally, you can run the swift scan on external drives such as memory cards, USB flash drives, SSD and Hard Disks.
Start Scanning With Advanced Disk Recovery Tool
As soon as you install the file recovery software on your Windows system, you can launch the program. From the main dashboard, you need to select the specific area you wish to scan, followed by the Drive letter. Click the Start Scan Now button!
At this step, you need to select the desired scanning mode to quickly recover deleted files from the hard drive or other internal/external storage space. With Deep scan or Quick scan, you can comprehensively scan your PC to retrieve maximum number of files and perform swift scanning, respectively.
Once you have selected the type of scan, click on Scan now & sit back until the recovery tool throws out the results.
Since we selected the whole drive & the results are in thousands, it will be a difficult task to filter out the file we are looking for. So, let's just use the Filter Options (below screenshot) in the tool itself & narrow down the results to exactly what we are looking for.
According to your preference, you can customize the filter settings from (General & Advanced). Once satisfied, hit the Apply button.
Additionally, before retrieving the file, you have the option to Preview the file to make sure that this is the right one.
Once satisfied, hit the Recover button; set the location where you would like to save your file & click OK. Make sure, you do not select the same location, from where your files were lost originally.
You won't believe it but all your precious files will be recovered successfully by the Advanced Disk Recovery tool on Windows in a few moments!
Settings (Advanced Disk Recovery)
After going through the whole process from scanning to recovering your files, docs, or pictures, you went through different phases. & if you think, there would be anything that you wouldn't like or wouldn't do, go to Settings tab just near the Scan tab.
According to your preferences, you can make changes to the Scanning as well as Filter options & maker the whole process customised than ever.
Customizing the settings according to your ways will save time for you & will narrow down the results as well.
Frequently Asked Questions: Recover Deleted Files From Hard Disk & Other Storage Devices
Q1. How Can I Recover Permanently Deleted Files From Recycle Bin (After Empty)?
To get back your files from Recycle Bin, all you have to do is:
Go to the Search bar and type File History.
Choose the very first result that appears on your screen: Restore your files with File History.
Click on the History button. All your backed-up folders will be presented to you.
Select what you wish to have back on your PC and click on the Restore button.
This way you'll be able to recover permanently deleted files on Windows 10 without any hassles.
Note: If the File History Settings aren't configured correctly. This method won't certainly work for you!
Q2. Does Data Recovery Software Really Work?
Yes, Data Recovery solutions are dedicatedly designed to scour the entire drive and locate accidentally deleted, lost or missing data. It joins the bits of files together and provides it in a salvageable file format. You can try using a professional file recovery solution like Advanced Disk Recovery to get your precious files back from hard drive or other storage devices.
Q3. Which Is The Most Powerful Data Recovery Tool?
Well, Advanced Disk Recovery is undoubtedly a top-notch solution to recover precious files and folders. Apart from it, you can rely on EaseUS Data Recovery Wizard, Stellar Data Recovery (Professional version) or Recuva Pro to recover permanently deleted files from hard disk or other internal/external devices on Windows 10.
Q4. Is It Safe To Use Data Recovery Software?
Using a professional & popular file recovery solution is probably the best & safest bet to get your lost files back. Just make sure you read reviews about the product and ensure it has all the essential features to fulfil your file recovery needs. Also, it would be the best to restore the files as soon as possible, before something overwrites the very file you are trying to retrieve from your hard drive or other storage device.
Were You Able To Retrieve Files From Hard Drive Using Advanced Disk Recovery Tool?
Accidental deletion of files on your computer may give you a hard time, however, with the right tools, you don't have to worry about anything. Advanced Disk Recovery is such a tool that will help you recover almost everything on your device from the internal as well as external drives. This Systweak product is dedicated to WindowsOS & is running quite good with satisfied customers.
So, don't wait for a data loss scenario to occur & then look for the tool to retrieve the file. Download the Advanced Disk Recovery tool right away on your PC & never look back again.
Next Read:
Recover Accidentally Deleted Photos From iPhone
Best Windows Recovery Options for Desktop Recovery