Losing data from your computer or laptop is probably like a nightmare. The reasons could be one too many, ranging from hard drive failure to simply hitting that shift+delete button only to realize later that what you have just deleted was critical data. That's when the questions hit your mind – is it possible to recover accidentally lost data? More than anything else, this blog deals with debunking data recovery myths because, in times of emergency, we tend to do things that we shouldn't. So, make sure you go through the blog from start to end.
Windows 10 Data Recovery Myths
Here are some of the common misconceptions pertaining to data recovery –
A File Once Gone Can Never Be Recovered
We are living in an age of technology, where nothing is impossible and recovering data is one such thing. Yes! If you don't act promptly, the chances are you will lose data permanently. Ponder upon this line one again. When you accidentally delete a file, the drive marks the space as free. This is where you need to act quickly and use data recovery software like Advanced Disk Recovery or Stellar Data Recovery which would keep the hope of recovering lost data alive.
A Damaged Hard Drive Can Be Fixed By Taking Matter In Own Hands
One of the most common misconceptions regarding data recovery is that taking matters into your hands isn't risky. The fact of the matter is that a hard drive consists of many critical parts such as a magnetic platter, delicate circuitry, read/write heads, motor, etc. It goes without saying that if you are not trained to handle such components you can easily end up damaging them. Furthermore, components like magnetic platters have to be intact for any possibility of data recovery so that the read/write heads can access data. And, even minute fingerprints or dust particles can completely remove the chances of data recovery.
You Can Recover The Accidentally Deleted File At The Same Location
Restoring files to their original drive may make them irrecoverable. This is why it is highly recommended to choose a different location for recovering accidentally deleted files.
A Data Recovery Software Is A Medicine That Works In All Conditions
While we are all praises for the various data recovery software that keeps the hope of accessing accidentally lost data, there are situations when it's better to hand over the drive to a specialist who further has access to cleanroom labs. In simple terms, there are specialized cleanroom labs that are "pristine clean". And, the professionals working on your hard drive use specialized hardware and software tools with which they treat inaccessible hard disk drives, SSDs, USB flash drives, mobile phones, RAID servers, or any device that is damaged or has data in it.
Another instance, when even a data recovery software can't do anything is when you use file shredder software.
I Do Not Need A Backup Strategy  When I Have A-Data Recovery Software
Even if you have data recovery software or a specialist lab for recovering data, nothing can replace a robust backup strategy. There are several backup software that can help you create a timely backup of all your files and folders that can be retrieved should a disaster such as hard drive failure hits your computer and you are required to re-install the operating system. You should also make it a habit to create restore points from time to time as well.
In case you have lost your data and wish to keep the hopes of data recovery alive (at least to some extent), we recommend immediately installing data recovery software. For instance, you can promptly install Advanced Disk Recovery which is one of the best data recovery solutions available. It helps you recover all kinds of files such as videos, documents, audios, images, and all other kinds of files from your hard drives, USB, and other storage devices.
Also Read: Best EaseUS Data Recovery Alternatives For Windows
How Does Advanced Disk Recovery Work?
Click Here to Download Advanced Disk Recovery
1. Select the area from which you want to recover data.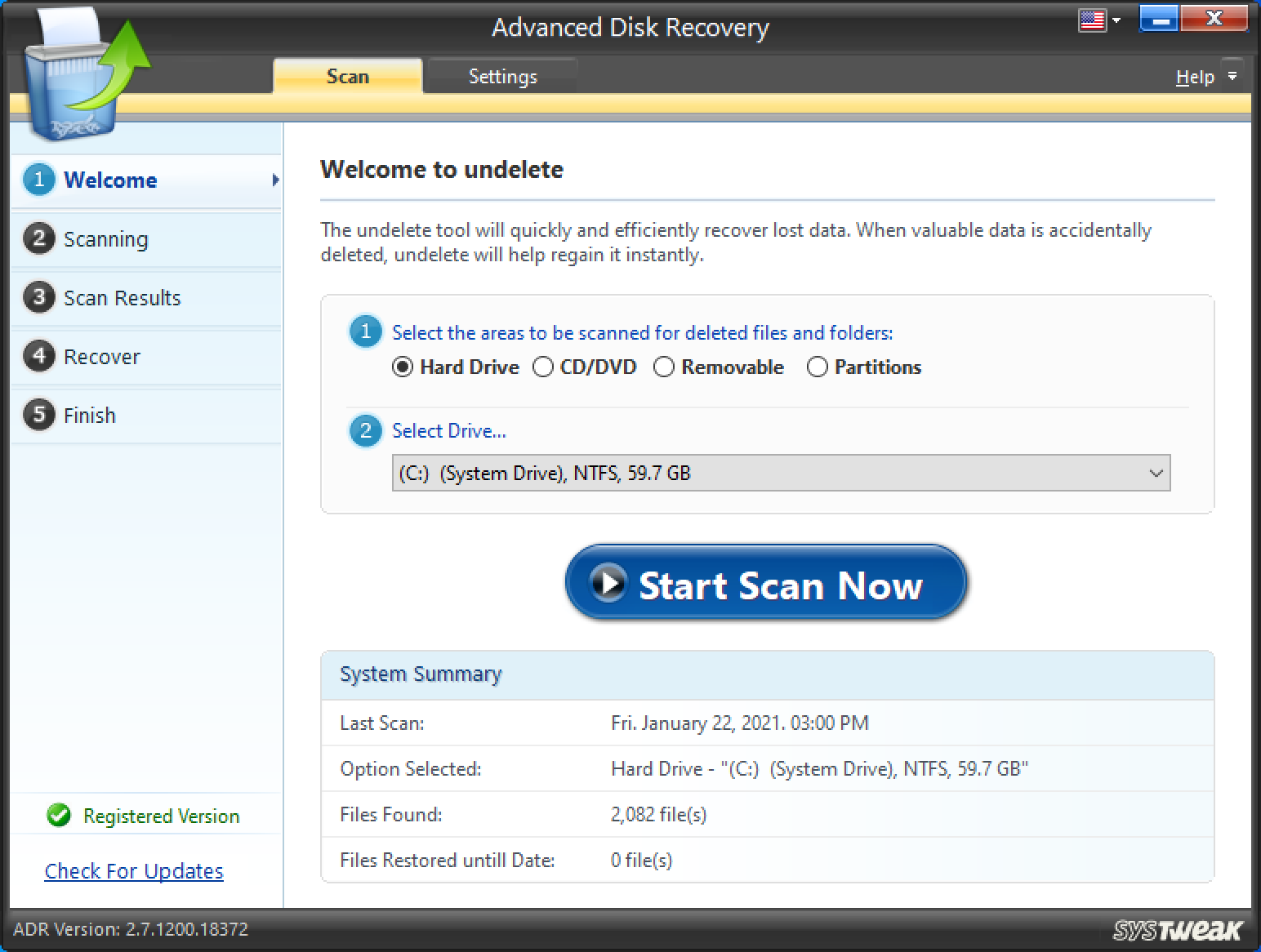 2. Select the drive.
3. Click on Start Scan Now.
4. Choose the mode of scan i.e. Quick Scan (deleted files are scanned at Master File Table level) or Deep Scan (detailed sector-wise scanning is done)
5. Click on Scan now and wait for the scan to finish.
6. Select the file that you wish to recover by clicking on the checkbox next to the file. Click on Recover.
7. Select the location where you want to retrieve the file. But before you select the location, pay heed to this warning.
8. Select a location other than the original location and click on OK
9. Click on Finish
Click Here to Download Advanced Disk Recovery
Wrapping Up:
Even if you have lost data, there are still chances of data recovery. Having said that, it is better not to fall for data recovery myths or try something which would further make it impossible to get back lost data. If you found the blog to be helpful, do give it a thumbs up and for more such updates, keep reading Tweak Library. You can also find us on YouTube, Facebook, Twitter, Linkedin, Instagram, Pinterest, and Flipboard.
Next Read:
Recover Accidentally Deleted Photos From iPhone
Best Windows Recovery Options for Desktop Recovery
Best Data Recovery Software For Mac 2021 – Paid and Free