To carry out tasks on your computer, you need software. It could be playing multimedia content such as videos, photos, music, etc., or cleaning up storage space. One important aspect that we often ignore is updating software. Not only do developers roll out new features but they also ensure that no bugs or vulnerabilities remain. Although most software prompt you as soon as an update is available, there are times when we knowingly or unknowingly discard updates. Also, it might not be feasible to look for updates in software every now and then. That's where a software updater tool can be of utmost help. This brings us to an important question –
Why Do You Need A Software Updater Tool?
First and foremost, unpatched and outdated software are easy for hackers to exploit. Once they are able to exploit the application, they can easily access your system and misuse the data.
1.    Prompt Reminder About Updates
With a software updater program, you won't have to look for updates manually. It will prompt you to update the applications on your computer as and when these updates are available.
2.    Download Updates Safely
A reliable software updater ensures that updates are fetched only through trusted sources so that you also stay protected from malware.
3.    Update Multiple Software At Once
If you have multiple software on your PC, you would otherwise have to go to each software and fetch the update. This would be really time-consuming, isn't it? Enter a software updater. With most such tools, you can select multiple applications, due for an update, and with a single click, you can update all of them.
4.    Create A Restore Point First
Before installing software updates, you can create a restore point. This way, if anything goes wrong, you can always revert back to the old settings.
5.    Exclude Software That You Don't Want To Update
Most utilities let you exclude software that you don't want to update. You can exclude all those applications that you don't frequently use or are about to uninstall.
6.    Schedule Software Updates
Automation is yet another great aspect of many utilities that let you fetch updates. You can pick a date and time to update your favorite programs.
Best Software Updaters To Install In Windows 10
1. Systweak Software Updater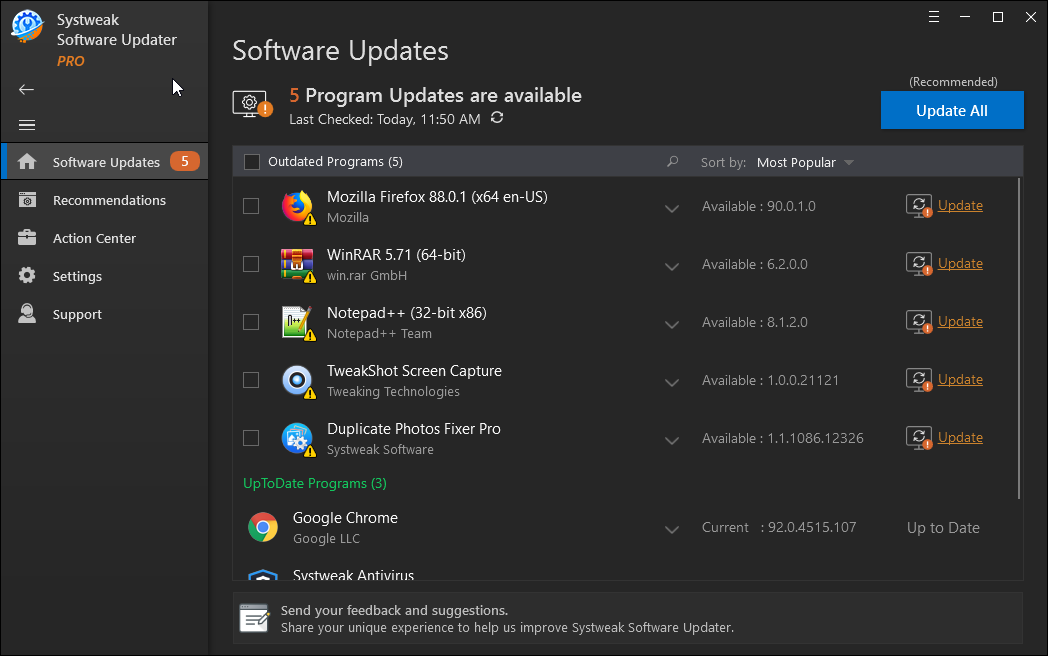 Download Systweak Software Updater
Review on Systweak Software Updater 
First on our list of software updates for Windows is Systweak Software Updater which offers one-click updates for all software on your computer. The application is intelligent enough to sniff any outdated software or patches or anything of that sort. It has a decent, simple, modern, and intuitive interface which makes using it even more fun. One of the best aspects of Systweak Software Updater for Windows is that it gives you the exact details of the update.
Systweak Software Updater scans your PC for outdated software or any updates which are available. You can then choose to install all the software updates or choose individual software and update them. Rest assured that the updates that it installs are 100% safe and genuine.
Even after assuring you genuine and safe updates, you have the facility to create restore points before you update software which makes it convenient for you to revert the changes if you so desire. Plus, you can auto-schedule updates or install updates manually.
Reasons To Get Systweak Software Updater:
Comes with an auto-scheduler.
Ensures safe & secure bulk installs.
Automatically creates a restore point before the update.
2. iObit Software Updater
Download iObit Software Updater
Looking for software that can make it easy for you to update software in Windows, without you having to lift a finger, consider iObit Software Updater which is again the maker of one of the best PC optimization and cleaning tools.
Again, iObit Software Updater enlists the current version of all the outdated programs so that you know exactly how outdated the software on your PC is. With this utility, you can either choose to install software updates for one software or install updates in a bulk.
iObit Software Updater has a huge software database (150% larger) to be more precise. It also helps you carefully select popular and highly recommended software across all the domains such as entertainment, security, productivity, etc.
Reasons To Get iObit Software Updater:
Easy to use software updater program.
No browser needed to get the latest
Recommends other software that deserves a place on your PC.
3. Glarysoft software update pro
Download Glarysoft Software Updater
There are instances when you might be interested in using a beta version of software for the simple reason that it is obviously an updated version of its predecessor. But, here's the fact, it might not be free of problems. You needn't worry about that when you have a software updater for Windows like Glarysoft software update pro.
Again, if it finds that a software has a pending update, it will prompt you and direct you to its download link. Glarysoft software update pro is highly customizable and you can ignore updates if you want.
It is a lightweight software updater for Windows which runs in the background and doesn't affect the performance of your computer.
Reasons To Get Glarysoft Software Update Pro:
Enable or disable beta software scans.
Updates can be ignored as well.
Compatible with older versions of Windows as well.
4. Avira Software Updater
Download Avira Software Updater
If a software utility has been prefixed with Avira, credibility is already established. After all, it is indeed the maker of one of the best antivirus. Avira software updater for Windows swiftly checks your complete Windows computer or laptop for any outdated software and lets you know about the ones that need an update.
In case it finds that software needs to be updated, it gives you the download link. You can then click on the link and install the software update or your Windows. As for the interface, it is simplistic and poses no hassles whatsoever.
Avira software comprehensively checks your Windows computer for software pertaining to Windows itself and the third-party software as well. And., most importantly the software updater tool gives you full control over what software you want to update and when you want to update.
Reasons To Get Avira Software Updater:
Intuitive dashboard, making it a suitable choice for both beginners & pro users.
With just one click, it can list all the outdated apps that need an immediate update.
Highly compatible with all the popular Windows OS versions.
5. Thor Free Software Updater
Download Thor Software Updater
Sick and tired of software updates flashing in your face every now and then? Worry not! You now have all the power in the world (Just like Thor himself) to automate them. With the power of this software updater for Windows, you can hammer any cyber-attacks which a vulnerability can otherwise expose you to.
And, it doesn't just lend a helping hand in updating software but even provides you complete protection when you are looking for new software and apps. It keeps you away from risky and confusing websites, adware, spyware, and even malicious toolbars.
Reasons To Get Thor Free Software Updater: 
Ensures safe scanning, downloading, and updating.
Monitors updates and suggests which ones should be auto-updated.
Pro version, include the ability to detect malware & block websites.
6. UCheck
A software without updates is software open to exploitation and UCheck software updater for Windows from Adlice software is well aware of this. It lets you automatically update and schedule tasks so that your software is always updated and performs to their maximum capabilities.
Compatibility is yet another aspect that boggles users whenever they head on to install a software. In that regard, UCheck switches its roles from being just a software updater but also an analyzer that searches compatible software from its rich database.
Reasons To getting UCheck:  
Ensures fast and bulk installs.
Has an in-built Uninstaller feature.
Comes with a portable version.
7. Software updater esupport.com
This software updater has a very simple interface, so much so that even if you are a beginner and new to the concept of updating software, you will still not find it difficult to get a hang of this software updater for windows.
It lets you focus on updating software without being very flashy or overpowering you with many modules and options. It very clearly lists the current version of outdated software and also tells you what version should it be updated to.
Once you click on the update button and you can then download the update using the setup wizard. The best part, it is free.
Reasons To Get Software updater esupport.com:
Let's you auto-scan for outdated programs.
Easy to see what needs an immediate update.
Works quickly to install most compatible versions from authentic sources.
8. Downloadcrew UpdateScanner
Download DownloadCRew Update Scanner
The software updater utility for Windows lets you check whether the installed software on your system is in need of updating or not. Moreover, it also keeps you updated on the latest software news as well.
Downloadcrew UpdateScanner has a huge database against which it scans all your software and checks if they are updated or not. If there is an update available, it promptly informs you of the same.
And, it isn't that you have to download an update, you can even review it and then decide whether or not to move forward with the update.
Reasons To Get Downloadcrew UpdateScanner:
Capability to install alpha, beta, or newer versions.
Fastest speed to install latest and compatible software updates.
Displays a list of featured products, best-selling software.
9. Patch My PC Updater
Next on our list of top 10 software updaters for Windows PC, includes Patch My PC. The application makes it super-easy for users to understand which apps are already updated and which are outdated with green and red icons, respectively.
Using Patch My PC, you get the opportunity to update all of the old Windows apps in one go. It even gives the option to schedule auto-updates as and when the respective company circulates the new patches. Talking about the dashboard, some users may find it overwhelming to use, but it's not such a significant factor that one should skip the software updater.
It provides tons of settings to enable, disable silent installs, beta updates, and force programs to shut down before updating them. All-in-all, it's a straightforward software updater tool that surely deserves a place in our top 10 list.
Reasons To Get Patch My PC Updater 
Ability to run a schedule for auto-updates.
Supports a plethora of programs and utilities.
Ensures your PC gets genuine & authentic updates.
10. OUTDATEfighter
Comprehensively scans your computer for outdated applications, OUTDATEfighter is a must-have tool to update multiple software installed on your PC. The application ensures that you enjoy the fastest and most convenient way to get the latest and compatible versions from trustworthy sources.
Similar to Systweak Software Updater, this application relies on a strong program database of more than one million entries. Hence, there's a very low probability that you won't find an update for the software installed on your computer. Plus, it allows contributing to enhancing the reliability of the product by submitting new programs for its database.
As far as the user experience is concerned, OUTDATEfighter provides an intuitive dashboard and offers an easy-to-navigate experience for all its tools and options. What's more? The application is considered to be one of the greatest alternatives to the system update module in the Control Panel.
Reasons To Getting OUTDATEfighter:
Comes with an in-built uninstaller.
Provides a reliable & secure method to update apps.
Automatically detects the latest versions of installed software.
Wrapping Up
The importance of software updates cannot be stressed upon. Not only do they ensure your software's impeccable performance but even keep security potholes at bay. So, these were some of the best software updaters for Windows. Do let us know which one is your favorite. For more such tech related content keep reading Tweak Library.
Frequently Asked Questions
Why It Is Important To Update Software?
There are many reasons why it is important to update the software on your PC. Updating software helps fetch new features that developers roll out frequently. By regularly fetching updates you can steer clear of security flaws and vulnerabilities and ensure that the software is compatible with updates that Windows itself rolls out.
Which Is The Best Software Updater?
In the above post, we have compiled a list of some of the best software updaters. Tools like Systweak Software Updater, IObit Software Updater, and many others let you update software with one click and at the same time, keep you informed about the latest updates.
How To Select The Best Software Updater?
When selecting a software updater tool, look for features like the ones mentioned below –
Can you update multiple software with one click?
Is it possible to create a system restore point before installing the update?
Can you schedule updates at your desired time and date?
Is excluding software from the scan possible?
Last but not least, does the software offer a free version?
How To Update Software on Windows?
There are multiple ways you can update the software on Windows. The first and easiest way is to use a software updater tool. The second way is to check the tool itself for any pending updates. You may also check the release notes of the software (these are mostly available on the application's website).
What Will Happen If I Don't Update My Software for Long?
If you don't update your software for a long time, you may run into compatibility issues. It is also likely that your software might malfunction and crash every now and then. And, worse, software that hasn't been updated for long is a gateway for malware attacks.
Recommended Readings:
Solve The Issue Of Software Updates In Windows 10
Why Is It Important To Update Software For Windows Regularly?
Best Free Driver Updater Software For Windows 10, 8, 7