Slow PC performance is one of the most common problems we face while working on our computer. We as a user try our best to understand the issue, however, don't get lucky to get it right in the first place. Sometimes, it can be as silly as incomplete app installation & other times, outdated software.
When it comes to updating the software on Windows PC, we are okay as long as it's happening automatically. The minute this part of the system needs human intervention, we don't know where to start & then everything goes haywire. This is where you need something that won't miss on any update that's been released for your system. Let's discuss Systweak Software Updater & update the software as soon as there is an update available.
Update Windows 10 PC Software With Systweak Software Updater
Without a doubt, everyone is looking for a one stop solution so that we don't have to look around. No one uses the reminder feature anymore as we all have become dependent on things that run automatically. From an auto deduction from our accounts to auto updating our systems, we are surrounded by these concepts. & why shouldn't we? The different tools that help us with automatic solutions have proved themselves from time to time. & the perfect combination of automatic solution & reliable source is Systweak Software Updater that will check for updates for your Windows PC on your behalf.
A simple yet effective product from Systweak is solely dedicated to Windows 7 operating system & later (32 bit & 64 bit). Apart from being the one stop solution for software update, Systweak Software Updater has many features including:
Also Read: Best Disk Defragmenter Tool for Windows PC
1. Software Updates
Once you are all set to use Systweak Software Updater on your Windows PC, let's visit the website & download the ultimate tool. Go ahead with the installation process & put in the registered key to activate the software.
Now that everything has been set up properly, the tool will automatically start scanning through your system. After the deep analysis, Systweak Software Updater will give you the list of software your device has & if they need an update.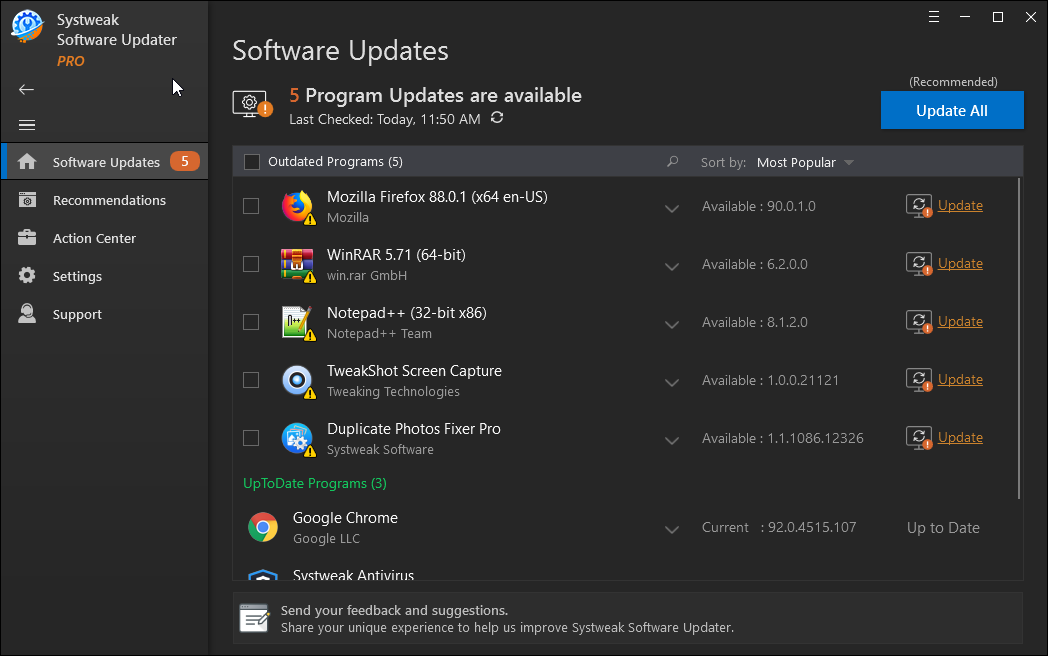 As per the screenshot above, all the software installed on my Windows PC are up to date & don't need an update. Additionally, for different software, the auto update tool gives you detail
about the developer (exact below the app name). Also, Systweak Software Updater displays the current version the particular software is running on.
You can simply look at the top of the list (Outdated Programs) & if it shows any numbers, that means those many software need an update. Simple as that!!
2. Recommendations
Once you have gone through the successful scan & it's been established that your Windows PC software is up to date, Congratulations!! Now is the time to explore the Recommendations tab that is undoubtedly one of the best features Systweak Software Updater has.
According to your system software & a few different algorithms, Systweak Software Updater brings you a list of apps you should have on your device. Just as the name suggests, Recommendations tab has apps from Editor's Choice to Utilities & Tools.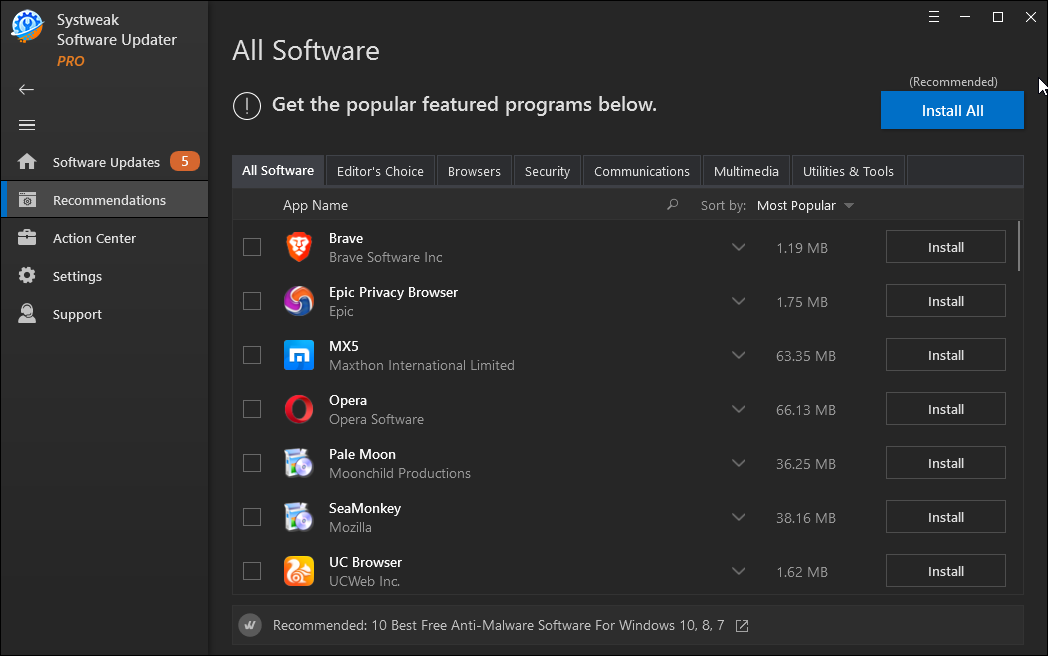 All you need to do is, just narrow down the apps you need on your system & tap on Install (exact right side of the screen). Sometimes, after spending so much time on the internet, we don't find the app we are looking for. & mostly, it asks us to download the app from 3rd party websites that we try to ignore.
So it's better to install the apps from Systweak Software Updater & this goes without say that the app version would be the latest version.
Also Read: Best Free Driver Updater Software For Windows 10, 8, 7
3. Action Center
From system optimization to duplicate photo files & outdated drivers on our system, anything & everything impacts the PC performance. We can't risk that however, since we don't know the actual problem, we can't look for random solutions. This is where Action Center kicks in to help you with almost every issue your PC may have.
Be it driver update issue, duplicate files & photos, system optimization issue, or malware attack, Action Center has got the answer for you. Go through the description of every one of the tools (in the screenshot) & launch/install the one that solves the problem.
All of these products have proved themselves to be the best in their fields & that's why they have been included in the Action Center category.
4. Systweak Software Updater Support
Another important part of the software updating tool that has everything you can ask for about Systweak Software Updater. From why we should use this tool to the different update options & privacy policy, you can find everything under Support.
If you want to change your license key or relook at the refund policy, or as simple as want to view the update history, Support functionality does that for you.
With the most simple user interface & effective solution orientation, Systweak Software Updater helps you in the easiest way possible.
5. Settings
Not that whatever default settings have been set by the service provider would be okay with the user as well. Everyone can have different perceptions about the same thing & accordingly, they set things in their own way. Settings section of this one stop solution for software update tools helps you tweak things in your own way.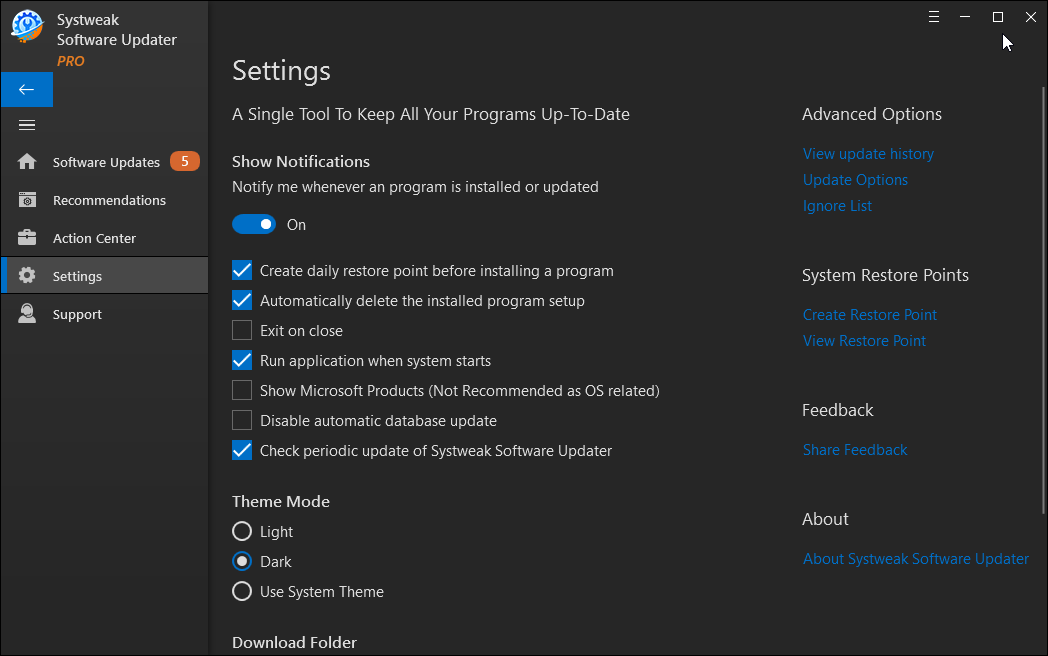 From showing or hiding notifications to using the most famous Dark Mode, start tweaking the settings & have it the way you like it.
6. Restore Point & Feedback
Though updates are quite an integral part of the whole process, sometimes we aren't okay with the latest update & that's absolutely fine. What you need to do here is, to create a Restore Point (if you want to) so if the above nightmare becomes reality, you can go back to the previous state.
Just click on Create Restore Point (under System Restore Points) & go with the process. & if you have created one before, tap on View Restore Point.
& don't forget to share your overall experience after using the Systweak Software Updater tool via tapping on Feedback (right below Restore Points section).
Wrapping Up
Updating the system software is quite necessary & with that, you require something that can offer you other things as well. For example, with Systweak Software Updater, you have got the best app suggestions for your Windows PC (with Installation feature). Additionally, the tool is providing you details about the best in business products for duplicate files removal, system optimization, & whatnot.
So I don't think I will be able to find so many awesome features in a tool that offers me almost everything I can ask for.
Next Read:
Best Disk Defrag Software for Windows in 2020