Are you tired of constantly receiving annoying pop-ups about insufficient memory whenever you try to save or download files on your Windows PC? It can be incredibly frustrating, right? And when you attempt to free up space by deleting files, you realize there are numerous duplicates and similar-looking files taking up precious storage. These identical data not only occupy valuable space but also create confusion & slow down your system.
Manually searching for and deleting these duplicates is not only time-consuming but also exasperating. In this article, we're going to delve into the world of the best duplicate file finder software specifically designed for Windows 11/10 users. We'll explore various options, discussing their features, pros, cons, and pricing, so you can find the perfect solution for your needs.
Why Use a Duplicate File Finder?
Windows lacks a built-in tool for removing duplicate files, but using a third-party duplicate file eraser can help you de-duplicate your collection.
1. Organize Files Efficiently:
Save time by letting a duplicate file remover quickly identify and delete duplicate files, resulting in a well-organized and duplicate-free drive.
2. Scan External, Internal, and Cloud Storage:
Scan not only internal hard drives but also external devices like flash drives, external hard drives, and even cloud storage platforms to remove duplicate files.
3. Boost System Performance:
Duplicate files not only occupy storage space but also slow down your system. Removing duplicates with a tool can improve your system's speed and efficiency.
How To Choose The Best Duplicate File Finder Software?
Look for the following qualities when choosing the best duplicate file identification tools:
Simple and user-friendly interface

Ability to estimate the amount of storage space freed by removing duplicate files.

Supports scanning external/internal drives & cloud storage platforms for duplicates. 

Support for a wide range of file formats.

Ability to preview duplicate files and the option to automatically mark file in each group.

Ability to exclude or include specific folders during the scanning process.

Consider the pricing options & free trial periods, before investing in a premium version.
Selecting a reliable and efficient duplicate file detector will help you effectively manage and optimize your file storage.
Top Recommended Products
Duplicate Files Fixer

Clean duplicates on PC, Google Drive, Dropbox & Mobile.
Supports all popular file formats.
Easy to use interface
List of Best Duplicate File Finders & Removers in 2023
After testing, comparing, and reviewing popular utilities, we've listed the following duplicate cleaners for Windows PC.
So, without further ado, let's get to know their features, pros, cons and more.
In the list below we will take a look at some of the best duplicate file remover tools that you can use in 2023.
Here's comparing the best duplicate media remover tools to use in 2023!
Product
Product Name
Platform
Price for Windows
Ratings
Duplicate Files Fixer
Windows, Mac, Android
From $39.95
4.9
CCleaner
Windows, Mac, Android
From $24.95
4.9
Wise Duplicate Finder
Windows
Free

Pro available from $14.95

4.7
Easy Duplicate Finder
Windows, Mac, Cloud
From $39.95
4.8
iBeesoft Duplicate File Finder Remover
Windows
Free
4.7
AshiSoft Duplicate File Finder
Windows
From $30
4.6
Auslogics Duplicate File Finder
Windows
Free
4.5
Trisun Duplicate File Finder Plus
Windows
Freeware
4.4
Duplicate File Detective
Windows
From $55
4.7
Puran Duplicate File Finder
Windows
Free
4.5
AllDup
Windows
Freeware
4.5
Clone Files Checker
Windows, Mac
From $39.97
4.3
Duplicate Cleaner Pro
Windows
From $29.95
4.8
---
Tip: When searching for duplicates limit your search to user folder avoid scanning system folder as it can negatively impact your PC's working and stability
---
Mentioned below are the best duplicate file removers for Mac and Windows. They not just work on Windows but are also compatible with macOS & Android. This is one of the reasons why we consider them the best and are highly recommended as duplicate file cleaner tools.
#1. Duplicate Files Fixer – Wisest Tool To Identify and Delete Duplicate
Click Here To Download Duplicate File Fixer for Windows
Read Duplicate Files Fixer Review
Compatibility – Windows 11,10,8,7, macOS & Android
Price: $39.95
Size: 15.6 MB
Free Trial: Yes, the free version lets you clean 15 duplicates.
Even with so much competition and various duplicate media remover tools available in the market, Duplicate Files Fixer remains one of the fastest and most reliable duplicate file cleaner software for Windows, Mac, and Android users. It has been recognized by TechRadar for its exceptional performance. With its powerful features and intuitive interface, Duplicate Files Fixer enables users to efficiently identify and eliminate exact and similar-looking photos, videos, documents, audio files, and more from various sources such as Google Drive, Dropbox, and mobile phones.
One of the standout features of Duplicate Files Fixer is the "Custom Scan" option, which allows users to narrow down their search based on specific file types. This feature is particularly useful when users want to focus on cleaning up specific types of files, such as documents, pictures, videos, music, archives, and more.
Highlights –
Accurately identifies duplicates from PC, Google Drive, Dropbox, and Mobile devices.

Find and delete duplicate emails separately. 

Auto-mark feature for effortless selection of duplicate files and folders.

Versatile support for almost all file types and formats.

Efficiently remove empty folders that take up unnecessary valuable space. 

Exclusion list to safeguard important files from being accidentally deleted. 
How To Find And Delete Duplicate Files In Windows 11, 10 Using Duplicate Files Fixer?
1. Install Duplicate Files Fixer by using the button provided below.
2. Drag and drop the folder you want to scan or add folders manually for scanning duplicate files from your PC, cloud storage, or mobile.
You can either choose to scan all types of files by selecting the "All Files" mode or run "Custom Scan" which allows users to refine their search by narrowing down to specific file types such as documents, pictures, videos, music, archives, and more.
3. You can choose to scan your entire computer, Google Drive or Dropbox to initiate duplicate file scanning. Further, you need to sign in with the respective cloud platform, grant access permission to Duplicate Files Fixer & select the location to scan.
4. Additionally, you can consider scanning your smartphone for duplicates via the "Mobile SmartScan" feature. From the same drop-down menu, you can choose to "Delete Empty Folders" and find duplicate emails to reclaim more valuable space
5. Click the button "Scan for Duplicates" to initiate the scanning process.
In a few moments, duplicate and similar-looking files will be displayed in groups.
6. You can either select the duplicates manually or use the Auto Mark feature to automatically mark identical files, saving time & effort.
7. Preview the clone files on Windows and click on the "Delete Marked" button to remove duplicates and free up disk space.
With Duplicate Files Fixer, finding and deleting duplicate files on Windows 11/10 is quick and efficient.
Pros
Uses an advanced algorithm to detect duplicate files.
Powerful scan engine to find and remove delete from every nook and corner of the PC, Google Drive, Dropbox & Mobile.
User-friendly and intuitive tool.
Supports all file types and formats.
Allows users to get rid of empty folders as well to reclaim space.
Cons
It is not available on iPad/iPhone devices.
#2. CCleaner – Awesome Duplicate File Cleaner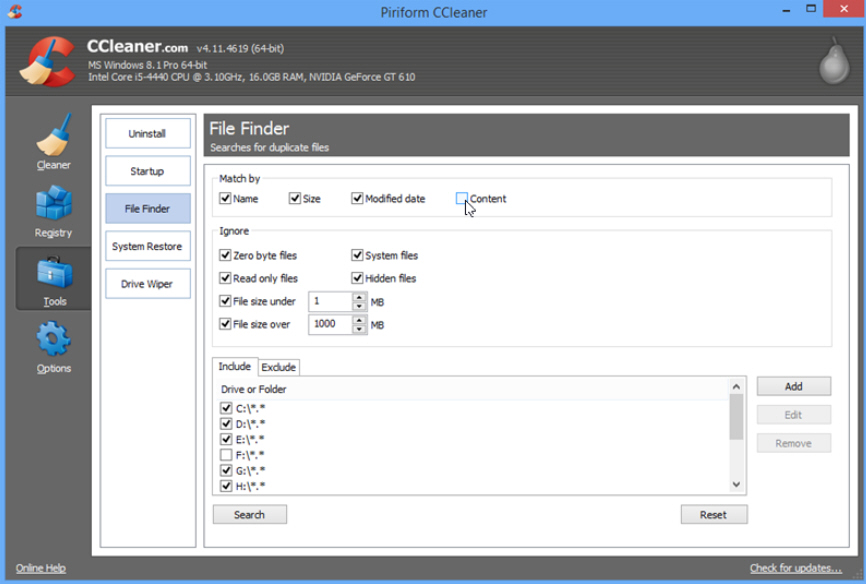 Compatibility – Windows 11,10,8,7, macOS & Android
Price: Starts at $24.95 1 year/ 1PC
Size: 51 MB
Free Trial: Yes, with limited features.
Another popular tool to detect and remove duplicate files is CCleaner. This awesome duplicate file cleaner is easy to use and offers users a custom setting. Moreover, CCleaner scans system files and hidden files, making it one of the wisest duplicate cleaners and removers.
This scans and deletes duplicate folders and files, and also keeps a keen eye on the Windows registry.
To know more about it read a comprehensive review on CCleaner
Highlights–
Help uninstall unnecessary software and duplicate files creating clutter.
Deletes cached passwords and internet files.
Manages system startup to boost booting time and speed.
The pro version offers real-time scanning to scan for duplicate files or extensions loaded on to the web browsers.
How to use CCleaner to clean duplicate data?
Install CCleaner on your device.
Launch the program and navigate to the Tools module.
Head towards the File Finder option, select different parameters for finding duplicates and hit the Search button.
As soon as the duplicate files appear, select the ones you wish to remove and hit the Delete button.
Pros
Installs quickly
Creates backup file before making any changes to the system
Exclusion list to add registry keys from being scanned
Keeps cookies that the program thinks you might need in future
Supports all file formats
Cons
The download page is confusing; it's hard to know if duplicate file remover is paid or free.
Installs additional program unless opted out by the user
#3. Wise Duplicate Finder – Multiple & Similar File Detector
Compatibility – Windows 11,10,8,7
Price: $19.95 (3 PCs/ 1 Year)
Size: 9.44 MB
Free Trial: Yes, limited features available.
An advanced algorithm can easily detect duplicate files, but what about the zero-size files left behind? This clutters the system, and a lot of junk files get accumulated. To help with this problem, we have Wise Duplicate Finder, a multiple and similar file detector that can sort through all unnecessary files and folders and helps recover free space on their device.
The best part of using this fast duplicate finder is its capability to back up and restore files that are deleted by mistake.
Highlights–
Takes a backup of all files before deleting duplicates
Manages any type of duplicates and allows users to automatically or manually delete duplicate files
Scans every nook and corner for duplicate files
Eliminated zero size files
How To Use This Duplicate Media Remover?
1. Launch duplicate file cleaner tool and click Locations.
2. Click Add Folder > browse to the location of the folder that you wish to scan.
3. Alongside, click the drop-down next to the "Locations" option to select scan type.
4. Run the scan, once completed you will see duplicate files listed in groups. Choose the files to delete and hit Delete Selected.
Pros
Easy to use & fast duplicate file remover.
Add files you like to scan and exclude
Select minimum and maximum file size to include in the scan
Multi-lingual
Helps delete zero file size
Cons
Exact match scanning option is time-consuming
Does not offer an option to save scan list
#4. Easy Duplicate Finder – Known For Its Fastest Scan Engine
Compatibility – Windows 11,10,8,7
Price: $39.95
Size: 30.5 MB
Free Trial: Yes, you can remove up to 10 duplicate files with the free trial.
Finding and removing duplicate files has never been this easy. One can quickly locate and scrap duplicate files with personalized and custom scanning options offered by Easy Duplicate Finder. This tool scans all file types, from documents to audio files, video files to emails, and spreadsheets.
It offers a separate scan mode to detect empty files and folders, which helps reclaim precious disk space in no time.
Highlights–
Best for deleting duplicate files from the iTunes account and Windows Media Player list.
Ultra-fast search with 100% accuracy.
Undo button for easy recovery and protecting system files and folders.
Offers 2 subsections – 'Wizard' and 'Assistant' to easily find and remove duplicate files.
How Can You Find Duplicates Using this Duplicate Detector?
1. Launch Easy Duplicate Finder
2. Specify the folder you want to scan
3. Scan for duplicate files
4. Once the scan is completed select duplicate files to remove
5. Press the Trash button to remove duplicate files
Pros
Different options to detect duplicates
Powerful scan engine
Easy to use and customizable
Flexible search options
Uses CRC checksum algorithm to match files by content
Cons
Can scan only 10 groups at a time
Continuous notification to make Ask.com homepage is annoying
The interface is little old
#5. iBeesoft Duplicate File Finder Remover – Simple and Fast Duplicate Remover
Compatibility – Windows 11, 10, 8, 7
Price: $19.95/ year
Size: 9.8 MB
Free Trial: Yes, you can remove 20 duplicate files
Equipped with the latest algorithm to scan hard drives or folders for duplicate files by file names and content. After then, it will select duplicate files intuitively and keep one copy deselected, letting users 1 click to delete duplicate files from both internal and external drives. It's a must-have small gadget for duplicate file cleanup!
Unlike other tools for Mac and Windows mentioned here, it supports over 2000+ storage devices, including all kinds of SD cards, digital cameras, SSD, HDD, etc.
Highlights–
Straightforward tool to find duplicate files from Windows PC and storage devices
Sort out the photo collection quickly by removing the duplicate photos in different albums.
Efficiently tidy up your music collection, remove duplicate songs, and make your playlist unique.
Select duplicate files automatically, letting users delete all the duplicates in a single click.
How to Find Duplicate Files With iBeesoft?
Download and install the latest version of the software on your Windows PC. If you're going to get rid of  duplicate files from an external hard drive, connect it with your PC first.
Launch the tool. Click "+" to locate the folder or hard drive from where you will scan and delete duplicates. Click "Scan."
Wait for the scanning process to finish. After then, you can see the find duplicate files. Select the one you want to delete for preview before any further operation.
Click "Remover" to delete the duplicate files.
Pros
Easy to use
Advanced settings let you filter file types and file sizes to scan
Select duplicate files automatically
Preview files before deletion
One click to remove dupes  is time-saving.
Cons
No option to save the scan list
No portable version
#6. AshiSoft Duplicate File Finder – Must-Have Duplicate Remover
Compatibility – Windows 11,10,8,7
Price: $39.95/ year
Size: 2.9 MB
Free Trial: Yes, with limited features.
Halfway through our list comes to a tool that changes how duplicate files are detected. AshiSoft is one of the best tools that can help you identify duplicate files and delete them. It aims to impress with its powerful search methods (byte by byte and SHA-1 Hash or based on File Properties).
This must-have best duplicate media remover for Windows 11/10, and the remover tool is practical and works on removable media devices.
Highlights-
Selection assistant to sort through files, folders, and groups based on dates and file format.
Place important files in a protected folder tab.
It offers many thumbnail options for better viewing duplicate files.
How to use this duplicate media remover?
Install and launch this best duplicate finder free edition on your PC.
Hit the 'Add Path' button to add several folders or drives you want to scan.
Hit the Search Now button to find and delete duplicate data in a few moments.
That's it! You're all set to enjoy a faster and more organized desktop!
Pros
Multiple supported file types
Identifies duplicates by content
Easy to use
Multiple scanning, searching, filtering, options
Accurately finds duplicate music files
Cons
Not good at scanning subfolders
#7. Auslogics Duplicate File Finder – Best Windows 10 Duplicate File Cleaner
Compatibility – Windows 11,10,8,7
Price: Free
Size: 16.7 MB
Free Trial: Free
Remove duplicate files and get rid of low disk space issues on your PC. This intelligent duplicate file cleaner and remover is free to use and it uses advanced algorithms to compare not only the file name but also the contents to give accurate results. Moreover, this is the best free duplicate file finder tool as it gives you the control to specify file types to be scanned.
It differentiates well between the actual duplicate files and similar ones, ensuring the most accurate results per the user's preferences.
Highlights –
Rescue Center to restore files from backup.
Compatible with Windows, Windows 7, 8, 10 & 11.
Detects unneeded executable files and removes them to recover storage.
Add files by size to ignore the list.
How to use this tool to eliminate duplicates?
Install the latest version of this duplicate media remover software
Select the location from where you want to detect duplicate files from.
Set various parameters of the scan like Matching Criteria, Advanced Criteria, and File Types.
Initiate the scanning process and let this tool  detect all the dupes and select the ones you wish to get rid of.
Hit the Delete button to enjoy a clutter-free collection!
Pros
Free duplicate file cleaner and remover
Fast scanning
Multi-lingual
Rescue center to restore deleted duplicates
Detects duplicate files stored on external media
Cons
Preview not good
Bundled with other unwanted apps
#8. Trisun Duplicate File Finder Plus – Fast & Open-Source Program
Compatibility – Windows 11,10,8,7
Price: $19.99/ PC/ Year
Size: 1 MB
Free Trial: Limited free trial.
When using this duplicate cleaning tool, users can scan their drive to detect duplicate files and can browse and sort through all the duplicate files. This ensures that no important file is deleted even accidentally. Trisun uses advanced algorithms that compare file contents and ensure 100% accurate results.
Users can even configure complex filters to get desired results, exclude particular folders from duplicate scanning, and sort results based on descending order.
Highlights –
Allows scanning for a particular file type.
Retains only one file for every duplicate that is deleted.
Smart selection that automatically marks the duplicates.
Sort results based on size to ensure you can recover maximum space
Pros
Free duplicate file cleaner and remover
Must-have duplicate file cleaner
Customized scan to save time
Cons
UI bit complex
Not as fast as expected
How to use this duplicate remover tool?
Launch the program and select the files and folders to scan.
Run the scan and wait for it to finish.
Press delete to remove all the duplicate files.
#9. Duplicate File Detective – Portable File Finder and Remover
Compatibility – Windows 11,10,8,7
Price: $30
Size: 25 MB approx
Free Trial: 15-day free trial available.
No more wasting time in the long process of deleting duplicate files. With the help of this duplicate file remover tool, one can easily do the same in a faster and more effective manner. This tool has a custom time scheduling option with which one can get an email informing one of the statuses of the number of duplicate files that are detected in a scan.
The main thing that sets Duplicate File Detective apart from all others is that it can display the properties of all the selected files in its report. This ensures that the user is aware that the files marked duplicate are easily visible in the search results report.
Highlights –
Helps move, archive, and remove duplicate files to recover storage space.
Exports end data into MS Excel, PDF, HTML and CSV file formats
Runs on Windows 11,10, 8, 7.
Easy to understand visualization of the file and folder ownership.
Pros
Fast duplicate file finder
Can identify duplicates by content
Different options to select duplicate files
Cons
A bit complex for beginners
#10. Puran Duplicate File Finder – Easy to Use Software to Recover Storage Space
Compatibility – Windows 11,10,8,7
Price: Free
Size: 1.43 MB
Free Trial: Free
Here comes a freeware duplicate cleaner that ensures thorough scanning and cleaning of duplicate files and folders on a hard drive, pen drive, and external storage spaces. This freeware is simple, easy, and perfect for users who do not carry professional data on their devices. It promises fast and accurate results; unlike other best duplicate file finders, free and paid editions are shared here.
It even supports excluding specific folders from duplicate scanning as well. Try it out today, and let us know your experience in the comments below!
Highlights –
Fast scanning to search for similar documents.
Uses a batch fix feature to ensure the user's system is optimized.
Compatible with Windows 7/8/10/11
Pros
Free duplicate file finder
Supports multiple file types and formats
Good at finding duplicate and similar images
Cons
Not user-friendly for beginners
#11. AllDup – Easy-To-Use & Free Tool
Compatibility – Windows 11,10,8,7,
Last but not least on our list is a free duplicate file finder tool named AllDup. This great tool quickly scans and detects duplicate files; it uses a fast search algorithm to find duplicate files such as videos, music, images, and text files. AllDup is an open-source fast duplicate file finder that provides a detailed log of all the actions and ensures more flexibility and better speed than its competitors.
It doesn't matter if the tool is free or paid; it works perfectly fine. Users looking for a simple and best duplicate file finder windows 10 tool should try AllDup.
Highlights –
Searches for identical content based on the file name, file dates, file extension, and other file attributes
Conveniently searches through a wide range of folders and files
Scans for hard links
Scans and detects duplicate images, music files, and videos
How to use AllDup to get rid of useless duplicates & similar-looking files?
Install and launch the latest version of the best duplicate file finder free edition.
Select the file type you wish to scan for duplicates from the source folder.
You need to select Search Method to set the comparison criteria
Hit the Start Search button to initiate the duplicate scanning process.
All the results will appear in alphabetic order. Delete the ones you wish to get rid of!
Pros
Quickly finds duplicate files
Free duplicate file cleaner
Flexible
Offers various options to detect duplicates
Cons
The interface is not user-friendly
#12. Clone Files Checker
Compatibility: Windows 11/10/8/8.1/7
Clone Files Checker is one of the best duplicate file finders for Windows 11 that help you clean and organize disk space. You can also use this innovative software to clear out duplicate files from cloud storage. With this powerful duplicate file remover tool, you can expect more speed & productivity.
It offers a secure duplicate files remover solution to streamline your photo library and overall disk storage by cleaning identical photos, videos, songs, etc.
Highlights –
It offers 1–click removal option to provide % accuracy and speed
With customized scanner option, you can scan specific drives and folders
With quick-fix feature, you can trash unwanted files instantly
It allows you to preview files before deletion
How To Use Clone Files Checker?
Launch the best duplicate file finder for Mac/Windows upon successful installation.
Hit the Add button to add as many folders/hard drive partitions for duplicate scanning.
Adjust the 'filters' to customize the search criteria and initiate the scanning process.
Spot and select the Show Preview button. Sort the results and delete the ones you no longer need!
Pros
Allows delete or move files to free up space
Supports cleaning cloud storage
Allows you to preview files
Export scan results
Cons
Compatibility issues on older Windows versions
#13. Duplicate Cleaner Pro
Compatibility: Windows 11/10/8/7
Duplicate Cleaner helps you find and delete duplicates across all file formats including identical photos, music files, images, videos, and more. It works on a simple and intuitive interface to deliver seamless results. It allows you to refine your search process by giving option to filter files based on file type, file size, date, and more.
Its Selection Assistant feature helps you select files based on multiple factors for quick results. It also allows you to mark files favorite and move them elsewhere. You can view and filter images side-by-side using its built-in image browser.
Highlights –
It offers an easy comparison feature to help you identify duplicate files quickly.
Multiple filters to refine your search process.
It stores "fingerprints" of scanned files in an archive to help you perform a quick re-scan.
This tool can find and delete all types of duplicate files.
How to use Duplicate Cleaner Pro?
Get your hands on the latest version of this fast duplicate file finder.
Launch the program and select the mode through which you wish to scan the PC. You can either select a duplicate or similar image option.
You can include or exclude files according to your choice.
Hit the Start button to initiate the duplicate scanning and wait for the results to appear on your screen.
Delete the files or move them all to a new folder.
Pros
It supports all major file formats to deliver accurate results.
Displays details of selected files before you delete that.
It also allows you to scan the whole network for duplicate files.
Cons
Not suitable for power users
FAQ's –
FAQ 1
What is the best free duplicate file finder?
Based on multiple parameters including safe search, secure cleaning, and fast results, Duplicate Files Fixer and CCleaner are two best tools you can use to clean duplicate files on Windows. You can try their free versions to explore multiple cleaning features.
FAQ 2
How to run a duplicate file finder on Google Drive?
Many fast duplicate file cleaner tools such as Easy Duplicate Finder and Clone Files Checker offer smart solutions to clean your cloud storage. It helps you deduplicate your folders stored on cloud apps like Google Drive. It is a useful feature to save some money while cleaning out unnecessary junk from cloud storage.
FAQ 3
Is duplicate file finder safe to use?
Yes, you can use the best duplicate file remover tools for easiest and safest cleaning of your Windows device. These tools work on advanced algorithms to help you deep scan your device storage to find and remove duplicate files even from the remotest corners of the system.
FAQ 4
How can I clean duplicate files?
The first process to clean duplicate files is the manual process that requires a lot of time & effort. The best solution to delete duplicate folders and files is using advanced file remover tools. These smart tools help you clean all similar and exact match files on your PC.
FAQ 5
What's Your Pick of Best Duplicate File Eraser Tools?
There you have it, folks! As the market gets flooded with the many similarly named and functioning duplicate file cleaner tools, one can be sure that they no longer have to suffer through a slow booting or performing PC. You can use any one of the above-mentioned duplicate file finder and eraser tools to delete duplicate files.
Unlike other sites all the tools we have mentioned are Windows compatible, this might make selecting the best duplicate file cleaner for Windows 11/10 difficult. Therefore, we would like to recommend using Duplicate File Fixer. This is a perfect tool as it is compatible with other devices, has a powerful scan engine, and knows which areas to scan for the duplicate. Also it allows scanning Google Drive and Dropbox a feature that most duplicate cleaners are yet to provide in their tool.
Try it out today!