10 Best Duplicate Files Finder And Remover Software
Every PC has its share of issues. The hardware needs to be kept in proper conditions and software needs to be updated regularly. But, many a times its what's inside that gives the user trouble. This primarily due to duplicate files that clog your hard disk resulting in the low disk space error.
While external drives are quite commonly used, they are merely a means of taking backup of data from computers or work as network drives. They do not help solve the issue of low storage space. In order to rid one's PC of this problem, it is very important that one that a reliable duplicate files finder and remover tool is installed in order to free the drives. This task is easier said than done due to the massive number of files, folder and sub sections in one's PC.
How Can One Delete Duplicate Files on a Device?
While it is next to impossible to delete each and every duplicate file, folder manually, there are many software that help with the same. All one needs to do is choose the best duplicate files remover to have a smoother running PC at their disposal. These software are effective in scanning, detecting and deleting the same in the fastest time possible giving the user a fast working PC with a lot of storage space.
The Best Duplicate File Finders 2019
Mentioned below are several easy to use, yet technologically advanced duplicate file cleaners. They are the best and most highly recommended software in the market.
1. Duplicate Files Fixer
With an extremely simple to use interface along with powerful features, the number one software on our list is Duplicate Files Fixer. This software aims to delete duplicate files from one's device in the fastest time possible. It scans and detects all kinds of file formats like text, audio, video and images like GIF, JPG and PNG. Its key features are:
Amongst the few software that cater to Windows, Mac and Android users.
Scans all files and folders and detects duplicate files. It has a perfect accuracy rate, yet it skips the very important and original source copies.
It auto-marks duplicate files and folders and lets the user browse through them before deleting them.
Takes a backup of all files in case one needs to retrieve a particular file.
Custom scan possible by setting criteria before scan.
Folders of all sizes can be excluded from scanning resulting in a faster scan.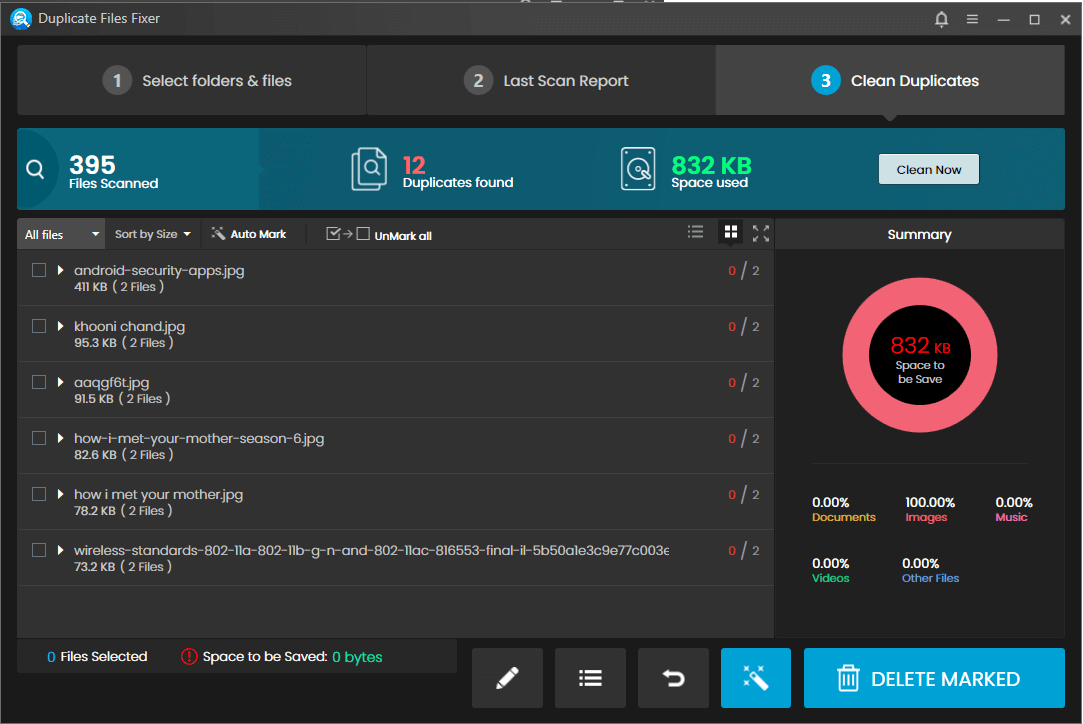 The uniqueness of this software lies in its advanced scan settings. In it, the user can custom mark the file creation or modification date, sort in the file filter which files need to be included or excluded and additionally, determine the path of the deleted files. All this makes for a complete package that deletes all duplicate files on one's device and save disk space.
2. CCleaner
One of the most popular tools in the market for removing duplicate files, this software is easy to use. This software provides the user a custom setting. It skips system files and hidden files resulting in a faster working device. Its key features are:
It removes unneeded files that are stored on your device's registry and even delete and uninstall unnecessary software.
On a PC that is used by multiple users, this tool deletes cached passwords and internet files.
Speeds up one's device booting time by scanning and reducing any unnecessary programs that launch then.
In its paid version, it offers the users the option of real time scanning with which the tool can scan any files or extensions that are loaded on to the web browsers one uses such as Google Chrome, Internet Explorer etc.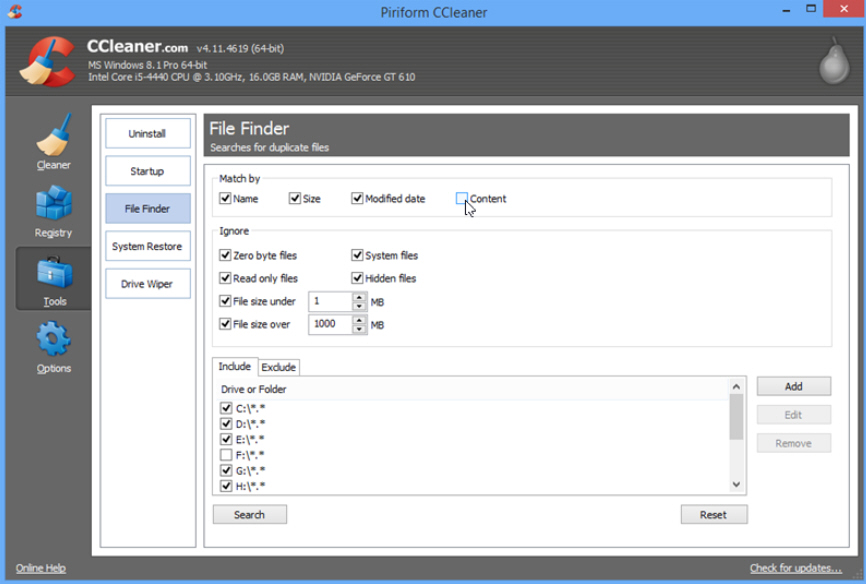 This software has made its mark in the market as one of the most reliable software that not only scans files and folders to remove duplicate files on one's device but also keeps a keen eye on its registry.
3. Wise Duplicate Finder
Has anyone ever thought what happens to the folders from which all duplicate files have been deleted? While they may not take up space on one's hard disk, these zero size files are often cumbersome to the user. Hence, with Wise Duplicate Finder, one can sort through all these unnecessary files and folders and get ample free space on their device. Its key features are:
Takes a backup of all files so that retrieval of a particular file is easily possible.
Allows the user to automatically or manually delete duplicate files. It does so by going through search results and choose which files to delete. If the final number of duplicate files is too large, then the user can automatically delete the duplicate files with a single click.
It sorts through one's entire device and deletes all duplicate files, folders, images and video such as movies or song videos.
This easy to use software is a must have on every device as it helps one sort through and remove duplicate files effortlessly and effectively.
4. Easy Duplicate Finder
With Easy Duplicate Finder, one can Find and Remove Duplicate Files in a jiffy! With personalized and custom scanning, one can use this tool to delete all duplicate files irrespective of their file format. From documents, to audio files, from video files to emails and spreadsheets, this tool covers them all. Its key features are:
Let's users delete duplicate files from their iTunes account and Windows Media Player list. It also provides ultra-fast search with 100% accuracy.
Has an undo button for easy recovery and this fundamentally helps in protecting system files and folders from being deleted.
Has 2 subsections named 'Wizard' and 'Assistant' for easy duplicate file cleaning and its management.
This tool has a separate scan mode only for empty files and folders. This makes it a perfect tiny tool in the list for the best duplicate file finder and removers.
5. AshiSoft Duplicate File Finder
Halfway through our list, comes a tool that changes the way duplicate files are detected. Straight off the bat, AshiSoft Duplicate File Finder aims to impress with its powerful search methods (byte by byte and SHA-1 Hash or based on File Properties) Its other key features are:
Gives users a selection assistant with which one can sort and choose through all the files, folders, groups based upon their dates and file format.
Erases the chance of any deletion of important files by placing them in a protect folders tab.
Gives users a thumbnail option of seeing individual images that pop up in the scan for duplicate files.
This tool is practical and works equally easily on removable media devices such as pen drives, external hard disks, etc. This software shall help all users to keep their data in a neat and organized manner.
6. Funduc Duplicate File Finder
Also known as 'DupFiles', this software undertakes an amazing binary comparison of file contents. So irrespective of the file name, if the content and data are similar, it shall detect them as duplicate files. It's additional key features are:
Scanning can be defined by a particular path, file type, date etc. One can set up parameters in order to scan entire drives or particular path.
Compatible with Windows Vista, Windows 7, 8, & 10.
Sends files straight to the Windows Recycle bin. But, this path too can be changed according to the user's wish.
This tool helps one manage their digital data in the most effective way manner possible. Deletion of duplicate files is its aim and it is quite an effective tool for the same.
7. Trisun Duplicate File Finder Plus
When one scans their drive with the help of this software, the resulting duplicate files list allows the user to browse and sort through all the duplicate files. This ensures that no important file is deleted even accidently. Its key features are:
One can scan for only a particular file type by tweaking the settings. This results in a lot of time saved.
It retails only one file for every duplicate that is deleted. This ensures that the last file remaining does not have any duplicates whatsoever on one's drive.
While there are many duplicate file cleaners available in the market, there few like Trisun Duplicate File Finder Plus. It is a must have software for all your devices.
8. Duplicate File Detective
No more wasting time in the long process of deleting duplicate files. With the help of this tool, one can easily do the same in a faster and more effective manner. This tool has a custom time scheduling option with which one can get an email informing one of the status of the number of duplicate files that are detected in a scan. Its other key features are:
Cleans up disk space by moving, archiving and deleting duplicate files.
Exports end data into MS Excel, PDF, HTML and CSV file formats
Runs on Windows 7, 8, 10 and Vista along with XP.
Provides easy to understand visualization of the file and folder ownership.
The main thing that sets Duplicate File Detective apart from all others is that it has the ability that displays the properties of all the selected files in its report. This ensures that the user is aware of the files that have been marked duplicate are easily visible in the search results report.
9. Puran Duplicate File Finder
Here comes a freeware that ensures that it scans and detects duplicate files and folders in the user's device, hard drive, pen drive and external storage spaces. Managing one's digital data has never been easier than with Puran Duplicate File Finder. Its key features are:
It provides users with a real fast scan of their system and searches for documents that similar in a number of fashion.
Uses batch fix feature to ensure that the user's system is optimized with the deletion of duplicate files.
Compatible with Windows XP/Vista/7/8/10
This freeware is simple, easy and perfect for users who do not carry professional data on their devices. Try it out today.
10. AllDup
Last but not the least on our list is the free software AllDup. This is another great tool to quickly scan and detect duplicate files on one's hard drive. It uses fast search algorithm to find duplicate files such as videos, music, images and text files. Its key features include:
Searches for identical content based on file name, file dates, file extension and other file attributes
Conveniently searches through a wide range of folders and files
Scans for hard links
Scans and detects duplicate images, music files, and videos
This tool provides a detailed log of all the action that it undertakes. Additionally, it is an amazing software that is promising in terms of flexibility and speed. It can easily scan and detect duplicate huge amount of duplicate data in minutes. Users who want to use a simple tool should definitely try AllDup.
Best Duplicate File Finder & Remover Tools To Delete Duplicate Files
There you have it folks! As the market gets flooded with the many similarly named and functioning duplicate file cleaner tools, one can be sure that they no longer have to suffer through a slow booting or performing PC. any one of the above-mentioned tools are going to be perfect for deleting duplicate files.
Additionally, as one can see that the above mentioned are all windows compatible, there is going to be much comparison amongst them. This writer stands by Duplicate File Fixer as it is definitely a perfect tool to help one ensure a proper digital data drives and devices. Try it out today!