Over the time due to several reasons, Mac's storage space gets cluttered. The most common reason of all is the accumulation of duplicate files, photos, videos, music & documents that takes lots of space and slows down the Mac significantly.
Therefore, finding and deleting duplicate files has become more important than ever. The method seems easy, right? Delete duplicate files & free up space!  But how to find those duplicate multimedia files on Mac, when you have hundreds of folders to go through? Well, one of the easiest ways to do so is by using the Best Duplicate File Remover Tool For Mac. Using the right tool will make the entire deduplication process simpler & uncomplicated. So, let's check them out!
Also Read: Ways To Find and Remove Dropbox Duplicate Files on Mac
Tweak Library's Recommendation: Top 3 Duplicate File Finders & Removers
Duplicate File Fixer

Affordable solution to find & delete duplicates.
Hassle-free process, needs no technical know-how needed.

Classic UI, with easy to navigate buttons.

Gemini2

Cleansup all Useless Files
Find Hidden Duplicates
Customize Duplicate Scanning

Easy Duplicate Finder 

Easy to use duplicate file remover for Mac.
Does its job fast.
Flexible scan settings.
List Of Best Duplicate File Finder tools for Mac:
In this post, we've rounded up the list of best duplicate file finders & removers for Mac that will help you organize & duplicate-free your entire storage effortlessly.
1. Duplicate Files Fixer 
Click Here to Download Duplicate Files Fixer
Duplicate Files Fixer is an incredible Duplicate File Finder & Remover Tool For Mac. The tool easily detects and deletes exact & similar-looking images, music, videos, documents and a lot more. Moreover, the software also allows users to scan through a huge collection of clone copies regardless of their format, in just a few moments.
Features of Duplicate Files Fixer:
Helps in recovering valuable disk space on Mac. 
Allows previewing scanned files before eliminating duplicates.
Best duplicate file finder for Mac to identify and delete duplicate images, music, video, documents, and more. 
Scans internal and external storage for duplicate files.
Pros
Affordable solution to find & delete duplicates.
Hassle-free process, needs no technical know-how.
Classic UI, with easy to navigate buttons.
Cons
Free version is the scan only version.
2. Gemini 2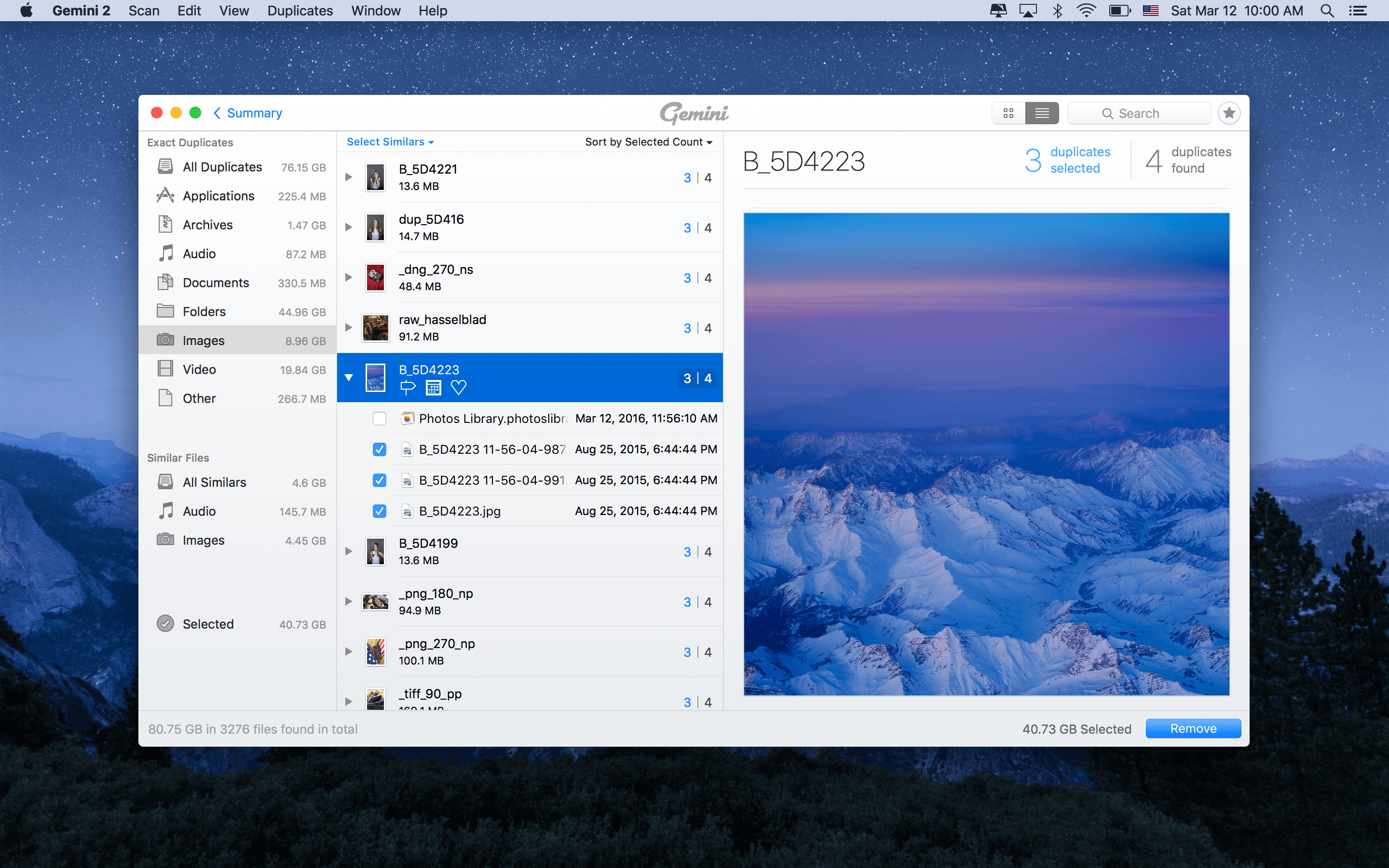 Gemini 2 is an intelligent, smart, effective and useful duplicate file finder tool that detects and delete duplicate files from your Mac. This software is capable of locating and removing duplicate files saved in remote corners of the system. Using Gemini 2 you can also spot alike photos and delete the ones that aren't required. 
Features of Gemini 2:
Cleans up all sorts of useless files.
Finds hidden duplicate wherever they are.
Spots look alike pictures, photo bursts, and more.
Customize duplicate scanning.
Pros
Attractive dashboard.
Works with individual files, folders or libraries.
Suitable duplicate file remover for beginners.
Cons
Expensive solution to find duplicates on Mac.
3. Easy Duplicate Finder 
Want to free up valuable storage space on your Mac without spending much of your time in skimming each folder? Well, try using Easy Duplicate Finder to seamlessly remove duplicate file in Mac. This Mac utility is based on smart technology to search for true identical files & not just the one with the same file name. Easy Duplicate Finder has everything you need to quickly make your storage space clutter free & organized for better productivity.
Features of Easy Duplicate Finder:
Effective for detecting and removing duplicate files on Mac.
Different scan modes for different types of searches.     
Supports internal and external hard drives.
Searches duplicates in iPhotos and Photos.
Pros
Easy to use duplicate file remover for Mac.
Does its job fast.
Flexible scan settings.
Cons
Comes bundled with unneeded toolbars.
4. Cisdem Duplicate Finder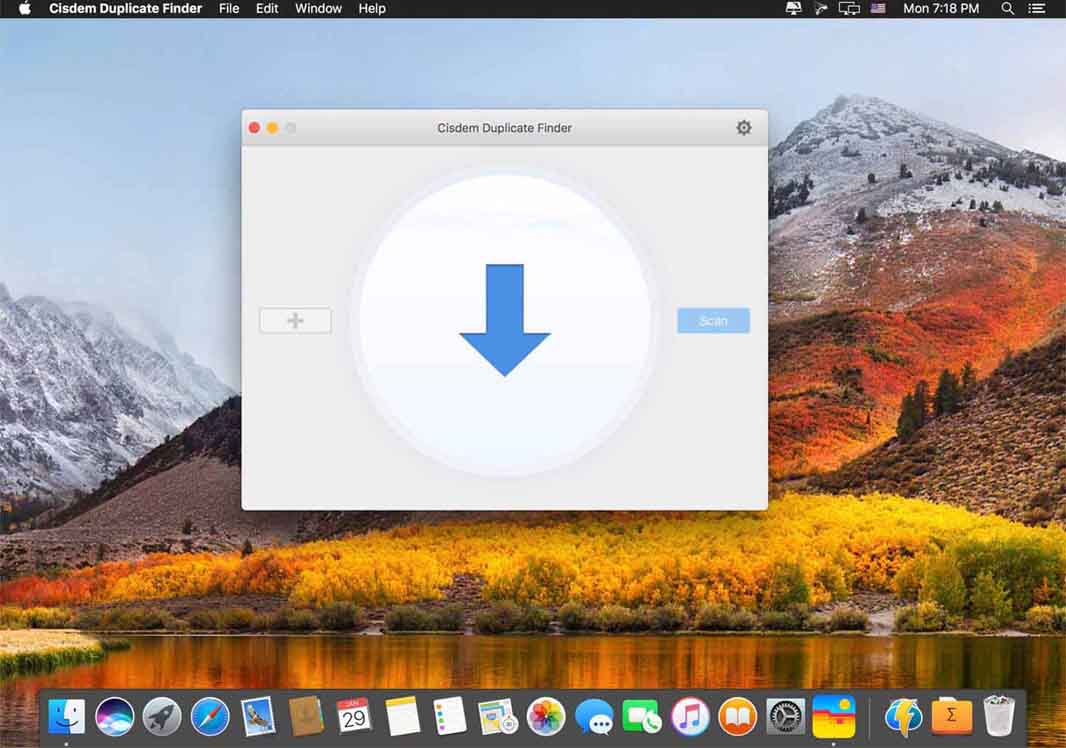 Cisdem Duplicate Finder is one of the best duplicate cleaner tools capable of removing duplicate files from Mac. This duplicate file finder can find duplicate photos, documents, videos, music and other formats under different filenames. Moreover, Cisdem Duplicate Finder gives you full control of your files to get duplicates out of the way. 
Features of Cisdem Duplicate Finder:
Scan and detect duplicates stored on internal and external storage media.
Find duplicates in iTunes and Photos.
Include or exclude specific folders/libraries.
Preview all duplicates in Quick View or open them in Finder.
Pros
Frees up a significant amount of storage.
Smart in automatic selection of detected duplicates.
Well-designed dashboard.
Cons
Lacks warning pop-ups while executing major tasks.
5. Stellar Smart Finder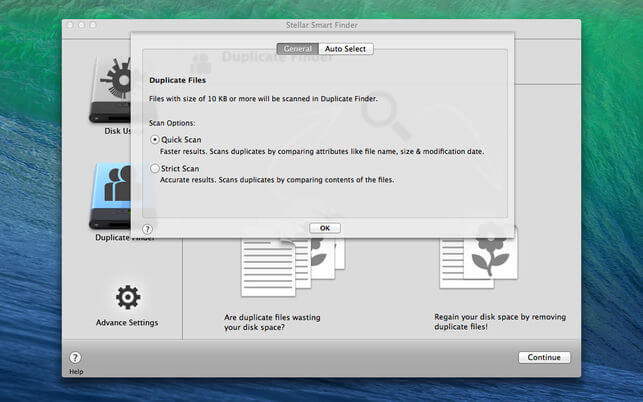 This Mac duplicate file finder utility helps in locating similar and duplicate files, documents, photos. It employs two impressive scanning modules – 'Quick Scan' and 'Strict Scan to extract all the duplicate files present in a Mac volume or any folder and then enables deleting them. Stellar Smart Finder works with Mac OS X 10.11, 10.10, 10.9, 10.8, 10.7, 10.6, 105
Features of Stellar Smart Finder:
Creates free space.
Shows the file path, size, and date of creating, etc. 
Works with external storage media.
Graphical view of folders and drivers.
Pros
Comprehensive tool to find & delete duplicate files.
Suitable for both novices & pro users.
Beautiful user interface.
Cons
Depending on the amount of data, scanning can take time.
6. Duplicate File Finder 
Duplicate File Finder is an exceptional utility to find duplicate files on Mac.  The duplicate remover helps to eliminate unwanted space hogging replica files in just a few minutes. Using this tool, you can easily remove a variety of duplicate files in just three easy steps. Furthermore, you can preview all the detected duplicate photos, videos, documents, music files & more before deleting them from your Mac.
Features of Duplicate File Finder:
Quickly find duplicates stored on any media.
Easily identifies similar and exact duplicate files.
Allows you to choose a complete photo library or a particular folder for scanning.
Skip a specific folder or file type from search
Pros
Scans very quickly.
Detects & deletes a fair number of duplicates in one scan.
Exclude option available.
Cons
Folder selection sometimes gets inconvenient.
7. Duplicate Detective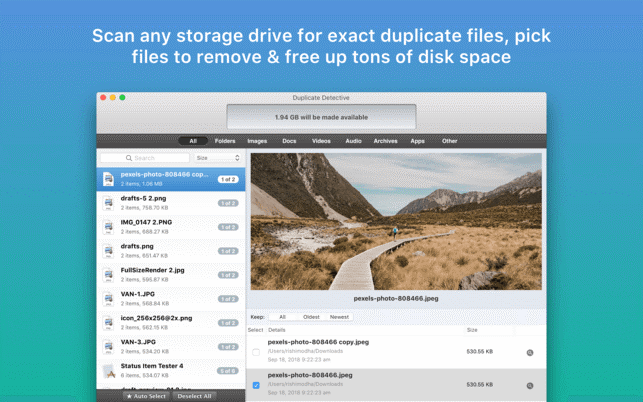 Duplicate Detective helps to easily remove duplicate files on Mac. As this tool scans your hard drive to find all the duplicate files and folders stored on your Mac. It is an intuitive software designed to recover free space to make a room for fresh content. Using Duplicate Detective, you can select which duplicates to delete.  
Features of Duplicate Detective:
Robust scan engine.
Filter & sort duplicate depending on the file name, size, and type.
It supports double-check verification screen feature.
Locates duplicate images, audio, archives and more.
Pros
Simple & easy to use UI.
Provides accurate identification of dupes.
Affordable duplicate file remover.
Cons
No extra flashy features are available.
8. DupeGuru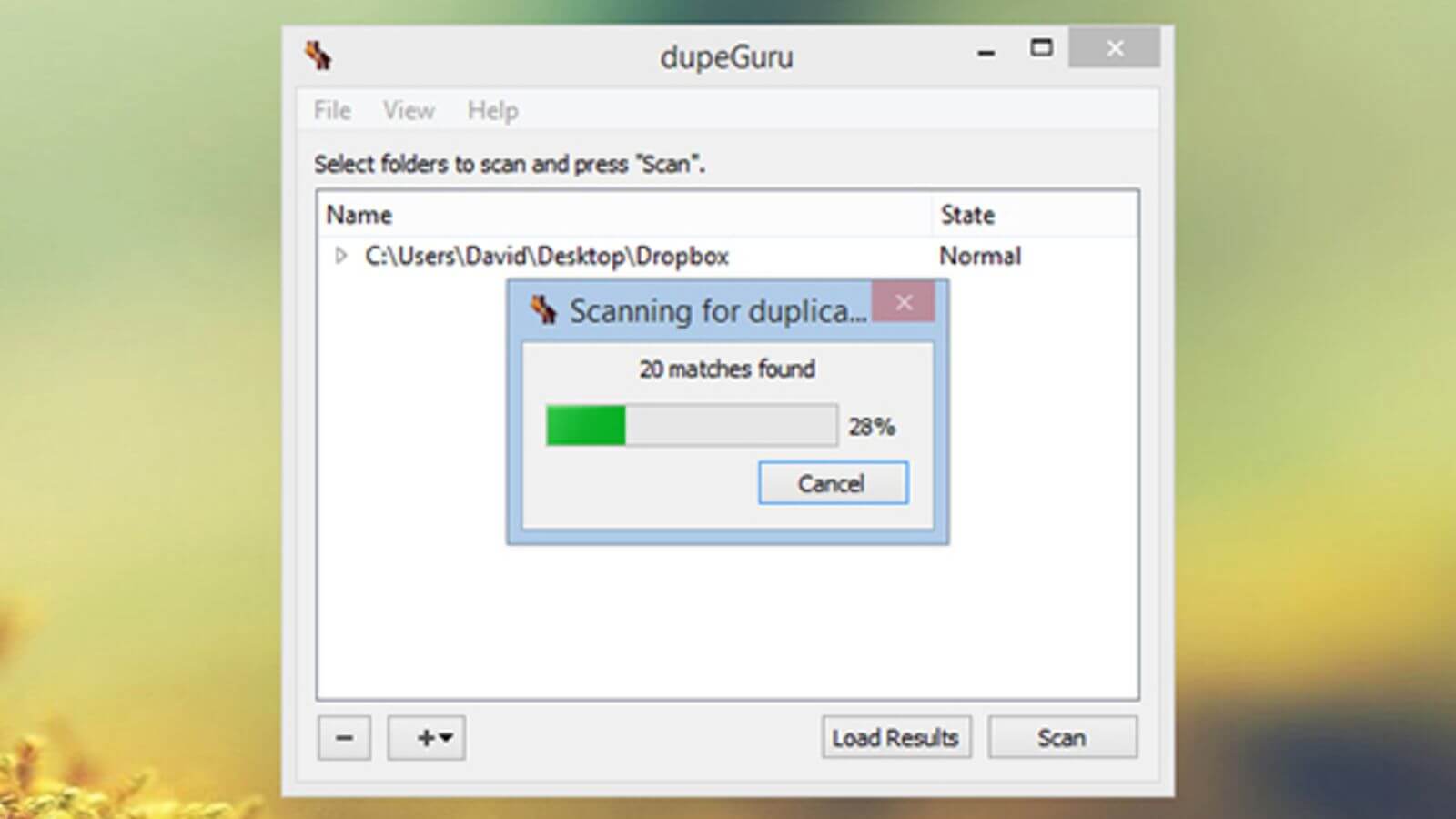 dupeGuru is a cross-platform tool that will help to find and remove duplicate files on your Mac. It scans either filenames or contents. For this dupeGuru best Duplicate File Remover Tools For Mac uses a fuzzy matching algorithm that helps to find duplicate filenames even when they are not similar. 
Features of dupeGuru:
Efficient duplicate finder tool for Mac.
dupeGuru is customizable.
Finds filenames that are the same, but also finds similar filenames. 
Compatible with OS X 10.8 or later.
Pros
Highly compatible with all Mac versions.
Accurate identification of duplicates.
Runs quite fast to detect exact & similar looking files.
Cons
UI can be upgraded with time.
9. Tidy Up 5 
Tidy Up! is a modern, efficient, and totally customizable tool that supports Lightroom, Photos, iTunes, Mailes, Aperture, and iPhotos. This tool organizes the results on the basis of file types – music, image, PDF, etc. This duplicate file remover for Mac is based on tab separation and each tab has its own settings.
Features of Tidy Up! 5:
Fantastic duplicate finder for Mac.
Preview of the file. 
Comes with a search mode called Simple Mode, with 80 predefined smart searches.
Shows preview of detected files by file type. 
Pros
Plethora of features comes with this duplicate file remover.
Syncs well with all your Apple devices.
Significantly improve stability & performance for Mac.
Cons
Complicated to use than other duplicate cleaners for Mac.
10. Duplicate File Finder Remover 
Duplicate File Finder Remover is a free duplicate file finder software for Mac designed to locate and delete duplicate files on Mac that includes images, audio, video, song, documents, and archives. To use this free duplicate finder tool for Mac drag and drop images in the tool.
Features of Duplicate File Finder Remover:
You can merge similar folders.
It comes with a rapid scanning algorithm.
Easily locate duplicate files and folders.
You can review selected replica files before eliminating them.
Pros
Advanced duplicate file cleaner.
Dedicated options to find duplicate files, images, music & more.
Easy to use duplicate remover.
Cons
Little complicated dashboard.
So, these were the best duplicate file removal tools for Mac. We hope you get the answer to how to delete duplicate files on Mac after using any of the listed tools. Say goodbye to space-hogging replicas with these best duplicate file cleaning tools. 
Along with this, if you are looking for optimization tools with duplicate file cleaning feature. Here we've listed them for you.
1. Disk Drill: Data Recovery and Duplicate File Finder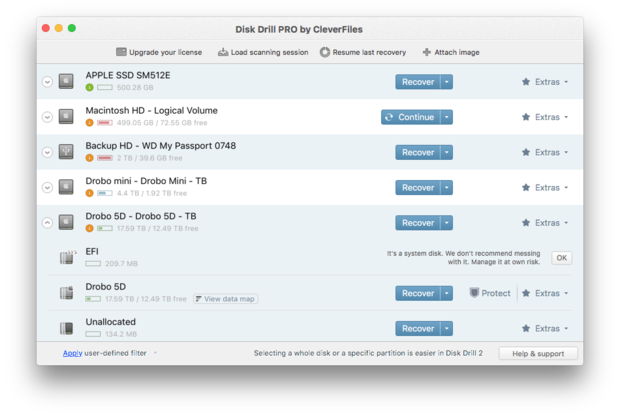 Disk Drill is not only about data recovery on Mac. It is a multi-functional tool that helps in finding duplicates, backup your data, monitor disk health and more.
Features of Disk Drill:
Easily detect and delete duplicate files
Recover lost Data
Restore data on any internal or external storage.
2. MacBooster 7: Performance Booster and Duplicate File Cleaner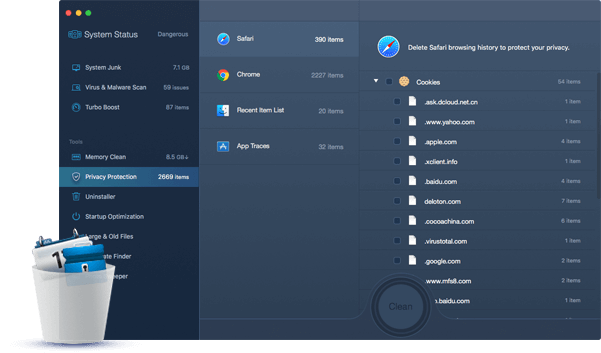 MacBooster 7 developed by IObit is a great Mac performance booster app that helps to free up space, clean up duplicate files, clean junk files, optimize memory and more.
Features of MacBooster:
MacBooster helps to locate large and old files that take unwanted disk space.
Provides with an easy and powerful uninstalling feature.
Helps remove duplicate files and photos.
With these tools, you can optimize your Mac and get rid of duplicate files. We hope you enjoyed reading the article. Do not forget to comment and let us know which tool you prefer to use and why? 
Frequently Asked Questions: Best Duplicate File Removers (2023)
Q1. Which Are The Best Duplicate File Cleaners Available For Cross-Platforms?
Watch this quick tutorial to find a complete list of options to find and delete duplicate photos, videos, documents, music & other multimedia files on Windows, Mac, Android, iOS .
Q2. Why Are There So Many Duplicate Files On My Mac?
There are a variety of reasons why your Mac gets clogged with duplicate photos, videos, documents & other multimedia files.
Let's say you forget you have the photos or files on your cell phone already and you have re-imported them once again on your device. 
You go out and shoot, you take several shots of the same subject from different angles just to make sure you get the best shots possible. However, end up with a number of similar-looking pictures.
Same files or pictures are shared multiple times over WhatsApp or email.
You have multiple backup sets of your cameras or devices on your Mac.
The same folder is copied to different locations on your Mac.
A number of external drives attached to Mac having the same folders in each one of them.
Renamed the same media files with different names.
Importing bugs.
Q3. Which Is The Best Duplicate File Finder & Remover Software For Mac?
We recommend using Duplicate Files Fixer if your storage space is clogged with unnecessary duplicate photos, videos, music files, documents & other files effortlessly. The tool is based on smart algorithms that ensures no identical or similar copies of the same files are left behind.
Recommended Readings:
How to Find and Delete Largest Files & Folders on Mac
Mac Not Starting Up: Possible Fixes To Know!
Ways To Speed Up macOS Catalina And Improve Performance