10 Best Mac Cleaner and Optimizer Software (Free & Paid) 2020
Try these Best Mac Cleaner apps to boost system performance in no time.
Your Mac is loaded with files and folders and chances are lot of them are duplicates, caches or unused. All these copies and duplicates are taking up space of GBs in system making Mac disk run low on storage.
But, what's the solution? The solution is Mac Cleaning Software. It optimizes your disk space, removes all the trash including caches, duplicates, and unused files too.
Now, the question arises, which Mac cleaner app is the best? And how will it clean my Mac? There are hundreds out there that all offers to do the same thing. Clean up your Mac and free up much-needed space. But before you go to your downloads folder and all of your precious photos, here are the top ten picks for the Best Mac Cleaning Apps and Software.
Best Free Mac Cleaner Apps 2020
Check out the list of 10 Best Mac Optimizer Software. Choose the one that suits your needs and help you optimize your machine for an amazing performance.
1. Smart Mac Care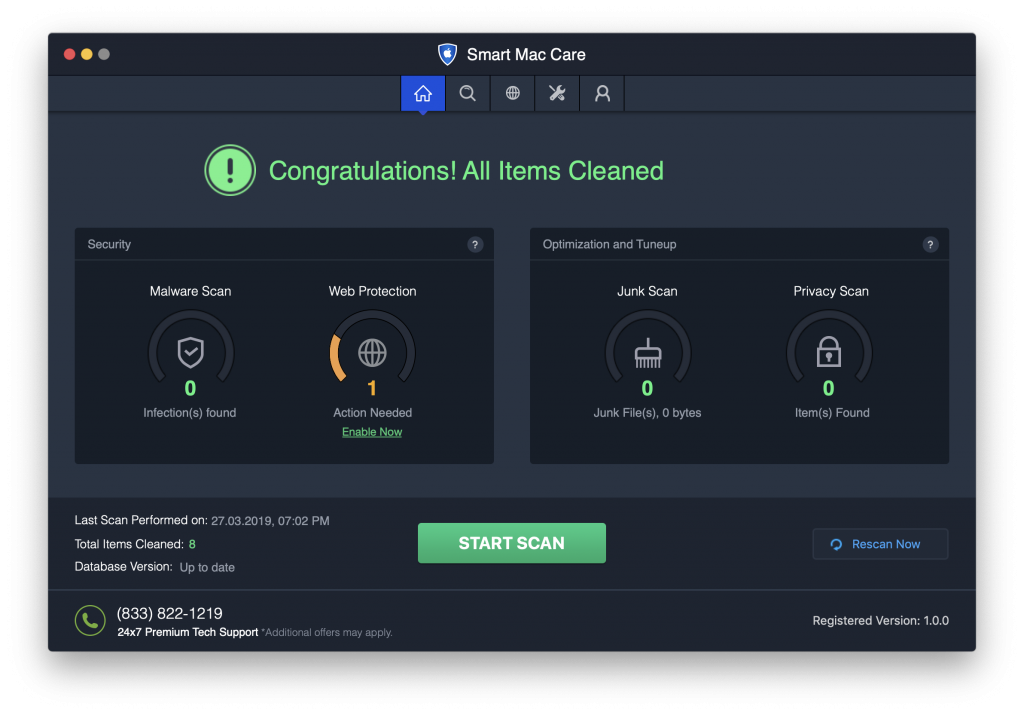 Smart Mac Care is the youngest yet the most powerful Mac Cleaning Software present in the market today. The tool is not only equipped with all the cleaning features like Junk Cleaner, cache/logs remover, but it has different malware scanning modules to make sure no spyware, adware or other threats can harm your computer. It also has a Privacy Scan feature that shields your sensitive information in a secure vault. It also offers some advanced features like Uninstaller, Duplicate Finder, other tools to boost system performance.
2. CCleaner

As you may have guessed from the name CCleaner – the Mac cleaning software is all about clearing out the junk on your computer. All over you can definitely get some junk on your Mac that can definitely slow it down and of course it will eat up disk space and processor. Unlike other Mac cleaning software, it offers customizable cleaning features for Safari and Firefox browsers, so that you enjoy the super-smooth performance. So, using this Mac optimizer tool is a great way to keep your machine organized and clean.
This Mac cleaner app has three versions that are free, professional, and professional plus. In free version, the app only comes with features like privacy protection and faster computer.
3. MacBooster 7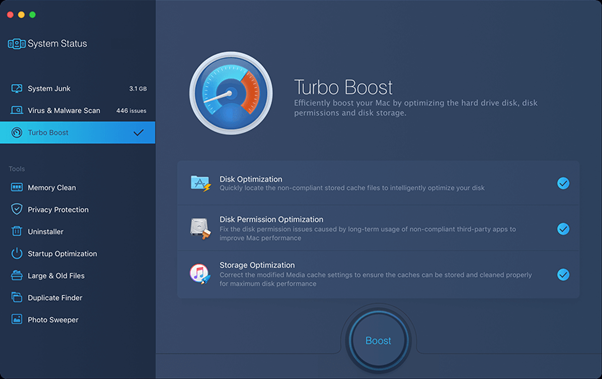 MacBooster is another efficient software designed with advanced algorithms to speed up Mac. The tool has a plethora of features to identify and fix various Mac storage issues. It offers an impressive Performance Boost features that let users speed up Mac at the next level. Apart from being an efficient Mac junk cleaner, it offers plenty of options like Duplicate File Finder, Memory Optimizer, Startup Manager, Uninstaller and more. It also offers multiple clean-up tools to declutter your machine.
4. Dr. Cleaner Pro
Trend Micro Dr. Cleaner Pro is the best Mac cleaner app used for optimization of disk storage. By using Dr. Cleaner, you can clean your Mac and identify apps that use a significant amount of memory and optimize them with just one click. This Mac cleaner software allows you to delete junk files like caches, logs, etc.
It's easy-to-use interface makes it one of the best Mac cleaner tool to navigate & manage all your files at one place. It has a feature like TuneupMyMac in that you can identify and delete duplicate files and their whole content.
5. TuneupMyMac

TuneupMyMac is on the first position in this list of best Mac cleaning software and applications. It has one click cleaning system that includes system cleaner, which will clean your cache. Logs cleaner and App Optimizer saves your disk storage by cleaning the logs and optimizing apps to minimum usage respectively. You can also remove unused language packs that are taking up your valuable disk space. This is an essential feature which most other Mac junk cleaner software skips.
The Optimization module consists of Duplicates Finder, Uninstaller for applications, and Startup Apps manager. Last but not the least this software comes in with a Shredder where you can delete files and folders permanently that will be unrecoverable once you delete them. You can even do the cleaning manually in Manually Cleaning option. This option includes Internet Privacy that ensures your data safety, Misc Cleaning that allows you to remove old mails and music files, and Large Files gives you data about the bulky files that occupy GBs of space in your system. All in all, this software is rated as the best Mac cleaner with all-in-one features to save your disk storage.
6. CleanMyMac 3
CleanMyMac by MacPaw is one of the most popular and best Mac cleaners. Its super-fast scanning engine makes sure that every inch of your system is wiped and optimized. It boasts powerful features to remove gigabytes of junk in a few clicks. The Mac Optimizer is an amazing solution for speeding up mac. The software is compatible with OS 10 Yosemite and above versions. Its intuitive interface makes it an ideal Mac cleaning software for beginners. The tool offers one-time free scanning and cleaning so that users can decide whether they need to spent bucks on the paid version or not.
Also Read : Common MacBook problems and how to fix them
7. DaisyDisk
Next on the list of best free Mac cleaner is DaisyDisk. What this application does is it looks for duplicate files within folders that you can scan within discs. As soon as you press scan it will pop up the chart that tells you how much memory is being used and how much size each folder is occupying. You can delete folders permanently by just one click.
The Mac optimizer is designed with smart algorithms to find and remo0ve duplicate files and free up disk space for better performance. Download this Mac cleaning software to keep your Mac running faster and updated.
8. Disk Doctor
Meet another leading Mac cleaning software that has been awarded as 'Mac Gem' by MacWorld in 2013. The tool is equipped with useful tools to declutter your Mac machine by removing unwanted junk files. The Mac optimizer allows users to analyze where all the memory is used up. The interface is quite easy-to-use, and all the buttons are clearly labeled. Once the scan is done it breaks up the storage in various categories that include caches, applications, logs, browser data, and trash can. With a few clicks, you will be able to free up your disk space.
9. MacOptimizer Pro
You saw this coming, right? Our list of Best Mac Cleaner software would remain incomplete without mentioning MacOptimizer Pro. The name is quite popular in developing several Mac optimization utilities. The software is designed to check your entire system to remove all the files and residues that are making the machine slow. This Mac cleaner is comparatively faster and more efficient than most of the products out there. It assists you in cleaning and organizing your machine. This Mac cleaner is comparatively faster and efficient than most of the products out there.
10. OnyX
Meet another candidate for the best Mac cleaner software available in the market to optimize your machine's performance, OnyX by Titanium Software. It features all the basic maintenance and optimization options to help you keep your Mac running smoothly and efficiently for the long run. It is completely free but you cannot get in on app store, download here.
It is an operating system specific application meaning if you have different version of iOS then there are various versions of OnyX according to your OS version. This storage cleaner has a feature of automation that includes verifying, maintenance, rebuilding, and cleaning.
Visit Here: Best Image Editor for Mac
How To Clean My Mac Manually?
Cleaning your hard drive is by far the best and easiest way to speed up mac. Figure out what things can slow down your Mac machine? Caches, logs, background apps, plugins, junk files, hidden trash, and other residues. Though taking help of a Mac cleaning software would be the best bet to get a grid of all these issues at one place. However, if you have enough time then you can follow the steps below to clean your Mac.
First, start by emptying your system trash – just CTRL-click the trash can in the dock and hit Empty Trash button.
Clear download folders and other residues – open up Finder > Username/Downloads > Go through the files you don't require anymore & start removing them.
Remove old disk images – as you might already be aware the Mac uses disk images to install files. So, there might already be plenty of random disk images scattered all over your system, simply slowing down your PC. To clean them, go to Finder > All My Files > enter Disk Manager into the search box > locate & delete all the DMG files that are hidden on your machine.
Get rid of login items – go to System Preferences > choose Users & Groups > Head towards Login Items tab > start deleting items you don't want to startup at the system launch.
The Internet-related junk occupies the largest space on our Macs. To get rid of those space-hogging files, launch Safari > Develop > hit Empty caches. If you're using Chrome, click on the hamburger icon > More tools > Clear browsing data.
There's a never-ending list of items from where you can clean your Mac. But if you want to optimize Mac performance for super-smooth running, use a dedicated Mac cleaning software that features all the cleaning and optimization modules.
Wrap up: Choose The Best Mac Optimizer Tool For You
This was all! These are the Best 10 Mac Cleaning Software that will optimize your disk space and will let your Mac run smoother. Download now by just clicking the given links. All the products are authentic and legal.
If you find this helpful, please do let us know about it in the comment section given below. You can also drop your feedback and queries by connecting with us on our social media handles.
Have any other queries or feedback? Connect with us on our Facebook Page & Subscribe to our YouTube Channel!