Table of Contents
There could be software for photo editing, removing duplicate images and files, data recovery, PC cleaning and optimization, data backup, VPNs, antivirus, software applications for playing music, viewing pictures, video and image compression, so on and so forth. For the sake of their smooth functionality and security, you need to update software for Windows, Mac or any other operating system you are running on your computer.
Do You Postpone Software Updates For A Later Time? Please don't!
Oftentimes, we receive pop-ups from software on our computer, prompting us to install the updates that are rolled out. But, instead of actually installing them, we hit the cancel button. We often delay the updates for a later time. Though you can update a software application manually, you should fetch the update as soon as it appears, before you get in harm's way!
So, what exactly are we talking about? Let's have a look at some of the reasons why software updates are so important.
How Can I Easily Update Software For Windows?
Over the course of this blog, you will understand the importance of updating software applications regularly, but first, let's have a look at how you can easily update software.
Most software applications come with a dedicated module or setting through which you can update it manually. Also, as soon as a new update rolls out, the software itself notifies you to install the update and get the latest version. For this, you are mostly required to have an active internet connection.
Now, in case you missed an update or accidentally clicked on the "No" option and are clueless about the software you missed an update for, you can take the aid of a third-party tool like Systweak Software Updater.
What is Systweak Software Updater?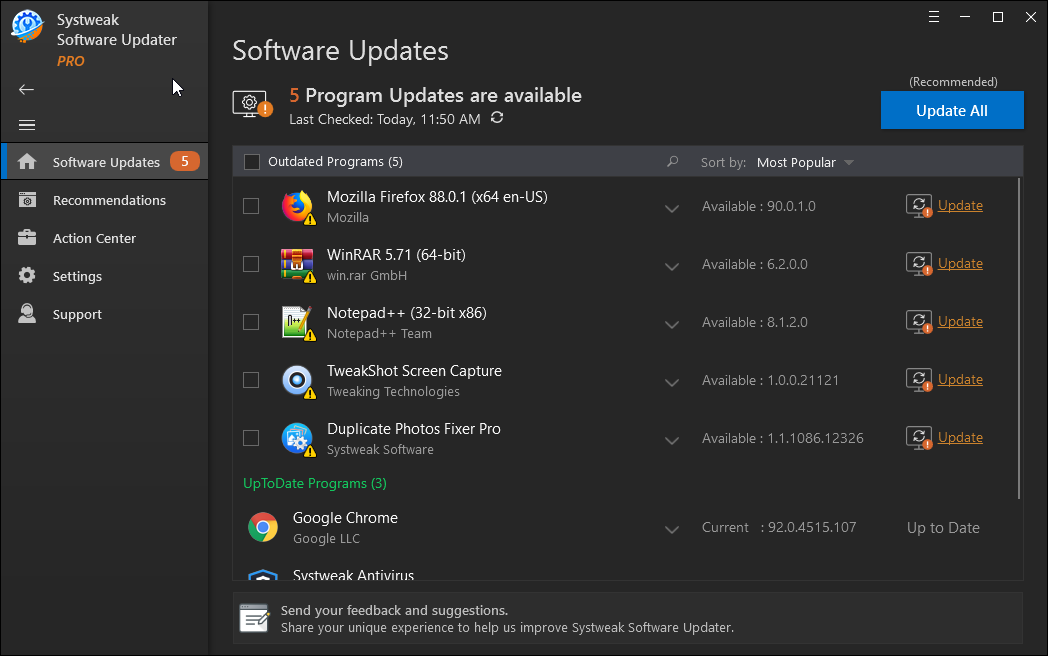 Read Full Review of Systweak Software Updater 
Systweak Software Updater is possibly the best way to keep all the software and applications on your Windows computer or laptop updated. It scans your PC for outdated applications and helps you install safe updates with a mere click.
What Makes Systweak Software So Special?
Short file size. Systweak Software Updater takes just 6.4 MB worth of space on your computer
You needn't look for individual software for updates, Systweak Software Updater does that for you
Systweak Software Updaters even makes you aware of the latest version of the application
It installs genuine updates that are safe and which are sure to enhance a software's functionality
You can see the real-time progress of software being updated right in front of your eyes
You can create a restore point before updating the software so that, should anything go wrong you can fall back on the restore point
Schedule software updates as per your wish or you can even enable the Auto-scheduler option
How To Update Software In Windows 10 Using Systweak Software Updater?
1. Download and install Systweak Software Updater
Click Here to Download Systweak Software Updater
2. From the right-hand side click on the Start Scan button
3. From the list of software applications that need an update, you can either click on the Update All button to update all software or check individual boxes next to a particular software to update it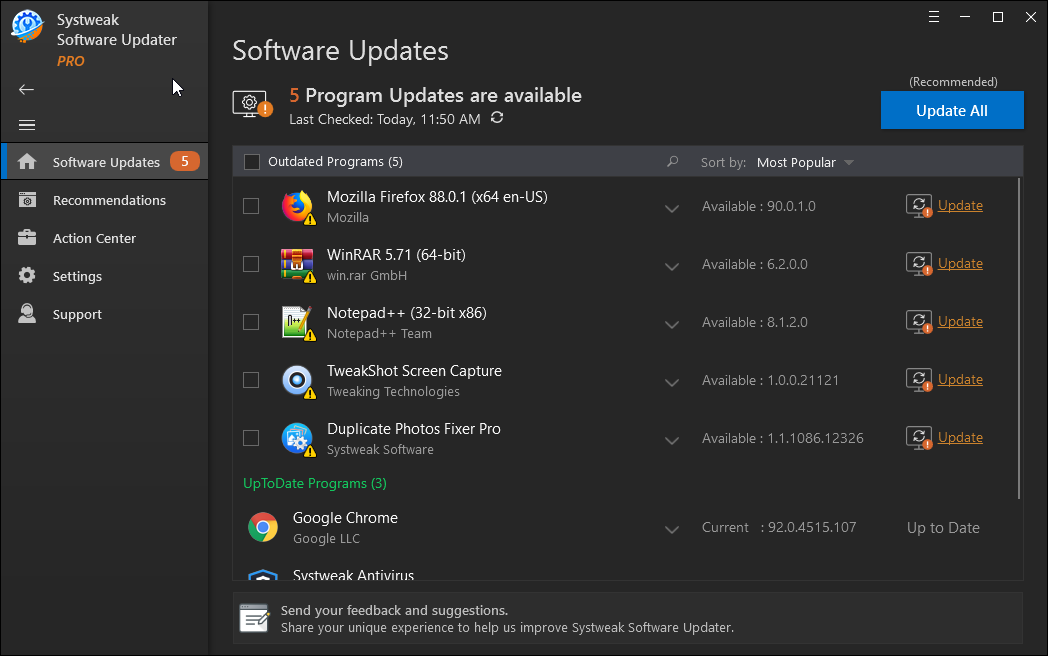 4. You can even sort software applications by criteria mentioned in the screenshot
5. To update all software or to run an auto-scheduler, you will have to register and activate the software using a license key for which you will have to upgrade to the premium version
Compatibility: Windows 10/8.1/8/7/Vista and XP (32 and 64 bit both)
Minimum Hard Disk Space: 500 MB
Minimum Memory (RAM): 512 MB
Price: US$ 39.95
Why Are Software Updates So Important?
And, even more importantly, why should you update software for Windows or any other operating system for that matter regularly?
1. Get Access To All The New Features
Developers make sure that with every new update that they roll out, they introduce new features with the help of which the functionality of the software can be enhanced. With every update, new revisions are also made to the existing features, the ease of access to the features is also improved. Also, if there are any redundant features, they are also removed.
2. Patch Bugs and Vulnerabilities
Modern-day software applications go through stringent testing procedures. Testers try their level best to remove every minute bug which may further hamper the user experience. Having said that, no software is developed to perfection. Ongoing errors, flaws and faults may creep into the software from time to time. If these flaws and faults, which, in more common terms are known as bugs, are left unchecked, they can make you vulnerable to attacks. Testers and developers in unison remove these bugs with each update they roll out and even mention it in their logs.
3. Adhere To Compatibility With Other Software And Device Drivers
A software also has to interact with other kinds of software and your computer's very own device drivers. These drivers are responsible for further controlling devices that are attached to your computer. When an update occurs in either of these, even the software applications have to be updated to ensure that they interact with the devices properly. For instance, if your device's driver software is not updated, your device won't be able to function properly. If you don't update software applications, these bugs can further make your software and your computer vulnerable to attacks.
4. Prevent Cyber Crime
Most of us are aware of the dreadful Ransomware attacks which don't just steal crucial data on your computer but can even cost you monetary damage as well. Software companies and their developers close all potholes and prevent hackers from injecting Ransomware into your computer.
5. New Technology
Technology is constantly evolving and it certainly goes hand in hand with competition. If you are someone who has to deal with clients, someone who you will have to be on-point with your service delivery. You will have to deliver results much before your competition does. So, if you have software that is armed with the latest technology, you will be able to work faster and smarter.
Take an example of Adobe Photoshop, a widely used popular image editing software. With Photoshop CC 2020 you get a better selection and wrap capabilities powered by artificial intelligence. These functionalities are frequently by professionals.
Also Read: Adobe Photoshop Camera App Review
Wrapping Up
The intent of this blog was to reinstate why it is so important to update software regularly. In case you have missed a software update, worry not! You can always catch up with the help of Systweak Software Updater, a dedicated tool that doesn't let you miss any important software update. If the blog has been helpful, do give it a thumbs up and for more such content, keep reading Tweak Library. For more frequent updates, you can catch up with us on Facebook, Instagram, Pinterest, Flipboard and Twitter. Also, if you like video content more, you can like, share and subscribe to our YouTube channel.