Photo noise and clarity is a common problem if we click photos in dim light conditions or when the camera quality is not so great. The photo quality goes for a toss with tiny dots, blurriness, low light or unwanted elements in the photo.
I clicked a few photos at my brother's wedding on a rainy day and you can imagine how difficult it would have been for me to focus on people. All of my pictures looked grainy and slanted. I tried a lot of free apps to get them in shape, however, I couldn't find a free photo editor app for Windows with all features to convert unlimited grainy photos to crystal clear images.
To solve this, we have reviewed several apps for Windows or photo editing apps for Mac. And you know what, we found a few of the best photo editor app for Windows & Mac.
Movavi Photo Editor – Available for Windows & Mac
Movavi is one of the best Photo Editing App for Windows that I came across and used photo editing and tuned my photos magically. It has got several features to give realistic effects to your photos and make your photos speak for itself.
Movavi Photo Editor Features
Remove Unwanted Objects From Your Photo
If you are annoyed with random people or things spoiling your photos by getting caught on camera by mistake, It can edit your photos and remove those unwanted objects or people from your photo. If you were unable to frame the perfect shot or your finger got on the way of a clear photo, you can use Movavi Photo Editor and take care of those little accidents.
Enhance Color Quality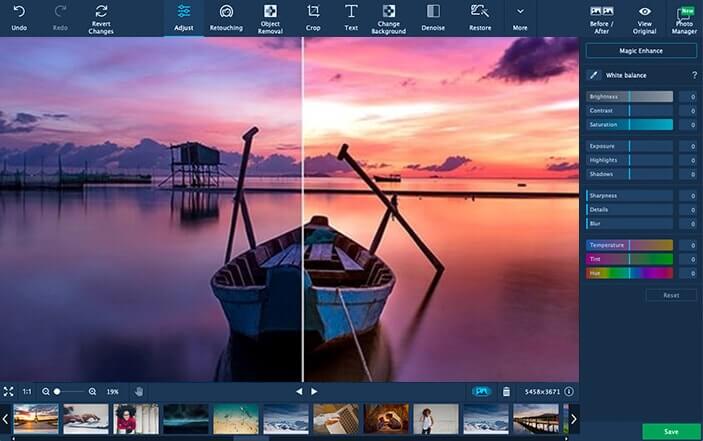 If the image quality was not up to the mark due to any sort of reasons, You can tune up the color of your image using this image editor and convert your photos naturally.
I got my photos which were dull and hazy due to cloudy weather converted into bright sunny photos. Movavi photo editor app can amplify your outdoor images with a magic enhancer. This app can enrich the color quality and improve the contrast just with a single click.
Restore Old Photos
Movavi image editor app is a magical tool when it comes to restoring old photos and removing unwanted strains and folds from them. If you have a collection of old and antique photos of your forefather's family and you want to use them in your family tree, Movavi photo editor app can do wonders in restoring those old images. This image editor app allows you to restore a black-and-white photo into a colorful photo and remove visual noise, erase cracks and apply white balance effects on your photo. Yes, you can rescue a vintage print and relive your old golden memories.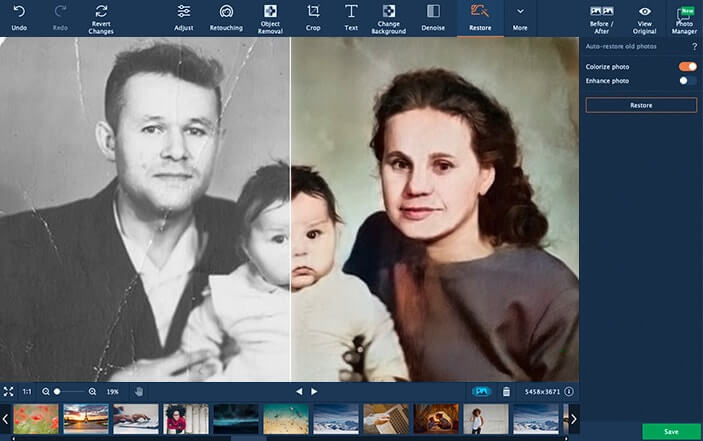 "Tip: 'Noise on a photo' is actually the disturbance of pixels which results in distorted pictures."
Other Salient Features
Text: Insert captions, Hashtags, and titles to your photos.
Effects: Choose from multiple filters and effects to create innumerable looks.
Sharpness & Details: Alter clarity in hazy images and bring out super textures.
White Balance: Adjust brightness, contrast or restore natural brightness in your photos.
Retouching: Eliminate smooth out wrinkles, blemishes, reduce shine, and rectify the red-eye effect.
Image Backgrounds: Replace your background with an image, turn it to a transparent background, or choose your favorite color for a new background.
Crop, Resize, Rotate: straighten the horizon, Improve composition or shrink images for the web.
Color Correction: Turn your colors more vivid while keeping healthy-looking skin tones.
Makeup: Apply Mascara, Airbrush digital eyeshadow, and Lipstick onto your portraits.
Inserting: Combine multiple images and other elements to make collage images.
Noise Reduction: Apply presets to decrease visual noise in low-light photos.
Reshaping: Slim down faces and silhouettes, enlarge eyes, sculpt noses.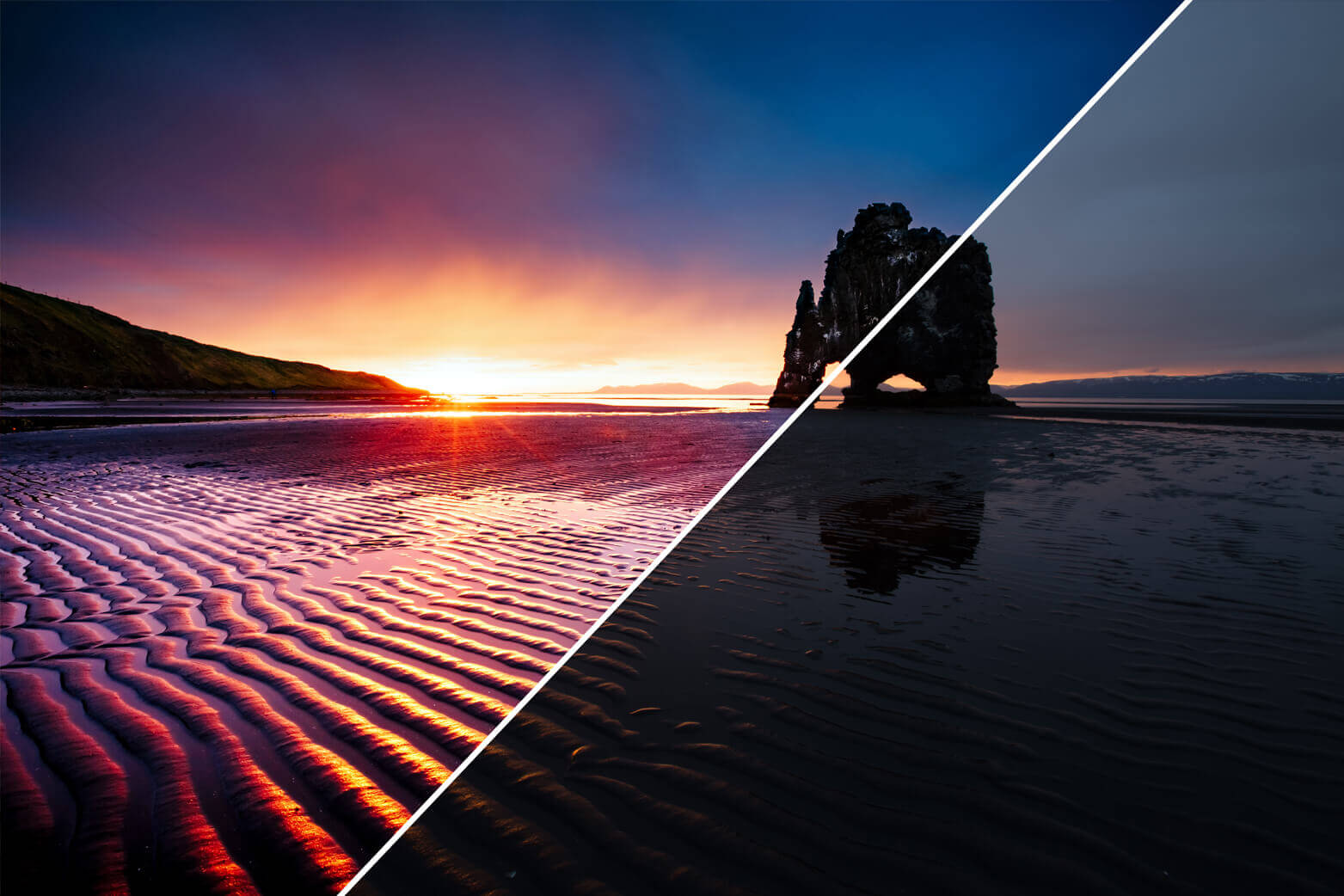 DeNoise Projects 2 Professional – Windows Only
If you are into professional photography and can't just share random clicks without modifications, A professional Photo Noise Reduction software is what you need. DeNoise Projects Professional is one of the best photo noise reduction software we have come across for professional photography.
There may be multiple Noise Reduction Software available, however, DENOISE projects 2 professional outcasts itself as this is the only software that is capable of removing all 7 known forms of image noise. It can eliminate color noise, Luminance noise, color banding, hot-pixel, color clouding, holes, and salt & pepper.
If your photoshoot environment is unsuitable for producing satisfactory photographs, you can still go ahead and take your best shot and leave rest on DENOISE Projects 2 Professional.
DeNoise Projects 2 Professional Features
Selective noise reduction with ISO 50 to ISO 4,000,000.
Fully-automatic noise detection and optimized noise reduction.
Image noise removal up to 40% faster thanks to Smart Noise Prediction.
Plugins available for Plugins for Adobe Lightroom (Versions 4 and later), Adobe Photoshop CS6 and Elements versions 11 and later.
Make use of the 'Natural Grain Engine' with automatic assignment of the optimal noise value.
Enhance your source image noise analysis with chromatic aberration perfect.
Experience the best picture quality even in low light using 'DeNoise Projects 2 Professional'!

Get the most brilliant photos even without using any costly equipment!
Features Only DENOISE Projects Professional Can Offer
Get high-quality batch processing with a fully automatically optimized noise reduction feature.
Make use of noise stacking module with highly precise alignment of individual images (dark frames, light frames, flat frames methods)
Experience a complete RAW converter which includes distortion correction for high-quality images.
Technical Specifications
| | |
| --- | --- |
| Version | 2 |
| Platform | Windows 10, 8, 7, Vista 32-bit, 64-bit |
| Processor | Dual Core Processor, |
| RAM | 2 GB RAM, |
| HDD | 2 GB HDD, |
| Screen Resolution | 1280 x 1024 Pixels |
| Graphic Card | DirectX-8-compatible |
| Graphic | 128 MB, 32 bit colour depth |
Please Note: An internet connection is required to activate the software.
Summing Up
We have covered the best photo editing apps for Windows and Mac which are perfect to redesign your dull photos and old photos to high-quality photos using image editor software. Movavi photo editor app for Windows is perfect for those who love to edit images until they get the desired perfection. Movavi Photo editor app is loaded with enhanced features like noise reduction, white balance and bringing out the enhanced picture quality out of your memories.
We have also listed DeNoise Projects 2 Professional which is a perfect app for professional photographers to get unmatched photo quality with one of the best photo editing apps for Windows.
If this article turned out to be helpful to you, please like and share this with your colleagues. For more such tips, tricks and tech-related updates click on the bell icon to get regular updates from Tweak Library.