Table of Contents
No one wants to have spyware on their machine. The very thought that there can be programs that spy on your habits, personal information, passwords, and login credentials and reporting back to someone else is a scary thing. Spyware can steal passwords to financial accounts and much more. You need to do what you can to protect yourself from this so that you don't have to be spied on.
When connected to the internet at times, it's difficult to always be completely safe. At times spyware can become so embedded into your computer that it gets into your registry making it hard to get out.
This is a big problem because when this happens, even after removing the program, it keeps coming back over and over. This is because it's deeply in your system and coming back each time you restart your machine. This has to be fixed to get rid of it for good.
The first thing that you can do is to get a better spyware protection tool. You need one that will go into safe mode and scan for problems. The reason is because in safe mode the spyware will be easier to remove that is deeply into your system. This should get rid of most problems of this nature. Advanced System Protector is a powerful anti-malware solution that focuses on removing all kinds of malware threats, including spyware from your PC. All you need to do is install it on your PC.
Advanced System Protector is developed by a team of security experts. It consists of a database that gets timely updated with new malware definitions. You can scan your PC with three different modes: Quick scan, Deep scan and Custom scan according to your requirement.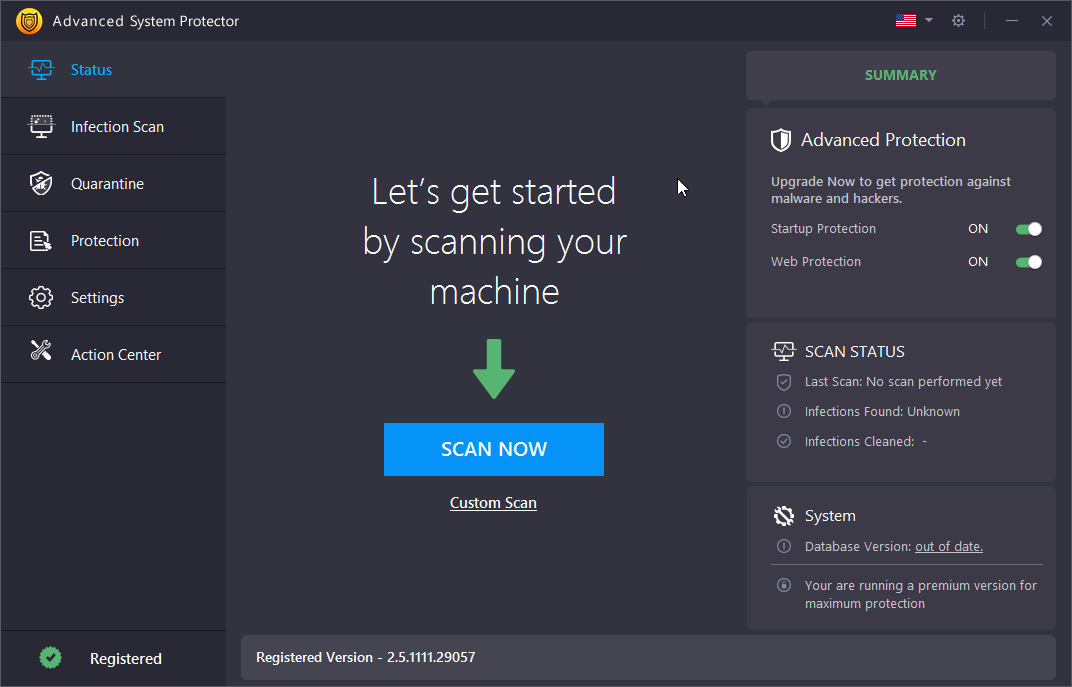 The software includes a browser cleaner tool that helps you to get rid of unwanted extensions, plugins and toolbars from popular web browsers like Internet Explorer and Google Chrome. Advanced System Protector also includes two important tools: –
Windows Shield– Protects you from accessing any malicious files present on your hard drive
Internet Shield– Alerts you about any malicious website you visit online on Internet Explorer browser via a pop-up
In short, the application is a complete security solution. To download Advanced System Protector, click on the button below.
To prevent a spyware from running on your computer, the second thing that can be done is to get a registry cleaning tool. But how can a registry cleaning software help you fight spyware? Actually, it lessens the chance of your computer from being vulnerable to spyware attacks. Let us tell you how.
Also Read : 3 Advanced Steps To Remove Stubborn Malware From Your PC
How Registry Cleaners Can Help Prevent Spyware?
Before telling how registry cleaners help us, let me tell you that Invalid registry entries are created when an application is unsuccessfully uninstalled (usual uninstallation methods do not remove registry entries of the deleted app). Such entries can act as a gateway for hackers making your PC vulnerable.
A hacker can insert a spyware. What they do is firstly identify invalid registry entry and then use these entries to camouflage themselves making detection difficult. Because a spyware is designed to impersonate like a genuine persona and collect all your information. But then invalid entries make it easy as they let them do all this without much an effort. So, the best defense to stay protected from such attacks is it to keep registry optimized.
A registry cleaning software can check for invalid errors and problems in your registry and remove them. Thus, it will help you stop spyware by preventing its entry through invalid entries. Moreover, these tools are designed to improve your system by optimizing the registry.
For this, we can suggest you a tool that helps to fix invalid registry entries. Not only this, RegClean Pro will also fix DLL errors that make your pc slow and sluggish. Click on the button to download the software.
For more advanced users, you can edit the registry yourself if you know exactly what you are doing. There are built in tools in Windows that will let you make edits to the system. If you know what piece of spyware is giving your problems, find out which registry key that it is associated with in your system. Simply edit this key out to get rid of it for good. However, we don't recommend changing registry values as it can adversely hamper system performance.
Must Read : What Is Kovter Malware And How To Stop It?
We hope that this article acts a spyware removal guide. With these small actions, we can actually prevent adverse situations.