Table of Contents
Falling behind on your personal and professional commitments? To do apps are here at your rescue. Such apps make it easy for you to outline the several tasks of the day and when your tasks are neatly outlined specifying what is to be done when the chances of you forgetting would be less.
Best To Do Apps for Windows 10
Here is a list of to-do app for Windows that will not let a single task run out of your site and mind.
1. Microsoft To Do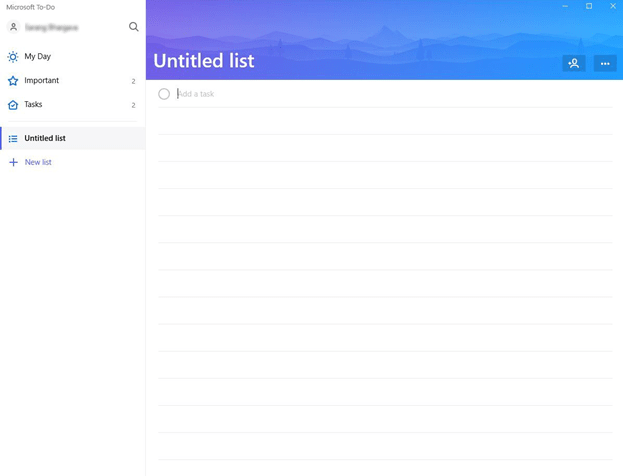 A great task list app that places your tasks in front of your eyes and helps you plan your day like a pro.
Features:
Cross-device functionality. Write your tasks on one device and access them on another device.
Color code your tasks and attractively manage tasks.
Share your tasks with people by sending invitation link.
Switch between multiple accounts – work, school and personal.
Attach files of up to 25 MB to any task.
Rating: 4.7 stars
2. Todoist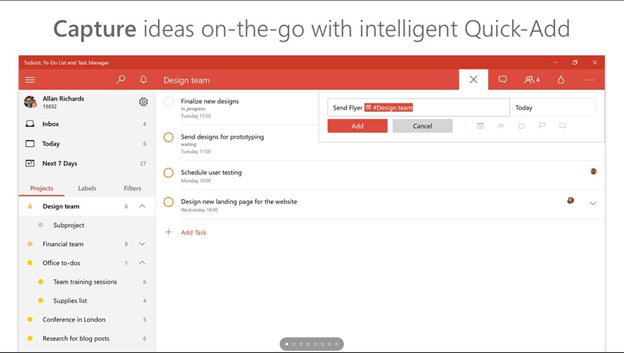 Another awesome task list app Todoist has already been nominated for several awards in the past. Although free, you can buy the premium version of the app to get hands-on some of the powerful features.
Features:
Offers 60+ popular app integrations like Dropbox, Zapier, Amazon Alexa and many others.
Set color-coded priority lists for the most important tasks of the day.
Designed well for Windows 10 interface. Includes Jump list, live tiles and a 3rd Panel view.
You can pick up tasks from wherever you have left them.
Rating: 4.7 stars
3. Resultivity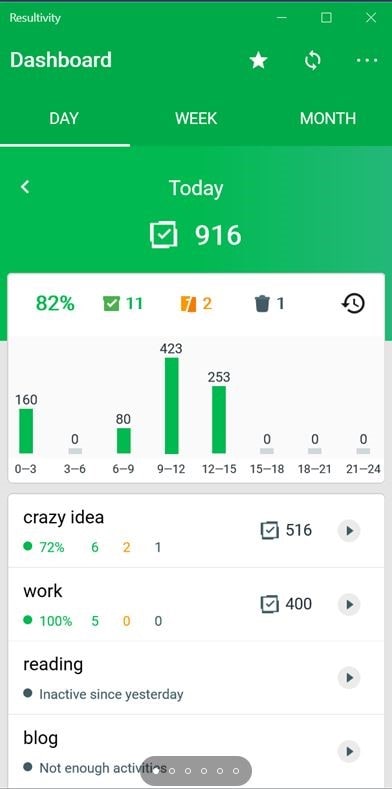 Managing personal tasks just the way they are can at times be monotonous and moreover, you might even lose the motivation to them. How about your change your perspective towards your chores and look at them as a game? That's exactly what the task list app Resultivity does. It revs up your productivity by helping you ace your habits in the most entertaining manner.
Features:
Integration with Google tasks and Microsoft to-do.
Keep a track of your "focus time" and "distraction time".
Keep a track of your priority lists and crush them.
Rating: 4.7 Stars
4. Microsoft Onenote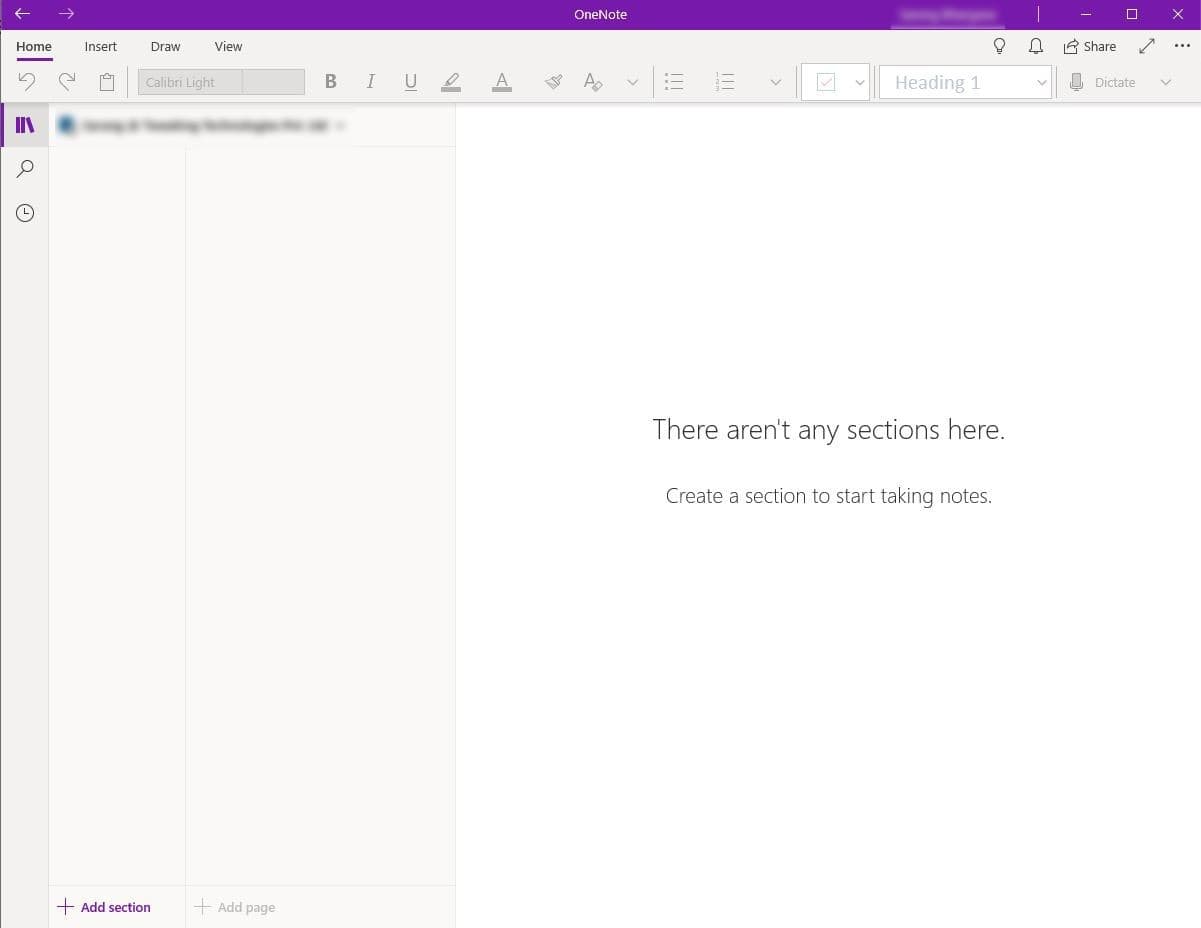 Microsoft OneNote gives you a very familiar feel of Microsoft office, something that most of us are familiar with. It's a spectacular way of nailing your priority lists like a pro. If you have Windows 10, you have it already installed. All you go to do is just explore and get things in order.
Features:
Logically organize content (text, files, photos, etc.) into pages and sections.
Well integrated with other Microsoft Office products. For example, you can export tasks assigned in OneNote as tasks in Microsoft Outlook.
Share and view the edits made by others.
Rating: 4.5 stars
5. Trello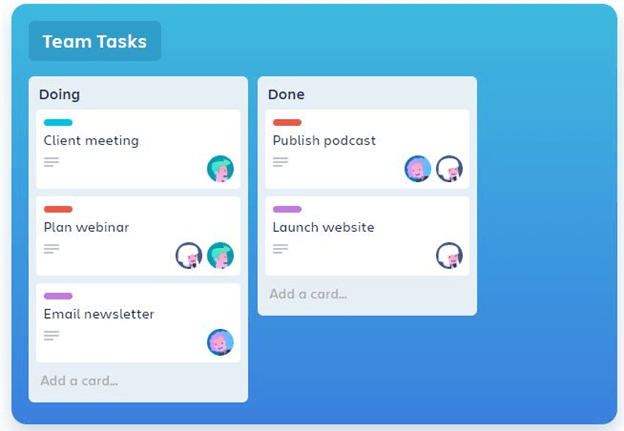 Trello is yet another great personal and professional task management app that lets you have a glance at your task details in the form of Kanban cards. The best part is you can share as many details in these cards and share it with your team.
Features:
Cross-device collaboration makes it easy for you to collaborate with team members even while you are on-the-go.
Trello is available in free and premium versions. The difference between free and premium version lies in the size of files you can attach (10 MB in the free version and 250 MB in paid versions) and the rights you can assign to your team members (premium versions let you assign rights to your members.
Highly customizable i.e. you have the option to customize workflow according to the project.
Rating: 4.2 Stars
To Conclude
Life is not as simple as getting up, going to work and coming back. There are several tasks in between and when we say several, we mean it. If you are not organized with your tasks, your peace of mind will be in jeopardy. With several options to bank on, pick one of these to do apps and stay on the top of your game like a boss!