People who know the value of time are always doing something valuable with their time.
Yes, we fully agree with the above proverb. Moreover, time management has its own significance. Here we will mention some of the signs below:
Time Management Skills,

improve your decision-making skills. 

 

With

effective time management,

you can be more productive in less time.

Moreover, you will never miss any deadlines and appointments. 
We are living in the technological era where smartphones are a proven boon. Whether it's an office or home, we access our phones.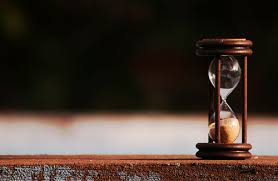 So, when it comes to productivity our functioning graph goes down. No problem, at one place where technology is becoming a deterrent one the other hand it has granted some best time management apps, that we can use to manage time and increase productivity.
Using these apps you can prepare your schedule and manage time accordingly. So, here we will enlist some of the best time management apps.
Best Time Management Apps 2023
1. Evernote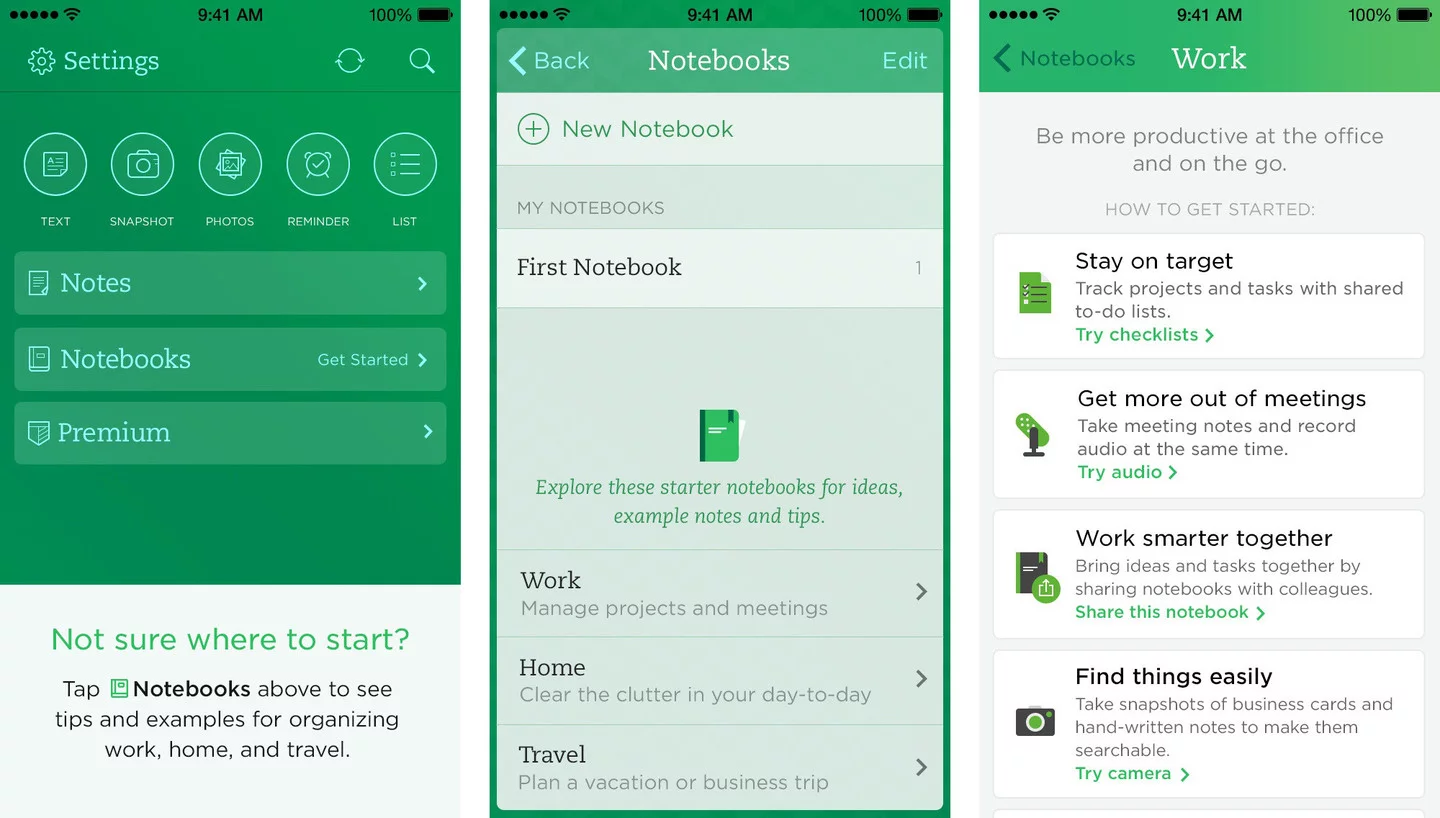 The best time management app, Evernote, is an efficient tool for those who want to keep their work in a Note without wasting time.
Features
Attractive Templates– You can find beautiful templates according to the work. Moreover, can choose from different templates like the Gift tracker, Event budget, Meeting notes, party planning checklist etc.
Multi-Device Sync– No need to baffle to sync your devices with Evernote. This app synchronizes all devices at one place.
Document Search-Easily filter your notes, attach office docs or PDF's in the Evernote.Price– You can choose from three plans: basic, premium and business plans. The basic plan is free to use, however, premium and business will cost  USD 2.67 and USD15 respectively.
Why to go with Evernote?
If you are a note lover and like to stick everything on a note, this app is for you. It works as a notetaker or your personal diary. Using Evernote you can collect every detail of your daily routine life. 
Download Evernote from Here.
2. Remember the Milk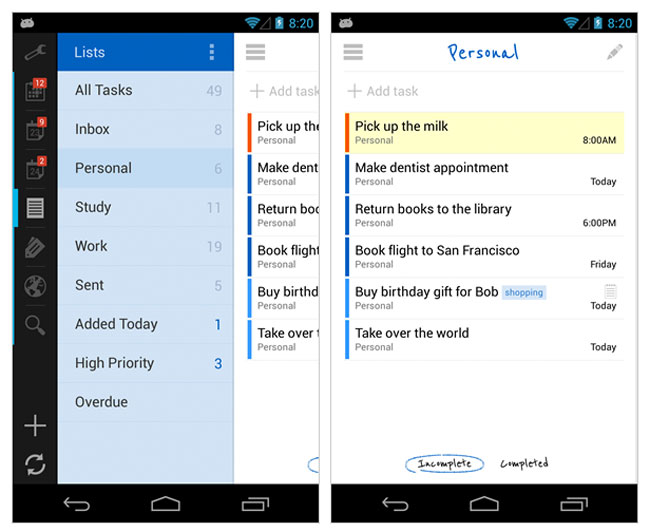 Everyone has faced the situation where we come home without bringing milk. Well using this time tracking app~ Remember the Milk you will become better with your daily chaos.

Features–
Get Reminders– No longer you will miss a single update or notification for the list created on Remember the Milk app. Moreover, you can receive the notification on your mobile device via toggle.
Colourful Tags- Using colorful tags you can easily stay organised, these vibrant hues can help distinguish the task and prioritize them.
Subtasks– You get an option to make and divide list into subtasks. In addition to this, you can split your notes into smaller and manageable pieces.
Price–  Remember the Milk app is free to use but if you want to get priority step along with star features you'll need to go with up-gradation plan of

 $39.99 per year.
Why to choose to Remember the Milk?
Alright, if you are a person who is in the clutches of forgetfulness then this app will surely work for you.
Download, Remember the Milk from here
3. Toggl
We have Toggl, in the time planner app list. This app is an efficient time tracker which helps to understand the time you have used in a specific work. You can organise your working hours though filling timesheet.
Features
–
Calendar– You can sync calendar from your device to get daily schedules regarding your work and meetings.
Customize The Time Entries–

 Moreover, using Toggl you can enable and customize time entries by adding more details, projects and tags.

Shortcuts– There is another reason to give attention to this time planner app is its Shortcut! By using @ and #, add projects and tags to fasten your productivity.
Price– You can use the basic plan for free. If looking for some extra features, choose the starter plan $10 per user/month. 
Why prefer Toggl?
If you are a startup, freelancer or small business owner Toggl will work best for you to create timeline and budgets. Moreover, you can assign responsibilities and projects.  
Download Toggl from here
4. RescueTime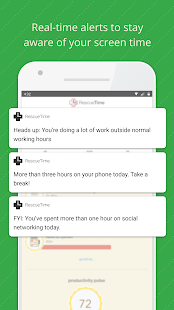 Here comes the Rescuetime, time tracking app which is all set to get downloaded and installed in your device. This app gives you a detailed track of unproductive hour or spending time on social media. 
Features- 
App-usage Tracking– You can track an accurate time with the help of this app. The overall activity can itself categorised between productivity and spare time.
Set Time Goals & Phone Usage– You can set time goals and personal targets by receiving the notifications from this app. Further, can monitor phone usage by getting the exact picture of time usage.
Support–

Get free access to customer care, you just need to login to www.rescuetime.com and go to the top right corner where "Help" is there. Create a ticket and start your discussion.
Price– The Basic plan is free. To use Premium and Organisation plan you need to pay, it starts from $6/month.
Why will you prefer RescueTime?
We are on the edge of using social media platforms that eat a lot of productive time. So, if you are looking to track down the usage of your digital life, RescueTime is a great option for you.
Download RescueTime from Here.
5. Todoist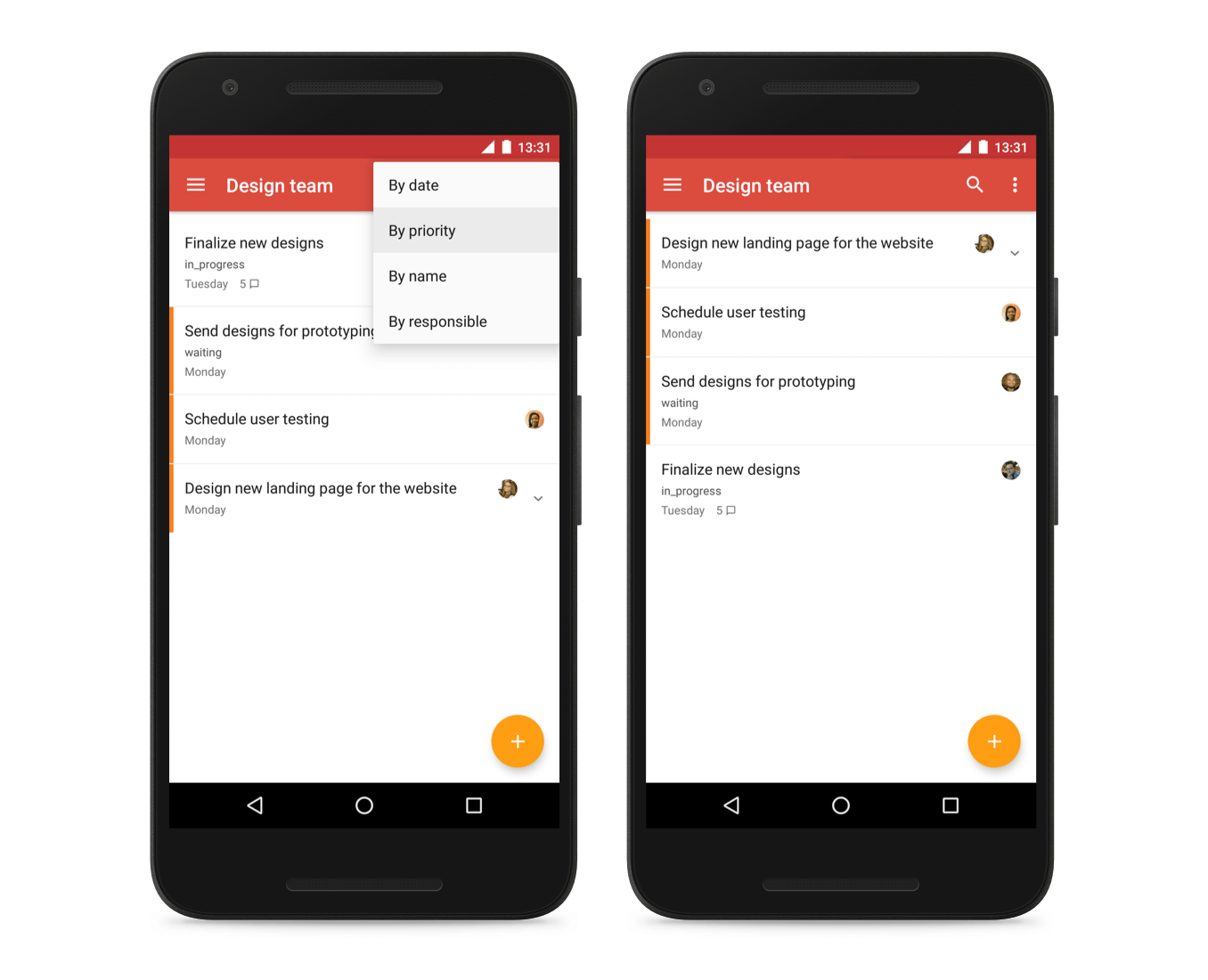 Here comes the Todoist, the efficient work time tracker, helpful in reminding you, your assignments, to-do lists, etc. Apart from this, the app empowers to set projects,multimedia notes and prioritized tasks.  
Features-
Set Productivity Goals– To progress, productivity is important, Todoist helps setting productivity goals with its winning point.
Schedule Your Plans-You can't pass your day without any plans or schedule. Using this app you can easily schedule your daily and weekly plans and focus on the prioritized work.
Project Management-Todoist is here to make you work more efficiently. By simply organising and creating projects for anyone at any time.
Price– The Basic plan is free but to use Premium and Business you need to pay. The plan starts from  $3/month and $5/month respectively.
Why will you prefer Todoist?
Many work time tracker comes with high pricing plans, but Todoist offers less expensive plans than others. This app also comprises "The Karma Point" to motivate the user, not to waste unnecessary time.
 Download RescueTime from Here.
6. Forest: Stay focused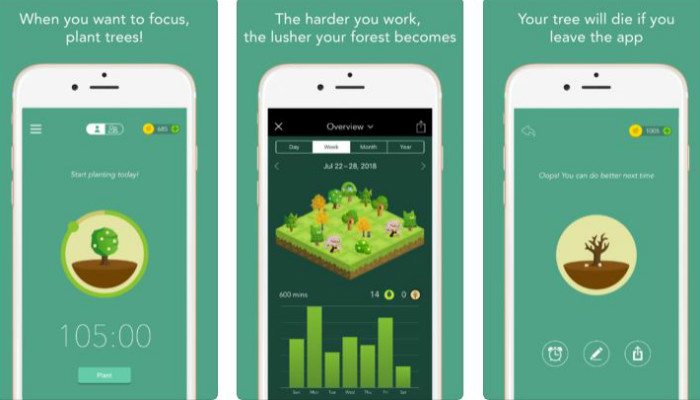 Forest is a unique concept that comes in the form of time management app. Whenever you focus on your time, app will plant a sapling and will grow the longer you will stay away from the phone. If you sneak a glance at any social media app the tree will die.
Features- 
Stay Focused– Many of us can't stay focused despite having time management apps. But, Forest app is different in this case! You can stay focused by growing sapling in the app.
Earn Digital Currency– If you stay focused and productive, this app will grant you digital currency.
Track Your Progress–  There is an in-built graph that shows your progress throughout the week. You can also view all the trees you have killed as well.
Price- Free
Why will you prefer Forest?
Forest can be considered as the effective time productive app to use. It's visual stimulation will surely help stay focused and productive.  
Download Forest from Here.
7. Asana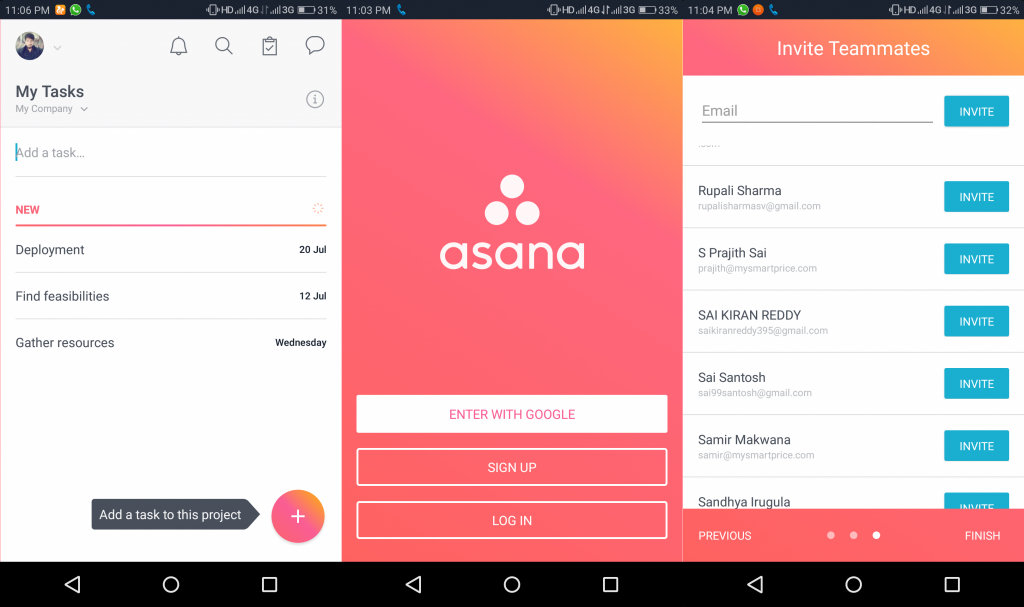 Whether you are stuck in a matinee line or in between meeting, this time planner app Asana, is there to assist you.
You can receive the updates of your daily hour task and can also schedule your plans into Teams, Tasks and Projects. 
Features- 
Communicate With Teammates– Asana, helps interact with your fellow teammates by sharing announcements or by asking a question in a project.
Organize Your Work-There is an option to add your task and project list on the home screen with the help of Asana widget, to keep you tracked and organised the work.
Quick Updates –

You can check your work in "My Task" and can also organise your project according to preference. 
Price– The Basic plan is free to use but Premium, Business and Enterprise plan will start from  $11/month and $25/month respectively.
Why will you prefer Asana?
With the help of Asana you can understand the workflow and also stay focused on the goals. Moreover, effective time management can also be there by understanding day-to-day tasks.
Download Asana from Here.
8. Loop – Habit Tracker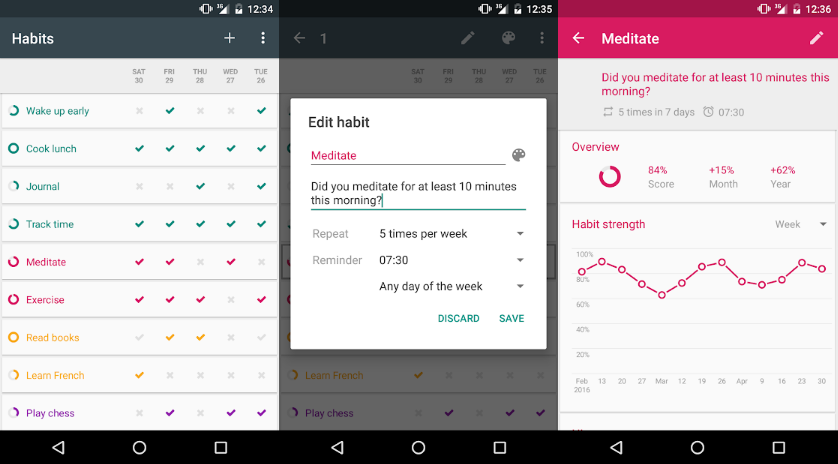 Have you ever experienced a lack of motivation during your working hours? If yes, than Loop – Habit Tracker is a time tracking app that ensures you are using your working hours efficiently without any delay. Pick any theme and start focusing as simple as that!
Features- 
Habit Score– This app has a special space to calculate your daily habits, which includes all the daily routine whether it's meditation or singing. Loop has every track of your routine.
Reminders-This app allows you to receive a reminder of your daily routine within a chosen hour. You can even snooze or dismiss any habit from the notification without launching the app.
Add-free– Yay! Loop will not make you annoyed with its unnecessary ads or notifications. And guess? You will never have to face any irritating apps. Never!
Price– Free
Why will you prefer Loop
Well, Loop is a time tracker app which helps complete, understand and change your habit both in personal and professional life. You can easily increase productivity time and long term goals.
Download Loop – Habit Tracker from Here.
9. TimeTree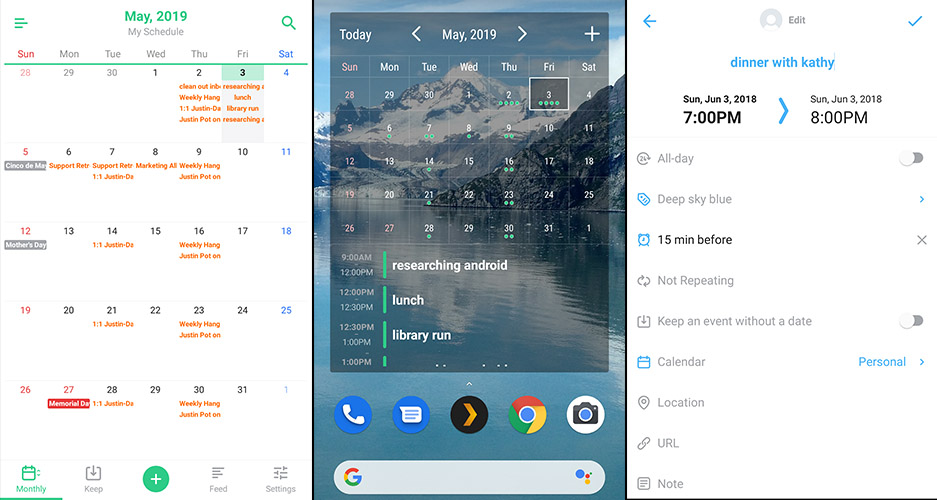 TimeTree is another fine time management app on our list, that has proven useful for families, couples and parents. Using this app you can access multiple appointments and events at one place. Apart from this, you can also get notification of national holidays across multiple countries and languages 
Features- 
Shared Scheduling with Calendar– You can create a group and share reminders with them. Even you can edit and add events without having admin access.
Works On Mobile, Pc And Widgets– If you have forgotten your phone at home, no worries, access, TimeTree account on PC and start your daily schedule.
Share The Notes– If you want to share any notes or memos with your fellow teammates, you can proceed ahead without any delay. Moreover, sharing memo can also help in planning and organizing the tasks.
Price–  Free
Why will you prefer TimeTree?
You can catch everyone's attention by colouring the particular event to help everyone involved in a task.  
Download TimeTreer from Here
10. Focus@Will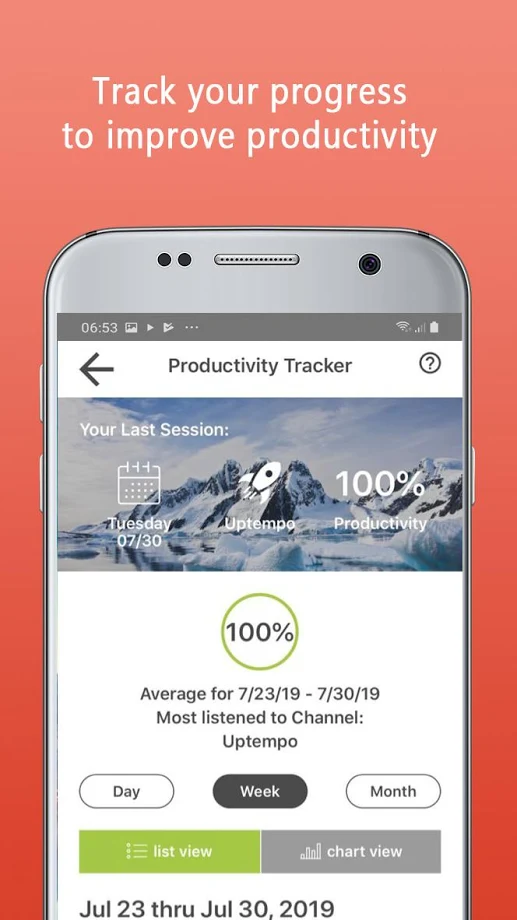 We have Focus@Will in our list. This app has proven as a useful time management app among others as it helps in improving productivity and attention. So, if you are looking for some music in the state of flow while working, than yes this app will offer you that too.
Features-
Hassle free App– This app will not puzzle you with user registration or any email confirmation. You are all set to install and run on your android. Pretty easy!
Encourage You– Yes, while using this app you will get to know the best version of yourself to have healthy work balance with personal life.
The Music- This app owns unique brain music to stimulate your productivity with the jazz beat. Apart, Focus@Will has created music in such a way which helps focus faster and longer.
Price–  This app offers free trial at first, basic plan starts with  $8.33/month billed annually.
Why will you prefer Focus@Will?
This productive app is designed and developed by neuroscientists, who believes that almost  2 out of 3 people prefer listening to music while working or studying. The developers have created neuroscience-based music to increase productivity and attention.
Download Focus@Will from Here
Final Word-
We all have heard while growing up "Time is everything, not to waste". Well, this is true! Time is precious, then why to waste on unnecessary stuff? So to help you manage your time, we have listed some effective time management apps that you can use on Android devices.
These time tracking applications will surely curb your time from unwanted hours. Don't forget to upvote and share with your teammates or someone whom you care not to waste their time.Don't forget to share your views in the below comment section. Subscribe to our newsletter for some tips and tricks.