Data recovery or drive recovery is one of the most important things related to your system. From saving files on the hard drive to recovering them (after accidental deletion), you need recovery software for everything. Data being the current & next virtual currency, needs to be kept into a thick security wall and easy for retrieval as & when you need it.
Since everyone knows about the importance of data in the current era, so imagine you have deleted a file or number of files accidentally. Moreover, you cleared out the Recycle Bin as well which means that the first step on recovering the deleted data has been checked out. Conditions like this lead you to look for the best hard drive recovery software available in the market.
What Do You Mean by Hard Drive Recovery Software?
The self explanatory term, hard drive recovery software has been designed with the ultimate concept of recovering lost data. Not only the lost but deleted, or removed data which is a major concern for you can be taken care of by this recovery software.
Hard drive recovery software is a combination of codes that helps you in various ways you can't even imagine. The tool helps you successfully retrieve your data so easily and flawlessly that it wasn't gone anywhere. Hard drive recovery software is like the final ultimate solution after something has been messed up badly and you want to wipe it out with something good. Your go-to solution & must-have software, data recovery tools will always be helpful in worst situations like losing your precious data, unknowingly.
Do You Really Need Hard Drive Recovery Software?
Since the whole concept has been explained in the above section, we all know what is the purpose of designing the software. Now in simple terms, anything from the hard drive that wasn't supposed to be deleted or disappeared, can be recovered by using hard drive recovery software. Now, tell me if you would have deleted something important from the system that wasn't backed up as well, wouldn't you want some tool to get that file back?
Or what if your hard drive crashed and the whole data that you backed up in that drive is inaccessible to you, what would you do?
Instead of going to an expert and losing out money from your pocket, research a bit and use the best hard drive recovery software available in the market. A tool that can literally simplify the meaning of compatibility, reliability, effectiveness, speed, & user-interface.
Why Do You Need Hard Drive Recovery Software?
Now that you have established it's need properly, it's high time to know about the conditions when & why we need this hard drive recovery software. It's quite evident that every product has been made with some expectations to meet or to undo some mistakes. Similarly, Hard Drive recovery or data recovery software have been made to undo all the deletion or removal that happened on the system. Please know that the reasons can vary from user to user when it comes to using the data recovery software but the ultimate goal is the same, data recovery. Now without further delay, let's find out those common reasons why one seeks data recovery or hard drive recovery software:
1. Unknowing or Unintentional Data Deletion
One cannot claim that he/she has never deleted anything on the device that they didn't want back. Either they choose the Restore option from the Recycle Bin or simply get it back from the external storage devices (including cell phones). But, What if you have emptied the Recycle Bin as well? What if you have deleted those files from cellphones as well after saving them on the system?
There can be many reasons you can lose your data over and that too, irreparable situations and that's when you have a dire need of data recovery software. To be specific, if you talk about deleting stuff from your hard drive (unintentionally), you do everything in your power to get that data back. Because as far as I understand, we save our files as backup onto the external hard drives & when we delete stuff from there, we have no option to retrieve the same.
Now is the time we look for possible data recovery software solutions on Google and narrows down the one that works best for us, economically and reliably.
2. Hard Drive Crashing
Sometimes, out of the blue, you are stuck and all blank as to what just happened with me here!! Like yesterday only, the hard drive was just fully functional & now I'm not even able to view it on my device, let alone transferring media files. Or while you are using the hard drive, all of a sudden the drive disappears from the Explorer page and you are left with nothing but a weird surprise look. The reasons for these situations can be that the hard drive has been crashed and that doesn't happen often.
Systems or devices that don't use proper antivirus programs or best PC protection tools go with extreme situations like this. We all know how contagious a malware attack or virus can be and how it can affect the entire system, let alone a hard drive. So there are possibilities that your hard drive got in touch with a bad-behaving content & crashed. This resulted in you being unable to access anything from the hard drive, let's not think about copying the data on your system, in the first place.
These are the times when you feel grateful you already have a perfect data recovery software that can help you in this situation. Wherein, many of us wake up a bit late and start looking for data recovery software (out of desperation). And this is one of those times when you might narrow down a wrong choice and lose out on your data as well as money.
3. Drive Formatting
Not that we format our hard drives without thinking, but a few times maybe we don't see things clearly or are in a hurry. This is when things go sour and even though we don't want it, we end up formatting the hard drive. Doing so will remove all the data from the drive & make the whole drive as empty as we received it in the box.
So whenever situations like above appear, we turn to those data recovery software that can help us get data back. Yeah!! Even from the formatted hard drives those are empty now (thanks to our attention), data can be recovered easily. Situations like this when you accidentally formatted the drive you had your backup on or confidential data that was irreplaceable for you, data recovery software comes to the rescue.
4. Other Reasons Why You Need Data Recovery Software
As we told above, there are many reasons why one would want to recover data from a hard drive and the list goes on. From drive crash to drive formatting, anything is possible and sometimes reasons can be, disk unusable, hard drive not showing up. Additionally, to your surprise, sometimes you cannot access your drive just because there was some issue with the drive letter. In these cases, you don't have any backgate to enter into your drive and get back the data. Plus, if you keep the situation as it is, neither your hard drive nor the data is useful to you. Moreover, if you think about formatting the drive, you will end up losing all the data so every door you knock, the result is the same.
So if you tell yourself to format the hard drive that isn't accessible, hard drive recovery software can help recover data from the hard drive.
These are the times when you need to make the decision of zeroing down onto the best hard drive recovery software as per your analysis. All the help your system needs from you is, just get to the best data recovery software & match it according to your expectations and if they meet, bingo!!
Advanced Data Recovery From Systweak
After thorough & intense research from our end to give you the perfect example of the reliability, effectiveness, compatibility, speed, & user-interface, Advanced Disk Recovery from Systweak.
Click Here to Download Advanced Disk Recovery
An effective data recovery tool, Advanced Disk Recovery helps you get back those deleted, lost or formatted media files without any hassle. It also helps you look for the deleted files (that are recoverable) in formatted hard drives and external drives via deep scanning. Now that we have learnt that Advanced Disk Recovery tool is a one-stop-solution to get back deleted data from external hard drives, let's explore the ways to do so as below:
1. Navigate yourself to the official website to download the powerful data recovery tool, Advanced Disk Recovery.
2. Post successful installation & registration, you will land onto the homepage of the Advanced Disk Recovery tool.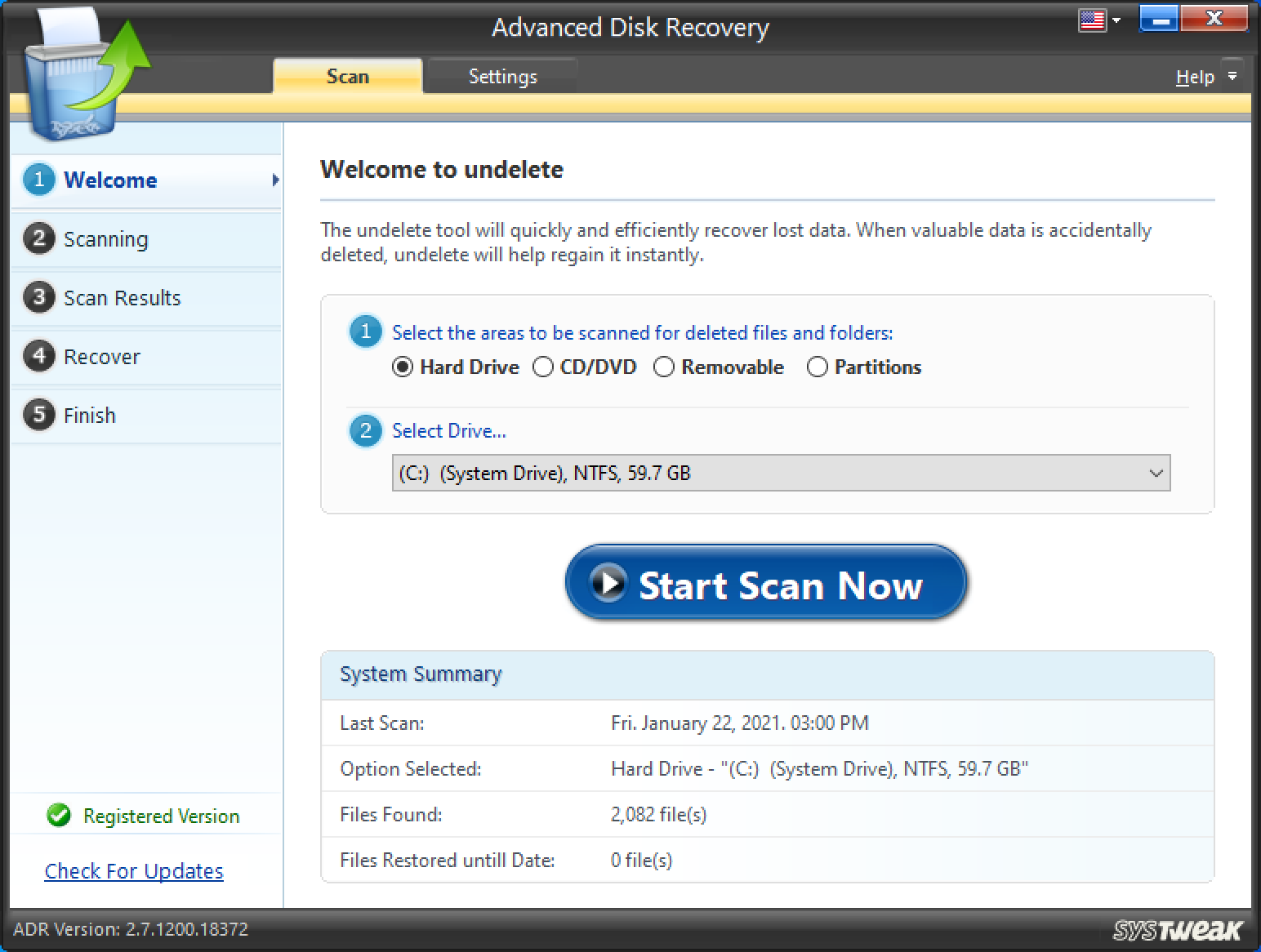 3. Here, as in the first section, you need to choose Removable from the list of the options (please know here you need to select the drive from where the data has been deleted).
4. In the 2nd selection section, choose the specific removable drive path (if you have connected many of them). If there is only one external hard drive connected to the system, the tool will auto detect the same.
5. Considering that you have gone through the above two pointers, tap on Start Scan Now.
6. Once you have started the scanning (choose deep scan), in a while you have got the results in front of you.
7. Look for the file that you want to restore or retrieve from the list of files & tap onto the same.
8. As soon as you click onto the file, Preview & Recover options will get enabled.
9. And as a best practice, it's highly recommended that you preview the files (to be restored) before you restore the file.
10. Tap on the Restore functionality and within a few seconds (depending on the file size), your files will be restored successfully.
See, how easy it was to recover data from the hard drive even after it was accidentally deleted from the drive. Everything from looking out for the removed or deleted files to recovering them in the easiest way possible depends on the data recovery software you choose to go with. So be a bit rigid with your expectations from the recovery software and be persistent on that, like Advanced Disk Recovery from Systweak.
Wrapping Up
Backup of all your files is extremely important but at the same time, if anything goes wrong with the data, the action needs to be instant. Data being the ultimate currency today, needs to be kept secured and it if gets deleted or lost (intentionally or unintentionally); needs to be recovered as soon as possible. So explore the Advanced Disk Recovery tool from Systweak to start restoring data from internal as well as external hard drives.
Recommended Readings:
How to Free Disk Space on Windows 10 PC
Best Disk Management Software for Windows 10 in 2021
How to Extend C: Drive Space in Windows 10
Best EaseUS Data Recovery Alternatives For Windows
Best Paid & Free Data Recovery Software: Restore Lost, Deleted Or Missing Files On Your PC (2021)