Advanced SystemCare, as the name says is a system care solution that targets healing various PC issues, boosting its speed and much more. Advanced SystemCare is quite a popular tool for Windows users that can help you sit back and relax without worrying about your system performance. From privacy protection for internet users to security against malware, system cleaning to system tune-up, registry cleaning to hard drive optimization, Advanced SystemCare or Advanced SystemCare Pro has all that you need.
Wondering if this is so perfect, why are we recommending you an alternative to it? Well, the reasons to shift from Advanced SystemCare includes-
Upsell offers and ads in the app.
Not so strong in blocking malware.
Average in anti-phishing tests.
Since you won't be happy with a solution that pops up too many ads and therefore, for a better and intuitive interface, we have listed here the best 10 alternatives to Advanced SystemCare.
Top Alternatives To Advanced SystemCare For Windows 10
Check out these paid & free programs better than Advanced SystemCare. We've shared their features, compatibility, pros/cons, price & more.
1. Advanced System Optimizer – (Best In The Market)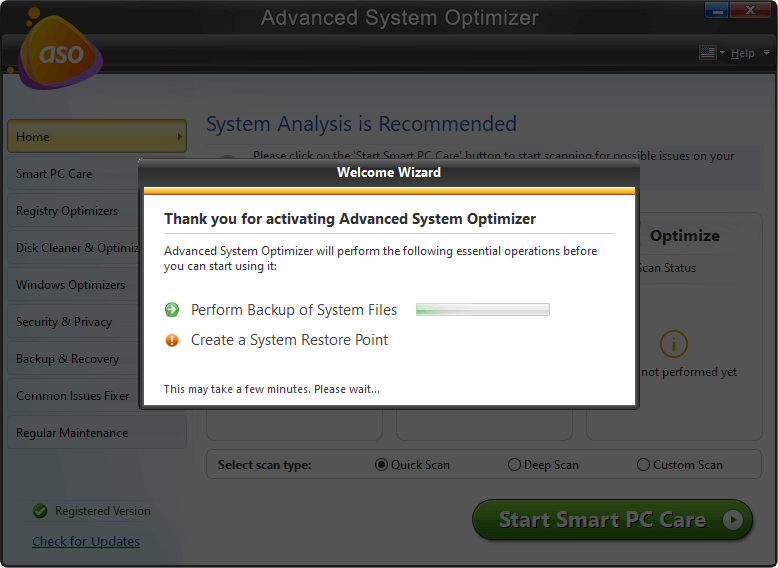 Click Here to Download Advanced System Optimizer
Read Full Review on Advanced System Optimizer
One of the best alternatives to SystemCare is Advanced System Optimizer by Systweak Software. The application is a dedicated computer cleaner & optimizer that comprehensively scans your system to eliminate common PC problems. The utility shines like a star when it comes to clearing hidden temp files, removing junk, caches, cookies, and app-associated residues. It even gives users all-around protection by eliminating browsing traces, shredding confidential files, and password-protecting important data. Additionally, it even allows users to schedule automatic system cleaning so that you don't have to worry about unwanted files getting accumulated over time.
Features:
One-click solution to boost speed & overall performance.
Instantly repair registry issues to ensure a smoother experience.
Manage disk space & save space for files that's more important.
Dedicated Game Optimizer feature for the faster gaming experience.
Ability to create a System Restore Point without any hassles.
Compatibility: Windows 10, 8, 7, Vista & XP (Both 32 bit & 64 bit)
Price: $49.95
Pros
Solid security & privacy features.
Great option for regular maintenance.
Noticeable performance boost after each scan.
Excellent game optimization tool.
Cons
Supports Windows OS only.
Lots of features in one package may seem overwhelming to some users.
2. Advanced PC Cleanup
Click Here to Download Advanced PC Cleanup
Read Full Review on Advanced PC Cleanup
For Windows- a versatile and most powerful operating system, Advanced PC Cleanup is the best bet to opt for complete optimization and cleaning possible issues. This amazing tool lets you optimize your PC inside out. From a computer that suddenly slows down to freezing Windows, Blue screen of death to fixing invalid registries and a lot more, Advanced PC Cleanup is the best optimization software and Advanced SystemCare alternative for your computer.
Features:
Cleans junk files, boosts startup speed, uninstall applications and much more.
Built-in Invalid registry scanner and fixer.
Protection against Malware, spyware, virus and other malicious threats.
Compatibility: Windows 10,8,8.1,7, XP
Price: $39.95
Pros
Installation is quick and simple.
Fixes invalid registry entries
Thoroughly cleans junk files & other obsolete data.
Scheduler for automatic PC Cleaning.
Cons
Malware detection and ID protection not available in the trial version.
3. CCleaner
Click Here to Read Full Review of CCleaner
In the list of best alternatives to Advanced SystemCare, CCleaner comes next. It is an advanced cleaner tool for your PC that also protects your privacy and makes your computer run faster and smoother. It aims at removing unused and unnecessary files or clutter from your system to make it run faster along with clearing internet history and registry. Once you run CCleaner, it simply takes a few seconds to complete the scan process. That's all. You can clean whatever you find of no use.
Features:
Simple user interface for optimal performance.
Provides real-time monitoring.
Offers a bunch of tools like duplicate finder and uninstaller.
Compatibility: Windows, Mac, Android.
Price: $19.95
Pros
Receives frequent updates.
Comprehensive scanning modes to clean computers.
Tons of optimization modules.
Suitable choice for both novices & advanced users.
Cons
There is bundled software during the installation.
4. Ashampoo WinOptimizer
Ashampoo WinOptimizer is computer performance optimization and utility software that lets you clean, optimize and accelerate your PC. It owns an easy to use interface that gives users a complete know how of the product at the first instance. It displays all the tabs on its home screen that includes hard disk temperature, memory status, graphics, internet cache cleaner and more. With Ashampoo WinOptimizer, you can improve your system security and protect privacy in just a few clicks.
Features:
Ultimate tuner and speed booster for your PC.
Improves boot time by cleaning the startup folder.
Completely eliminates the browsing traces.
Compatibility: Windows 10, 8, 7.
Price: $14.99
Pros
New & interactive dashboard.
Effective free version available.
Affordable premium packages.
Noticeable performance boost.
Cons
Additional tools Extra like the Wipe internet traces, maybe not be required by average users.
5. Glarysoft's Glary Utilities
Another amazing alternative to Advanced SystemCare is Glarysoft's Glary Utilities. It is an award-winning Windows utility that works efficiently to boost it's speed and optimize it for better performance. This is one of the most consistently popular and most frequently recommended system utilities. It not only fixes frustrating errors, app crashes and freezed systems but also is equipped with bundled with Registry Repair, Duplicate Cleaner, Disk Cleaner and Disk SpeedUp.
Features:
A powerful and all-in-one utility for cleaning your PC.
Offers 20+ tools to maximize computer's performance.
Restore your PC to peak performance.
Compatibility: All Windows versions.
Price: $19.97
Pros
Simple, easy-to-use interface.
Easily manage startup items.
Dedicated shredder utility.
Amazing privacy-protection features.
Cons
License limitations.
6. AVG PC TuneUp
AVG PC TuneUp is yet another amazing system care utility that offers complete PC management and is designed to ensure maintaining your system for faster, cleaner and better performance. Not only this, AVG PC TuneUp is a competitive tool in the market that comes with revamped Sleep Mode technology to boost your PC speed and performance, but also provides a user with Disk and Browser Cleaners that further free up the storage space on your computer.
Features:
Provides you with an all-round automatic maintenance.
Speed up your computer by uninstalling programs you no longer need.
Remove junk and update programs automatically.
Compatibility: Windows 10, 8, 7, XP, Vista.
Price: $49.99
Pros
Unlimited licenses.
One-click system repair.
Top-notch Battery Life Saver feature.
Smart cloud-based software uninstaller.
Cons
A free version is a Scan-only
7. Wise Care  365
While looking for IObit's Advanced SystemCare alternatives, Wise Care 365 is the next bet that aims to stabilize, speedup and secure your Windows computer. This amazing Windows utility protects your computer in real-time. For instance, it prevents programs from changing your Internet Explorer homepage, removes invalid Windows registry entries, easily backup and restore Windows registry, scans your system inside out to clean files with specific extensions.
Features:
Users can protect their system in real-time.
Wise Care 365 cleans unwanted entries, registry, cache and more.
Disk Shredder allows you to delete files thoroughly.
Compatibility: Windows 10, 8, 7, XP, Vista
Price: $29.96
Pros
Effectively clean registry and junk files from your PCs.
Trusted by over 150,000,000 users worldwide.
Dedicated system monitor available.
Ability to manage right-click menus.
Cons
Limited features with Free version. Not at all effective!
8. Auslogics BoostSpeed
BoostSpeed by Auslogics is another popular Windows utility and a great alternative to Advanced SystemCare. This BoostSpeed optimizes your PC by removing unwanted applications, cleans junk, disable startup programs, remove duplicates and a lot more. Additionally, it removes corrupt keys and invalid entries from Windows registry, ensuring that nothing is damaged, ensures improving computer speed by adjusting internet connection settings, faster downloads and more.
Features:
Utmost protection for user privacy.
Automates system maintenance.
Automatic memory and processor management
Compatibility: Windows 10
Price: $33.00
Pros
Solid privacy-protection
Effective files/folders cleaning.
Scheduler to run automatic deep cleaning.
Supports file
Cons
Free version has tons of limitations.
Dashboard needs updates.
9. Sysinternals Suite
Windows Sysinternals Suite is a utility that enables you to execute Sysinternals tools straight from the web without looking for them here and there and without downloading the suite to process further. This system utility is yet another Advanced SystemCare alternative that can be used by simply entering the live path directly into Windows Explorer or command prompt. To use this path- either enter live.sysinternals.com/<toolname> or  \\live.sysinternals.com\tools\<toolname>.
Features:
A single suite of tools for your Windows computer.
Adds dynamic updates, quick search and more.
An update to CoreInfo adds reporting for CET (shadow stack) support.
Compatibility: All Windows Versions
Price: Free to use.
Pros
Useful handy tools for troubleshooting things.
Excellent security and miscellaneous tools.
Tool to find Windows-based rootkits.
Check what's using specific TCP connections.
Cons
The dashboard may seem overwhelming to some users.
10. BleachBit
BleachBit is another popular Windows utility that lets you clean your system and free up disk space. Being an alternative to Advanced SystemCare utility, BleachBit aims at guarding your business privacy, cleaning up cache, delete cookies, internet history, logs, temporary files, and more. This is a free yet open-source disk space cleaner and a distinctive computer system optimizer. Additionally, this amazing tool is a multi-platform utility available for both Linux and Windows.
Features:
Compatibility: Windows and Linux
Price: Free
Pros
BleachBit has an intuitive interface.
Lightweight PC Cleaner & Optimizer.
An extensive set of features like Advanced SystemCare.
Completely free.
Cons
Does require some technical know-how to understand the utility.
11. Clean Master
Last but not least, Clean Master is the last one in our list of best Advanced SystemCare alternatives for business. If your system is piled up with junk files, or is running slow, Clean Master lets you clean and optimize your PC for better and faster performance. This amazing system care utility will keep your Android device always tidy and running efficiently. It is a lightweight freeware that further deletes system cache, spyware and more for system's better health and functionality.
Features:
Clean junk, cache out of your PC for better performance.
Driver Booster support to scan and fix lakhs of devices and drivers.
Just a click and you can eliminate 6 types of privacy risks
Compatibility: Windows 10, 8, 7, XP.
Price: $29.9
Pros
Available for both mobile and PC devices.
Comes with a quick floating widget.
Protects your device against malicious content.
Allows you to adjust the update frequency – every 3 or 5 days.
Cons
Uses a significant amount of system resources.
Which Advanced SystemCare Alternative You Find The Best?
That's all folks! These were some of the best and top rated Advanced SystemCare alternatives to choose for your Windows 10 computer. These amazing tools ensure that you have the best optimized and clean computer with fast speed and performance.
Which tool do you use regularly or you find the best in the list. Do let us know in the comments section below.
Keep reading Tweak Library for more such content.
Recommended Readings:
Top 15 Best CCleaner Alternatives(Free & Paid): Clean, Optimize & Protect Windows PC
Which One To Choose: Bleachbit Vs CCleaner
Best Tune-Up Utilities for Windows 10