An antivirus is a software that aims at protecting your computer or other devices from malware and other malicious threats including probable cyber crimes. An efficient antivirus solution keeps an eye on the data stored on your device be it a smartphone or a computer. It tracks your online activities, checks for your data, web pages you surf, files, applications and software you go through and much more. All these details are used to check for any possible threats and it further monitors your activities and the program behaviour. If anything suspicious is found, it raises the red flag and  seeks your permission to remove or block malware as soon as possible.
An antivirus solution with real-time protection is considered to be the most effective one. In this world, where everything is online, even risks have increased in the form of cybercrimes. The malware and phishing attacks, cybercrimes, identity theft, etc. are some of the examples that explains even the digital space is not safe and is even more vulnerable as compared to physical spaces. This is where the need of a strong antivirus solution arises. While you look for an antivirus solution for your computer, it is important to know what real-time protection means.
Real-Time Protection- An Introduction
Whenever we talk about an antivirus solution, real-time protection is one of the most important considerations. Real-time protection, as the term says, gives enhanced protection to your device. It controls the regular scanning and monitoring of your device and the data within. Real-time protection lets you determine what gets scanned and also informs about any security risk, if encountered.
How Can You Give Your PC A Real-Time Protection
With an efficient and reliable antivirus solution offering advanced features, real-time protection can be added for your computer. For this, you need to buy an authentic antivirus protection for your Windows PC. What does a strong antivirus protection includes:-
Real-time protection.
Exploit protection.
Complete protection against malware, adware and other malicious threats.
While looking for all these amazing features, the only name that hits my mind is Systweak Antivirus.
Systweak Antivirus

Real-time Protection
Different Scanning modes
Boost PC performance
'A PC without an Antivirus is like a gate without a guard. Keep your devices protected against Virus, Malware & Ransomware threats with Systweak Antivirus'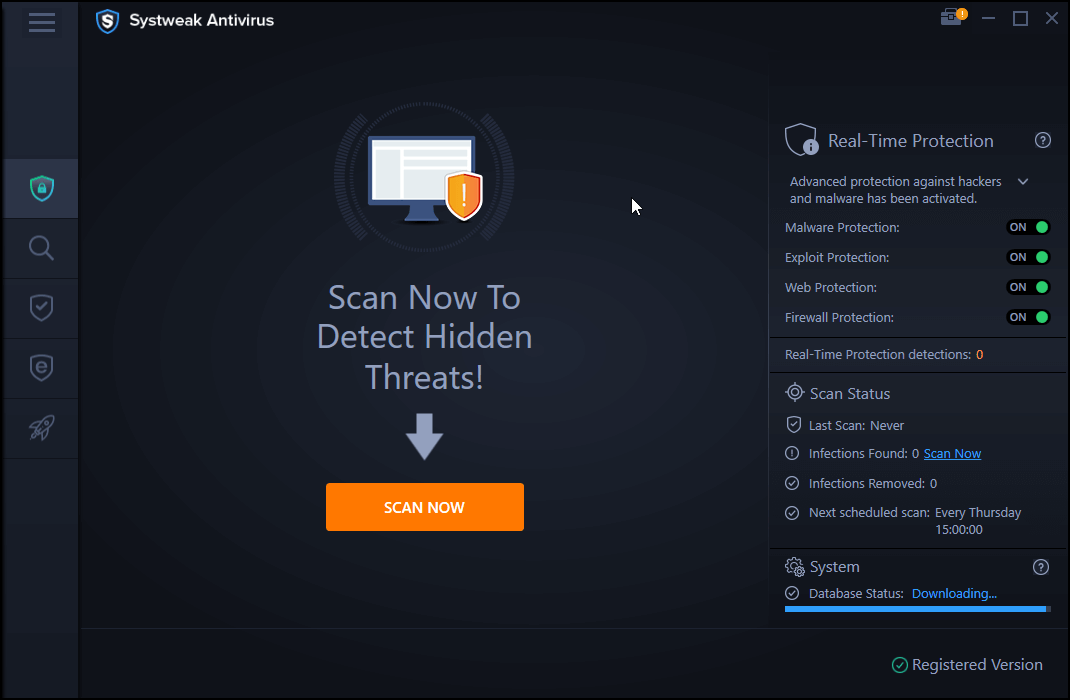 Short in Time?
If you are looking for an antivirus solution that can offer complete PC security along with real-time and exploit protection, Systweak Antivirus is the best deal. It comes with a 30-days free trial.
Specifications:
Country of Origin: India
Size: 21 MB
Windows Version: Windows 7,8,8.1 & 10 (32/64 bit)
Offered by: SYSTWEAK SOFTWARE PRIVATE LIMITED
Trial version: 30 days
Cost: $39.95
Click Here to Download This Robust Antivirus Solution
Systweak Antivirus aims to protect your device from malicious threats, using its efficient real-time protection. It further allows users to browse all over the web securely and doesn't allow any malware or other suspicious software to be entertained. It maintains exploit protection every time and also ensures complete protection of your device.
Convinced? Download Systweak Antivirus Now!
If you are interested in knowing more, read further to understand its features and benefits, the process to use and much more.
Systweak Antivirus: Features
1. Real-Time Protection
This is what we are talking about from the very start and it is one of the most essential features to look in an antivirus solution. An antivirus with real-time protection has an ability to protect and prevent a computer from malicious threats on a real-time basis. This feature enables the tool to detect malicious threats and restricts it from entering your system and harming your data in any way. Not only this, real-time protection also has the potential to keep cyber threats away by keeping a real-time check on your activities online.
2. Different Scanning Modes
Like other software, there are three different scan modes in Systweak Antivirus too. These scan types are for user's convenience towards using the product. It includes- Quick Scan, Deep Scan, and Custom Scan. Let's know a little more about these scans:
a. ) Quick Scan: This quickly scans the most vulnerable parts of a computer system.
b.) Deep Scan: This is a time taking process of scanning that scans the entire system inside out.
c.) Custom Scan: With this option you can choose a particular drive or folder to scan for possible virus or malware threats.
3. Boosts PC Performance
However, Systweak Antivirus is an antivirus solution but it also has the capability of boosting the overall performance of your computer. Here it follows two methods:
a.) Detecting Malicious Activities:
Like other antivirus programs, Systweak Antivirus also keeps a keen eye on the threats that are within your computer and in real-time and eliminates them. It ensures that no malicious activity is detected and running in the background which can hamper the PC's performance.
b.) Secure Web Browsing:
Systweak Antivirus offers your completed protection against malicious threats and therefore, it makes it possible through an ad-blocker type of program i.e. StopAll Ads. This is a built-in tool and is free of cost. It restricts and prevents your computer from spyware and other malicious threats.
4. Complete Protection Tool
A robust tool offers complete protection to your device and here comes a few more features that Systweak Antivirus has to offer its users. Have a look:
a.) Exploit Protection:
Exploit protection is yet another essential feature we look for in an antivirus solution. It has the potential to scan your computer and locate any malicious threats like PUPs that might interfere with your system files and as a result exploiting them as a whole.
b.) Removes Startup Items:
This feature aims to check for any startup items that may be prone to malware or may have malicious intent and eventually slows down the boot time. Systweak Antivirus detects such suspicious items and helps you get rid of them in no time.
Other Notable Features Of An Antivirus Program with Real-Time Protection
24*7 background run without hampering the performance.
Keeps an eye on the actions of installed apps on the computer.
Maintains and manages a history log of all threats detected.
Deep scanning of the entire system to ensure maximum protection.
Lightweight Antivirus that consumes very less resources.
Since now you know all the features offered by Systweak Antivirus, download it from the link below and read further to learn how to use it on your Windows PC.
Click Here to Download Systweak Antivirus 
How To Use Systweak Antivirus
Systweak Antivirus is  a lightweight threat-protection tool offering excellent features like exploit and real-time protection, complete PC protection and much more. It has a simple interface that makes it easy to use even for a novice user. If you have downloaded this amazing antivirus tool, here's how it works in protecting your computer from malware. Check out this stepwise guide below:
Step 1: Download and install Systweak Antivirus on your Windows PC.
Step2: Once this protection tool has been installed, launch it.
Step 3: From the window that appears, click on the magnifying glass icon from the left side panel and choose a scan mode i.e. Quick, Deep, or Custom scan and click on it.
Step4: Wait for the scan process to get over. It will automatically detect and remove all the threats present on your system.
Note: While scanning is under process, you can minimize the antivirus window and continue with your work. It will show you a popup stating your PC is now safe!
[Possible] Real-Time Protection From An Antivirus Program
Systweak Antivirus is a remarkable malware protection tool designed especially for Windows PC. It successfully keeps away all malicious threats from your computer and keeps it safe from every nook and corner. What else do you need when you have an antivirus program like Systweak Antivirus with all necessary features? With its real-time protection, StopAll Ads feature, exploit protection, and more, you can prevent adware, spyware and other malware to track the activities on your system.
If you are still unsure, try its one month trial and you'll surely get to know what all it has to offer. Along with this, you'll be able to determine its speed and performance within this period and believe us, you will not be disappointed at all.
Systweak Antivirus is one stop solution for all your malware protection needs.
Convinced or not? Let us know your thoughts in the comments section below. Also, write to us about any of your suggestions or queries. We would love to get back to you with a solution. For regular posts on the tips and tricks along with solutions to common issues related to technology, keep reading Tweak Library.
Feel free to follow us on Social Media
Stay Tuned!