Just as you sometimes mistakenly delete photos from folders in your computer, the case with external peripherals such as external hard drives, SD cards, and other peripherals is no different.  It's only later that we repent "How I wish I could recover deleted photos from my SD card or external hard drive".
That's what this blog's all about. Here, we are going to discuss ways you can retrieve deleted photos.
Why Did My Photos Get Deleted From USB Drive/ External Hard Drive/ Memory Card?
You accidentally hit the shift+delete button
The photos are hidden
You formatted the drive mistakenly
During file transfer, due to some reason, your photos became corrupt and are now inaccessible
Your external drive is hit by a virus
In the last case i.e. if your SD card/ Pen drive/ External Hard Drive has been hit by a virus, we would strongly recommend that you first install powerful antivirus software in your computer before plugging the USB drive otherwise the virus may extend to your computer as well. Here are some of the best antivirus software for Windows.
Also Read: How To Find And Delete Duplicate Photos Using Duplicate Photos Fixer
How To Recover Deleted Photos From SD Card, Pen Drive, External Hard Drive
1. An Easy Way Of Retrieving Deleted Photos
Out of the many tools that you should install on your PC, a photo recovery tool is a must. And one of the best image recovery utilities is Photos Recovery. Why? Because you never know when you might have to face situations like the ones mentioned above. In this method, you can install photo recovery software that ensures that you get back your deleted photos. You can put all your faith in photo recovery software like Photos Recovery.
What is Photos Recovery?
Photos Recovery is one of the best software that can help you get back deleted images from all circumstances. This even helps retrieve images from formatted USB peripherals such as memory cards, hard drives, flash drives, etc. It supports a variety of file systems such as FAT 32, FAT, NTFS, etc. It is compatible with Windows 10/8.1/8/7 (both 32 bit and 64 bit)
Why Should I Choose Photos Recovery?
Photos Recovery is undoubtedly a feature-rich software that can easily help you retrieve deleted photos from all storage devices. Let's have a glance at some of its features –
Easy to use, state-of-art interface
Supports all image file formats
Multiple scanning modes
Preview photos before recovering them
Supports a variety of file systems
How To Use Photos Recovery?
Download Systweak Photos Recovery
Complete Review of Systweak Photo Recovery 
1. Download and install Photos Recovery
2. Click on the Removable Drive tab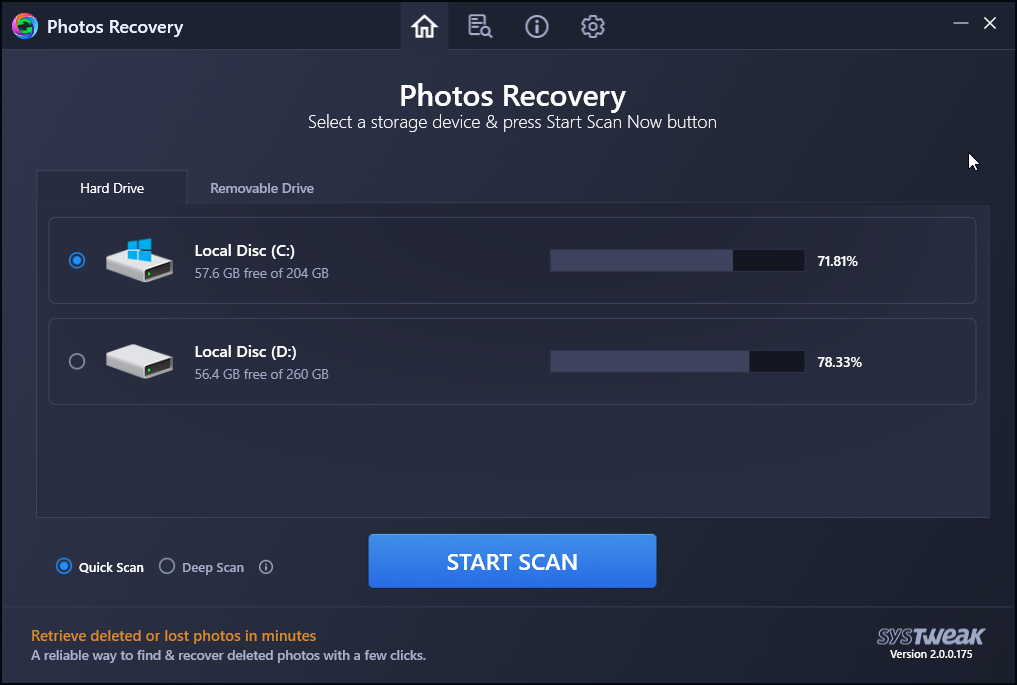 3. Choose the Quick Scan or Deep Scan option

4. Click on Start Scan and wait for the scan to finish

5. In a while, you should have the deleted photos

6. Select the photos that you want to recover and then click on the Recover button from the bottom right corner of the interface
7. Select the location where you want to recover files
Word of Caution: It is highly recommended that you do not recover an image on the same drive it was placed before or else you may lose the image permanently.
Also Read: 5 Stellar Photo Recovery Alternatives For Windows & Mac
2. Manual Ways To Recover Lost Photos From USB Drive/ SD Card/ External Hard Drive
The below-mentioned ways would help recover lost photos from storage devices if the photos are hidden, corrupt because of a virus or if you have already backed them up. One of the ways to backup photos and even other files is to use good backup software.
– Use Restore Previous Versions Feature
Windows has a brilliant feature of backing up data which can be restored should you face situations such as accidentally deleting photos. In Windows 7, it was known as Backup and Restore and in Windows 10 it is called File History. Do visit the hyperlinked text to know how you can activate the feature. If you already have followed the steps mentioned below –
Connect your USB drive
Open File Explorer and then go to This PC
Right-click on your drive and choose Properties
Click on the Previous Versions tab
Click on the Restore option from the bottom right corner of the screen
– Use The CMD To Retrieve Deleted Photos
This command will recover files that are hidden or inaccessible in your USB flash drive, memory card, or external hard drive. Here we shall be using two commands namely – chkdsk and attrib.  The steps for the same are mentioned below –
Note: It is important to type the following commands as mentioned below –
1. First, connect the USB flash drive to your computer. In case, it is a memory card, use a memory card reader
2. In the Windows search bar, type CMD and select Run as administrator from the right-hand pane
3. When the command prompt opens type –
Chkdsk (drive letter): /f
For example: If the drive letter of your external drive is W, then the command will be
chkdsk W: /f
4. Next, type –
ATTRIB -H -R -S /S /D (drive letter):*.*
For example: If the drive letter of your external drive is W, then the command will be
ATTRIB -H -R -S /S /D  W:*.*
5. Wait for the process to complete. Once the process is complete, check if your files are back
Also Read: How To Clean Up Duplicates In My Library On Mac?
Wrapping Up:
Just because the photos were deleted from your storage device doesn't mean you have lost all the possibilities of getting them back. As you can see from the blog, there are multiple ways of retrieving lost photos. However, we highly recommend that you use a third-party tool like Photos Recovery from Systweak. You will then be able to get back deleted and lost photos from all situations. If you liked the blog, give it a thumbs up and for more such content, keep reading Tweak Library. You can also find us on Facebook, YouTube, Twitter, Instagram, Tumblr, Flipboard, and Pinterest.
Next Readings:
How to Recover Deleted Photos From Android Gallery
Best Data Recovery Software for Windows PC
How To Recover Deleted Files in Windows 10?
Best Data Recovery Software For Mac 2021 – Paid and Free