You must have heard about temp files and cache if you have ever tried to augment your PC's performance and enhance its delivery speed. They are believed to be the most influential aspect of a PC's performance apart from the commanding specs of your device, be it a smartphone or PC. To understand why it is so important to keep the Temp files and Cache memory in check, let's dig deeper on the functioning and purpose of these two:
Purpose of Temp files and Cache memory
The temp files and cache memory hold the lion's share when the temporary performance of a device is discussed. So, what are temp files and caches?
Temp Files are automatically created by system for the smooth and effective functioning of different applications on any device. Temporary files are known as 'Foo' files in the Linux operating system. Whenever a user carries out any function on a device, it automatically saves the progress in the form of tiny temporary files to keep track of the functions performed so as to protect the progress from being lost while in the middle of the process. When the functioning is finally saved by the user, the temp files get deleted, at least most of the time. This whole process is carried out with each application on the device for every assignment performed.

Cache, on the other hand, is a type of RAM, Static RAM to be specific. Cache memory is the fastest memory in any system. Its function is indistinguishable from a RAM. It temporarily stores the data while the user functions on an application. The point of difference is that it's the fastest memory on the system. So, whenever the CPU demands any command or data, the Cache memory quickly makes it available and reduces the time needed to perform the task.
Hence, both temp files and cache memory contribute deliberately in polished performance of the device. 
Also Read: Best Android Cleaner and Optimizer Apps
Importance of Deleting Temp Files and Cache Memory
Beginning with temp files, every application on a PC creates temporary files while you work on it to keep your progress saved. Temp files become useless once you close the application or save your progress. These tiny files eventually add up and acquire a lot of space on your Hard Drive when not deleted by the application. Anything purposeless, acquiring space on your device, takes a toll on the device's performance. Therefore, we should always keep the number of temp files on our system in check. It helps in the polished and effortless functioning of our system.
For example: When one writes a document on MS Word, all the progress made is constantly saved in the form of Temporary files in the system to cope up with sudden system failure. That's how we get the option to recover the document when we restart the PC after the crash.
Cache Memory, unlike Temp files, does not come in abundance. Cache memory is a physical memory present inside the PC. Cache memory utilizes several capacitors for every bit of memory which makes it expensive and baffling to put generously in any device. A typical device contains only up to 8 MBs of cache memory. Therefore, to keep your PC running smoothly, we need to keep the health of the fastest and most responsive memory in check by cleaning it every once in a while.
Now that we understand why we need to delete temp files and clean cache memory frequently, let's take a look at how it's done. 
Also Read: Best PC Optimizers Software for Windows 10
How to Clean Temp files and Cache Junk:
Temp files can be cleared in a variety of different ways. One that is the easiest and ensures instant performance boost is:
Run Command: To delete temporary files from your computer, one needs to open the Run Command dialog box. Run Command dialog box can be accessed by right-clicking on the Windows icon present at the left-hand corner of the taskbar or by simply pressing 'Windows Key' + R. The command '%temp%' is used to access the folder containing temporary files. One needs to make sure that all documents open are saved before deleting the temp files.
With the steps mentioned above, one can easily delete temporary files and can provide an instant boost to the system. However, to free up Cache memory, the process requires to delete different type of Caches separately. This is how you can do it:
Browser Cache:

Browser caches can only be dumped by accessing the application itself. Option to clear Cache and cookies can easily be found in the settings menu of any browser. Though, one needs to clear caches of different browsers separately, if there are multiple browsers on the system.

Windows Store Cache:

Windows store cache can be removed with the aid of Run Command. One needs to enter the command 'WSReset.exe' to successfully reset Windows store and clear cache.
These are the steps that can be taken to clean Cache and Temp files from the system and give an instant boost to the performance of your device. However, following these steps every once in a while, may seem intimidating and are not the only steps that can be taken to brush up the performance. Therefore, there are a number third-party software available in the market to do the task efficiently and effectively for you. One of the software is Advanced System Optimizer.
Advanced System Optimizer: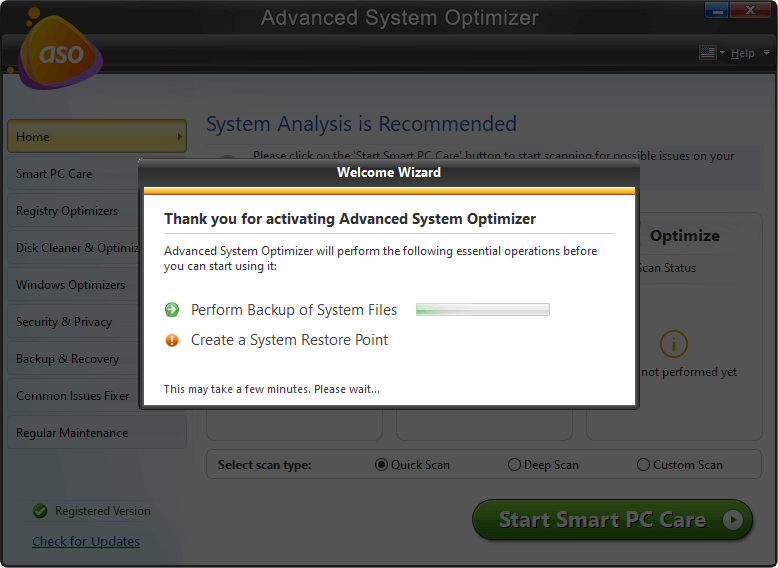 When it comes to optimizing your PC's performance, flushing Temp files and Cache memory isn't enough. There are a number of other things that affect a device's delivery speed keeping track of which can turn out to be a daunting task. Advanced System Optimizer does that for you in just a few simple clicks. Advanced System Optimizer offers an intuitive user interface for the ultimate user experience. 
Download Advanced System Optimizer ($49.95)
Complete Review on Advanced System Optimizer
Advanced System Optimizer comes with dozens of features that can help optimize your PC's performance.
Disk Cleaning and Optimizing: This software automatically surfs your hard drive and keeps track of all kinds of Junk Files in the system allowing you to get rid of them in just a single click to give an instant boost to your PC's performance. It makes keeping your PC polished effort

less. It also lets you keep track of the memory utilized in the system in different file types and gives you a detailed overview to let you better plan the storage space in your device.
System Security and Privacy:

Advanced System Optimizer comes bundled with System Security and Privacy to deliver safety from Trojans and malware. It also offers a bunch of different features which in turn help make your device a safe place for your files. It lets you delete your browsing history from all the browsers at once with just a couple of clicks. It also proffers security by encrypting your sensitive files with a password.
Game Optimizer: Advance System Optimizer comes with a dedicated game optimizer that helps manage your RAM efficiently to provide you with lag-free gaming experience.
Backup and Recovery: Backup and Recovery helps you recover the deleted files and backup your valuable documents and data to make sure that a user never loses any important file, even by mistake.
With all these features available inside just a single application, it makes taking care of the PC effortless.
Taking care of your PC can be a daunting task, but not if you have the right tools with you. We hope we were able to answer your questions about temp files, Cache memory, and their role in your PC's performance.