Table of Contents
While CleanMyMac is the preferred choice of power users, it doesn't go well with some users. Some of the noticeable reasons why users prefer free CleanMyMac alternatives include the tool is bit expensive in comparison to other software that offers the same features, it is resource hungry app, and navigation is also cluttered to some extent. However, with a dedicated Mac cleaning software apps like CleanMyMac 3, X, Classic and its other versions, one doesn't need to be a wonk to maintain and optimize their system.
Now that you are looking for the best CleanMyMac alternatives for mac, here we have tested & reviewed 11 best Mac cleaner software you should use in 2022.  These tools are tested on various parameters including performance, budget friendliness, and range of features they offer.
Also Read: CleanMyMac VS OnyX : Which is a better
Our Recommendation:
CCleaner

All in One Tool
Perform Deep Cleans
Quick Tip about CleanMyMac X
The most effective way to get best out of CleanMyMac is to use it in a combo. You can use Gemini 2 which is offered by the same software developer to clean duplicate files in addition to other junk.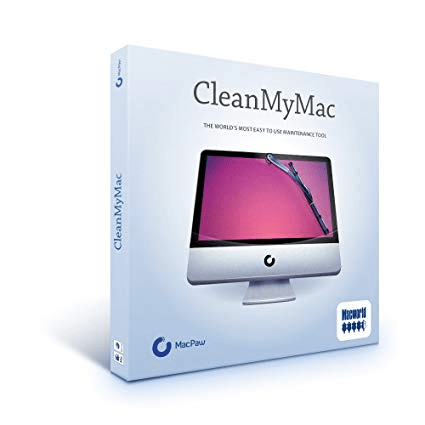 Here Are the Best CleanMyMac Alternatives For Mac 2022
Here are some of the most popular Mac utilities that would allow you to keep your Mac in a solid state & make it run super-smooth.
1. Disk Clean Pro
Disk Clean Pro alternative to CleanMyMac designed & developed by Systweak Software is an outstanding Mac Cleaning & Optimization Software available for all the recent versions to ensure your Mac yields smoothest performance. Packed with all the advanced utilities such as Junk Cleaner, Logs Cleaner, Partial Downloads Manager, Duplicate Files Cleaner, Old/Unused/Large Files Manager & much more.
Best part of this mac disk utility alternative? Despite offering so much in such a great interface, Disk Clean Pro just costs $23.99 for providing users with a seamless experience while using their Mac.
Pros
Speedy & thorough cleaning to ensure no unwanted data is accumulated.
Packed with advanced utilities to free up storage & speed up Mac.
Most affordable Best Mac Cleaner & Optimizer that just costs $9.99.
Cons
Might have compatibility issues with older Mac versions.
Have a look: Best Antivirus for Mac
2. Cleanup My System
Looking for software that can clean your Mac, optimize its performance and keep your privacy intact? Well, choose none other than Cleanup My System. It's a top-notch Mac tune-up application, designed and developed by Systweak Software. It allows users to find and eliminate unwanted junk files, local mail attachments, caches, trash items, old/large files, and other redundant data that takes place on your disk over time. Additionally, this CleanMyMac alternative comes with a dedicated feature to manage Startup items, uninstall old applications, and clean privacy and identity exposing traces.
Download Cleanup My System
Complete Review on Cleanup My System
Pros
Comes with the One-Click Care module to clean Macs.
Helps in freeing up unnecessary occupied storage space.
Allows you to see which file/folder is taking a lot of space on your storage.
Eliminate digital footprints to secure your identity online.
Cons
Lacks compatibility with other popular OS.
Also Read: How Macos deal with malware
3. CCleaner
No list of Best Mac Cleaner Software could get complete without mentioning CCleaner, CleanMyMac Alternative for Mac. The software is a one-stop solution to provide complete clean-up. Its standard version allows you to free up unnecessary occupied space, clear online tracks and helps you manage your machine to run faster. While its professional version boasts more features like Complete cleaning, Keeping browsing history private, detect and remove Internet trackers, Instant product updates, 24X7 customer and much more.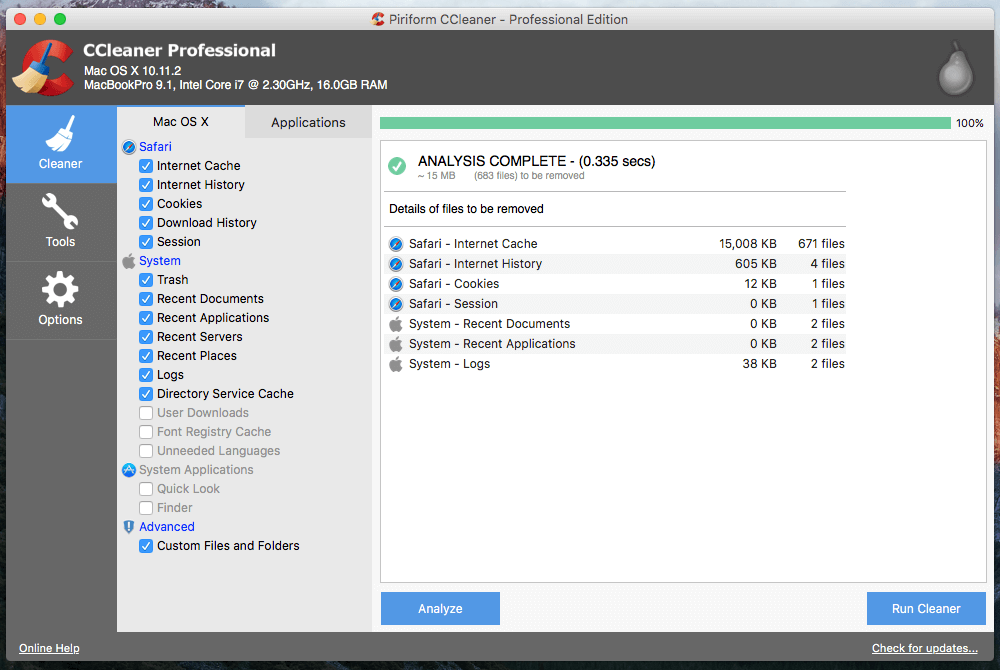 CCleaner is undoubtedly the best CleanMyMac alternative that keeps your Mac running efficiently.
Pros
It is an all-in-one tool for cleaning & optimization.
Perfect for budget users
Performs deep clean to recover GB's of disk space
Cons
Lacks on protection against malware
Navigation is bit cluttered
Must Read: How To Use Automator Mac With Your Web Browser?
4. MacBooster 8
MacBooster from IObit is another popular best CleanMyMac alternative which offers a collection of tools for monitoring the status of your Mac machine. From managing unwanted junk files, duplicate photos, videos to tracking Mac performance, you can control everything from its unique dashboard. The Mac software is fully packed with lots of advanced and optimizing features, including Turbo Boost to make your system run like a new one. It's ability to identify security services you aren't taking benefits of, that can ultimately enhance the security of your mac certainly makes it the free alternative to CleanMyMac.  Uninstalling unnecessary apps, managing startup items from one place is also possible with this effective CleanMyMac alternative.
The software is quite easy-to-use, has powerful features for efficient cleaning & comes with full mac security suite, including Virus Scan, Malware Scan & Privacy Protection.
Pros
It cleans up to 20 types of junk files to offer deep cleaning
This advanced CleanMyMac alternative offers full security protection against malware and potential threats.
It works on powerful scan engines to scan and remove junk even from the remotest corners of your device storage.
Cons
Compatibility issues with older Mac versions
Some users have reported security issues using this tool
Also Read: How to Speed up mac using a startup manager apps
5. AVG Tuneup for Mac
The next best free alternative to CleanMyMac for your system is AVG TuneUP for Mac. This powerful Mac cleaner is offered by leading cleaning and optimization software developer AVG Technologies. It is designed to find & clean duplicate files, temporary files, Trash items, cache files, bad-quality photos, and a lot of other junk. It scans your system storage to clean hidden junk effectively.This fully automatic Mac cleaner works effortlessly on your device to save time. SO, download this powerful CleanMyMac alternative now and make your Mac run faster and stable.
Download AVG Tuneup for Mac Here
Pros
It effectively addresses cleaning and optimization issues on your Mac.
It works on powerful scan engines to deep scan and clean your system storage.
Helps you streamline your photo collection with duplicate photo cleaner features.
Cons
It lacks security features which is an important part of seamless Mac performance.
Expensive option in comparison to other products available on the market
6. MacFly Pro
When it comes to cleaning up junk files, eliminating duplicates & optimizing Mac for delivering speedy performance, MacFly Pro arrives as one pretty good bet. The Mac utility is designed to perform complete system clean-up along with essential maintenance procedures that proffers noticeable performance boost. The entire Mac software is comprised of three main modules:  Smart Assistant, CleanUp & Tools. Smart Assistance is specialized in notifying users about the desirable improvements, required by Mac to perform better. CleanUp module focuses on scanning and removing unwanted files that makes system slow.
And, the last module is dedicated to deep scanning that identifies files which might get left by CleanUp module. You can download this amazing Best CleanMyMac Alternatives for a 7-day free trial to find whether it meets your needs or not.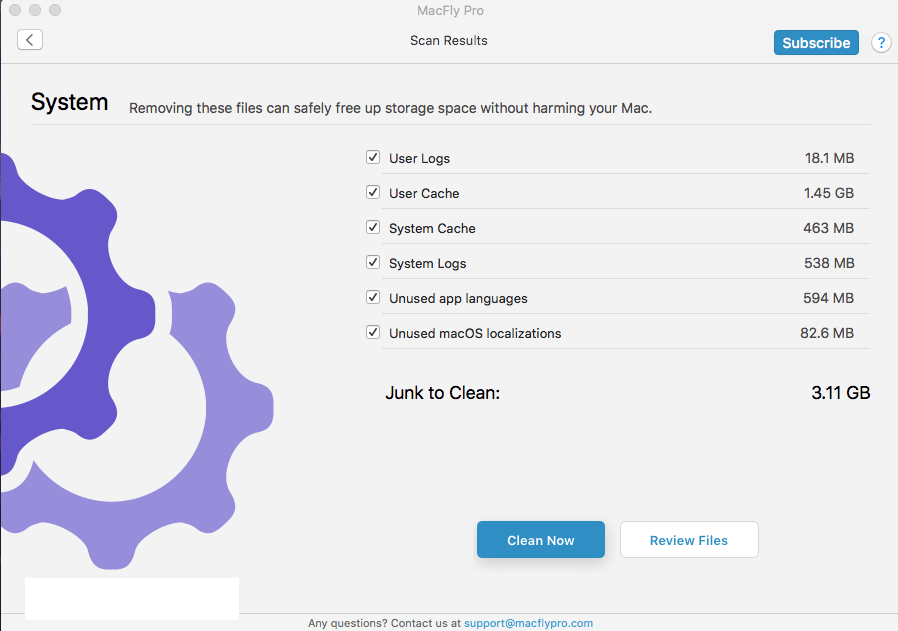 Pros
It works on a simple & intuitive interface to offer seamless user experience.
It also handles duplicate files and obsolete apps.
Easy to use
Cons
Compatibility issues with latest Mac versions
Not suitable for power users
7. DaisyDisk
DaisyDisk is another Best CleanMyMac Alternative for mac that completely scans your system for gluttonous files that eats lots of system resources and make your machine super-sluggish. Its unique interface provides a visual overview of what apps or data are eating largest space on your Mac. So, that you can easily locate them and remove them in a click.  The Mac cleaning solution claims to have one of the fastest scanners & we certainly not disagree to it. DaisyDisk typically takes only a few seconds to locate large useless files.
Apart from this great cleaning and optimizing features, DaisyDisk also features integrated QuickLook functionality to preview the content with ease.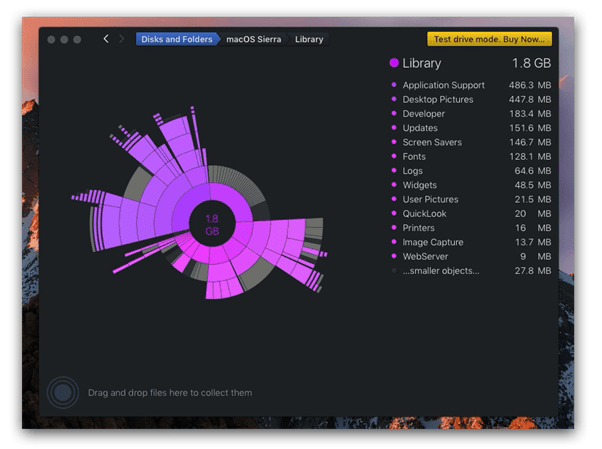 Pros
It offers color coded reports for easy viewing and understanding.
Good fit for budget users
Offers original visual interface that is easy to use
Cons
Compatibility issues with older macOS versions
Lacks on security features
8. Stellar SpeedUp Mac
This list of Best Mac Cleaner software is certainly incomplete without including Stellar SpeedUp Mac. One of the most popular Mac utilities, Stellar works with advanced algorithms that allow users to free up disk space & enhance system performance by eliminating unwanted logs, junk, trash files, duplicates and unused apps from your Mac.
The Apple Mac Cleaner automatically detects the boot volume and recommends for the scan. Stellar also allows to schedule Automate Tasks, so that you can perform various clean-up solutions at a desired Time and Date.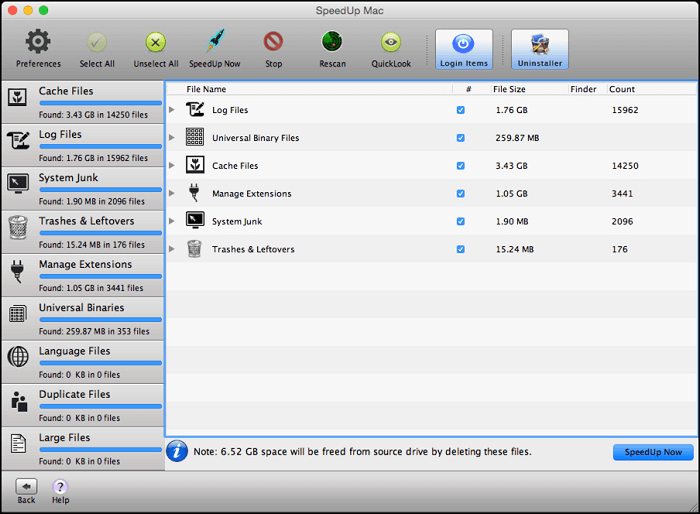 Pros
Supports cleaning of all major junk file types
Offers 30 days trial to help you explore various features
Helps you remove duplicate files and unwanted login items
Cons
Resource hungry app
Navigation could be improved
9. OnyX
OnyX by Titanium Software is a multipurpose utility that allows you to run miscellaneous maintenance and cleaning tasks to optimize Mac machine for running super-smooth.  This free CleanMyMac alternative presents a clean user interface with an abundance of Maintenance, Rebuilding & Cleaning utilities.   The Mac Optimization app if highly automated & despite the multitude of choices you'll observe in the software, you're just a click away to automate all the cleaning and optimizing tasks.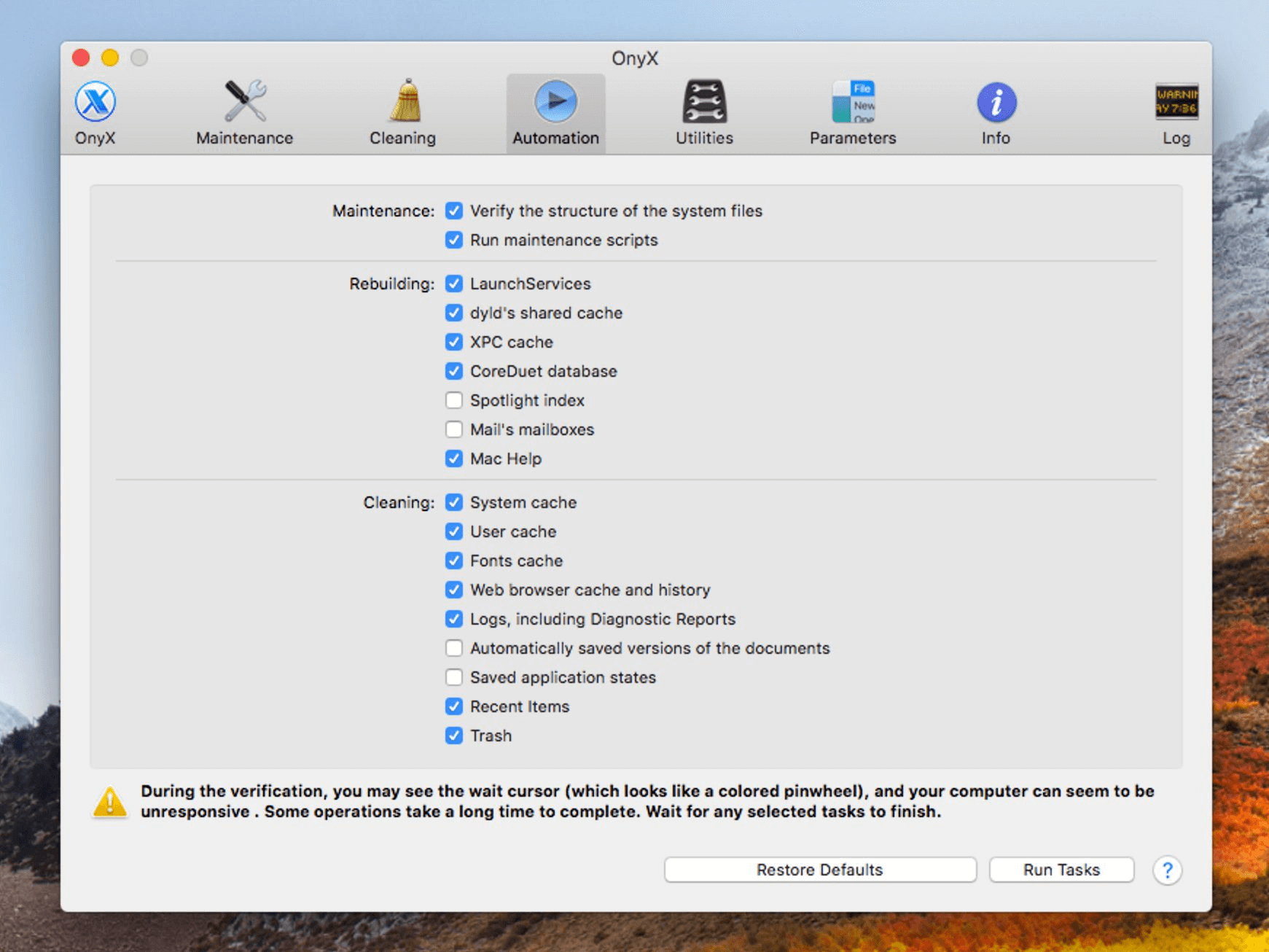 OnyX is an advanced CleanMyMac alternative that quickly declutters your system, allows you to free up disk space, monitor system memory and bring out noticeable performance boost.
Pros
The tool is available for free and performs all basic cleaning
Offers great support even for latest Mac versions
Lightweight tool offers instant cleaning
Cons
Not suitable for power users
Offers only basic cleaning features
10. Drive Genius 5
Drive Genius 5 claims to keep your Mac running in tip-top shape while ensuring all your data remains protected. The application brings a perfect blend of cleanup, defragmentation, virus scanning, data recovery, cloning capabilities, and more. It even features the option to periodically scan your Mac for hard drive issues that may hamper overall performance. Using the Mac Cleanup software, you can take advantage of multiple speed up and cleanup modules like Defragment, Speed, Repartition, Find Duplicates, Find Large Files, Clone, Secure Erase, and more. Besides these tools for improving overall performance, Drive genius brings plenty of security tools to run Malware Scan and keep the entire Mac protected from old and existing threats and viruses.
Pros
Tool to build up an additional startup drive.
Capability to find and delete duplicate files.
Measure your optimal drive performance.
Ability to fix the majority of logical file problems.
Cons
Slightly expensive Mac Cleaner & Optimizer than competitors.
11. Disk Doctor: System Cleaner
Last but not least in consideration, Disk Doctor is a fabulous CleanMyMac X alternative to choose for your Mac. The software comes with a robust scanning and in-depth cleaning engine that identifies and removes tons of unwanted items from your Mac so that a significant chunk of memory can be released. It thoroughly eliminates app caches, logs, residual files, temp files, large files, and other redundant data. Once the scanning process gets completed, Disk Doctor lets you preview a list of all the items in each category, so that you can get rid of all the residues in no time. All-in-all, Disk Doctor is a convenient tool to increase the amount of free space on your hard drive without any hassles.
Pros
Comes with an intuitive interface.
Provides a full review of redundant files.
Easily remove gigabytes of unneeded files.
Remove old iOS software updates & partial downloads.
Cons
Poor customer support.
FAQ's About CleanMyMac Alternatives
FAQ 1
What are the best CleanMyMac alternatives?
Based on cleaning and optimization features, Disk Clean Pro and CCleaner for Mac are two best CleanMyMac alternatives. You can try these powerful Mac cleaner tools to deep clean and optimize your system for better performance.
FAQ 2
What can CleanMyMac X do for you?
CleanMyMac X is comprehensive too, it helps you free up storage space, guards your system against malware, removes obsolete apps, removes unwanted files, and optimizes your overall Mac performance. The best part is, it works seamlessly on any Mac version.
So, That Was Our List Of Best CleanMyMac Alternatives!
Without a doubt, CleanMyMac is one of the most trusted Mac utility programs available in the market. However aside from it, there are few other options too which are featured-filled and probably provide a great performance boost to any Mac machine.
Whichever CleanMyMac Free alternative you use, please feel free to mention them in the comment section below!