CleanMyMac and OnyX both are popular Mac optimization apps and need no introduction. But there are things worth knowing about OnyX and CleanMyMac. Hold your horses! we aren't saying the former is paid and the latter is free because we know you already know this. What we are referring to is, we know choosing the right Mac optimization software isn't easy. Hence here we bring for you a quick round-up of what each app is capable of and whatnot. By the end, trust me you will have a better idea about both these best Mac optimization tools.
So, what are we waiting for? Let's start and know who wins this best Mac cleaner battle!
Before that let's know why we need a Mac optimization tool?
What is the Need for a Mac Cleaner?
You might have heard a couple of times that Mac is self-sufficient. This means Apple creates an advanced system that doesn't need a third-party tool for cleaning. But this leaves us with a question of how to delete junk files, cluttered data, duplicate files, and other unwanted data?
As for a novice or beginner doing so is not easy. If you too are facing the same problem, worry not we have your back. Here we bring for you a quick comparison between two best Mac optimization tools: OnyX and CleanMyMac. Both the tools are quite efficient but then it totally depends on you which one you will go with.
So what are we waiting let's learn about both OnyX and CleanMyMac – Mac Cleaner tools.
Which is a better Mac Optimization tool: CleanMyMac or OnyX?
CleanMyMac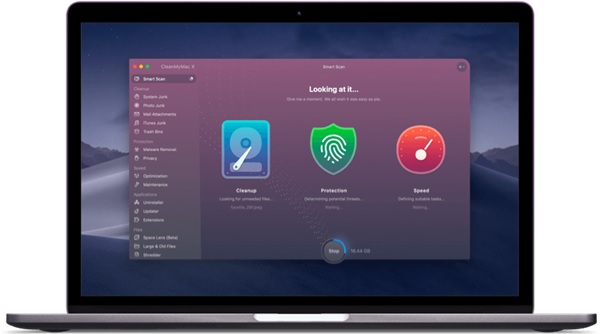 Developed by Ukraine based MacPaw this is a paid Mac optimization tool and by far is the most appealing Mac cleaner software. CleanMyMac- optimization tool focuses on shortening the learning curve. This means without any training you can use this Mac cleaner.
This tool offers Smart Cleanup to scan for files hidden in different areas of your Mac. Using it you can clean system cache, iTunes junk files, old mail downloads and other clutter that occupies unnecessary space. All these modules help to free up space on Mac and make room for important data. Using CleanMyMac you can reclaim storage space by deciding yourself if you want to remove scanned files or not.
Moreover, using this feature you can run a scan for large and old files that you cannot do if using OnyX. Not only this, CleanMyMac includes a set of scripts to optimize your Mac's disk performance, maintain system task and perform tasks necessary to boost Mac speed.
CleanMyMac offers various disk cleanup options while OnyX includes lesser features. Both the applications are trusted and help to improve Mac performance. But the CleanMyMac wins over OnyX as it comes with a simple user interface while OnyX is designed for advanced power users.
OnyX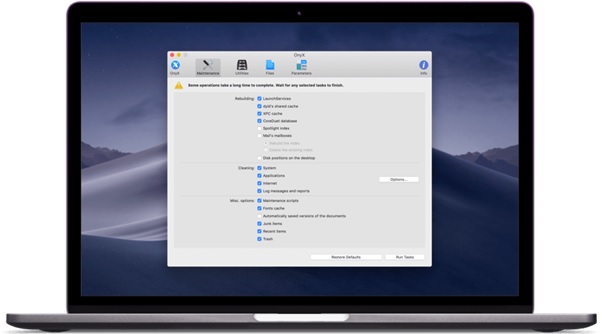 Let's begin with something we all know, OnyX is a free Mac optimization software with a long-standing reputation. Developed by Titanium Software this Mac cleaner is one of the great Mac optimization tools. Its experience and expertise help boost Mac performance. Moreover, tasks like cleaning cache files, repairing disk permissions can be easily done using OnyX. Its intuitive interface and scripts listed under different menu items make things easy even for beginners. Also, using the OnyX automation option you can perform these tasks automatically.
But there are certain things that make OnyX not so affable.
OnyX doesn't give the option to sift through scanned files. Users will have to trust the application and hit the Execute button to finish maintenance and optimize Mac performance.
Every time you use OnyX you'll have to verify the startup disk and restart your Mac to bring changes into effect. However, you can change the settings to stop prompt from appearing by going to Preferences > Advanced here select Don't check. This will stop the prompt from appearing.
Quick Comparison between CleanMyMac and OnyX
Advantages of CleanMyMac
1. Quickly finds junk files including system junk, iTunes junk, Photo junk, browser caches, incomplete downloads, mail attachments, and more.
2. Help get rid of large and old files from your Mac.
3. Frees up an ample amount of disk space in a few minutes.
4. Helps boost Mac performance and repair disk permissions.
5. The two most important and useful features – Uninstaller & Shredder are offered by CleanMyMac.
6. Gives estimation of disk space that can be freed after performing the cleaning.
7. Multi-lingual
8. Offers security features to protect the system from viruses, spyware, and other threats.
9. Email and call support.
Disadvantages of CleanMyMac
1. Auto launches
2. Sometimes certain warnings and alerts might annoy users.
3. Using a trial version you can clean up to 500 MB of junk files only.
Advantages of OnyX
1. Easily and quickly cleans system cache and temporary file taking unnecessary storage space.
2. Runs silently in the background without interfering with your work.
3. Completely Free one of the best Mac optimization tools.
Disadvantages of OnyX
1. A simple click can mess things if the user doesn't know what the tool does.
2. Sometimes freezes while verifying disk.
Certainly, both OnyX and CleanMyMac are powerful Mac optimization tools with advanced features. This makes determining the winner difficult. Where one is free the other is paid. OnyX does not include as many features as CleanMyMac. Moreover, CleanMyMac allows reviewing files before you decide to delete them that OnyX lacks. Also, using CleanMyMac you can run a scan to search for unwanted photos, large and old files that again you cannot find in OnyX.
OnyX includes basic features to optimize Mac and CleanMyMac has advanced features that help get your Mac rolling again without spending a dime.