Table of Contents
Earlier to use a second Operating System, we either used another machine or do a dual boot, but with time everything has changed. We can now explore multiple Operating Systems without installing another one on our system. No longer you need to purchase a new machine or make space for another Operating System. Virtualization software for Windows has made it possible to use dual operating systems on a single machine.
It allows users to test a software or the entire operating system without installing or removing the default OS from the PC. Virtualization allows using different Operating Systems on regular PC for testing, experiments, coding or any sort of reasons. For example, if you want to work on a Mac interface on your Windows Laptop or Windows 10 on a Mac Machine, you can do this by using free VM software for Windows 10. Here is a review and comparison of the best virtual machine for Windows 10.
Best virtual machine for Windows 10:
1. VMware Workstation Pro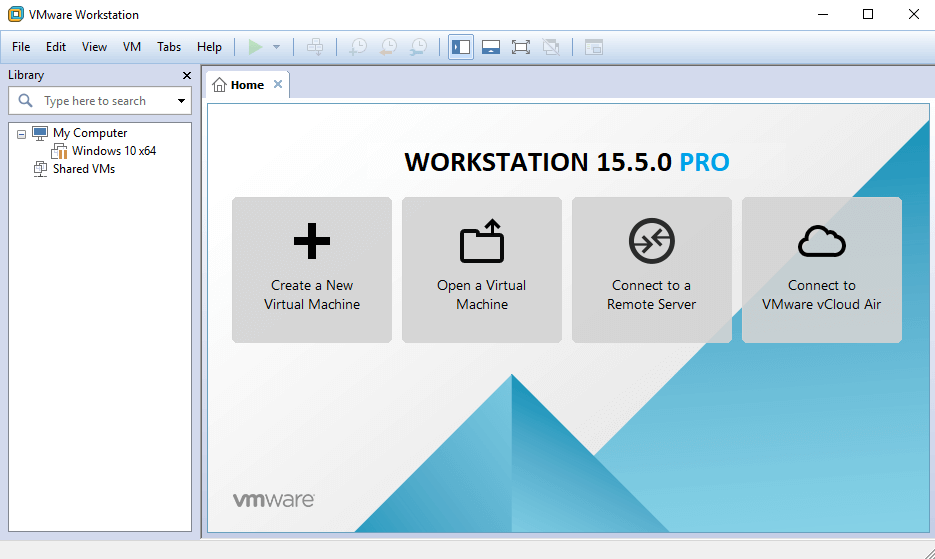 VMware Workstation Pro is one of the best virtualization software for Windows that gives you a wide range of features to explore. VMware Workstation Pro allows you to run multiple operating systems on a single machine without installing different operating systems. All these OS run as a virtual machine and lets you test and build the software with utmost compatibility with almost all the operating systems.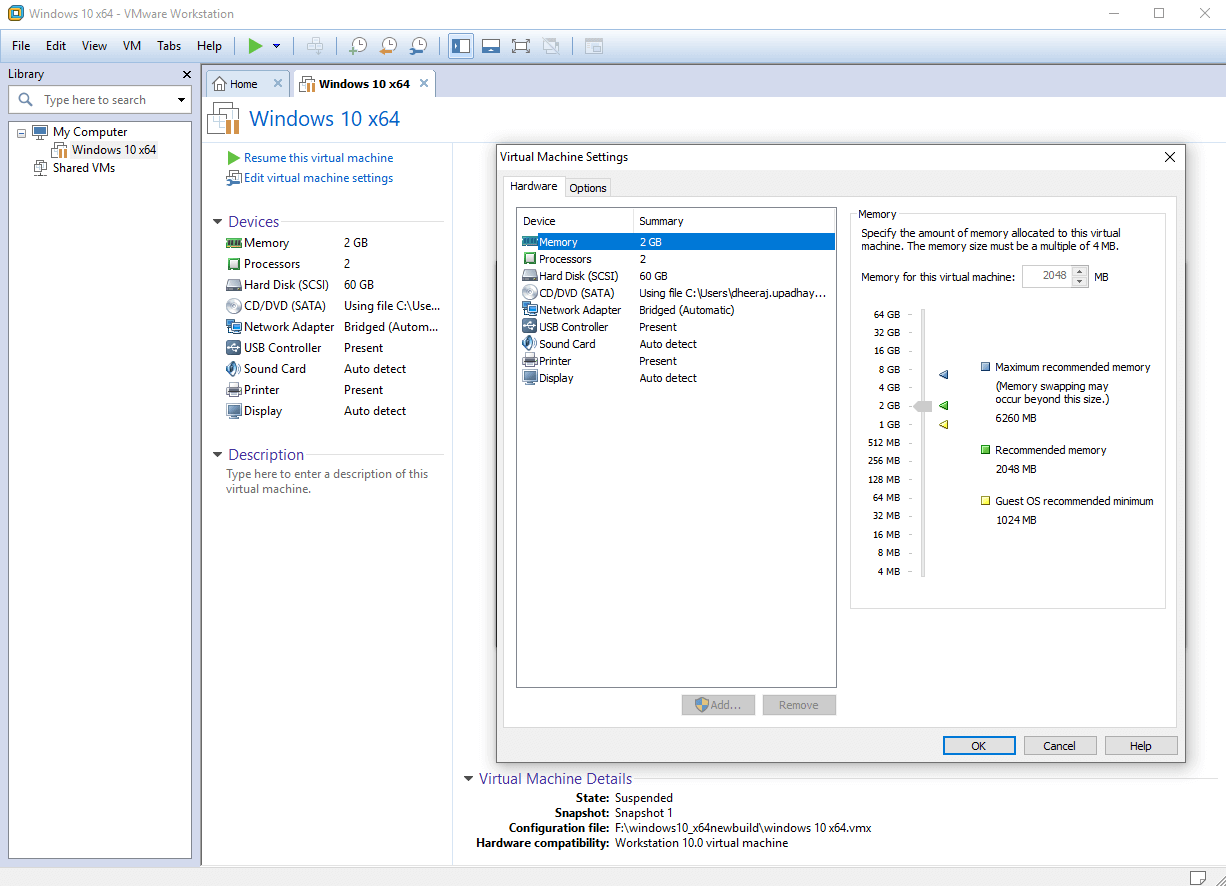 VMware Workstation Pro Features
Ultimate Companion to vSphere Integration
Create multiple screenshots or rollback to a point with snapshots
Clones for Rapid Duplication uses linked clones to quickly initiate a VM
Supports DirectX 10.1 and OpenGL 3.3 for High-Performance 3D Graphics
Allows you to create enormous VMs on 16 vCPUs, 64 GB of memory and 8 TB of virtual disks
REST API offers over 20 controls for operations like VM Power, Host and Guest VM
Test App flexible Virtual Network Simulation for powerful virtual networking
Supports heavy application to run on Server and Desktop VM environment
Protect your data on VMware Workstation Pro by Restricted Access on VM
VMware Workstation Pro supports 4K UHD / QHD High-Resolution Display
Share Best Virtual Machines among your teammates in the organization
Compatible with Windows, Mac, Linux, and other platforms
2. Parallels Desktop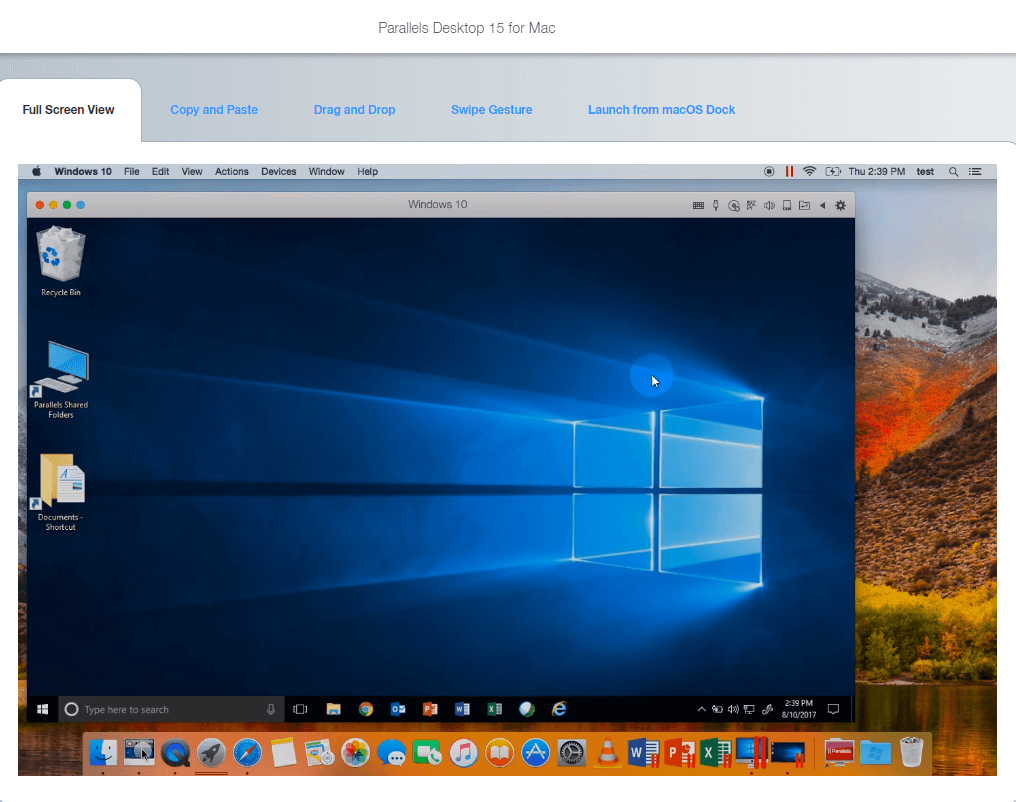 If you want to experience a Windows Desktop environment on a Mac system or vice versa, Parallel VM is the best virtualization software for Windows and Mac systems. Even Apple provides 'Boot Camp' as their free tool to run a virtual machine, however, regular users, need to switch to parallel VM. Whatever is your native OS, you can run a different OS side-by-side. A parallel desktop is often required when you want to run an application that doesn't support your OS and needs a different OS.
Parallel VM allows you to get Windows Notifications in the Mac notification center. The latest built of Parallel VM allows simulating Windows XP, 7, 8, and 10 environments on your Mac machine. All Mac and Windows applications can run side-by-side using Parallel VM without rebooting the system. File sharing between OS is also possible with the Parallel VM.
Parallels Desktop Features
Virtual RAM & Virtual CPUs for each VM session
Easy download and installation process of Windows 10
Optimized and updated to work with macOS Catalina (10.15)
Customized Touch Bar for instant access of Windows applications
Connect & Pair USB, FireWire, Thunderbolt, and all Bluetooth devices
24/7 premium phone & email support for business cloud services
One-Click tuning of Retina Display and performance as per need
Network conditioner to simulate instant access to Windows 10
Virtual machine encryption for added security
You may also check out the list of complete Features of Standard, Pro and Business edition.
3. Oracle VM Virtualbox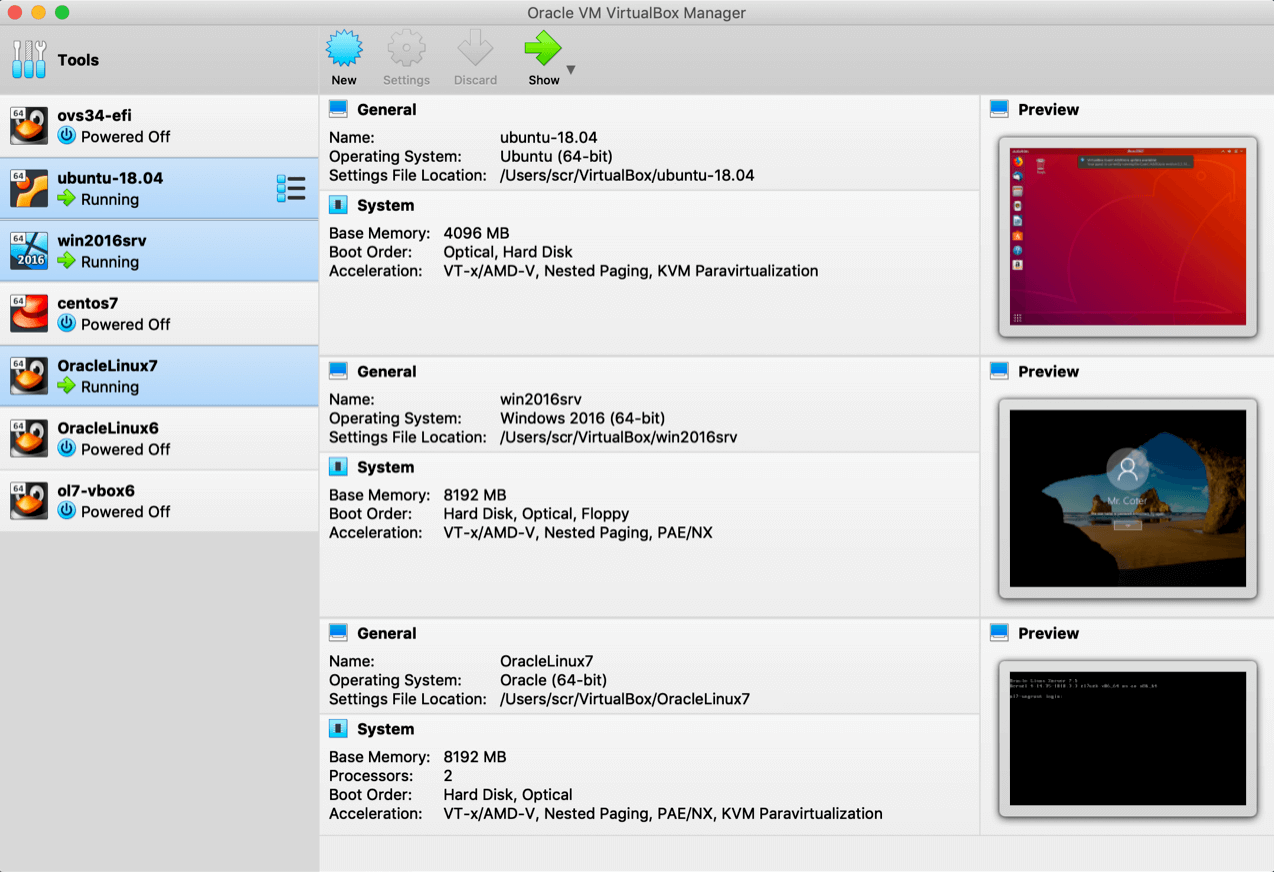 The Virtualbox Windows 10 VM is one of the best virtual machines for Windows as it gives you a wide range of host and guest combinations. The second most amazing fact about Virtualbox Windows 10 Virtual Machine is it's FREE of cost available for all OS.
Irrespective of Windows XP onwards, Linux level 2.4 and above, Windows NT, Server 2003, OpenSolaris, Solaris, and even OpenBSD Unix, you have it all packed in one free VM software for windows 10.
Virtualbox Windows 10 VM also runs on Mac machines, and host a client Mac VM session as well. It only takes 30 MB of disk space even after being such a powerful Windows 10 VM software. The disk space may increase to certain Gigabytes depending on the virtual OS you are trying to use.
Oracle VM Virtualbox Features
Virtualbox Windows 10 VM has a super portability feature regardless of OS
It doesn't require hardware virtualization as it got built-in hardware acceleration
Virtualbox Windows 10 VM supports shared folders, seamless Windows with 3D virtualization
It has incomparable hardware compatibility with multiple Input/Output and Processing devices
Connect with any Remote machine display using the Virtualbox Windows 10 VM
Capture multigeneration snapshots of your sessions for future references
Check out the list of complete Features of the Virtualbox Windows 10 VM edition.
Comparison Chart
Product
Parallels Desktop (for Mac)
VMware Workstation Pro (for Mac)
Oracle VM VirtualBox (for Mac)
Best For
Casual Exploring OS
Testing & Coding
Professional Use
Mac version
Yes
Yes
Yes
Windows version
No
Yes
Yes
Linux version
No
Yes
Yes
Shares Folders With Host System
Yes
Yes
Yes
Shares Printers With Host System
Yes
Yes
No
Shares Clipboard With Host and Guest
Yes
Yes
Yes
Drag-and-Drop File Transfer
Yes
Yes
Yes
One-Click Windows Installation
Yes
Yes
No
Downloads Windows Installer
Yes
Yes
No
Imports From Windows PC
Yes
Yes
No
Downloads Linux Systems
Yes
No
No
Supports macOS Guests
Yes
Yes
No
Installs macOS From Recovery
Yes
Yes
No
Summing Up:
In the comparison of the best virtual machine for Windows 10, VMware Workstation Pro scored as the top Windows 10 VM. Though Virtualbox Windows 10 is a free Virtual Machine for Windows 10 simulation for experiments. However, if you are a regular user, you should opt for the best virtual machine for Windows 10 with complete features.
If this article turned out to be helpful to you, please like and share this with your colleagues. For more such tips, tricks and tech-related updates, click on the bell icon to get regular updates from Tweak Library. Do share your thoughts about this article in the comment section.
 Follow Us: