Table of Contents
SEO specialists have all reasons to love SEMrush SEO Toolkit, as this comprehensive SEO tool offers all useful features combined in a single suite. You can use this powerful SEO tool to conduct market research, competitive analysis, domain optimization, link building and what not!
SEO Toolkit by SEMrush is segregated into five main workflow categories. These categories include Competitive Research, Link Building, Keyword Research, Rank Tracking, and On-Page and Technical SEO.
Your entire SEMrush SEO Toolkit experience starts with an intuitive SEO dashboard. It contains all key search engine optimization (SEO) metrics that help review domain optimization. While it has a lot of features to offer, let's discuss top 8 features of this advanced SEO tool.
Features of SEMrush SEO Toolkit
1. Site Audit
The first on the list of SEMrush SEO Toolkit includes Site Audit. This is a powerful website audit tool that ensures your site remains in good health. It comes loaded with friendly & intuitive interface to offer enhanced user experience.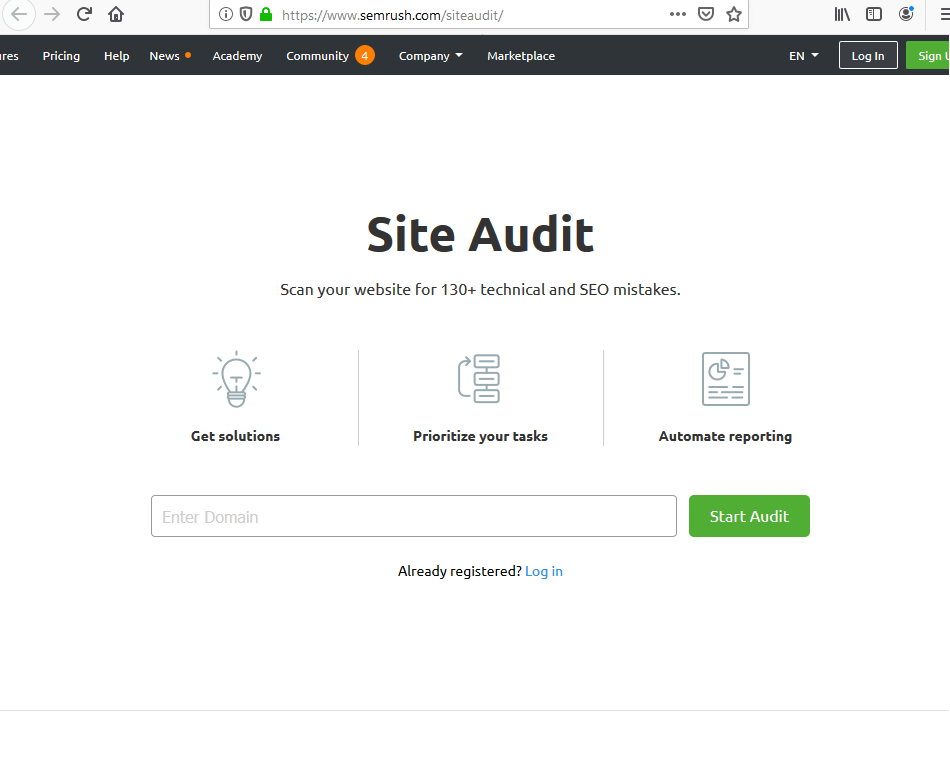 Highlights of Site Audit
Offers more than 120 on-page and technical SEO checks that help find & fix various SEO issues on your site. These issues may include broken links, duplicate content, HTTPS implementation, crawlability & indexability, and more.
Offers numerous flexible settings for domain, subdomain, or subfolder crawling.
It comes loaded with high-speed crawler that helps speed up processing multiple pages in minutes.
Here, you can run on-demand crawling and scheduled auto re-crawls. You can do it on daily or weekly basis.
2. Keyword Magic Tool
This powerful keyword research tool by SEMrush can be used for keyword searching. It has an extended database of over 14 billion keywords and works on simple & intuitive interface. Here, you can perform a search on single word or phrase, and it will display you detailed table of related search terms.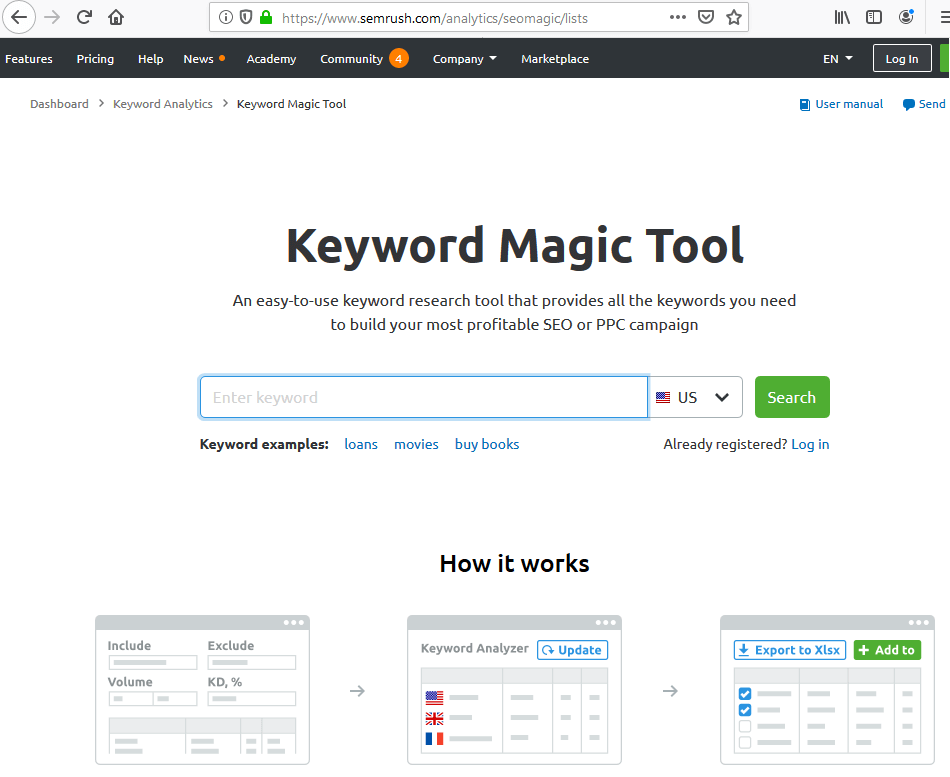 Highlights of Keyword Magic Tool
It offers extended keyword database with over 14 billion keywords to detailed keyword research.
It displays average difficulty and total volume calculated automatically.
It displays target keywords in groups and subgroups based on topic.
It offers built-in filters and sorting option to facilitate keyword research process.
This best keyword analyzer tool refreshes keyword metrics in real time for efficient results.
3. Link Building Tool
The smart link building feature of SEMrush SEO Toolkit helps list all link building opportunities that are available for your domain. Here, you get an opportunity to run an outreach campaign to get new quality links for your site. It allows you to run competitive analysis and build outreach campaign.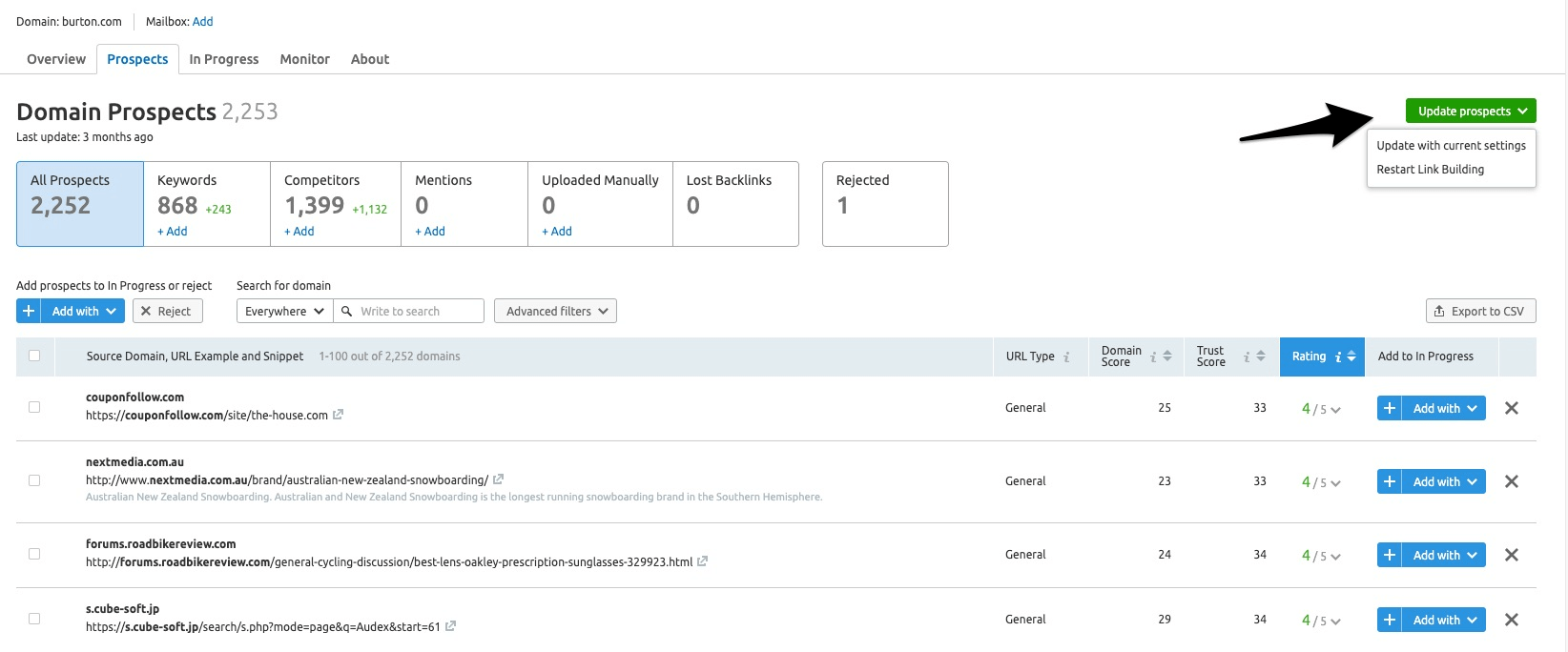 Highlights of Link Building Tool
It offers huge list of outreach prospects based on multiple keywords and competitors.
It offers built-in workflow to help you organize the outreach process.
Here, you will find easy integration of Google Search Console and Gmail for effective results.
Furthermore, you can easily retrieve contact information for target websites automatically.
4. Position Tracking
If you are looking for SERP tracking or rank tracking, then Position Tracking feature of SEMrush SEO tool will help do that. You can use this feature to track site's daily rankings. Here, you can do this for a custom set of target keywords.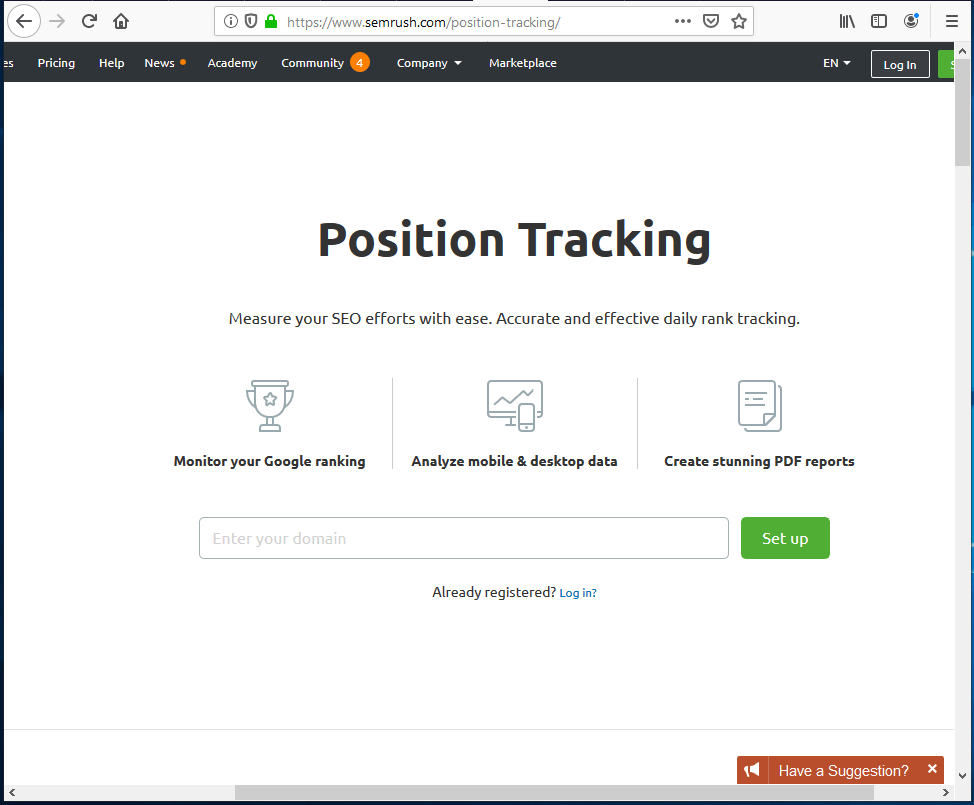 Highlights of Position Tracking
You can use this feature to track any keyword and domain.
It allows you to compare & monitor multiple geographic locations and any device types be it mobile, tablet, or desktop.
It also helps rank for featured snippets with intuitive reports.
Here, you can share reports with simple PDF reporting.
5. On-Page SEO Checker
On-Page SEO Checker helps improve ranks of pages on your website on SERPs. It offers comprehensive and structured list of things to make things easy. Moreover, multiple on-page SEO ideas, target content length, LSI keywords, backlink prospects, and more are offered by this tool.
Highlights of On-Page Checker
Easy integration with other sources including Google Analytics, Google Search Console, Position Tracking, organic Research, and Excel File data.
It helps benchmark results based on your rivals in the top-10 results.
It offers idea tasks report to make it easy for you to follow your trend of recommendations.
Clear prioritization of to-do list.
6. Domain Overview
The next feature of this best SEO tool allows you to view & understand online visibility of your site with range of useful overview metrics. It displays your domain's organic and paid search traffic, backlinks, and use of display advertising.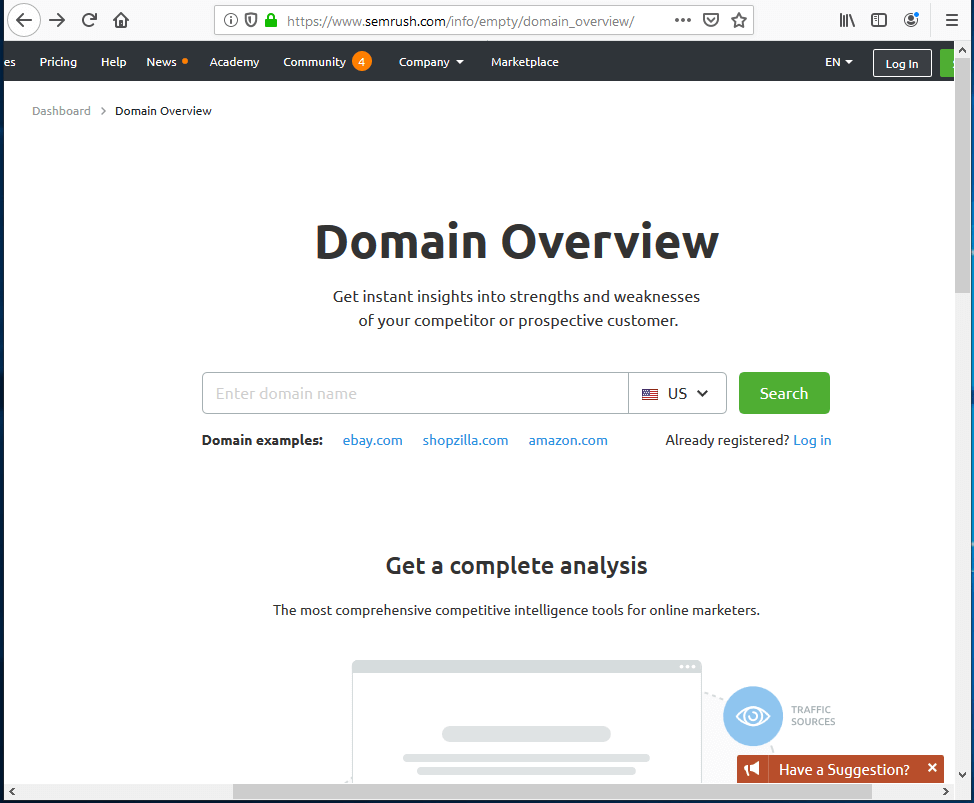 Highlights of Domain Overview
It displays key metrics for your domain's overall search engine presence, number of backlinks, and organic and paid traffic.
It allows you to analyze global and mobile databases.
You can use this powerful SEO tool to analyze site's organic position, advertising keywords, recent position changes, and more.
7. Organic Research
This feature displays detailed report about your site's top organic search competitors and information about keywords they are getting traffic on. It helps research any domain from SEMrush's database to make it easy for you to analyze SEO of any or all of your competitors.
Highlights of Organic Research
It allows you to analyze comprehensive list of competitor's organic keywords & pages.
Here, you can view ups & downs in rankings of competitors.
It offers flexible filters to make it easy for you to research specific term.
Here, you will find SERP Features analysis that helps view keywords that have special ranks on Google.
8. Backlink Analytics
This feature of SEMrush SEO Toolkit allows you to study competitor's backlinks profile and make easy comparison. SEMrush collects numerous fresh keywords daily and adds them to its database to offer you tons of keywords option. It is helpful to track competitor's lost and new links based on these keywords.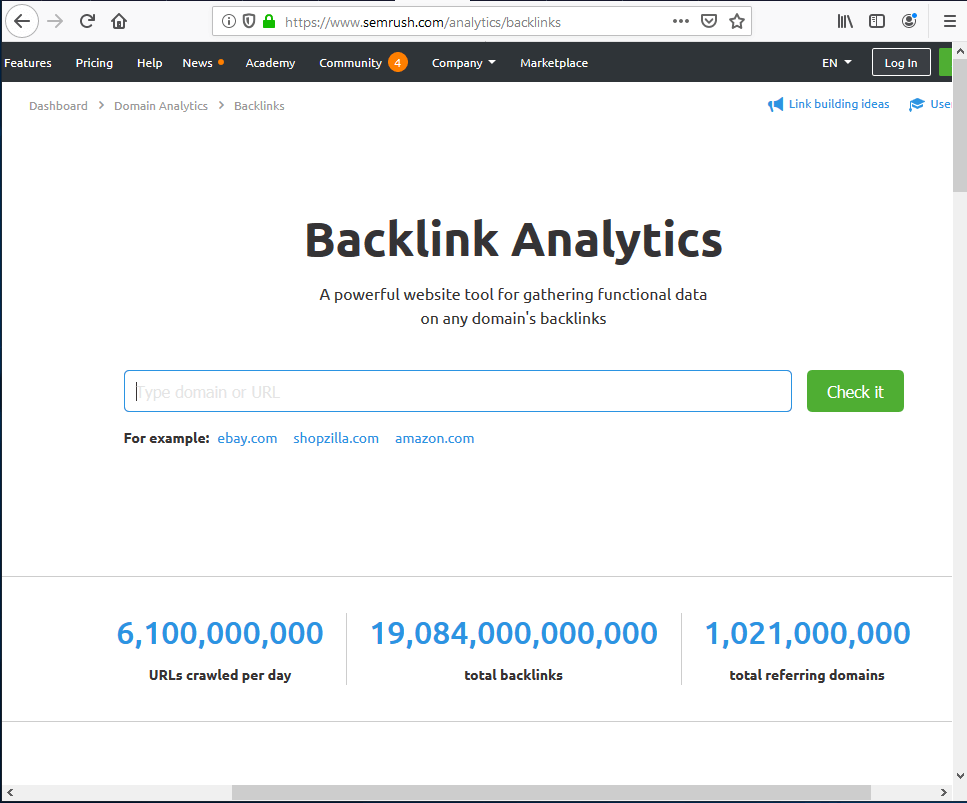 Highlights of Backlink Analytics
It offers sorting, exporting, and advanced filters option.
It helps find domains that have similar backlinks like you for easy ranking comparison.
It offers anchor text analysis, referring domains, IPs, quick comparison feature, and more.
Here, you can view competitor's pages that have highest backlinks.
Conclusion
Using SEMrush SEO Toolkit, you can manage and perform all SEO tasks effortlessly. In addition to above mentioned features, it also offers backlink audit, keyword overview, keyword difficulty analysis, backlink gap, log file analyzer, listing management, SEO content template, organic traffic insights, and other features.
So, try this amazing SEO tool to rank for mountains of keywords and get tons of traffic. Use this best SEO tool and don't forget to share your experience in the comments below.