If you have a question that how can a calendar app helps you in managing your schedule right, let us tell you that they make your cluttered work timeline smooth, at first. All your appointments, business meetings, anniversaries and holidays can be well marked in the application and let it do the rest of the work for you.
What makes a Calendar App great?
It's easiness to sync with your schedule and smooth use.
Customizable features
Availability for multiple devices
Provide you a stress-free experience
It would also not be wrong if you also call them scheduling apps, why? Scroll more.
Also Read: Best Compass Apps For Android and iOS
Best Calendar Apps For iphone And Android:
1. Google Calendar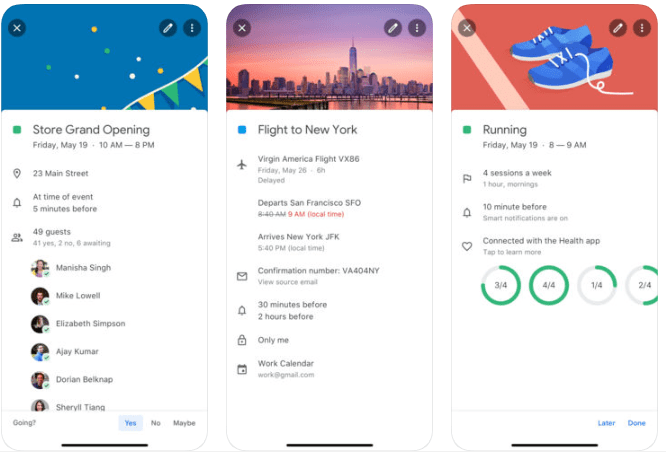 Google calendar app can be called as smartest that sync with your Gmail account very well. Your email automatically adds the events to this app and remind you for any event beforehand.
You can schedule multiple calendars using your one account. After this, connect it with a number of apps, including your business apps to keep the work swift.
Noteworthy Features:
Color coding for individual calendars to focus on specific events
Share your entire or part of the calendar with your friends
Connect your Google Calendar with other apps as well
Also Read: Top Face Recognition Apps For iOS and Android
2. Any.do
Just let your goals, tasks, and reminders feed into this best calendar app and it will take care of everything else. In fact, you can import your existing events into the app while sharing it with your friends at the other end.
Once you check the monthly calendar, colored dots will appear to mark the events. You may click them open and note the event.
Noteworthy Features:
Stay organized with location-based reminders (business meetings, appointments, etc.)
Notifies you for an upcoming schedule like meeting or traveling
Mark your schedule within the genre of Today, Later, Delete or Done as per the need
Also Read: Best Night Vision Apps For Android & iOS
3. Jorte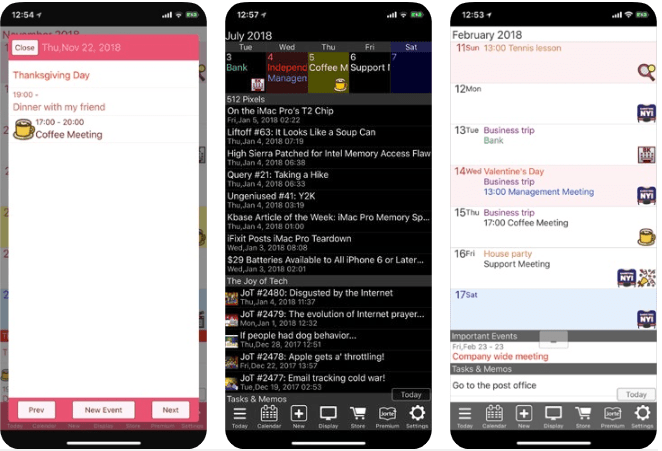 This calendar cum scheduling app can be called a perfect reminder for the day, keeping you well-organized. What makes it different is its cloud sync services that help in managing the calendar right from the web.
An additional store is also present which serves as a market for additional backgrounds and themes.
Noteworthy Features:
Alter various themes, backgrounds, colors and widget size
Add photos in any particular event
Sync with Google Calendar and Jorte Cloud on PC
4. My Study Life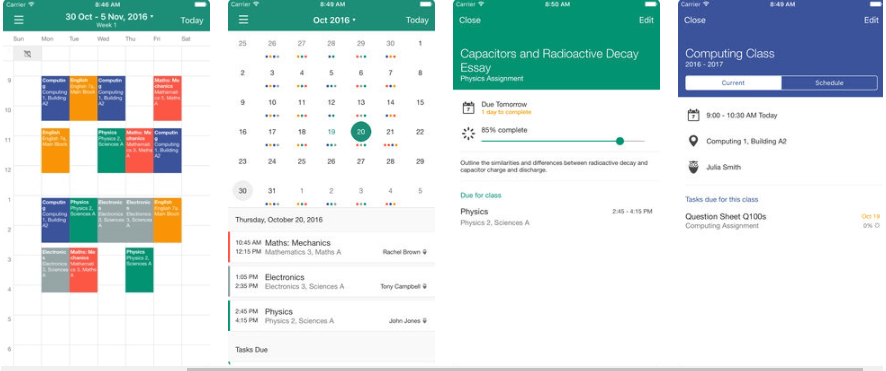 For all the students and educators out there, My Study Life is your ultimate time saver for the events and you would not be required to download another scheduling app for the time being.
It is so as educational life is quite different from the private job sector where holidays, classes, homework; all need separate sequencing.
Noteworthy Features:
The calendar app lets you log in class timings and assignments.
Keeps a track of the assignments with appropriate reminders
Exam scheduler is a big plus for students as well as teachers
5. TimeTree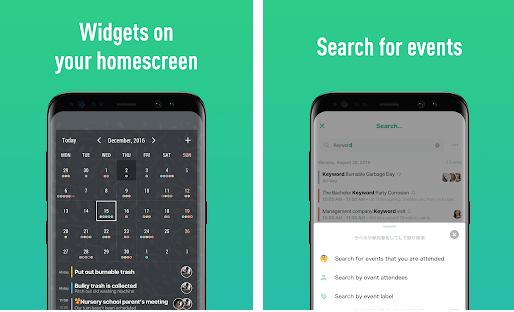 Call it quite a smart organizer, TimeTree can orient your goals towards trees like family, business, school, work, couples or anything you want. This scheduling app asks you at the beginning which side you want to indulge in.
Choose the tree and share with each other your schedules, plan the meetings, reminders, photos, chat and much more to intimate the timeline.
Noteworthy Features:
Color coding and description of the calendar helps you in identifying the purpose of each.
Sync your phone calendars for pc as per your ease.
Separate chat room for each event can be made.
Available in 13 languages
6. Tiny Calendar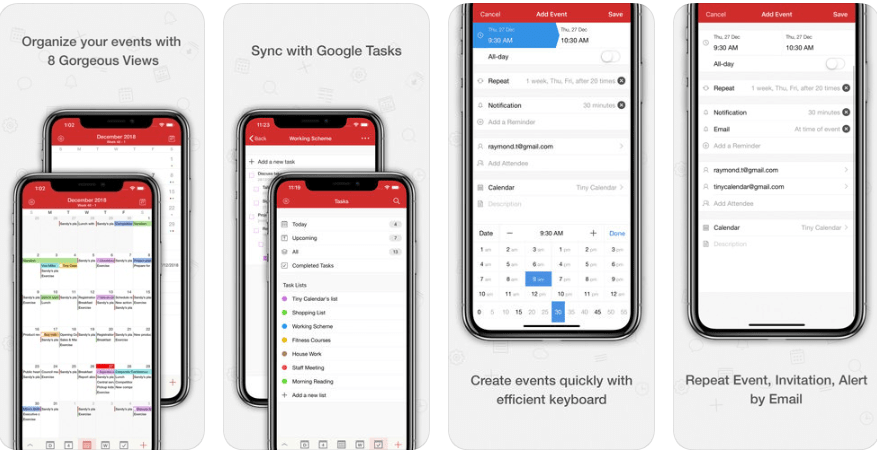 A simple app that is free from many preloaded calendars helps in syncing with Google calendar as well as other events. You can view the app in various shortcut modes like day, week, month, year, mini-month and switch it quickly as required.
Even when you are not having an internet connection, you can edit or delete various events. Moreover, it reminds you of various events through push notification or emails.
Noteworthy Features:
Calendar management through color codes
Invitation to other people is a plus feature
Access the app from anywhere like iPhone, iPod or iPad
Available on: iOS
7. ZenDay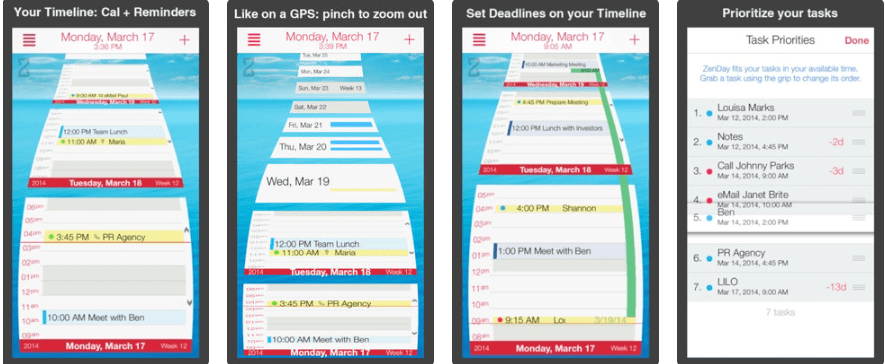 You can surely maintain the balance between various tasks using this calendar as well as a reminder app. The app automatically helps in shifting the tasks to another day based on importance.
The familiar gestures, zooming in tasks, syncing the schedules with everyday needs, creating deadlines and doing that all in an interesting 3D view is worth to install it today.
Noteworthy Features:
Smart 3D view to keep the page interesting
"Fixed" option lets the app prioritize your tasks after the completion of important ones
Acts as a personal time coach.
Available on: iOS
Also Read: Best Meditation Apps for Android
The Concluding Reminder
We believe that if you are loaded with too much work or just not in the habit of organizing your time schedule properly, these apps will help you to a great extent. If you want a simple and easy one, Google Calendar can do wonders for you whereas when you wish to fix genres of schedule, you may go for TimeTree of Jorte.
Though we would say, you shall go through features of each and every app and keep the one that suits best in the end.