Yeah!! This is one of the many questions we all ask ourselves, "Is it necessary to update your system software quite often?" What happens if we don't update the continuous software updates & keep ignoring it? Why are these software updates so important & not to be missed?
We all have experienced notifications popping up (bottom left corner of the screen) while working on something important or simply watching an entertaining episode & don't want to be distracted. We either ignore those pop ups or click on the Close button & leave that unattended. We think we will take care of it later on but we don't. We simply forget about it & it never occurs to us to do it again. Ring a bell??
Are We Asking The Correct Question Here About Security Update?
The question we are asking ourselves right now, "is it necessary to keep updating the software every time". However we must ask ourselves, "why is it important to keep updating the software quite often"?
When you ask a wrong question, you get the wrong answer, not the correct answer you are looking for.
From those manufacturers to service providers, everyone is trying hard to help us with updates & here we are, ignoring it completely & never rethinking it. These little ignorant instances may have a powerful impact on our system that will be beyond repairing.
On the top of my head, the least I can tell you about "is the often software update necessary" is because of keeping you away from cyber scams & malware attacks. & yeah!! There are as many reasons as you can count that can prove why these software updates are necessary & that too, quite often.
1. Keeping Yourself One Step Ahead From Potential Risks
One of the most important reasons that can prove why updating the software often is that it helps you keep your system one step ahead from being at potential risks. Potential risks include malware, spyware, & Trojan that are all set to give you & your system quite a hard time.
If you keep updating your system & software updates often, your system will be safeguarded from all those bad behaving contents.
These potential risk factors can slowly turn into something serious that can lead to the irreparable damage to your data as well as system security.
So keep your system updated with each & every software update so you won't face any issue while using your PC.
"& let me tell you the perfect tool that can help you out here to update the outdated software without making too much noise – Systweak Software Updater"
A tool that redefines the words – one stop solution!! You can get more information about the tool in the below section as well.
2. Patching Up Security Flaws
Obviously, every new update brings bug fixes & gap filling that had been encountered in the last update. Not every update or version release is perfect & that's why service providers help us with the updates once in a while. To keep the bugs fixing as well as patching all the security flaws that were unable to be avoided by the last system update.
Because almost every day there's a new kind of virus that is ready to hit your security wall so hard & for that only, you need these regular updates to keep the wall thicker.
3. Data Protection
Another reason why you must keep updating the security aspect of your device is the protection of your precious data. Yeah!! All of these things are interconnected if you go deep because the security updates keep constructing your security wall thicker & that's how along with everything else, your data gets secured.
Data is the new type of the treasure now that needs your undivided attention because if it is open to others, you might not like it. So in order to keep your data protected & safe, keep the wall thick by updating the software whenever you receive the notification for the same.
4. Don't You Want The Latest?
The journey from Windows XP to Windows 10 has been mesmerizing for us & it wasn't a stable ride, we accept that. God forbid, it took time to get used to, but later on we thanked the service provider that we got the latest & updated Windows OS version. Imagine if you'd be using the Windows XP Similarly, you wouldn't have been able to fight with the latest potential risks. & that's why you need the latest & updated version from your operating system to the minute supporting software. The updated version of the software will keep the bugs & exploit content away from your system & will keep it running smoothly.
5. Systweak Software Updater
Many times users have mentioned that once they closed the notification pop up, they don't know how to update the software again. & that's where you need something that can automatically give you the list of software updates that need your attention. So let's welcome Systweak Software Updater that's been considered as the ultimate tool to keep your Windows PC up-to-date. It quickly scans your computer for outdated software and installs genuine updates effortlessly.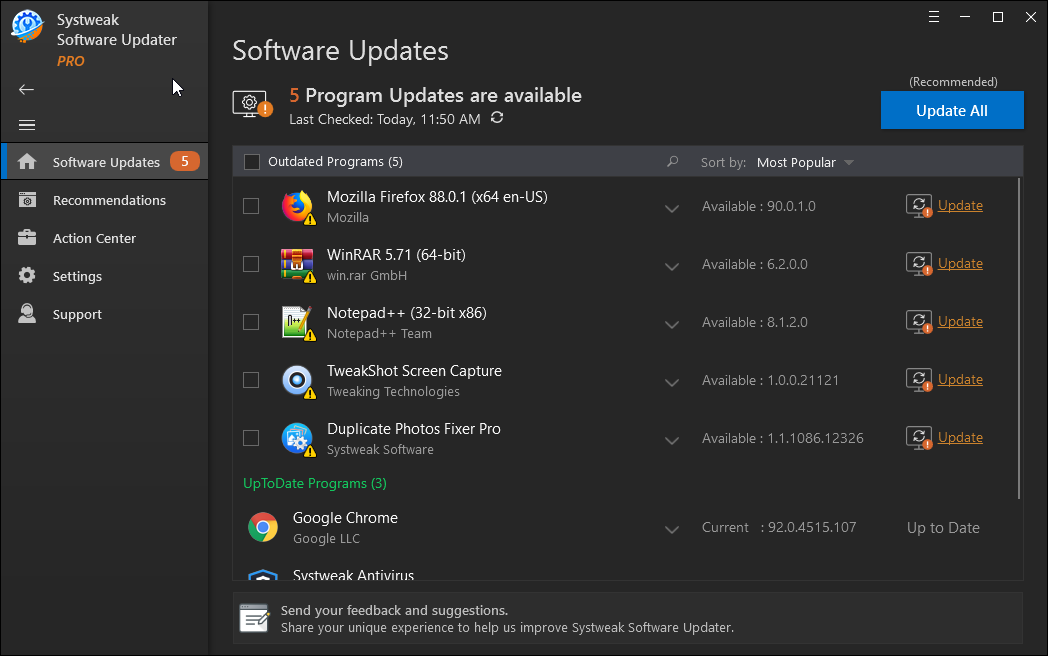 Once the tool has been downloaded following the successful installation, all you need to do is launch the Systweak Software Updater. The tool will automatically display the software that needs the latest update & whichever ones you want to be updated, check those & tap on "Update".
& after tapping on Update, you will find that the downloading of the latest software version has been initiated. Give it some time depending on the size of the software update & once it's been completed, you will see a similar display as the below screenshot (the software will vary according to your device software).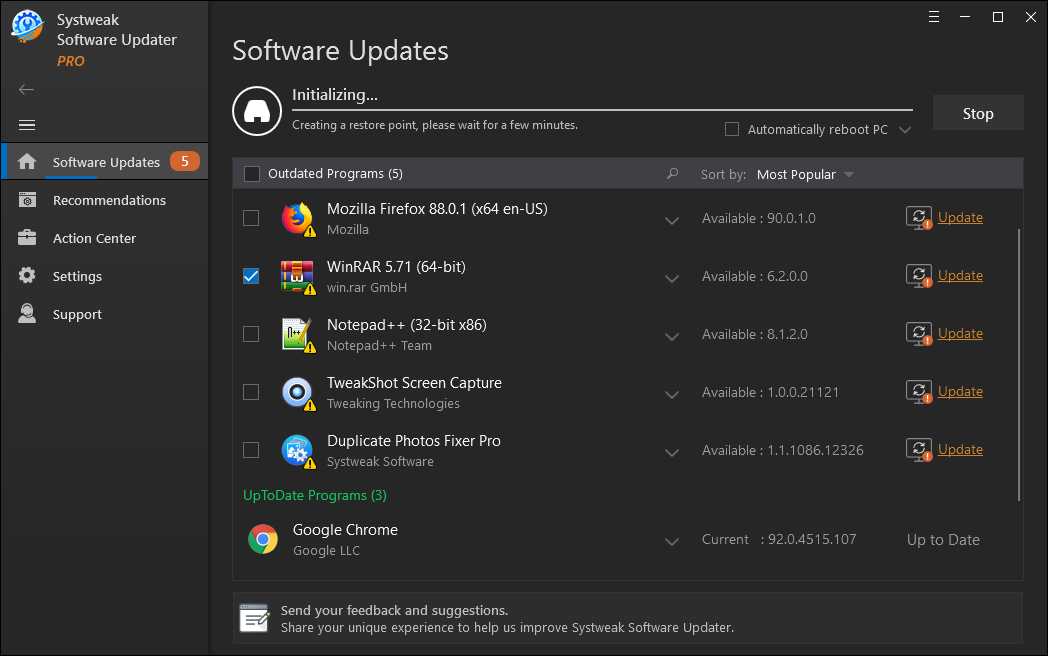 Now all your software has been updated with the latest version & your device has got the thickest wall it could have for that particular day. So keep updating your system quite often because it won't make anything worse as updates have been meant to give a proper boost & smoothness to your device.
Wrapping Up
Updating the latest version of the already installed software is a must for your device because it will bring smoothness to the overall functionality. From the minute programs to the heavy application/software you are using, the updates bring bug fixes. Apart from all these outside impacts, the latest updates give a good fight to the malware & exploit to protect your system while you are browsing on the internet.
So keep in mind the above points before you take the decision of not updating the software & don't forget to explore the one-stop-solution, Systweak Software Updater.
Next Read
How to Protect Your System from Malware Attacks
How does an Antivirus Protect your PC?