We all are quite okay with downloading FREE software from all over the internet, without worrying what harm it can bring to our device. Because the FREE software isn't ever FREE as there will always be some additional app, advertisement, or toolbar attached to it. And I believe we all are quite aware of the disaster uninvited guests (in terms of internet) can bring to the device.
From tweaking the browser settings to making your system work like a Snail, the add-ons can bring down the whole system. Since we are never going to stop downloading FREE software from the internet, something needs to be done for the additional downloading content only. Here we will be talking about segregating the unwanted junk while downloading programs online from not secure or 3rd party platforms.
Here's How to Download Windows Software Without Bundled Junk
Bundled junk means the unwanted items you get with the FREE software you just downloaded from the internet. Since these items can contain something malicious that can harm your computer, it needs to be taken care of as soon as possible. So here we will be talking about using a Windows inbuilt feature to clear out the bundled junk from the software as below:
Clear Out Bundled Junk From Downloaded Software
One of the most important features from Windows "Custom Installation" helps you keep the unwanted bundled junk away from the system. All you have to do is, while installing any software on your system, instead of Full Installation, select Custom Installation & uncheck the "Associate media files with the program" option.
Doing so will keep every one of those software malware away from the system & your system will be free from unwanted junks. It's already advised not to access & download Windows software (FREE) from third party platforms, however, if you do so, keep using the Custom Installation method so that malicious content cannot hit the system, no matter how.
Keep Potentially Unwanted Programs (PUPs) Away From System
Bundled junk that comes as a part of the package with the free Windows software can be tricky & ruin your whole experience. Same way, there is another unwanted software that you wouldn't want on your PC. However, it can be auto-downloaded while you access unsecured websites or third party platforms to download Windows software. And this is how these potentially unwanted programs (PUPs) hit your PC without any intimation & make everything haywire. So in order to keep the PUPs away from system, you need to activate another Windows inbuilt software as below:
1. Start with pressing the Windows key on your keyboard & type in Settings (you can also use Windows Key + I command to open Settings).
2. Out of those many options, you need to click on Update & Security & follow it by tapping on Windows Security.
3. Post selecting Windows Security (from the list shown on the left side of the screen), you need to tap on App & browser control.
4. Once on the App & browser control page, you will see Reputation-based protection that needs to be Turned on (you need to tap on Turn on switch).
5. Go with the Windows prompt & in a second, Reputation-based protection settings, will be turned on to fight with the potentially unwanted programs.
Here you need to tap on Reputation-based protection settings, click on the option just below the Turn on button.
6. Once you tap on the Reputation-based protection settings, look under the Potentially unwanted app blocking (if both the Block apps & Block downloads options are enabled). If not, please enable both of them as these will always keep the potentially unwanted programs away from your system.
You can also tap on Protection history to check if the protection settings have blocked any of the PUPs in the recent past.
What Will Be The Plan of Action Then?
After covering your system with every possible security layer, you cannot just sit idle & start downloading chunks of software from unsecured websites. You need to be extra careful with Windows software whenever downloading them as well as try to consider below options:
Depend on the developer's website to download software (instead of using any third party platform).
Try to download the portable version of the app as it will give you only the software (not the adware or additional apps).
Use the Windows App Store to download apps instead of wandering around the internet & accessing unsecured websites.
Keep cleaning junk from your system often as the pile of junk can lead to system's poor performance.
If nothing has been working out for you, the ultimate plan of action would be to download Systweak Antivirus on your Windows PC. Without a doubt, the tool starts offering you 24*7 real-time protection from those malware, adware, & other virus contents.
Click Here To Download Systweak Antivirus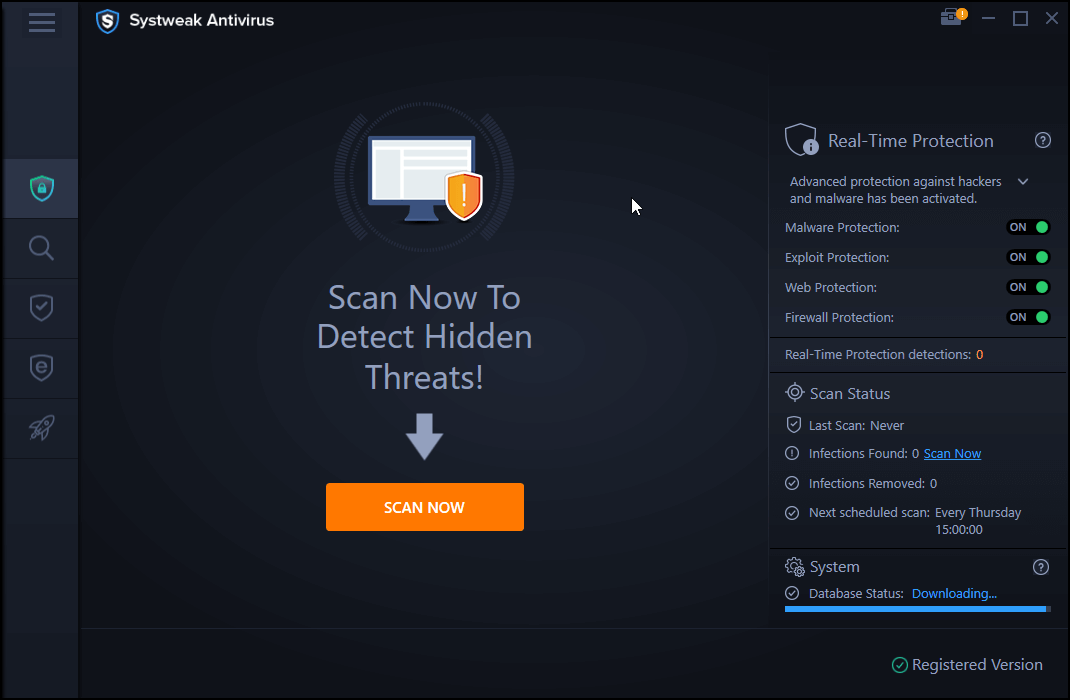 Wrapping Up
You will always find the ultimate gift of malware & junk while accessing & downloading Windows software from unsecured platforms. Even those third party websites that are full of advertisements can send bundled junk with the software you just downloaded. Here's where you need to be extra careful & not let these additional malware contents play with your system. Start using Windows inbuilt security features that are good enough to fight those Software malware & keep them away.
Explore the whole Windows Security section on your Windows PC & you may never have to worry about your PC's poor performance due to software malware & junk.
Next Read
How You Can Check Your Android Phone For Malware
How to Prevent & Remove Malware From Android Phone