Table of Contents
Gaming has come a long way. From old time Mario which was only 31KBs to modern day to Call of Duty: Modern Warfare which weighs over 170GBs, 55million times more.
With so much more details and features, they require much more CPU capacity from the host device to play the games comfortably. The Word FPS is often included when talking about the gaming performance of a device. So, let's not waste any more time and get straight into what is FPS and How to Increase FPS for Gaming?
What is FPS?
A video is nothing much but a lot of pictures produced in a very short span of time which seems like a live happening of an event on screen.
How good the quality of the video is depends a lot upon the number of images produced to create that video. Those 'Number of Images' are called 'Frames Per Second'.
In short, the more the FPS, the smoother the video.
How does FPS Affect Gaming Experience?
In Gaming, the animation on the screen works the same way. It depends upon the capacity of the CPU how many frames it can produce in a second that makes the gaming either smooth or laggy.
Lesser FPS (Frames Per Second) makes the game feel slower while a higher FPS makes gaming a fun experience. Hence, FPS is an important aspect of gaming. A slow FPS can totally kill the gaming experience despite the game being fabulous.
How to Improve FPS (Frames per Second) for Better Gaming Experience?
There are several ways that you can try and improve the FPS for a particular game on your PC. Most popular of the ways are explained in this article below.
1.  Turn down the Graphics Settings to Boost FPS:
All the high-end games are seeking ultra-realism in their animation. As a result, the CPU has to work hard to process all those high-end images which takes more time which means lesser FPS. All the games come with options to customize graphics settings.
If you choose to give up a bit on the graphics quality, you can drastically improve FPS and gaming experience. You can change the graphics options for the game in settings.
2. Update Graphics Card Driver to Boost FPS
Graphics Card is the hardware piece that is responsible for the fluid graphics performance for pretty much everything. Like every other piece of hardware, Graphics Cards also require drivers to communicate with the PC.
An outdated driver can cause severe graphics stability issues. Hence, like all other drivers, you should keep your Graphics Card Drivers up-to-date.
3. Shut down Background Processes to Boost FPS:
Like when working, we often try to ignore as much as distractions possible to improve our productivity, we should remove distractions for our CPU to let it offer its full potential.
When there are too many things happening at the same time, the CPU capacity is distributed among all the different tasks. Shutting down other tasks for the moment allows the CPU to deliver all its power to the game which often helps boost FPS and improve gaming performance.
4. Use a device Optimizer tool to Boost FPS:
There are a lot of Device Optimizer tools that can help improve the performance of your PC by clearing RAM, cleaning junk files, freeing up space on your hard drive to improve your system performance.
The one software I trust for that purpose is Advanced System Optimizer.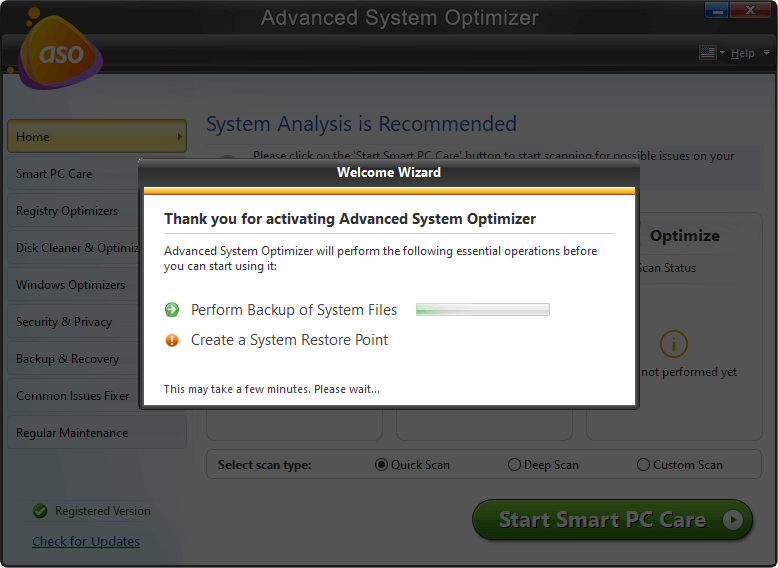 Advanced System Optimizer is a great tool that has helped me a lot while editing videos, playing games, and other CPU Intensive tasks which require a lot of processing capability. Advanced System provides all the necessary tools required to optimize the system performance.
Clean RAM: RAM is a highly useful resource to run a computer smoothly. Advanced System Optimizer helps clean RAM that improves gaming performance and helps boost FPS.
Driver Updater: Advanced System Optimizer also comes equipped with a driver updater tool. The driver updater tool makes sure that all the hardware drivers are up-to-date.
Defragmentation: Fragmented Drives are one reason why PCs perform slowly. Advanced System Optimizer comes with a built-in Defragmenter tool to keep your hard drive health in check.
Malware Protection: In a lot of cases Malware is found to be the reason for slow performing PCs. Advanced System Optimizer takes care of that too. It automatically scans your PC for Malwares and removes them to optimize System Performance.
With all these given features and more, Advanced System Optimizer is one of the best PC optimization software available in the market.
Click Here to Download Advanced System Optimizer
Read Full Review of Advanced System Optimizer
So, these are all the different methods by which you can improve the PC performance and boost FPS for flawless gaming experience. Do let us know if these tricks worked for you, we love hearing from you. Keep Visiting Tweak Library for more such tech related content.
Recommended Readings:
How to Disable Windows Task Manager In Windows 10
Check Out The Ways to Roll Back a Driver in Windows