Some reputed and efficient third-party antivirus tools have been known to flag off suspicious files as FileRepMalware. In most cases, it is indeed an infection that needs to be acted upon. However, users have reported that there are times when an antivirus program may mistakenly tag it by the same name especially if the file hasn't been added to its clean set. FileRepMalware was earlier known as Win32:Evo-gen[Susp].
When Does An Antivirus or Antimalware Flag A File As Antivirus
If you have used a pirated copy of Windows and have used the KMSPICO tool, an antivirus tool may flag it off as a virus by the name FileRepMalware
A low reputation score is one of the first criteria for assigning the FileRepMalware tag to a file. For instance, if you have installed a pirated copy of Windows using the KMSPICO tool, your antivirus may assign the FileRepMalware tag to your file
Also, your antivirus software may assign the tag to an application or file, if it has not been added to your antivirus software's clean set or its signature is not verified or if it has not been signed by a publisher
The file or application has not been commonly used by many users and is, therefore, identified as Antivirus
Different Types of FileRepMalware
FileRepMalware can surface in many different forms. A genuine infection can slow down your computer, corrupt data, or even impair the functionalities of your operating system. In case, the file flagged off as FileRepMalware, it could be any of the following –
How To Get Rid of FileRepMalware or How To Know If It Is An Infection
But, what if the file or application is genuine and bears a false tag? Or, if you don't know whether the file is malicious or not? You can put the file or program under the following checks -==
Use VirusTotal
If the file that has been flagged as FileRepMalware is false positive, then you can use a free online Antivirus tool in the first place. VirusTotal is one of the best free online tools to check whether the file is a virus or not.
To check whether a chosen file is infected or not, visit this link, choose a file and check if the file has a virus or not.
Update Your Existing Antivirus Program
Should VirusTotal show that a file is not infected and is wrongly tagged as FileRepMalware, you can try updating your existing Antivirus. This way, it will be able to update its database of viruses and most cases even whitelist the existing file. And, even if after updating the program, the file is still marked as FileRepMalware, it is time that you look for an alternative.
Use a Different Third-Party Antivirus
If your existing Antivirus has flagged off a file as FileRepMalware and you suspect it to be a false-positive, you can test the file in another antivirus software. Systweak Antivirus, for instance, is one of the best and the most trusted antivirus software. Here is a comprehensive review of Systweak Antivirus.
How Does Systweak Antivirus Work?
1. Download and install Systweak Antivirus
Click Here To Download Systweak Antivirus
2. From the left-hand side, click on the magnifying glass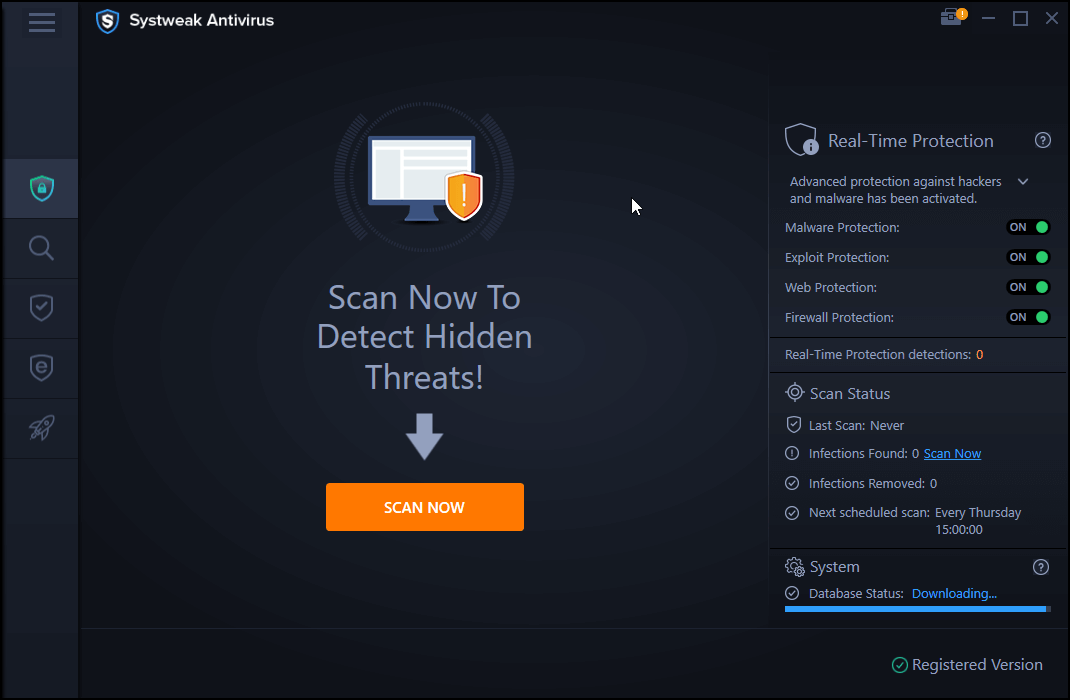 3. Choose the mode of scan
4. Systweak Antivirus will now scan for any prospective threats
The best part is even if you continue with your ongoing tasks, Systweak Antivirus will still be able to run in the background without hindering your work.
Features of Systweak Antivirus At A Glance
Small download size
Malware protection to detect any malicious programs before they can cause any harm to your computer
Different scanning modes – quick, deep, and custom
Quarantine zone where harmful files are kept away from other files
Exploit protection to sniff threats in intruder files
Easy to use interface
Click Here To Download Systweak Antivirus
Read Complete Review of Systweak Antivirus
Clear Browser Cache and Cookies
Immediately clear browser cache and cookies. If you are Chrome, here are the steps to get rid of browser cache and cookies –
1. Click on the three-dotted button on the right-hand side of the screen
2. Click on Settings
3. Scroll down and under Privacy and security click on Clear browsing data
4. Now click on Clear data
Download Genuine Antivirus
It is always important to download a well-reviewed and reputed antivirus such as Systweak Antivirus. A genuine antivirus would mostly never flag off a file until the file is actually a virus. On the other hand, fake software pretending to be antivirus, would raise countless pop-ups and possibly show that every other file is a virus.
Wrapping Up
While not a very common occurrence, even reputed antivirus programs can make mistakes falling for which you may delete an otherwise important file. That is when you should undertake checks like the ones mentioned above. If you liked the blog, do give it a thumbs up and share your views in the comments section below. You can also find us on YouTube, Facebook, Instagram, Twitter, Pinterest, Flipboard, and Tumblr.
Related Topics