Table of Contents
To simplify our work, we add extensions to our browser but not all are safe to use. Some are helpful as they add value to our work while some are malicious. PBlock + is one such extension that claims to be an adblocker but in reality, it is an adware-filled browser extension.
In this guide, we will learn how to remove PBlock+ adware browser extension and other malware infections from Windows 10
What is the PBlock+ extension?
PBlock is an adware browser extension that claims to remove unwanted ads by redirecting your searches through tailsearch.com while browsing. Once you install it in your system (knowingly or unknowingly), it starts interfering in your day-to-day activities and creates unnecessary interruptions.
 How does PBlock+ get installed on the system?
PBlock+ extension can be downloaded through some advertisements or they come as complimentary when we install some other software.
Whenever we install any software, we often choose and agree to a full installation that includes optional installations like PBlock+, and like this, they get installed on the system without our knowledge. We must be very cautious while installing any software and we should always choose custom installation over the full installation to avoid this optional software that is not authentic.
Best Ways to Remove PBlock+ from Windows 10: –
Short on time? Use Systweak Antivirus to remove PBlock+ and other malware
This best antivirus and malware remover tool takes care of your system and boosts its performance. It detects malware/ adware and deletes them from the system thus allowing you to freely navigate the websites. The database definitions are updated regularly.
It not only protects you by removing PBlock+ and similar extensions but it also protects your system against viruses, malware, etc. It is an all-in-one security tool for your system.
Solution 1 – Uninstall the malicious program from Windows 10
Uninstalling malicious browser extensions or viruses manually isn't easy. For this, you can install this best antivirus software below
Click Here to Download Systweak Antivirus
Once installed run the application and click Scan Types from the left pane.
Select the Deep Clean option so that it can check your system thoroughly.
Wait for the scan to complete.
You will now see a list of detected infections that are damaging the PC's performance.
To clean them, click Protect Now. This will Quarantine detected threats.
Now, open your browser and see PBlock adware extension should not be removed.
Note: Systweak Antivirus to add a layer of security offers Web Protection, Real-time Protection, Malware Protection and Exploit Protection. This helps stay protected from old and latest threats. Not only this, using its trial version, you can secure the system and enjoy full features.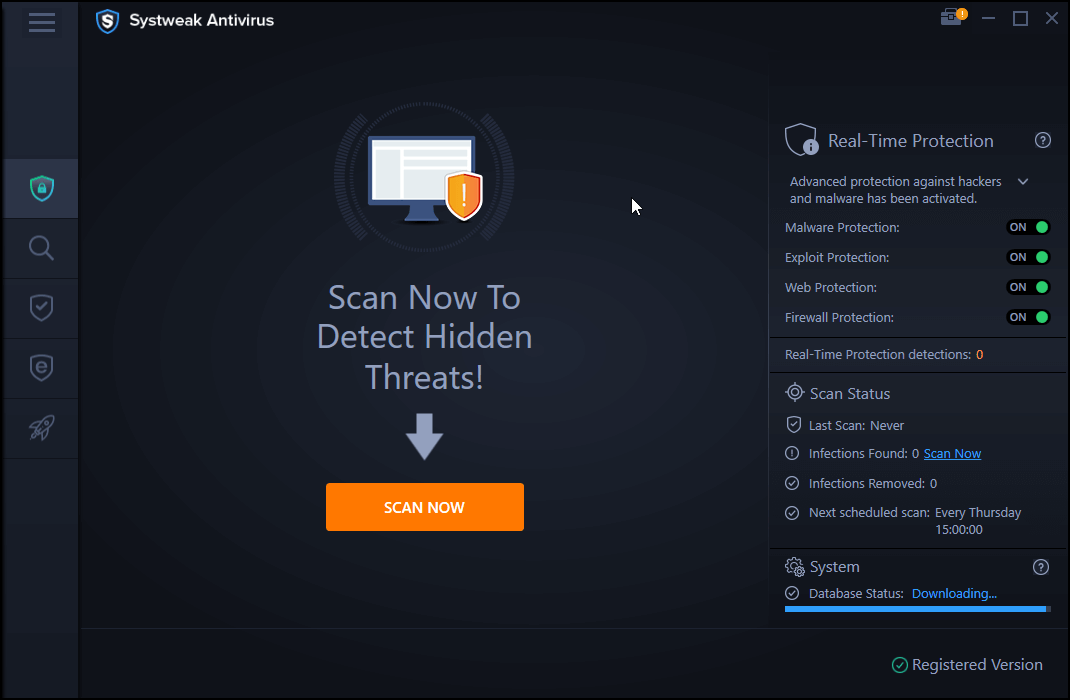 In case you do not want to give this third party antivirus protection tool a try, you can uninstall the malicious software using the steps below:
Solution 2 – Uninstall the malicious program from Windows 10
Click Start> Settings> Apps> Apps and Features
Here you will be able to see the whole list of installed programs on the system. Look for the unwanted programs and uninstall it.
Tip: Some common malicious programs are- PBlock+, PDFOnline-express, PDFPoof, MessengerNow, MyPrintableCoupons, etc.
Solution 3 – Remove PBlock+ from your browser
Using this process too you can remove PBlock+ from your system. In this process, you will have to reset the browser to its default settings. Resetting your browser will vanish all the changes which you have made in your browser and it will again come to its original form as it was.
Open the browser and click on 3 vertical dots on the top right-hand side and then click settings.
A new window will open in that scroll down and choose Advanced.
Scroll down and look for the Reset and clean up section > click on Restore settings to their original default.
You will get a confirmation box on that click to reset settings.
Now your browser setting will be restored to default.
Try using the Chrome browser, you should no longer see the PBlock + adware extension on your browser.
Fix – Remove PBlock + adware extension
PBlock+ is a disturbing extension causing a privacy leak. To stop this, you use the above-suggested ways. In addition to this, we suggest you use Systweak Antivirus for all-round protection and stay protected from viruses and other malware infections.
Hope you like the article and found it helpful. Please share your feedback in the comments section.
Next Read:
Complete AVG Antivirus Review 2021
Kaspersky Antivirus, Total Security, and Kaspersky Internet Security 2021 (Full Review)
Don't Like Windows Defender? Here Are Best (Free/Paid) Antivirus For Windows 10